Professional painting results come from careful planning and prep work. DIY'ers should take a cue from the pros and think through every phase of the project ahead of time.
The Right Primer & Paint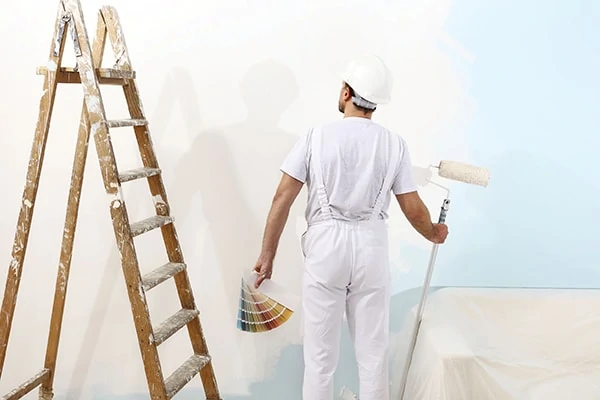 Starting with a good primer ensures the truest color for your top coat, no matter the surface you're working with—walls, cabinetry or trim. Beyond the truer color, primer offers stain- and odor-blocking properties, and also provides a more enduring top-coat finish. Priming may not be necessary when recoating a previously painted surface, but priming will never hurt anything. If you're painting a lighter color over a darker one you can use a tinted primer to reduce the number of top-coats you'll need to achieve the desired color.
When dealing with water stains, you'll need to apply a water-based, stain-blocking primer before applying a top-coat paint.
Paint is available in oil-based and latex varieties, but for interior jobs, latex products typically will dry faster and are easier to clean up, requiring only water. (Oil-based paints are used primarily where a harder finish is required.)
Consider which paint sheen you want in which room. Flat paints conceal imperfections in walls and other surfaces, making them a good choice for ceilings and rooms that aren't exposed to moisture or heavy soiling (bedrooms, home offices, living rooms). However, flat paint is more porous and receptive to mildew, making a flat sheen a poor choice for a bathroom or other moisture-prone areas.
High-gloss paints highlight imperfections in walls and woodwork, but they are durable and stain-resistant—and much easier to clean than paints with less gloss. High-gloss sheen is ideal for windows, baseboards and moldings. Paints with semi-gloss sheen are a smart compromise between the two sheen extremes, providing some of the benefits of each. They can be used on the walls and cabinets of kitchens and baths. Additional sheens include eggshell and satin, which are less shiny than semi-gloss paints, so they won't highlight imperfections as much, but since they have a little gloss, they'll be easier to clean than flat paints.
You'll also need to calculate how much paint you'll require based on the area of the room(s) and the manufacturer's coverage recommendations. And keep in mind that two coats perform better than one.
Color choice is also a big consideration. If you're thinking about a bold, vivid color for a room, consider toning it down a few shades lighter. Viewing colors on a small paint swatch can give a different visual impact than seeing them on a large wall. Large surfaces tend to intensify color, and you might end up with a more intense color than you intended. Prior to deciding on a final color, interior designers often will paint a 2-by-2-ft. sample swath on the wall to get an impression of different tones in their intended setting—a technique DIY'ers can try in their own homes.
The Right Equipment
Whereas you've probably been concentrating on where you want to apply the new paint, you should focus equally on where you don't want that new paint to go. This is why you need to plan to use painter's tape, drop cloths and any necessary masking products.
You'll want to cover everything you don't want painted with a plastic or canvas drop cloth. Don't skimp by buying the cheapest, thinnest plastic sheets, either.  The thicker the plastic, the more durable it is, and the better it stays in place without wadding up beneath your feet and exposing the floor or furniture beneath. If you're painting a large room, cover the entire floor with canvas and thick plastic (sealing the seams with tape).
The Correct Tape—For use on walls, wood trim, glass and metal, use a medium adhesion painter's tape, like FrogTape Multi-Surface, which features an adhesive specifically formulated for hard-to-stick-to paints and surfaces.
For freshly painted surfaces (dried for at least 24 hours), wallpaper or faux finishes, use a low adhesion painter's tape, such as FrogTape Delicate Surface. The lower adhesion helps prevent surface damage and can stay on surfaces for up to 60 days prior to painting.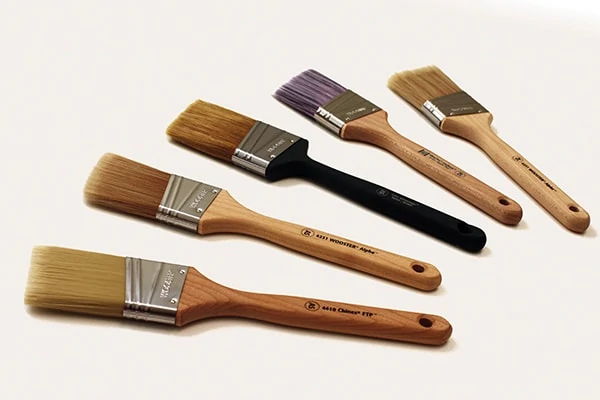 Sizing Brushes—Use a 4-in. paint brush for large areas such as wall sections (and exterior jobs). For general surface painting, baseboard molding and "cutting in" for walls, a 2-1/2- to 3-in. brush works well. Use a 1- to 2-in. brush to cut in around windows, doors and thin moldings. Some of the smaller brushes come with slanted tips. These are excellent for cutting in around window sashes and panes.
Paint Rollers—The next go-to paint tool for DIY'ers and pros alike is a paint roller. For large walls there is no substitute for rolling on a heavy coat of paint in a short period of time with just the right texture. For medium to higher viscosity (thicker) paint, use a less dense roller cover. A fabric such as polyester holds and releases paint well, plus it's usually less expensive than other fabrics. However, thin or medium viscosity paints work better with a denser fabric like Dralon, which is a woven fabric tightly twisted to its backing to prevent it from shedding.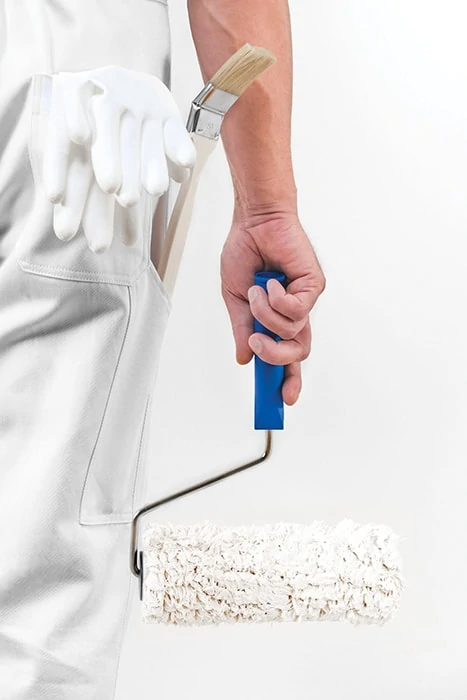 And with roller covers, the higher the pile, the more texture you will have on the finished paint surface. A pile height of 1/2-in. and up creates a stippled effect. Low-pile roller covers, from 1/4 to 3/8 in., are ideal for painting smooth surfaces in kitchens and baths. Conversely, pile heights on some roller covers are as high as 1-1/4-inch for a deeply textured effect. Higher-viscosity paints work together with higher nap roller covers to create the texture. When selecting a roller cover, pay attention to the product packaging, which should explain what finish the cover is intended to achieve.
The Right Prep
Clear away items that will get in the way of your painting (switch plate covers, window treatments, light fixtures, small electronics and easily moveable furniture). Even if your walls are in good shape, clean them with a sponge and mild detergent from the bottom up. Make sure all walls and surfaces are completely dry before painting.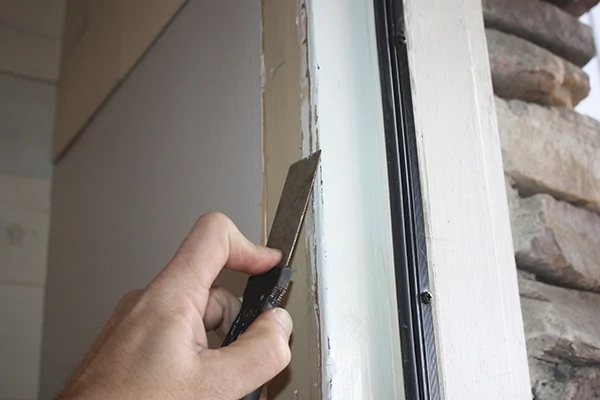 Lightly sand the walls and fill in any imperfection you can see from five feet away in normal lighting. Minor damage in drywall or plaster can be repaired with a putty knife and vinyl spackling or lightweight joint compound. Allow the repairs to dry completely and reapply as needed if any shrinking has occurred. Sand all repairs for a smooth finish. Vacuum any dust and debris. Coat the repair with two coats of primer before painting. Some of the new spackling pastes are formulated with primer already in the product, which eliminates the extra step.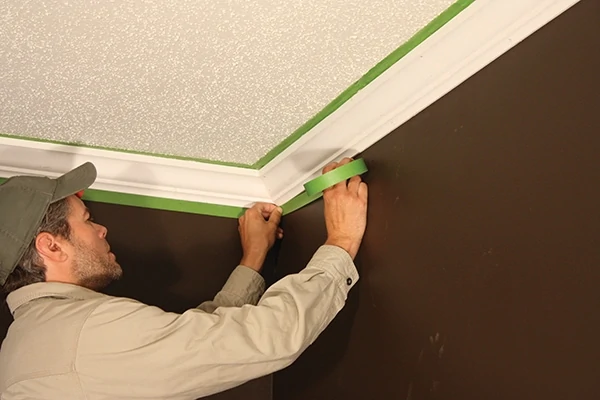 When prepping a bathroom, start with a 3:1 mixture of water and bleach to kill any existing mildew. Apply the mixture to the infected area plus a 1-ft. margin. Leave it on the surface for at least 20 minutes, adding more if it dries early. Thoroughly remove the mixture using plain water.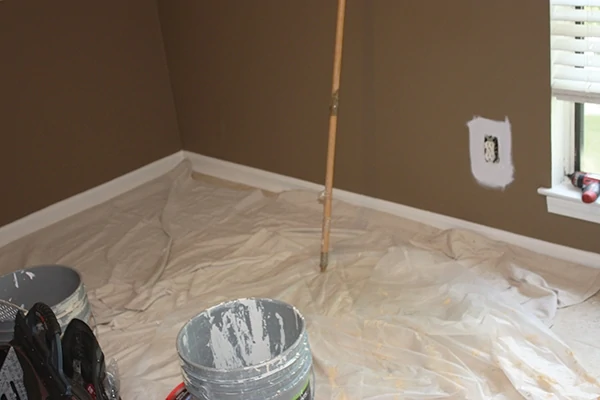 To minimize the chance of mildew growth returning, start with a latex stain-blocking primer, which will have a high degree of adhesion and low porosity. For the top coat, use a quality latex paint, because oil- and alkyd-based paints tend to be less resistant to mildew. Some premium paints are water-based and specifically designed to withstand the harsh conditions of the moisture-prone areas in your home. These mildew-proof products are self-priming, and some are guaranteed to prevent mold and mildew growth on the paint film for up to 5 years. The higher the quality of paint, the more mildewcide it is likely to contain.
Protect all interior surfaces by covering floors and any furniture in the room with drop cloths. Make sure the painting surface is dust-free and dry, then mask off the edges of your project with painter's tape and/or construction paper.
The Right Technique
Begin with a coat of primer, then follow with a couple coats of quality finish paint.
If your project involves painting trim, then some pros recommend painting the trim first and the walls or ceiling afterward (because it's easier to tape off the trim than to tape off the walls). Sand between trim coats for the smoothest finish.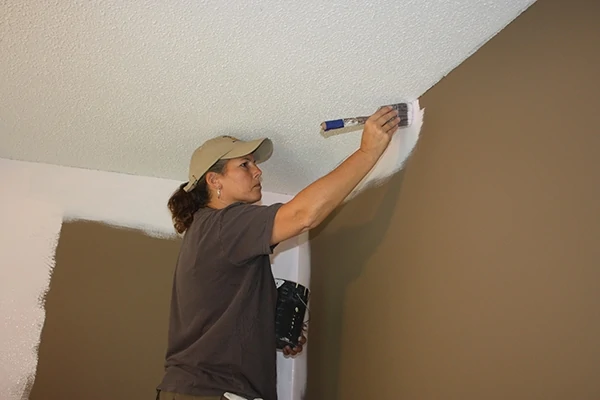 For the walls, the first step is to cut in the edges with a paint brush. Dip the brush only 1 to 2 inches into the paint to load it. Gently tap the brush on the side of the container, first one side and then the other. Use the brush to draw a straight line roughly 2 inches wide to separate two colors—such as the wall bordering the edge of window or door casing. When cutting in, always keep a fully loaded brush and follow the stroke into the line you are cutting. Follow the line until the paint begins to break up. Repeat this procedure, working into the previously painted area. If using painter's tape, avoid pushing paint into the tape with the brush, which can cause the paint lines to bleed.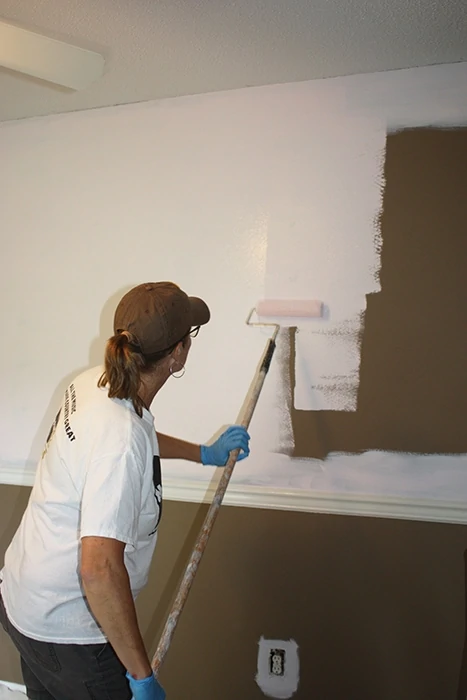 After the room has been cut in, complete the field with a roller. All synthetic roller covers require some form of preconditioning to improve their performance. Before use in latex paints, rinse the cover with a faucet or garden hose, then spin it to remove excess water. (Before using oil-based paints, the cover should be lubricated in the solvent used to thin the paint.) Preconditioning prevents the lack of paint release caused by the paint attaching to the fibers. However, lambskin roller covers have natural oils and don't require preconditioning.
Load the entire surface of your roller cover with paint. Use the tray grid to prevent overloading. When painting walls, start at the top and work downward. To avoid lap marks, roll the full height of the wall and keep a "wet edge," meaning each stroke of your roller overlaps the previous stroke before the paint can begin to dry. Always work from the unpainted into the painted surface. When you start another wall, repeat the process.
After applying two quality top-coats to the walls, your new paint job should be complete. Painting a room remains the all-time most popular DIY home-improvement project, because it gets the most bang for the buck when it comes to making a dramatic difference to the interior décor.
Side Note 1
New paint tools
Roll-All Post Paint Roller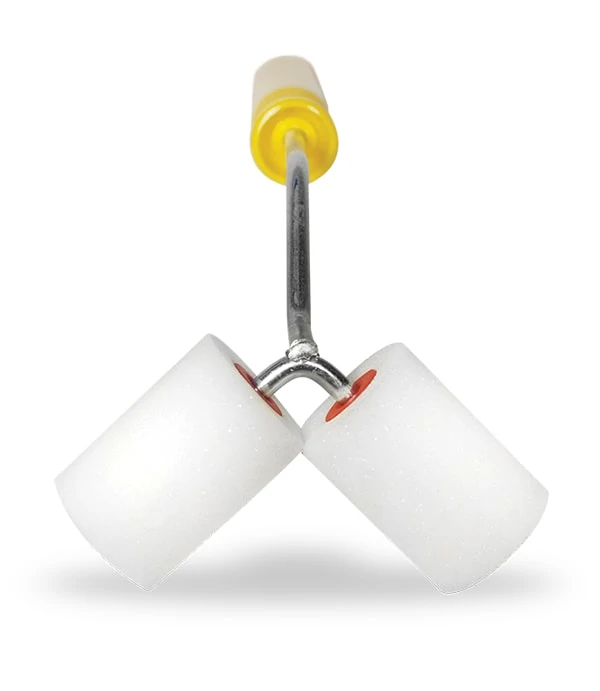 Have you ever tried to paint piping, spindles, stair railing or tubing with a paint brush? The Roll-All paint roller gets the job done faster, and the paint is always even. The rollers are interchangeable according to the size of piping or spindles. The Roll-All paint roller can fit 2- to 4-1/2-in. standard rollers. To use, simply turn the Roll-All on its side to load paint onto the rollers individually in the paint tray. Make sure rollers are touching before applying paint.
Dipless Brush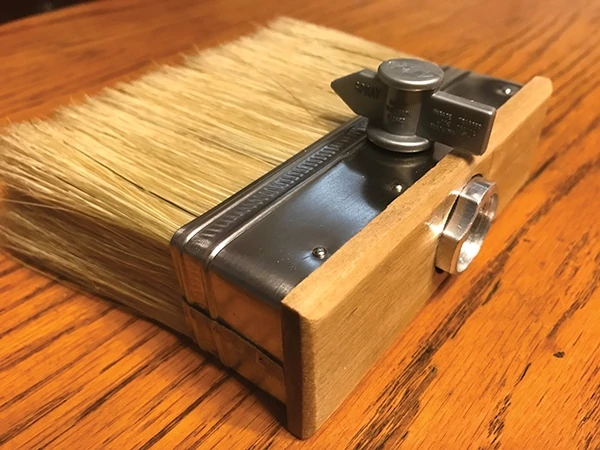 The Dipless Brush, an airless spraybrush attachment, was designed to eliminate the need for costly material extras and to reduce labor costs by getting rid of the need to ever dip a brush or refill a reservoir. Compatible with Graco, Titan or other commercial airless spray machines, the patented the new Dipless Brush combines airless sprayer technology with a modified conventional brush for applications such as paints, stains, oils and wood preservatives, glues or adhesives—or even barbecue sauces for the food-prep industry. Originally designed for the painting industry, the product saves time and labor by eliminating the need to dip the brush and reducing frequent descents on and off the ladder to refill or reload product. Visit diplessbrush.com.
Shur-Line Easy Tray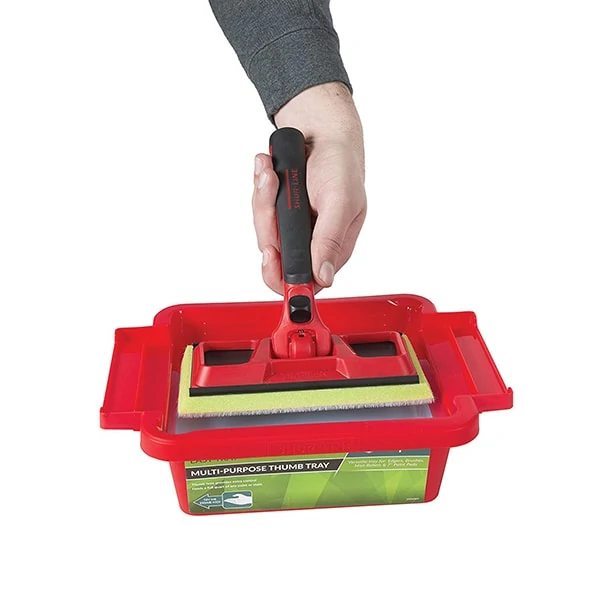 Designed for use with multiple paint tools, the Easy Tray multi-purpose thumb tray makes quick work of any small to medium size paint project. Initially engineered to facilitate the application of paint onto a Shur-Line Edger, the added features accommodate 7-in. paint pads and mini rollers with ease. The thumb hole, located in the base of the tray, provides a sturdy, comfortable grip. Ridges designed into the back of the tray expedite loading paint onto 4- and 6-in. mini-rollers. The raised side walls facilitate the removal of excess paint from an Edger or paint pad while directing excess paint back into the tray. Use the Easy Tray with water-based paints and stains only. It holds one quart of paint. Visit www.shurline.com.
HANDy Ladder Pail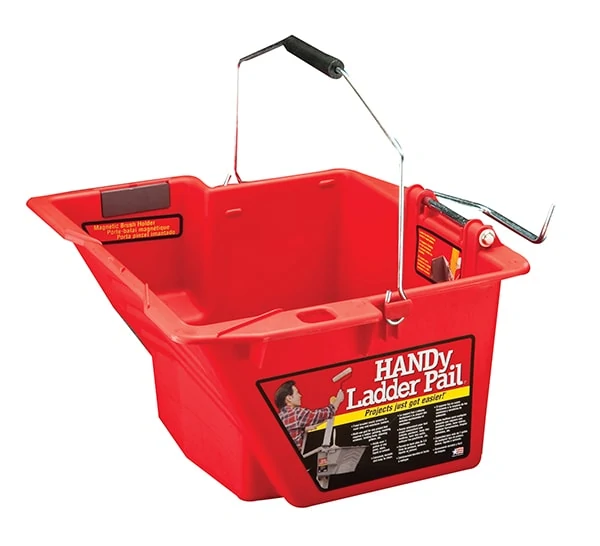 The perfect tool for any painting project on a ladder, the HANDy Ladder Pail has a patented bracket that securely attaches it to the side of most step and extension ladders. It easily holds over a gallon of paint or stain, and has a built-in magnetic brush holder as well as a tool and rag holder. Ruggedly constructed and easy to clean, the HANDy Ladder Pail will make paint projects safer and easier. Roller grid is included. Visit www.bercomincorporated.com.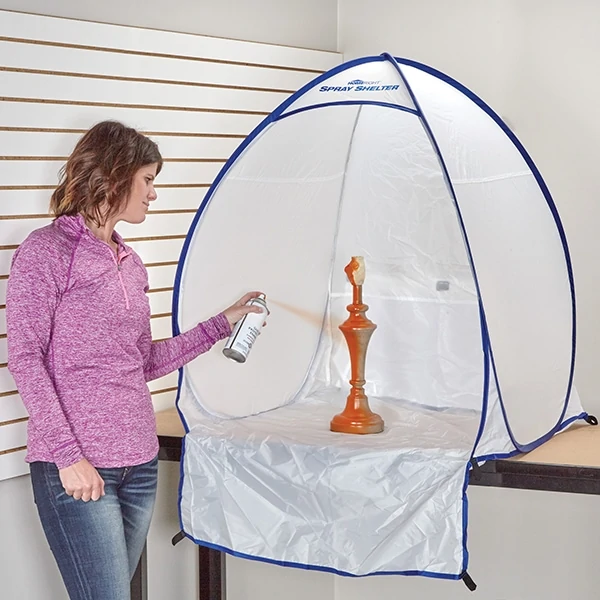 HomeRight Small Spray Shelter
The Small Spray Shelter is a tent-like structure that provides a safe area to spray paint or stain while protecting your surrounding area from overspray drift. It can be used with aerosol cans, airless paint sprayers, or HVLP sprayers. The curved, three-sided unit design has a built-in bottom and rear vent to help control overspray and regulate airflow. This allows you to paint your projects more freely. This provides greater protection for your piece and breathing area. This portable, lightweight Spray Shelter makes it easy to position on a tabletop, floor or workbench. It naturally pops up into position to be used almost instantly. This small, temporary Spray Shelter is perfect for spraying lamps, wood crates, home decor and other accessories. Visit www.homeright.com.