New colors, textures and technologies make vinyl a popular choice.

After great strides in quality and appearance, vinyl siding now claims about one third of the exterior-cladding market for new homes. Although some people still simply prefer real wood, few critics complain about the durability of today's vinyl products. Unlike wood siding, vinyl siding doesn't warp, crack or rot over time. The low-maintenance benefits of vinyl, coupled with its relatively low fully installed cost, are winning people over left and right, and its popularity shows no signs of slowing. Many new homeowners simply don't want to spend their weekends painting their house. Plus, with the latest advances in wood-like finishes and improved material technology, vinyl siding is making a big splash with remodelers as well.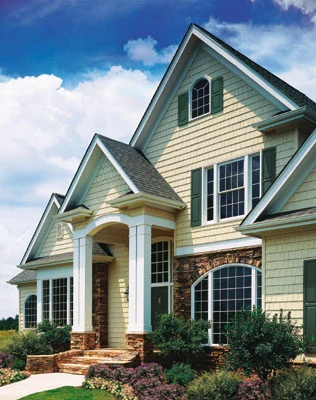 Good Looks
The attraction to vinyl siding's curbside appeal has never been stronger, with key advances in its decorative textures and color options. In the past, homeowners have been limited to little more than a dozen colors. Today, manufacturers such as Alcoa offer vinyl siding in a baseline color palette of 700 colors. Some of the options include Tropical Coral, Lemon Ice, Spanish Sherry, Aqua Sparkle and Deep Emerald. These systems include colored siding, soffit, fascia and designer accents.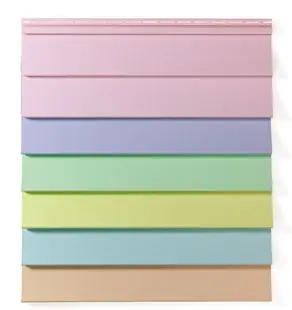 New textures mimic the look of real wood in both traditional panel styles, such as clapboard or Dutch lap, as well as newer cedar shake-style polypropylene siding. Most vinyl siding panels are extruded from a machine. However, to produce the deepest woodgrain patterns, panels must be molded from polypropylene, a more expensive plastic. Polypropylene is used to achieve the real-wood appearance in siding patterned after shake-style shingles for a distinctive, rustic appearance.

For those who love the look of wood, brick or stone but don't want the costly installation of it, molded polypropylene can take on the realistic texture of cedar shingles, brick and stone with only you knowing it isn't Mother Nature's materials.  Best of all, these panels are virtually maintenance-free so that you can enjoy your siding for years with very little effort.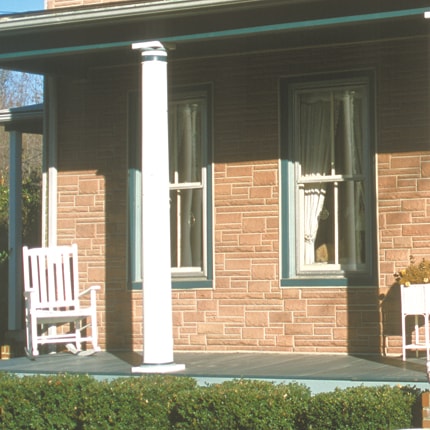 Weather Resistance
Standard vinyl siding that is extruded from a machine actually has only a small amount of the material resting against the sheathing. Due to this design, thin (0.35-inch) siding panels are more apt to bend and sag over time. Premium siding ranges from 0.44 to 0.55 inch thick. The thicker panels resist sagging and tend to better retain their shape. Also, panels with narrow clapboards and folded, doubled nailing hems also resist bending. The more bends in the siding profile, the more rigid the panel. This means the thick panels will do a better job protecting your house from strong winds, while "wimpier" panels might get blown off during a severe storm. The manufacturer's warranty will give an idea what weather the siding can withstand.
The area where the siding panel meets the sheathing is called the nailing hem. Corrosion-resistant nails are driven through horizontal slots in the hem. The slots are horizontal to allow for the panel's expansion and contraction that happens with temperature changes. Usually, the nails aren't driven all the way down, so the slots shift freely over the nail as the panel moves. However, new technology is now on the market that allows certain brands of siding to be nailed securely to the wall.
"When restricted siding expands and contracts it can become wavy and cause problems," says Walt Hoyt, director of marketing communications for Certainteed's siding products. "Not only are wavy walls unsightly, they're also the source of frequent service calls from unhappy homeowners."
In response, Certainteed offers its Millennium brand of vinyl siding engineered with a nail-tight flexible hem that nails securely to the wall. Each panel is suspended by PermaFlex suspension cables fusion-welded into the siding material. This allows the panel to "float" from its cables rather than move over the nails. According to the manufacturer, when properly installed, this system siding will virtually eliminate the ugly, rippled contours called "oilcanning" that can occur with poorly installed siding.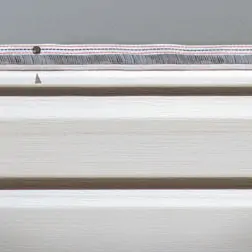 But heat and wind aren't the only elements pounding a home's exterior cladding. Rain is also an issue. As far as rain goes, the good news is that vinyl is less likely than wood to trap moisture. Tiny weep holes on the lower edges of the panels allow water to escape, and the panels' "loose" installation provides good ventilation to the sheathing. However, it is critical that housewrap or felt paper covers the sheathing beneath the siding.
Insulated Siding
For 15 years, Alan Gatsby, siding installer with G&T Exteriors in Cullman, Alabama, has worked with nearly every type of siding, but these days he has a new favorite material – insulated siding. Insulated siding features panels backed with extruded polystyrene or polypropylene foam, which is designed to increase the siding's R-value by as much as five times that of conventional siding.
According to the manufacturers, the insulated cladding helps to reduce a homeowner's energy bills. But Gatsby prefers insulated siding because of its additional stability.
"The insulated panels keep the walls nice and flat. They keep their shape better. The [foam] backing also makes it a tougher panel," says Gatsby. "They're not as likely to break if they get hit by a falling tree limb."
Siding manufacturers also claim another benefit of insulated panels: noise reduction. Crane Performance Siding pioneered the insulated-siding industry with its introduction of Solid Core siding in 1998 and according to the company, the foam-backed panels deaden sound. Crane claims its insulated panels reduce noise up to 45 percent compared to vinyl siding with standard backer board.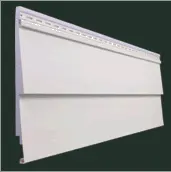 Additional features of insulated siding are the various profile and panel sizes available. Crane's Oracle product, for example, comes as a panel that covers more than twice the area of conventional siding. The exceptional board width smoothes and straightens walls and reduces panel seams. Plus, Crane now offers SmartTrack technology with its Solid Core backing. SmartTrack is a diagonal grooved design that guides moisture away through "release holes" at the bottom of the panel as an extra level of moisture control.
But Crane is no longer the sole source for insulated siding. In recent years Alcoa, Certainteed and other major manufacturers have unveiled their own brands of insulated siding.
"All the big siding companies are selling the foam panels, now," notes Gatsby. "Trouble is, not everyone can afford it." The downside to insulated panels is the cost. Professional installation of insulated siding can cost 25 to 30 percent more than regular vinyl, making the price comparable to wood or fiber-cement sidings.
 Installation Note: A great resource for installation guidance is the Vinyl Siding Institute. While manufacturers offer brand-specific installation manuals, the Vinyl Siding Institute offers a 40-page, detailed and illustrated installation manual that will give you a good look at what is involved. The manual contains the most recent techniques and is presented in a simple step-by-step approach. Just visit www.vinylsiding.org