Bamboo is a naturally beautiful and durable alternative to the limited global supply of hardwood. In fact, bamboo is actually not a wood at all, but rather, a variety of grass. From a design standpoint bamboo radiates a tropical and exotic feeling, at a time when an increasing number of people are looking for something to bring a more worldly style into the home.
Bamboo is attractive as a building material because it is very hard, strong and dimensionally stable. It is comparable in strength to northern red oak. This strength is why bamboo has traditionally been used for fishing poles. A fishing pole made from an oak or maple dowel would need to be three times the weight and twice the diameter to catch the same size fish, and the pole would snap with the slightest flaw in the grain. But a bamboo pole is light and flexible. I've seen surfboards and longbows made of bamboo also, which should give some indication of its strength and resilience.
The key to bamboo's strength is that each strand of the grain is perfectly straight. There isn't a tree in the world that grows as straight as bamboo. And there are no branches so there are no knots. The only anomalies are the knuckles that occur every few feet. These slight variances are usually quite consistent and dense, and do not significantly weaken the structure of the material. And while bamboo is a light material, it is also remarkably stable with 50-percent less contraction and expansion than wood.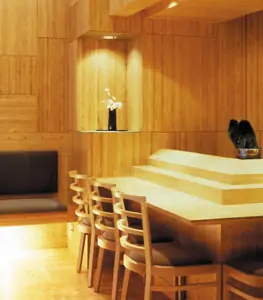 Bamboo Basics
Although there are more than 1,000 species of bamboo, moso bamboo (Phyllostachys pubescens) is the type generally used for industrial harvest. It can grow to a height of 40 feet or more, and the diameter at the base can grow to 6 or 8 inches, maturing in four to six years. Bamboo is hollow, but the wall can be up to an inch thick at the base, getting thinner towards the top.
Bamboo lumber products are made from bamboo strips cut from the thick walls of the hollow stalk. The strips are treated with a solution of boric acid and lime to extract the starch that attracts termites or powder post beetles. The strips are then milled square on four sides and kiln-dried to 8- to 10-percent moisture content. The material is then sanded smooth for laminating. The strips can be laminated edge to edge to create a thin single-ply panel, or laminated again to each other, creating multi-ply bamboo plywood. The pieces can also be face-glued to create vertical grain panels.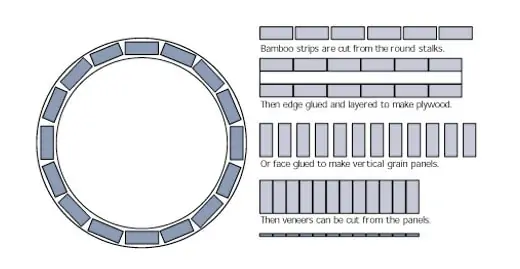 Carefully selected, bamboo poles are harvested from forests in the Hunan, Jiangxi and Fujian provinces, from forests under the control of the Chinese Department of Forestry. Unlike traditional hardwoods, bamboo does not require replanting. Mature bamboo has an extensive root system that continues to regenerate. Unlike hardwood with a growth cycle many times longer, bamboo is truly a renewable resource. It grows in very dense forests and has been harvested and used in Asia for hundreds of years. Anything from chopsticks, paneling, roofs, walls and flooring are made of bamboo in many Asian countries, especially China.
I heard about bamboo flooring many years ago and found the idea fascinating. Although bamboo products have been around for centuries, they are usually made using the rounds or small strips. About two years ago, I discovered a product called Plyboo, from Smith and Fong, that is available in the United States as laminated bamboo panels and flooring materials in limited sizes and thicknesses. I started making dovetailed drawers out of it as an experiment and discovered the result was both beautiful and durable. As word spread, I began to receive calls from cabinetmakers asking about these drawers.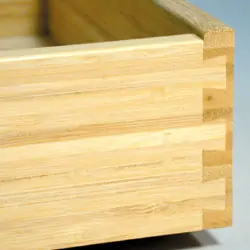 Bamboo drawers are suitable for any high-end cabinet job. Currently, however, supply and demand pushes the cost of a bamboo dovetail drawer slightly higher than a typical maple drawer. The most suitable application for a bamboo drawer is to appeal to the ecologically conscious homeowner, since it does not have the same environmental impact as cutting down trees for wood products. The natural beauty of bamboo also offers a definitive style for a project where the owner wants to have something unique and interesting in their home. Many homes are now getting bamboo flooring and other products for the same reasons.
Working with Bamboo
The advantage of working with bamboo panels is that they are like solid wood, such that it is a solid material, but it has already been glued-up into panels thereby eliminating the need to glue-up for wide boards. The process is actually more like working with plywood in that regard, but the advantage over plywood is that you don't need to edge-band the bamboo panels because they are solid all the way through. Essentially, it's the best of both worlds — solid wood that comes in sheets. It's like plywood with built-in edge banding. Another advantage is the yield is far better than solid wood because the material is already glued-up and checked for defects, so the price per square foot is a better value.
Although bamboo machines very easily in the long direction, it can be a bit tricky across the grain. It can splinter when crosscutting, coping and tenoning across the end grain. The other drawback of a linear-fiber type grain structure is that if a crack develops, it can run the entire length of the board. Fortunately, this is very rare in my experience working with bamboo. The material does come in a variety of forms, however, so where a more structural board is needed, cross-banded laminated panels are available.
I was amazed at how cleanly and smoothly the material finishes out. With sharp tools, you can machine it to nearly any profile. The material sands easily with a wide belt sander or a profile sander, and takes sealer and finish very well.
I have seen many examples of products made from bamboo. Flooring, countertops, moldings, stair treads, railings and turnings all seem to finish-out beautifully if carefully machined. I have completed several small projects using bamboo for drawers, and each one seems to interest more people in the material and its related products. Bamboo presents a great alternative material — it's environmentally friendly, exceptionally strong, and people really like the look of it.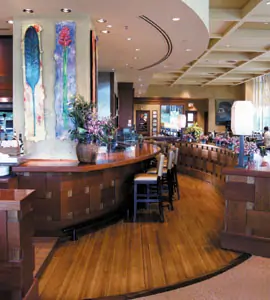 SIDE NOTE

Breaking Down Bamboo
Bamboo panels are available in 4-by-8-foot sheets or narrower 16-by-72-inch panels. Panel thickness ranges from 2 to  19 millimeters. Bamboo machines very easily and sands well, and the end grain seals and fills easily with conventional finishes. Bamboo is available in horizontal and vertical laminations, and is offered in natural or amber colors. The darker amber color is achieved through a carbonization process, which is a heat treatment that causes a darkening of the color throughout the material.
• Bamboo flooring is installed and cared for like traditional hardwood floors. They can be nailed down, glued down or floated.
• Companies such as AlterECO have launched complete lines of furniture and custom cabinets made entirely of bamboo. AlterECO features solid bamboo raised-panel and flat-panel doors, as well as solid bamboo counter tops.
• Western Dovetail Inc. manufactures custom-made, 100-percent solid bamboo drawers that are completely assembled and finished. Visit www.drawer.com.
• Smith & Fong Plyboo is available as plywood and veneer, as well as flooring and paneling. Visit www.plyboo.com.
Editor's Note: For more information on bamboo or custom-made dovetail drawers, call Western Dovetail at (800) 800-DOVE or email Max Hunter at [email protected]. Plyboo is a registered trademark of Smith & Fong.