By Matt Weber
A frank look at what you can expect.
In my experience most professional painters recoil at the idea of painting ceramic tile. It's not a quick job, it requires extensive prep work, the end result may not meet a homeowner's expectations, plus the craftsman in question is unlikely to make much money off this particularly time-consuming project because, after all, it is "just a paint job."
And, for the inexperienced painter, there is definite potential for failure when painting tile if they don't exercise the time and patience to do the job correctly. The trouble with tile is the slick, glossy surface to which paint products don't easily adhere. The surface must be meticulously cleaned, and any debris or small amount of moisture that remains on the tile surface will prevent the primer and paint from bonding.
Other considerations include the condition of the tile and grout joints. If the tile is damaged, paint won't hide it. The same holds true for shoddy grout joints—don't expect the coats of paint to fill gaps or holes in the joints. And, don't even consider painting floor tile, because the paint film will not hold up to foot traffic or standing water.
And finally, you must choose the right products. Not any old paint and primer will suffice, and a fine spray-application of several coats is the only way to achieve an acceptable finish.
Despite all that, I can say from first-hand experience that the job can be accomplished successfully. Four years ago my wife and I moved into a "fix 'er upper," and I had a huge catalog full of major projects ahead of me. I needed to prioritize my hit list, and the tiled shower surround of the master bathroom offered the opportunity to do so. We decided the lemony yellow tile color had to go, but the tile installation itself was in fine shape, with the original grouting in like-new condition.
Now, I had heard the warnings: "Don't paint it … It'll never work … The paint will peel." I didn't listen. My reasoning: I had a ton of projects ahead of me, but limited time and budget, and maybe painting the tile would buy more time. Heck, even if it lasted only a year, that meant I could ignore the bathroom for a year, thin out the honey-do list, and then be in a better position for a full shower remodel.
So, I painted the tile. Four years later, the paint is still holding with no signs of failure. Since I had more success than I ever expected, I decided to repeat the procedure in another shower.  This time, I shot a few photos of the process. Here's how I approached the project:
Manage Expectations
This project takes a few days, due in large part to drying times. Plus, every step in preparation must be executed with precise detail, otherwise you risk poor adhesion of the paint, the film will peel and the whole project will look crummy. If you're impatient and have a tendency to cut corners, this project is not for you.
Also, the paint finish won't have the same hardness or glassy surface of the original
tile. Even when applying the paint with a sprayer, you should expect some degree of visible texture over the tile surface.
Finally, unlike a full remodel, painting the tile will not add value to your home. However, if done correctly then it may make it easier to sell when the time comes, due to simple aesthetic reasons. For example, modern home-buyers may prefer a fresh, white shower surround over one tiled with 70's-era yellow porcelain and dirty grout joints.
Painting tile and grout works best with small grout joints, usually 1/8 inch or less. The sealing of the grout joints, in my opinion, is one advantage of painting the shower. Once the original grout sealant fails, grout can become brittle, discolor and provide a porous breeding ground for mildew. Sealing the entire wall surface encases the joints in primer and paint, which retains the look of the grout lines but reduces their susceptibility to mildew and grime.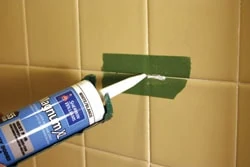 Preparation
Closely inspect the tile and grout joints. You can make minor repairs in the grout, but if you have a lot of loose tile, do not proceed with painting. You may have to remove and replace all the grout, but painting over failing grout is a sucker's move. In my case, the grout lines were mostly intact, and the joints were thankfully only 1/16-in. thick. With such minor hairline repairs to make, I filled the few problem areas with a siliconized latex adhesive caulk that resists mildew. I tooled the joints smooth and allowed them to dry.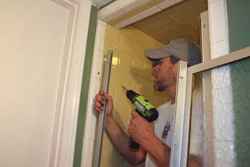 Disassemble any components of the shower that you don't want painted. I removed a towel bar, shower handles, faucet and shower door assembly. Use plenty of painter's tape to mask off any permanent fixtures as necessary, and prepare for some over spray when painting.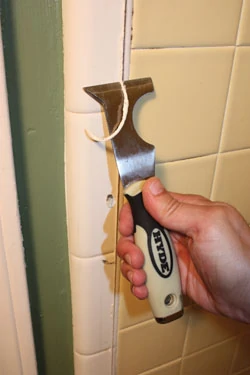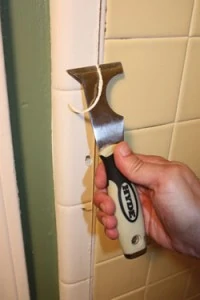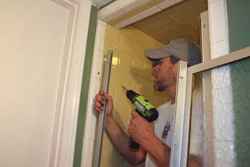 Remove any traces of old caulk or sealant. In my case, the door of the shower had been lined with silicone sealant. Use a sharp paint scraper to carefully remove all traces of the sealant. Silicone does not accept paint, and such traces of sealant provide a good example of the tricky areas that must be completely cleaned before the primer can be applied.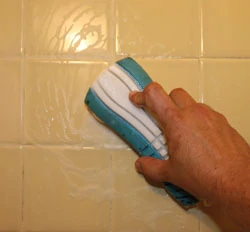 Scrub the tile surface from top to bottom with a stiff-bristle brush using a heavy-duty foam tile cleaning agent. Pay extra attention to cleaning the grout joints.
Next, sand the entire tile surface. Even if your primer of choice suggests on the label that sanding the surface is not necessary, sand it anyway. It couldn't hurt, and it may help.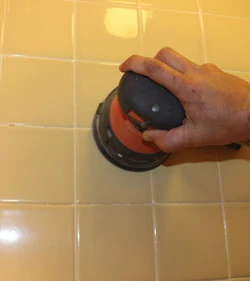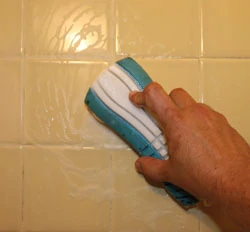 I used 180-grit abrasive in a random orbital sander to lightly abrade the surface, which helps dull the gloss to promote better primer adhesion. Be thorough when sanding; I used a detail sander with a pointed tip to access tight corners of the shower stall.
I then re-washed and rinsed the tile surface and allowed it to dry. I used an electric fan to keep air flowing and to dry the tile faster. Before applying primer, I recommend giving the tile surface a final wipe-down with rubbing alcohol. The alcohol will help remove any traces of film on the tile surface and will also quickly evaporate without leaving moisture.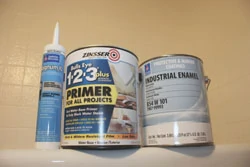 Prime & Paint
Once the shower is completely dry, apply a thin coat of primer from top to bottom. I recommend applying the paint with an HVLP sprayer. This type of sprayer stands for High Volume/Low Pressure, a spray technology that can create a very fine finish. The model I used is the Control Spray Double Duty from Wagner, which features a two-stage air turbine for a continuous flow of material and air. It features a three-position cap to adjust the spray pattern, and material flow is easy to control with a variable trigger. I particularly like the fact that this sprayer is simple to disassemble for easy cleanup, which takes about 10 minutes (www.wagnerspraytech.com).
When preparing the paint, check the viscosity of the product to make sure it will spray effectively. Most HVLP sprayers include a small, plastic test cup that you fill with paint and then measure the time it takes to drain from the hole in the bottom (the product manual provides drain times for specific products, i.e. latex, oil-based, shellac, etc.). Refer to the paint product's instructions for the recommended thinning agent.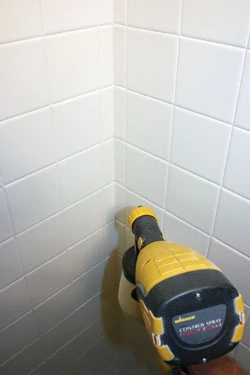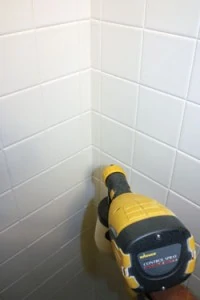 When using a sprayer, keep the gun about 7 inches from the wall surface and hold it perpendicular to the wall surface, moving in even, overlapping coats. Don't swing the nozzle back and forth over the surface, which will result in uneven application. Be thorough and patient, keeping the coat consistent but still thin. Practice on some scrap cardboard before hitting the tile. DO NOT APPLY A THICK COAT. Thick coats result is sags and runs, which is a messy nightmare to clean off the tile—and if the drips harden, you're painted tile will look like junk. Additionally, ensure thorough coverage by alternating your spray pattern between coats from horizontal to vertical application.
The primer I selected was a water-based product that was marketed for hard-to-paint applications and glossy surfaces. Make sure your primer has the same indications and that it is compatible with your alkyd topcoat paint. I applied two thin coats of the primer, allowing time to dry between them.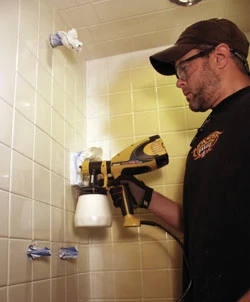 The paint I selected was an alkyd (oil-based) industrial enamel from Sherwin-Williams. Another option is a two-part epoxy paint, which some professionals claim is superior for painting tile. However, I chose the alkyd because I had success with it in the past, plus I was painting in a very confined space with poor airflow. The bathroom in question had no ventilation, and the alkyd paint generates less fumes than the epoxy paint. (Breathing is important to me.)
Whereas the water-based primer was not very noxious, you'll need a respirator when spraying the enamel. Although, the enamel generated less fumes than the epoxy, there were still fumes to content with. Plus, I was painting near a gas-powered furnace and water heater in an adjacent room. According to the paint container, the fumes were potentially combustible, so I had to extinguish the pilot lights every time I applied a coat of paint—and I applied five thin coats. Keep this in mind if planning such a project, because the people living in the house can get cranky when the hot water is off. And, because the alkyd paint takes a lot longer to dry than latex, the shower may be intermittently out of commission for a few days.
Maintenance
As I mentioned, our previous tile-paint project is still holding strong four years after application. However, we've also been nice to it. The painted tile will be much easier to clean than the old tile because of the smooth, continuous film covering the porous grout joints. Take advantage of this feature by cleaning the shower with non-abrasive spray cleaners that agitate the surface and can then be rinsed off without scrubbing. Even with a thorough paint application, it may or may not be possible to accidentally scrub off the paint with a stiff-bristle brush—something I'm not about to find out.
SIDE NOTE: New Tools for your Painting Projects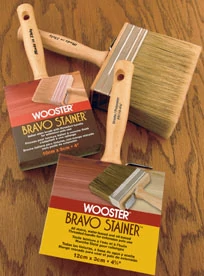 Pole-Adaptable Staining Brushes—for back-brushing or staining decks, siding and fences, the Wooster Bravo Stainer features a threaded hardwood handle that can be removed and replaced with an extension pole—a great option for flooring and hard-to-reach areas. Plus, a metal clip holds the brush inside a can or bucket to reduce the mess when you need to set the brush down. The new bristle/polyester filament blend (item F5119) provides quick, even coverage with all stains, waterproofing sealers and wood toners—water-based or oil-based. The original 100-percent bristle brush (item F5116) is extra soft for the smoothest results with oil-based products. Both Wooster Bravo Stainer brushes are available in 4-, 4-3/4- and 5-1/2in sizes. (www.woosterbrush.com)

Hyde Pour & Roll—The new Hyde pour & Roll is a two-piece paint accessory set that allows you to pour paint safely with no spills or simply paint right from the can with a roller. The set includes a paint-pouring spout that snaps into the inner edge of your paint can to eliminate the mess of pouring paint. It also functions as a brush rest while you paint. Also included is a roller grid for use with a 4-in. roller. The grid attaches to the pour spout in either of two positions, one for use with full paint cans and a second for use with partially empty cans. (www.hydetools.com)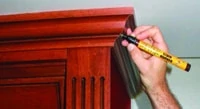 Perfect Match Stain Marker—The Perfect Match Stain marker works like a syringe and can be filled with water-. Oil- or lacquer-based stains for a perfect match. It's a great tool for touchups and highlighting on cabinetry, furniture, mouldings and wood floors. Extra marker tips are sold separately. (www.woodworkershardware.com)

XL Elite Brushes—The new line of XL Elite brushes from Purdy takes the guesswork out of selecting the right paint brush. XL Elite brushes are extremely versatile and can be used with all paints and stains, indoors or out. The brushes have a unique blend of bristles designed to achieve a perfect finish and be easy to clean when using thicker paints. The blend of Chinex and polyester filaments allow for better shape and stiffness retention, plus the stainless steel ferrule won't rust. Choose from a number of brush sizes and styles. (www.purdy.com)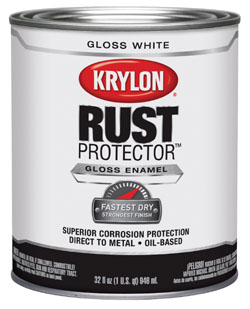 Krylon Rust Protector—The new Krylon Rust Protector offers dry time in as little as eight minutes for top-notch performance without the wait. The longer paint takes to dry, the greater the chance that foreign debris will stick to the surface. And or outdoor projects where wind and weather are factors, fast dry-time is extremely important. Rust Protector is available in both sprays and brush-on formulas and in a wide range of colors and special finishes, including gloss, semi-gloss, stain, flat, metallic, hammered and textured. (www.krylon.com)
Other Painting Articles