The same stuff used as a stopper in your bottle of wine made its first appearance as a construction material more than a hundred years ago. Cork was first used in construction because of its sound-absorbent properties. It was first used for wine stoppers because of its resistance to decomposition in the presence of liquids. These qualities and more have made cork a premium flooring material that has surged in popularity over the past 25 years. Here's a look at what makes cork "pop."
The High Appeal of Cork
Cork is a fully renewable resource harvested by peeling the bark off a tree that grows mostly around the Mediterranean countries of Portugal, Spain and Tunisia. It can also be found in a few other regions such as Central China where climatic conditions are favorable.
Because only the bark is used and the tree is left standing, cork is considered a "green" material. Only two flooring types can be considered green in the ecological sense of the term; bamboo and cork, both because they are fully renewable resources. Bamboo is a grass that can be harvested every five years, while cork is the bark of a tree that can be harvested without damaging the tree every ten years. This unusually thick bark contains millions of tiny, prism-shaped air pockets that create cork's resilient, cushiony surface.
Naturally, as a slow-growing material that must be imported, cork flooring can be a pricey investment. But after weighing the price against the benefits cork brings to a home, more homeowners are choosing cork flooring than ever before. Cork has an elegant, natural finish. It is hypoallergenic, anti-microbial and non-toxic. And cork naturally repels insects. It even resists fire and water and the perils of common house pets. In addition, cork is elastic and compressible, which makes it very comfortable underfoot and almost impossible to dent. It's also extremely durable; if properly maintained, cork flooring will last for generations.
Cork flooring is available as sheet material that has the appearance of compressed granules. To create different finishes a thin layer of decorative cork is laminated to the top of the core material during production. This veneer layer carries the decorative surface pattern. The surface can be finished, refinished, stained, bleached, painted, etched, inlaid and installed in patterns. A wide range of finishes is available, from those that look like bamboo to those that look like marble or wood grain. Colors range from dark walnut to a light honey color.
When purchasing the flooring, keep in mind that the higher the density, the stronger the material. Cork flooring should have a minimum density of at least 28 pounds per cubic foot. However, cork flooring products are available with densities up to 34 pounds per cubic foot.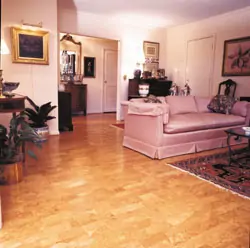 Tile vs. Floating Floor
Cork flooring is available as tiles or as floating floor planks. Glued-down cork tiles are more economical at purchase than the planks, but the subfloor must be carefully prepared, the tiles will be harder to remove and they'll provide less insulation than the planks. On the plus side, cork tiles can be mixed-and-matched to create borders or a checkerboard effect. They are also easily cut to size with a utility knife, allowing for more creative and decorative installation options. And, if you have a large space or are covering several adjoining rooms and do not want to install expansion joints, cork tile will provide an uninterrupted floor surface.
A floating cork floor is installed by "clicking" the planks together like a laminate floor. A floating floor provides superior acoustical and heat-insulation properties due to an extra insulating layer beneath the plank. Plus, the floating floor can be removed quickly by un-clicking the tongue-and-groove joints.
The up-front cost per square foot of material is higher for floating floor planks. But, that higher cost is often    offset by a reduction in subfloor preparation costs and decreased installation time.
Two things to keep in mind when using the floating planks … First, floating floor planks are usually 1/4-inch thicker than the tiles, which may be of concern when transitioning between different floor surfacing materials. Second, the maximum run in either direction for planks is thirty feet. If your space is larger in any one dimension than thirty feet, an expansion joint will be necessary. Expansion joints (T- strips or thresholds) are also required between each room.
A Quick Note on Installation and Maintenance
Either type of cork flooring can be installed on a wood or concrete subfloor. The subfloor just needs to be dry, smooth and sound—this is especially critical for glued-down cork tiles. With floating floors, the insulated backing of the planks adjusts to minor imperfections in the subfloor. But for glue-down tiles, any small hills or bumps will telegraph through the cork floor, so holes and depressions should be filled with a cement-based floor-leveling compound. Use a broad trowel to feather the compound outward so the floor is as smooth as possible. Before applying the adhesive, first apply a primer-sealer to the floor with a 3/8-inch-nap paint roller to stop water-vapor transmission.
Each type of cork flooring product will come with detailed manufacturer's installation instructions. Follow the directions closely.
Because cork is a wood product, you should apply a clear polyurethane finish over the fully installed floor. A high-quality urethane will resist water and household chemicals. Just occasionally reapply a coat of urethane and the cork floor will be a cinch to maintain. For regular maintenance, simply sweep and damp-mop the surface to prevent dirt and grit from acting like sandpaper and damaging your finish. Treat your new cork floor with respect and it will continue to dazzle you and your houseguests for many decades to come.