Contemporary Styles and Comfort Amenities
By Rob Robillard
According to the National Kitchen & Bath Association's (NKBA) 2015 Kitchen & Bath Design Trends report, contemporary designs top the list.
Top designers also note that nearly all bathroom amenities are also on the rise. This includes features like steam showers, frameless shower enclosures, sound systems, unique tiles, low flow toilets/fixtures and electric heated floors. When it comes to color, white still tops the list but, grey is making strides while beige is becoming passé.
Showers & Baths
The largest and more dramatic component of a bathroom is the shower, and we're not talking about the old single tub/shower solution, because homeowners have determined that this is officially "out." Now, showers are taking over but, not at the expense of a tub. Freestanding tubs are still finding a place in the bathroom.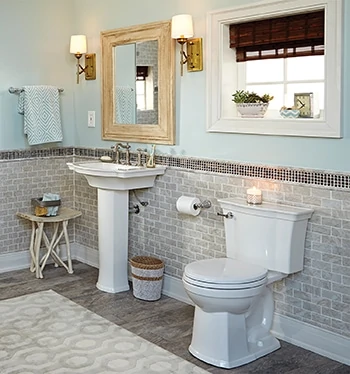 The tile, hardware and fixtures are where most people start and tend to spend the majority of the budget within the shower. However, the shower door and enclosure provide that subtle luxury that showcases those elements of personal style and interior design and, as such, should be considered much earlier in the planning and budgeting process.
Frameless heavy glass enclosures are a huge design trend because they give the bathroom that spacious, luxury spa-like feeling that homeowners want.
Since frameless enclosures are custom designed to fit the space, they tend to be more expensive. One of the more affordable alternatives is semi-custom enclosures that still offer the designer look, but allow for minor adjustments for out-of-plumb conditions.
Basco Shower Doors now offers two new products in their RODA collection that bring together the best two worlds with their Vinesse and Cantour shower enclosures. They offer a balance of beauty, function and affordable luxury that fits most standard opening sizes while delivering high design features such as rolling doors, clean lines and high-end finish options.
With the ability to manufacturer custom or "standard" products and a nationwide installation program, Basco has the capability to create a showpiece bathroom for any budget.
Warm Floors
Ceramic/porcelain tiles are far and away the most popular choice for bathroom floors as they are durable and easy to clean, but produce the coldest sensations of all the common finished floor materials. One solution is to incorporate a radiant heating system under the tile to greatly enhance comfort for bare feet. Heated floors are the fourth most popular bathroom trend, next to floating vanities and open shelving, according to NKBA's report. Several manufacturers offer a system of thin electrical elements that install directly in mortar underneath tiles and stone. (In wet areas like bathrooms, the heating elements often have to be installed under a waterproof membrane to avoid risks of sneak current and/or short circuit.)
Some radiant-heat companies offer products specifically designed for the bathroom, such as towel warmers, mirror defoggers, shower mats and bench mats. The Shower Mats are specially designed for standard-size shower floors and feature a hole in the middle to accommodate the drain, whereas the Bench Mats easily adapt to heat standard-size shower benches.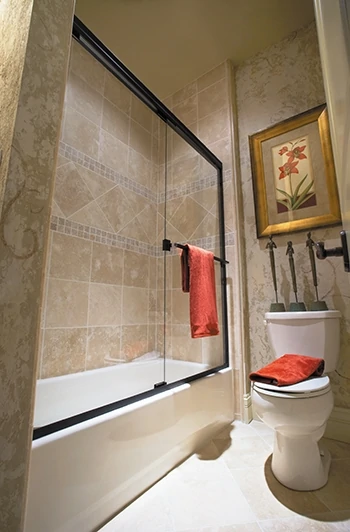 Water Temp Controls
Today's on-demand expectations and the homeowner's desire to control all aspects of the surrounding environment are finding their way into the bathroom. Companies are responding with a number of products to make life easier and more enjoyable.
Too cold, too hot, or just right? Delta's Temp2O faucet is available as a showerhead or a tub valve option with LED display, which shows the exact water temperature and changes colors from blue to magenta to red representing the range of cold, warm and hot. Take the guesswork out of the water temperature before getting in.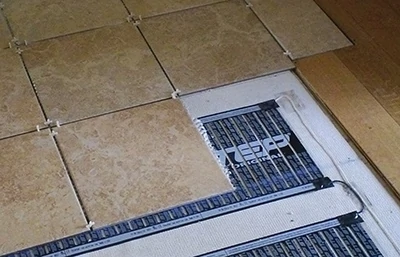 Sounds for Soaping
From the sounds of a Brazilian rain forest to the latest hip-hop single, music helps set the mood, and now there are a number of affordable options to make the bathroom come alive with sound.
Mr. Steam has recently introduced the water-resistant AudioWizard 2.0 Music System, a streaming Bluetooth sound system that can be used in any shower, with or without a Mr. Steam shower system. This sleekly designed unit can be mounted on the wall or set on a shelf. The stainless steel enclosure is smaller than a shoebox but delivers a lot of options so homeowners can design a sound system to meet their needs. The system plays digital music files or internet radio wirelessly, from smartphones or other audio devices.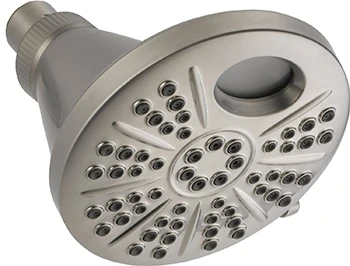 With simple plug-and-play connections and a built-in amplifier, the AudioWizard 2.0 can also function as a whole-house music system when the unit is within Bluetooth range of speakers and the music library. It also seamlessly connects to a dedicated in-shower remote to control the system.
Tile Style
At this year's marquee industry event, the Kitchen and Bath Industry Show (KBIS), more than 500 exhibitors displayed their latest wares for interior décor. While E.L. James asserted there are "50 shades of Grey," it was Walker Zanger who made the biggest impact with their new bold tile designs with warmer gray tones of wood-textured porcelain paired with white marble in a variety of patterns.
The company's new Sterling
Row collection won 1st place in the Best of KBIS/Bath category. The designs were inspired by the elegant feel of fine fabrics, the richness of burnished leather and the luxuriously appointed shops of the finest tailors in London, Manhattan and Paris.
The Oxford and Charcoal patterns give the impression of 3D tiles while the Chesterfield and Wingtip offer a more traditional look and feel.
Tidy Toilets
The old saying is that cleanliness is next to godliness, and if that is the case, then the American Standard Optum VorMax toilet is heavenly. The designers started from scratch to develop a new flushing technology that eliminates the traditional rim holes around the bowl that deliver water during a flush. Instead, the VorMax flush delivers one powerful jet of water that scrubs the entire bowl clean.
The innovative VorMax flushing system has been independently verified to clean the bowl two times better than conventional toilets. The toilet's flushing action allows water to powerfully scour every square inch of the bowl, even the hard-to-reach spots under the rim.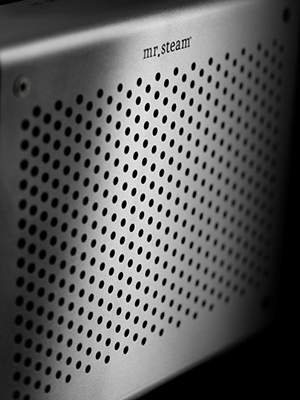 The CleanCurve Rim replaces the traditional rim cavity and holes inside the bowl where dirt and buildup can hide. When paired with EverClean, the unique permanent finish, the result is a toilet that inhibits the growth of stain and odor-causing bacteria, mold and mildew on the surface.
It's also a high-efficiency toilet, using a water-saving 1.28 gallons per flush (gpf) and has earned WaterSense-certification from the U.S. EPA for providing high performance while using 20 percent less water than traditional 1.6 gpf toilets.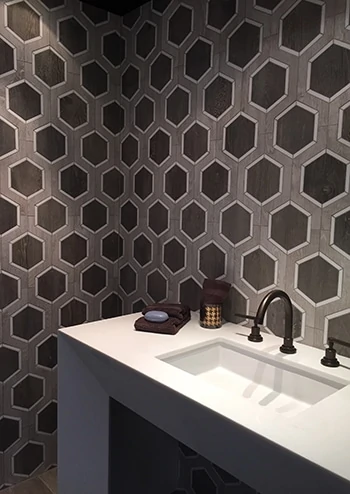 Return on Investment
The National Association of the Remodeling Industry (NARI) reports that bathroom remodels offer one of the better returns on investment for a home. Remodeling costs vary, depending on whether the original footprint of the bathroom is maintained and whether plumbing and electrical lines need to be moved, but experts estimate that home-owners get approximately 64 percent back in terms of investment when they remodel a bathroom, NARI states.
Side Note 1
A Serious Commitment
It makes sense to create a bathroom you'll truly enjoy. People spend an average of an hour and 25 minutes each week in the bath or shower. Women spend 72 days shaving their legs over the course of a lifetime, meaning approximately 1,728 hours. And, according to various studies, the average person spends 3 years sitting on the toilet throughout their life.
— Sources: The Scotsman, Huffington Post and The Toilet Paper Encyclopedia
Side Note 2
Luxury Bath Options
"The bathroom is the private oasis in the home where you want to unwind and recharge," says Haley Davis, product manager with Mansfield Plumbing. "For some people that means a good, long soak in a deep tub with quiet music in the background. For others it means a vigorous whirlpool experience with pulsating jets of water to soothe your muscles." Davis recommends researching the options to discuss with your builder.
Soaking Tubs – Ergonomically designed and significantly deeper than standard bathtubs, a soaking tub allows full body support and deep immersion into comforting waters.
Whirlpool Tubs – Precision-aimed jets of water can relax and rejuvenate the body in a whirlpool bath. Strategically-placed jets target different parts of the body for deep tissue massage.
Air Massage Baths – While whirlpools circulate water from the bathtub to massage the body, air baths inject streams of air into the bathing well, surrounding the body with millions of therapeutic bubbles. Choices include vigorous hydrotherapy massages and softer, more soothing baths.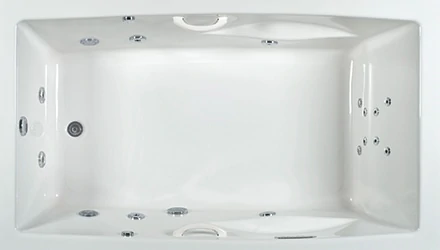 Walk-in Tubs – If getting in and out of a tub is a challenge now (or you think it might be in the future), a tall walk-in tub with an inward swinging door is the ideal solution. Created with an ADA-height seat, the tub provides a deep well for bathing with options for air massage and whirlpool jets.
"Don't forget to research the options available with each of these bathing experiences," says Davis. "From chromatherapy mood light systems in whirlpool baths to in-line heaters that keep the bath water warm no matter how long you soak, there are many enhancements that can be selected to create a luxury bath." Check out Mansfield Plumbing's bath options at www.mansfieldplumbing.com.
Side Note 3
Goof Proof Shower Seat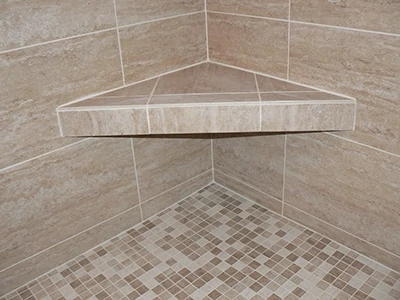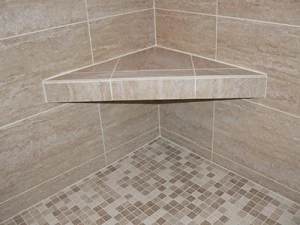 Mark E Industries has developed a heavy-duty, molded plastic corner shower seat that not only installs easily, but is also immediately ready to tile afterwards. The Shower Seat (GPSS-3024) is the standard 30 inches wide with guide marks to make it easy to cut the seat to 24 inches wide, if preferred. The waffle pattern on the top surface ensures ideal tile adhesion. Two leveling vials are integrated for installation convenience and to maintain the built-in 1/4-in. fall per 12-in. run slope during installation. The front face has a full width support shelf to keep the vertical tile from sliding. Six predrilled, fortified mounting holes are strategically angled to boost the seat's shear strength rating. All necessary hardware is included and consists of six anchors, screws and shims. The shims are for managing walls that aren't square. The maximum suggested weight capacity of the Goof Proof Shower Seat is 400 lbs.
For new installations, blocking between the wall studs is required. The seat is attached by screwing through the wallboard and into the blocking.
For retrofit installations, the seat is installed on the wall tile surface by drilling 3/8 inch holes and using the supplied plastic toggle anchors. Visit Goofproofshowers.com.