Visit a home supply store and you'll find many different caulks for many different jobs, but it's important to sort out the differences. When properly applied, a top-quality sealant helps provide a watertight and airtight seal to increase energy efficiency and protect the entire home from moisture damage. The right caulk can provide years of low-maintenance performance, but the wrong one can fail to seal or even serve as a breeding ground for mildew.
For example, a common gripe about bathtubs and showers is the dark mildew stains that often appear along the joints. The mildew is probably due to using the wrong type of caulk in a wet environment. Check the store for the variety of caulks labeled explicitly for "tub and shower" or "tub and tile." These "tub and shower" caulks are likely silicone-based, which makes them ideal for damp situations. Silicone sealants are flexible when they dry and often contain a mildewcide. Pick up one of these products for a bathtub job, but do not save the rest to use in your kitchen if it contains mildewcide. The mildewcide is a poison that shouldn't be used around food, drinking water or in dishwashers. This is why it's important to always check the label for instructions.
Silicone is the ingredient that serves as a selling point for many sealant products. Unlike acrylic latex caulk, 100-percent silicone is waterproof as long as it remains adhered to the substrate. Water cannot get through it or break it down. Once cured, there is no shrinking, hardening, cracking or crumbling. Even extreme temperatures, which often cause acrylic caulk to lose flexibility and degrade over time, do not affect silicone.
Silicone is also shrink-proof and flexible once it has cured, so it stretches and compresses with joint movement as a house moves and settles. This eliminates hardened acrylic caulk that can break over time, leaving gaps for air and water to pass.
Given all the benefits of silicone, you might wonder why acrylic latex caulk is still going strong. If water isn't an issue and you plan to paint over the caulk, then acrylic is a better choice. For indoor jobs, acrylic caulk has some big benefits going for it: namely, affordability, workability and paintability. Acrylic caulk is usually half the price of the silicone variety, which amounts to major cost savings on large projects.
Acrylic caulk can also be easier to work with because it isn't nearly as sticky as silicone. A quality acrylic caulk applies smoothly and easily, and you can run your finger over the bead to shape it without covering yourself in a gooey, viscous mess that refuses to wash off. Instead, a good acrylic caulk will wash off with water and work more like cake frosting than glue, preventing the "rabbit in a tar pit" effect.
The cleanup factor is why many manufacturers' claims of an "all-purpose" siliconized caulk can be misleading. I suppose it's true that the silicone variety can potentially be used anywhere, but the extra time and work involved in the cleanup makes the product impractical for large, interior jobs where waterproofing isn't necessary. And when I say cleanup, I don't mean cleaning once at the end of the job. The cleanup for silicone will likely require many repeat trips to the sink to wash up during application, because if you don't immediately use mineral spirits to remove the silicone, you will soon be coated with cured sealant—and you practically have to sand-blast the stuff off.
Another important factor is that acrylic caulk is paintable, and thus is commonly called "painter's caulk." Although a few of the newest formulations of silicone sealants are advertised as paintable, paint typically will not adhere to silicone. Again, be sure to check the packaging for recommended usage. Silicone sealants are usually sold in white or clear, but some manufacturers now offer black, bronze, almond, gray or cedar.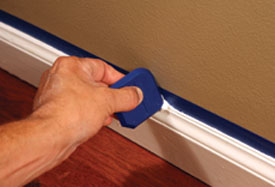 Also available are hybrid caulks, such as DAP's Alex Plus Acrylic Latex Caulk Plus Silicone. The silicone adds flexibility and durability while the caulk remains paintable and easy to clean up.
Advanced Formulas
As technology advances, several manufacturers are moving away from standard acrylic and silicone toward new sealant formulations that offer better workability, extra durability and more functionality.
One such popular caulking category among pros and DIY'ers is the multipurpose caulks called "adhesive caulks," such as the Polyseamseal product line from Henkel. Adhesive caulks function just like they sound, serving as both a joint-sealing caulk and a light-duty construction glue that offers excellent adhesion to a wide range of surfaces. Polyseamseal is available as a silicone-based product as well as a water-based acrylic for easier cleanup. These products do a good job of serving double duty, but expect to pay for the adhesive functionality.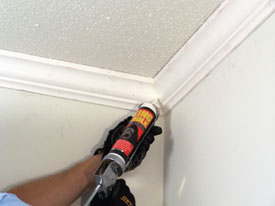 Red Devil has a multipurpose caulk called King Caulk, billed as a three-in-one product that also serves as caulk, sealant and adhesive. King Kaulk is a hybrid polymer sealant that grabs onto surfaces quickly, bonding permanently like strong glue. It forms a flexible, watertight seal that won't shrink or crack. King Kaulk is paintable, easy to tool and finish, and has low VOC and virtually no odor. When cured, it resists harsh weather conditions, UV rays and mildew. King Kaulk is more expensive than competitive products, but it does the job of three products: It caulks tubs, showers and countertops. It seals windows, doors and gutters. And, it bonds wood, concrete, brick, metals and plastics.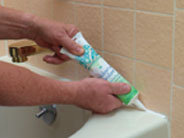 Sashco offers a multipurpose co-polymer rubber-based sealant called Lexel as an alternative to silicone. Although 100-percent silicone can create a tight seal, if improperly applied the bead can "zip" off the substrate (see sidebar). Then, you have to use a strong silicone remover or you can't reapply it (or anything else) successfully. In response, the Lexel product offers superior adhesion that creates that 100-percent watertight seal, plus it can be applied over itself. Lexel is so adhesive it can even be applied to wet surfaces, and it readily accepts paint. This is a high-performance product, so expect to pay more than you would for typical silicone sealants.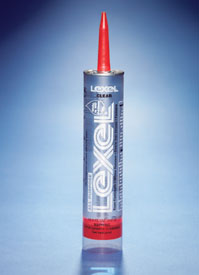 Application Tips
A tight seal is critical to keep water out from around windows, doors, tubs and sinks. To get the best results from the caulking, you need a clean surface free of dust, dirt, soap residue, oil, old caulk or other foreign materials.
When using caulk in a squeeze tube, knead it with your fingers before applying to get a smooth, consistent bead. When using a caulk gun, keep the nozzle pressed tightly along the joint, and be sure to release the pressure from the plunger after finishing the bead so caulk doesn't continue to dispense and create a mess.
One way to maintain a straight caulk line is to use painter's masking tape. Tape off the areas on both sides of the joint and apply the product of your choice. Shape the joint with a dowel, wet finger or a wet paper towel, working the sealant into the gap. Tool only enough to smooth the caulk. Peel away any excess caulk on the tape to leave a nice, neat bead.
Beyond sealing standard joints and seams, frankly I rely heavily on acrylic caulking when I'm installing interior paint-grade trim to fill any unsightly gaps and cracks (or bad cuts) in the molding. At times, I'm not the most precise finish carpenter, so over the years I've learned to apply caulk, shape it roughly, let it dry, and sand it down to match a molding profile (or repeat as necessary), to give some shaggy joints a more finished appearance. Granted, caulk isn't necessarily intended to correct the mistakes of shoddy woodwork, but I use it anyway.
Finally, most caulk jobs fail due to improper installation or incorrect product selection. The many different caulk formulations can be confusing, but the products are also labeled with detailed instructions for their intended application. Pay close attention to the package when shopping, and know that while an "all-purpose caulk" might suffice, it may not always be the smartest choice for the job at hand.
New Caulks, Sealants and Adhesives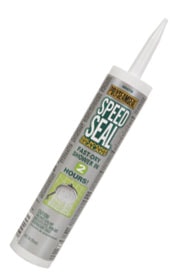 Polyseamseal EST Speed Seal
Henkel Corporation's new Polyseamseal EST Speed Seal is a 100-percent silicone kitchen and bath sealant that is shower-ready only two hours after application. Featuring enhanced silicone technology (EST), the ultra-fast-dry system is ideal when quick use of bathrooms and kitchens is essential, such as in the 53 percent of U.S. homes with 1-1/2 bathrooms or less. Many competitive sealants require a 4- to 36-hour waiting period before water exposure (www.polyseamseal.com).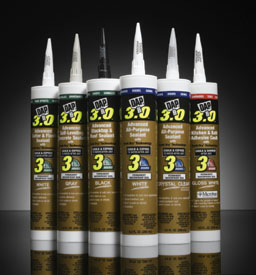 DAP 3.0 Advanced Sealants
The new line of DAP 3.0 Advanced Sealants features DAP's Kwik Dry Technology enabling the sealants to be exposed to water in just three hours without washing out. For outdoor applications, this also means not having to wait for ideal weather conditions to undertake a project. The DAP 3.0 lineup includes five distinct options for concrete, gutters, roofs, kitchens and more. Mold and mildew resistant, the 3.0 sealants offer superior paintability and are easier to tool and less stringy than silicone.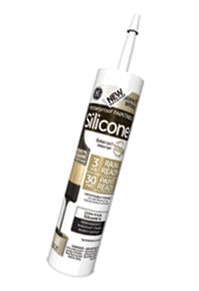 GE Silicone II
The new GE Silicone II product line is made of 100-percent premium silicone and, like the DAP 3.0 sealants, the Silicone II sealants are water-ready in only three hours. Plus, a paintable formula is ready for paint in just 30 minutes. The permanent flexibility of the silicone keeps it from breaking down so it can protect a home as the seasons change and joints expand and contract.
Superior adhesion and flexibility
The new GE sealants come with 5-year mold-free product protection that helps keep the cured caulk mold- and mildew-free and looking clean for five years, with regular cleaning. At the time of publication, the Silicone II sealant was the first and only caulk to attain the NAHB Research Center National Green Building Certification.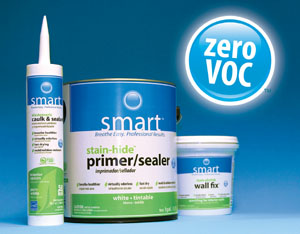 The SMART Prime and Repair System
The SMART Prime and Repair System from Gardner-Gibson provides a healthier solution for priming, caulking and patching walls with a new zero-VOC, virtually odorless formula. The three products in the system include SMART Elastomeric Caulk & Sealant, SMART Stain-Hide Primer/Sealer and SMART Non-Shrink Wall Fix Spackling. The new family of products helps preserve healthy indoor air quality with no harmful chemicals or noxious odors. In doing so, the SMART products also address the growing trend of people with asthma, allergies and other breathing conditions at home and in the workplace. "SMART products are perfect to prepare walls while people are still working or living in the spaces," says Morton Jones, director of research and development for Gardner-Gibson. "It's almost turned painting into an 'invisible process' with no odors."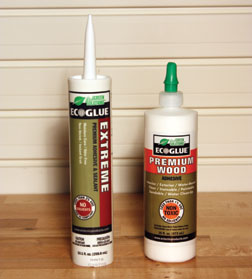 EcoGlue Extreme Adhesive & Sealant
For the green-minded handyman, EcoGlue Extreme from Eclectic Products is a high-performance polyether with moisture-cure technology that is 100-percent solids, solvent-free and contains less than 2-percent VOC. It's environmentally friendly without sacrificing strength, providing "instant grab" adhesion on a wide variety of substrates for a lasting weather-tight seal, even in difficult wet-application conditions. EcoGlue Extreme is suitable for both vertical and overhead applications and can be painted after 24 hours. It contains no odor and is safe to use indoors or in confined spaces. Eclectic Products also offers EcoGlue Premium Wood Adhesive.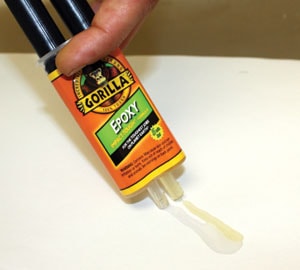 Gorilla Glue Impact-Tough Epoxy
The makers of Gorilla Glue now offer a new Gorilla Epoxy with high impact resistance and an uncommonly strong bond in a formula that takes only five minutes to set. Many quick-setting epoxies create a brittle bond, requiring jobs to be re-done. The new epoxy formula utilizes urethane hybrid technology to improve overall strength and flexibility for a permanent fix the first time. The low-VOC two-part epoxy comes in a single-plunger, dual-tube applicator to easily extrude equal parts of the product so the user can easily mix them together to begin the curing process. The Gorilla formula bonds steel, wood, aluminum, ceramic and more.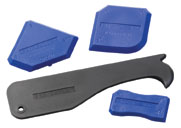 DAP Pro Caulk Tool Kit
Applying caulks and sealants is typically messy and time consuming. But with the new DAP Pro Caulk caulking tools you can seal like a professional in minutes. The kit contains four tools with a variety of edge sizes and shapes. There's a tool for smoothing larger joints and a tool for smaller joints and grouting tile. Also included is a mini-tool for smoothing joints in hard to reach places, as well as a caulk-removal tool. To use the Pro Caulk system, simply select the tool according to the size of the joint being sealed and the finish desired. Applying even pressure, quickly slide the tool along the joint for a perfect finish. DAP Pro Caulk tools are made from DuraFlex and are easy to clean with water or mild dishwashing detergent.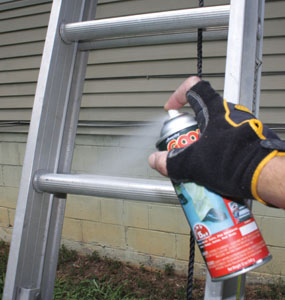 Amazing Goop Anti-Skid Epoxy with Grit
Amazing Goop is a line of high-performance adhesives for a wide array of uses. Now available is the Amazing Goop Anti-Skid Epoxy with Grit, which comes in an aerosol spray can for easy application to anything that needs extra grip. The EHT staff tested the product on a ladder, but it's suitable for interior or exterior use on wood, concrete, metal, fiberglass, tile and other surfaces. It dries quickly, offers firm footing even in wet conditions and is even friendly on bare feet.
Strong bond to concrete sidewalkes, driveways, curbs, pillars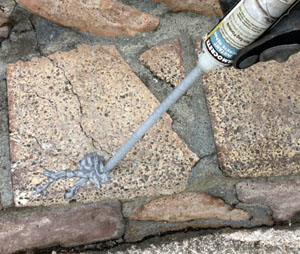 Famocrete Instant Concrete Repair
Famocrete Instant Concrete Repair is a rigid, sag-resistant polyurethane repair product for broken or spalled concrete. This two-part product comes in a ready-to-use universal cartridge tube, which mixes the product at the point of application. Famocrete is easy to apply, consists of 100-percent solids and cures quickly to form a strong bond to concrete sidewalks, driveways, curbs, pillars and more. The repairs set quickly, and once cured the product is sandable, grindable and paintable.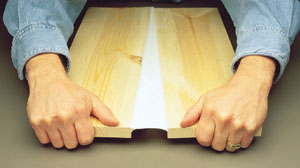 Big Stretch
As far as workability and stretchability, it's hard to top the Big Stretch caulk from Sashco. It spreads as easily as mayonnaise and is ideal for filling large gaps where acrylic latex would normally shrink and pull away from the joint. In fact, Big Stretch can be used to span gaps as wide as 2 inches (with use of a backer rod) and its superior adhesion and flexibility means it will stay in place, capable of stretching more than twice its original size.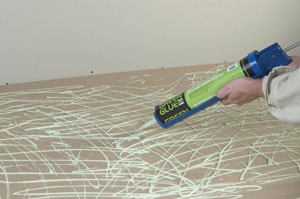 Green Glue Noiseproofing Compound
The Green Glue Noiseproofing System is designed to substantially reduce noise transmission between rooms. The system consists of Green Glue Noiseproofing Compound, Clips, Sealant and Joist Tape. When applied between two sheets of drywall, plywood or other building substrate, Green Glue Noiseproofing Compound drastically reduces noise transfer from one room to the next by as much as 90 percent, including low frequency sounds that are normally resistant to soundproofing. Green Glue Noiseproofing Sealant plugs up easily overlooked gaps and leaks in walls and ceilings that contribute significantly to noise transfer. Both the Green Glue Compound and Sealant are non-toxic, environmentally responsible and contain no VOCs or hazardous odors. (www.greengluecompany.com.)
Prep Steps for Sealant Success
Don't skip the preparation for your caulking job, or you'll likely be revisiting it for a clean-out and reapplication. This "zipping" bead of silicone sealant drooping off a window at the EHT office was most likely applied to a dirty surface. This is an example of caulking done the wrong way.
Before you begin your project, remove all dust and debris from the substrate and use a cleaner on smooth surfaces to eliminate any oils or other residues. Make sure the substrate is dry before applying. When tooling the bead, work the product down into the joint. Temperature can also affect the size of the joint. According to the experts at Henkel, it's best to apply caulk between 50 and 90 degrees F.