(published to web 12/2007)
No thanks to that stubborn force of gravity, we earthlings are stuck on the ground. This means that to reach a lot of overhead work, like window cleaning, house painting, or roof and gutter repair, we need to drag out the ladder. But these days, many ladders go far beyond just side rails and rungs. Some models can be configured as a versatile workstation or accessorized with tools to make the job easier. On my visit to the Hardware Show last spring, I was struck by the numerous ladder designs, tool holders, stabilizers and other innovations in the ladder market. This overlooked staple of the garage deserves a little more attention, so here's a look at some of the most interesting ladder products on the market.
Telescoping Ladders
Traditionally, homeowners use a stepladder for around-the-house jobs and an extension ladder for roof work. Telescoping ladders present a single solution for both jobs.
The original telescoping ladder was invented in Europe and introduced to the U.S. by a man named Hal Wing. He was impressed by the ladder's versatility, which allowed it to take the place of several stand-alone ladders. "Thirty years ago Hal Wing started selling telescoping ladders in the States, and over time he added some key innovations that make the Little Giant what it is today," says Mel Huffaker, national sales manager for Little Giant Ladder Systems.
Today, that original telescoping ladder has evolved into the Little Giant Ladder. The Little Giant can replace five different size A-frame ladders, nine different size extension ladders, two scaffolding trestles with five heights, ten staircase ladders (for working on uneven surfaces, as shown in the lead photo), and four 90-degree ladders (for getting close to walls).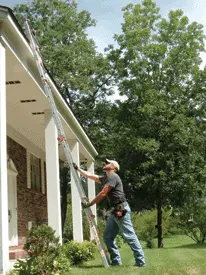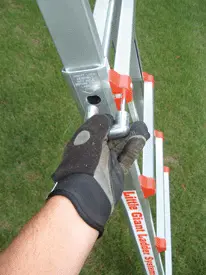 The Little Giant can be folded down to 5′ 7" or extended to 19 feet. Simply lock the ladder frame into position with the heavy steel lock tabs.
And, it's as strong as a bear. The Little Giant is made of heavy-wall 6005-T5 aluminum to be four to five times more durable than ordinary ladders. The Little Giant Type 1A has a rated workload capacity of 300 pounds, but according to Huffaker it has been tested to withstand four times that amount without structural failure. "Little Giant goes the extra mile to provide welded rungs for additional strength," says Huffaker. "Plus, this is the only telescoping ladder that is manufactured in the USA."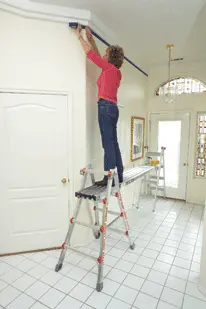 The Little Giant can be separated into two A-frame scaffolding supports.
Extreme How-To had the opportunity to test the company's Type 1A Model 22 ladder (5-foot), and we have to admit—it really is all it's cracked up to be. The ladder can be folded down to 5 feet, 7 inches, and extend up to 19 feet. This is achieved in part by a hinge in the middle of the ladder, which has positive stops when the ladder is straight (in extensions mode), when the ladder is folded in half (for easy storage), and when the ladder is angled like an A-frame. The hinges lock with two heavy 1/2-inch steel pins for plenty of durability. However, aside from that center hinge, the ladder also telescopes by allowing its two-part frame to slide for different ladder heights. Simply stretch the frame longer or push it shorter, and lock it in place with the steel lock tabs. These sliding frames move independently of each other on either side of the center hinge. This means you can extend one side of the A-frame at a different height than the other for working on stairs or uneven ground. And, the frame even separates to be used as two A-frame supports for scaffolding.
I can see a ton of uses for the Little Giant, which would make a great one-size-fits-all ladder for the professional or serious DIY'er. At only 42 pounds, it's easy to transport and beats the heck out of storing multiple ladders for different jobs.
After the success of the Little Giant, Werner has launched its own multipurpose ladder called the 12-Step Telescoping Multiladder. And, to be fair, the Werner edition owes a lot to the design of the Little Giant. Available in four models from 13 to 26 feet, the Multiladder quickly converts into a wide range of different working heights or positions. The 13-footer has 13 different heights or positions; the 26-footer has 37 working positions.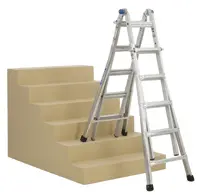 Werner offers a similar design with the Telescoping Multiladder.
A unique spin on the telescoping concept comes from Telesteps. Muck like an actual telescope, the side rails of the Telesteps ladders are constructed of tubular aluminum that automatically lock in place at 1-foot increments, providing multiple sizes in one small package. Telesteps is basically a "ladder in a box" that combines strength with portability. The Telesteps Model 1600W is rated at 300 pounds but weighs only 27 pounds and converts from a 30-inch storage length to 12-1/2 feet when fully extended. Several sizes and models are available, and each has a 12-month warranty.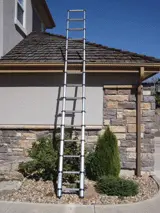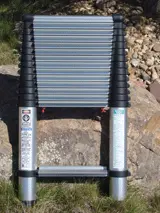 Telesteps offers a unique spin on the telescoping design with collapsible
aluminum side rails.
Project Ladders & Specialty Models
One handy feature—wait … make that features—of many of today's stepladders are the multi-faceted, built-in workstations that hold tools and materials right at you fingertips.
For example, the new 5-foot Signature Series from Cosco is a lightweight aluminum ladder that offers a deep top-step platform for comfortable working space. The ladder's large, self-folding working tray includes recessed areas for paint cans and tools; a locking drawer with cover; drill holder; and a paper towel holder. Plus, the ladder easily folds up with a simple one-handed motion.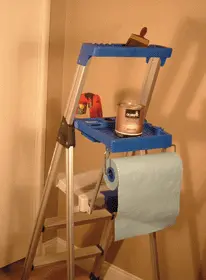 The new Cosco Signature Series ladders feature large work trays and various tool holders.
Werner also has a line of project ladders with convenient top hand grips and an oversized tool platform with multiple storage pockets. Both the Werner and Cosco project ladders have non-marring, skid-resistant, feet to protect floor surfaces and make great choices for light-duty DIY work in and around the home.
Werner also manufacturers the Equalizer. Offering a solution for ladder work on uneven ground, the bottom of the ladder rails adjust in length with an 8-1/4-inch range. If the ground is lower on one side of the work site, just extend the corresponding leg to level the ladder.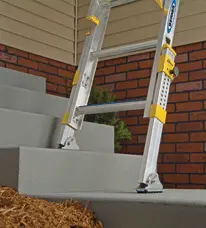 Werner's Equalizer ladder can adjust for work on uneven ground.
One new innovation from Werner is the company's telescoping ladder designed specifically for attic access, dubbed the Televator. The ladder's telescoping design makes it ideal for tight spaces, unlike the folding sectional attic ladders of the past. The Televator is designed for one-person installation for quick, hassle-free attic access, enabling homeowners to use untapped storage space above closets, hallways and garages.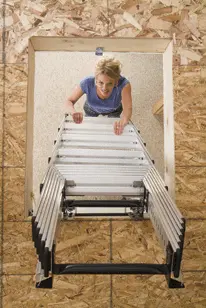 Werner's new Televator is designed specifically for attic access in confined areas.
Just in time for hunting season, Louisville Ladder has launched a new line of camouflage ladders. Perfect for hunting and military enthusiasts, the camouflage ladders will be available in a 6-foot stepladder and 16-foot extension ladders. The fiberglass stepladders feature a molded top with tool slots, slip-resistant feet and pinch-resistant spreader braces. Rated at Type II means the stepladder safely supports the user and materials up to 225 pounds. The fiberglass extension, also rated at a Type II, features Louisville's exclusive Quicklatchrung locks, D-shaped rungs and swiveling safety shoes.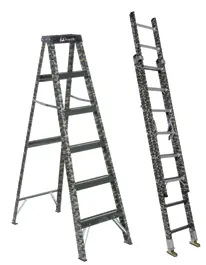 Perfect for hunting and military enthusiasts, Louisville Ladder offers a new line of camouflage ladders.
Accessorize It
You can enhance the versatility of your existing ladder by retrofitting it with some workstation accessories similar to those mentioned above. For instance, the HANDy Paint Pail serves double duty as a sturdy paint bucket attachment or a tool basket. The unique fixed bracket on the pail secures to most step and extension ladders and holds more than 1 gallon of any paint, stain, liquid or solvent. A built-in paint grid is designed for use with rollers up to 9 inches for large painting projects.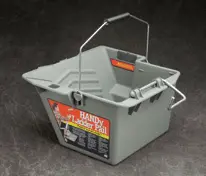 The HANDy Paint Pail serves as a sturdy paint bucket attachment or a tool basket.
The EHT staff recently tested the new Professional Ladder Utility System (PLUS), an innovative accessory kit containing a tool bucket, paint tray and universal ladder mount, which position tools and equipment close at hand for speedy completion of all sorts of home repairs. The PLUS system, from Creative Sales Company, is designed to fit on step, multi-use and extension ladders. The ladder mount secures the tool bucket, paint tray and a universal tool holder at working level. It features a safety latch, safety strap and leveling adjustment block. The PLUS kit is a handy upgrade for any ladder.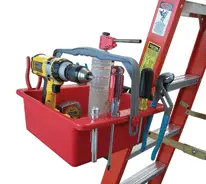 Accessorize your ladder with the Professional Ladder Utility System (PLUS).
And, when it comes to ladder work, you can't overstate the importance of ladder stability. It doesn't take a wise man to know that a shaky ladder can lead to an accidental fall punctuated by a sudden bone-crunching thump. To prevent this, many professionals use a ladder stabilizer, often called "stand-offs." Several manufacturers offer ladder stabilizers, but the most widely sold stand-off is called the Ladder-Max. The Ladder-Max attaches to the top of a ladder for more positive contact with the wall it is leaning against. It helps stabilize the ladder by preventing sideways movement. The Ladder-Max clamps securely to the ladder by means of a large knurled nut, and comes complete with a large work-tray area for holding paint, power tools and more.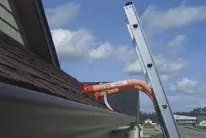 Shown is the Ladder-Max stand-off, which stabilizes ladders
by preventing sideways movement.
Another take on stabilizing ladder attachments comes from Australia. I learned of the Black Adda accessory at the 2007 Hardware Show. The product is a ladder leveler that installs at the bottom of the ladder in minutes. It is lightweight, rustproof and durable, and fits all aluminum and fiberglass open-rung ladders. The Black Adda works by adjusting the length of the ladder rails, just like Werner's Equalizer ladder.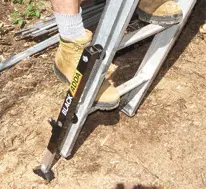 The Black Adda is an attachment that stabilizes ladders by adjusting the length of their side rails.
As you can see, in many cases, a ladder isn't just a ladder. These days you can choose one that serves as versatile work station, or accessorize the ladder you own to make your next job easier than ever.
 Side Note
Ladders: Shopping and Safety
Like a car, buying a ladder is an important investment. You want to ensure it's a good fit for your lifestyle, it can handle the work demanded of it, it's reliable and safe, and it comes with a good warranty. To help you crack the code on ladder systems, here are a few tips from the experts at Cosco:
• Take Measurements: Measure the height from the ground to your top support point (where you hope to reach). Due to the angle of the ladder when it's in working position, a 9-foot working height requires a 16-foot extension ladder.  A 9- to 13-foot height requires a 20-foot ladder, and a 13- to 17-foot height requires a 24-foot ladder.
• Identify Duty Ratings: There are five ANSI duty ratings assigned to ladders. Type 1AA accommodates up to 375 pounds; Type 1A, 300 pounds; Type 1, 250 pounds; Type 2, 225 pounds; and Type 3, 200 pounds.
• Consider your Use: Common household chores, such as gutter cleanup, painting and window washing, require a Type 3 (or light duty) rating. More involved DIY projects, such as installing windows, hanging awnings or replacing shutters, require a ladder rated medium- to heavy-duty (Types 2 and 1, respectively). Types 1A and 1AA are typically reserved for heavier work; roofing, construction, utility work, etc. 
• Choose your Finish: Most ladders you'll find at your local retailer are aluminum—a lightweight choice suitable for most home uses. However, many ladder manufacturers are now offering a fiberglass option. Like their aluminum counterparts, these ladders are lightweight and durable—with the added benefit of non-conducive side rails for those working around electricity.
• Select your 'Must Have' Features: Like your car, ladders come with a host of extras: slip-resistant footing, tool slots, work tray, carry handles, etc. Choose the options that make the most sense for you and your budget. For example, if you like to paint, you may find a ladder with a recessed area for paint cans and tools particularly useful.   
• Be Mindful of Ladder Safety: Read and follow all ladder labels and instructions prior to use. Always keep your body between the side rails, working with one hand while holding the ladder with the other. To maintain balance, never push or pull on anything as this may cause the ladder to tip. Use a line to haul essential items up the ladder; do not carry tools and other paraphernalia while climbing. And never exceed the maximum load capacity of your ladder.
Ladder Supplies
Black Adda
www.blackadda.com.au
Cosco
 Creative Sales Company
Ladder-Max
Louisville Ladder
 Telesteps
 Werner