From organization to ornamentation, cabinets are among the most noticeable and useful features of your kitchen and bathroom. Cabinets determine both the style and day-to-day functionality of the room, but these benefits can carry a hefty price tag. Cabinets are as much a financial investment as they are a statement of taste, and putting a great deal of thought into their design will pay off in the long run.
Cabinets are available in three classifications: stock, semi-custom and custom. Stock cabinets are preconstructed into fixed dimensions and present the least expensive choice. Semi-custom cabinets, typically 20- to 30-percent more costly than stock cabinets, are constructed in box-like stock models but offer customized sizes, fittings and other options. Companies such as Scherr's manufacture ready-to-assemble cabinet boxes for cabinet builders and do-it-yourselfers, offering more than 135 door and drawer styles. Custom cabinets present the most expensive option but also the most flexibility in design. Built from the buyer's specifications, custom cabinets can provide the perfect fit for the room and are a great choice when matching pre-existing cabinets or trying to accommodate unusual dimensions.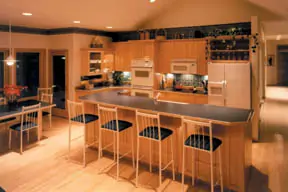 Photo courtesy Scherr's
Door styles for cabinets are another facet of the design selection and are categorized into two main styles. Face-frame doors, a traditional style, reveal part of the cabinet frame around the perimeter of the door. Full overlay doors, typical of the modern European look, covers the entire frame of the cabinet.
The design of a kitchen's cabinets should strike a balance between elegance and usefulness. Is the kitchen often used for cooking or just eating take-out? If the kitchen is in constant use, then on what scale? How big is the family and how demanding are the cooking requirements? What organizational demands will the cabinets need to meet in regard to storage space and people's ability to move about the room? First consider the day-to-day function of your design, and then focus on aesthetics.
Plenty of Options
Among the most popular trends in modern cabinet design is the furniture-style look. The furniture style often combines painted and stained wood to achieve the look of fine furniture pieces such as desks or chests. Antiquated finishes or colorful paints are popular options, as well as mixing different styles of cabinets in the same kitchen. Ornamentation and fine details enhance the appeal of many kitchen cabinets, adding decorative touches such as columns, elaborate trim, moulding, glass or metal insets and more. Unusual cabinet shapes, such as arched, hexagonal or convex doors are a growing trend, as well as carved wood motifs. Options for cabinet design, particularly in regard to custom cabinets, are virtually limited only by the imagination – and pocketbook. Here are a few popular trends to consider.
Pierced Tin
Handcrafted pierced-tin panels can achieve an antiquated look for modern cabinet design. Evoking the warmth of an old-fashioned country kitchen, pierced-tin door panels can embellish almost any cabinets (old and new), broom-closet doors, pie and food safes, jelly cupboards, spice cabinets, breadboxes, vegetable bins, entertainment centers and more.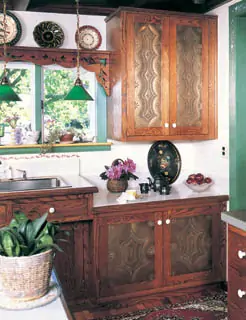 Photo courtesy Country Accents
Artistic pierced-tin panels from Country Accents are available in hundreds of designs and metal finishes, and in a wide variety of standard sizes. However, if the standard sizes don't fit the bill, most designs can be readily adapted to custom size requirements.
And to keep the original luster of the tin beautiful for ages, the panels require a minimum of care. To clean, simply wipe with a soft, dry cloth. Should it become necessary to use a cleaner, use only a mild, nonabrasive detergent diluted in water and then wipe dry immediately. Never use waxes, polishes or abrasive cleaners on these panels as they may damage the protective coating. With proper care, these panels will keep their original appearance indefinitely.
Cool Contemporary
Many decorators feel that a smooth, clear design defines hip in today's wood cabinets. Contemporary designs often feature smooth, uncluttered lines, allowing any room to look sleek, simple and elegant.
Epic-style cabinets from the Merillat Masterpiece line are a good example of a contemporary cabinet design that evokes a comfortable and harmonious feel for a room while maintaining a modern aesthetic appeal. Standard features of the Masterpiece line include fully concealed, self-closing hinges and adjustable shelves. Roll-out trays are available in most base cabinets, and all roll-out cabinets and drawers operate on dual captive roller system.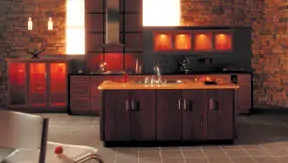 Photo courtesy Merillat
Just as laminated material covers many countertops, this material is also used to manufacture many modern kitchen and bathroom cabinets. Its exceptional durability and endless possibilities in color, texture and shine make laminate an excellent choice for those in search of a futuristic look. For a soft look, consider creamy colors and a matte finish. For a bolder, more modern design, an Italian-style design offers shining cabinet faces and strong colors.
A huge advantage for laminate cabinets is the easy-care maintenance required. Whereas wood is subject to changes from temperature and humidity, demanding more care and attention, laminate only requires an occasional wipe to retain a like-new appearance.
Finishing Touches
Naturally, there's more to cabinet finishes than maintenance concerns. The texture of the finish evokes a feel for the room almost as much as the color choice does.
Wellborn Cabinets, for example, offers a variety of new finishes for its 2003 product line. The company's Rustic finish is available on three additional door styles. Rustic features a golden pine look on maple with distressing, worm-hole effects, spatter and burnished edges. Rustic features a low sheen to create a matte look.
Wellborn's Tumbleweed finish is available to embellish oak, which is resurfacing as a popular choice for kitchen design. Tumbleweed is a warm, brown finish featuring distressing, worm-hole effects, spattering, dry-brushing, highlighting and padding with a low sheen to create a matte look.
Adding a great look to maple cabinets, Parfait is a specialty finish created by topping a warm, taupe finish with a dark glaze (shown at top of article, courtesy of Wellborn).
Another finish option is Thermofoil. Thermofoil door styles are price-sensitive, require low maintenance and offer practical options for busy lifestyles. Linen, Wellborn's creamy, off-white Thermofoil offering, was designed to answer a rising demand for a soft option to white for anyone looking for the clean, contemporary feel of Thermofoil.
Open Doors
Any approach to kitchen-cabinet design should initially involve plenty of research. This article is merely a brief overview of a few of today's designs. Many manufacturers offer a vast array of options and amenities, and a smart buyer will research these extensively before shelling out major money for a kitchen overhaul. Remember to address both form and function during the selection process and don't be afraid to be bold and creative with your choices. Today's kitchen cabinets offer classical styles and contemporary styles, and virtually everything in between.
Sidebar: For the Pros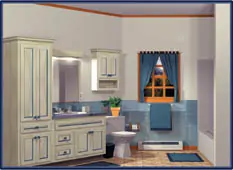 For custom cabinetmakers KCDw software offers custom 3D design capability with true color imaging, including wood grains (such as knotty pine, oak, cherry, hickory and others), real counter top colors, floorings and wallpapers. Design your next set of cabinets on your own PC with tools that assist with wall elevations and floor plans, plus a handy birds-eye-view feature. This easy-to-learn, easy-to-use software package means custom cuts and custom pricing can be handled your way. Both frame and frameless platforms are included in KCDw software.
For more information on the manufacturers mentioned, visit the following Web sites:
Country Accents, www.piercedtin.com
Merillat, www.merillat.com
Scherr's Cabinets & Doors, www.scherrs.com
Wellborn Cabinets, www.wellborn.com