As the weather begins to cool off, here's a look at some outdoor products to help enhance your yard without all the heat.
 The summer may be the best time to relax in your backyard, throw some meat on the grill and enjoy your deck or patio. But the fall is the best time to work on them, because it's not so sweltering hot. Here's a quick roundup of some products and materials that might help you enhance and maintain your outdoor living space.
Red Cedar Royal Highback Glider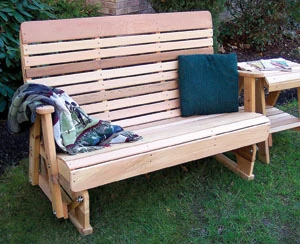 Available from CedarStore.com, the Red Cedar Royal Highback Glider is the ultimate in backyard comfort and style. Western Red Cedar contains natural oils that act as preservatives to help the wood resist decay and insect damage. Cedar is also a dimensionally stable wood that lies flat, stays straight and a boasts the wood's characteristic fragrance of cedar. This glider uses durable zinc-plated steel hardware to ensure that its gliding motion stays smooth for years. With its extremely comfortable high headrest, uncommonly deep seat and built-in lumbar support, this porch glider is designed for leisure in every detail. As with all of the Cedar Store's outdoor furniture, this piece is completely handcrafted on a made-to-order basis by American artisans.
VAST Composite Pavers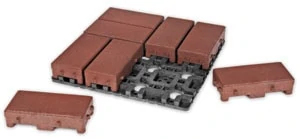 VAST Composite Pavers are bucking the traditional thinking that landscape pavers must be made from concrete or clay. The VAST pavers are made from up to a 95-percent composite blend of post-consumer recycled automobile tires and plastic containers. VAST pavers are available in permeable and non-permeable versions. The Composite Landscape Paver is a superior alternative to concrete pavers. The Composite Permeable Paver is perfect for storm-water management. The composite pavers are one-third the weight of concrete and use a patented grid system for installation that dramatically reduces installation time and takes the difficulty out of manually setting and aligning heavy traditional pavers. They make a great building material for driveways, patios, sidewalks, pool areas and parking lots. Learn more at www.vastpavers.com.
GacoDeck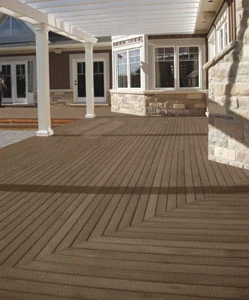 The GacoDeck system waterproofs rooftop decks over occupied living spaces, and it's a do-it-yourself product than can be applied in a day. GacoDeck is a top-quality, durable acrylic polymer coating that can be applied over plywood, concrete, metal, fiberglass and painted surfaces (metal and fiberglass surfaces require a primer). GacoDeck creates a fully adhered, durable waterproof membrane that expands and contracts along with your substrate. GacoDeck is resistant to hot or cold climates, because this high-quality acrylic coating does not soften in the heat or become brittle from cold. With the GacoDeck Kit, there's no need to hunt for polyester tape, brushes or rollers. It's all neatly packaged inside. To make the application go smoothly, the GacoDeck Kit includes step-by-step instructions and a DVD demonstration of the application from start to finish. After your project is completed, clean up is easy—GacoDeck cleans up with just soap and water. Learn more at www.gacoretail.com.
Heated Hose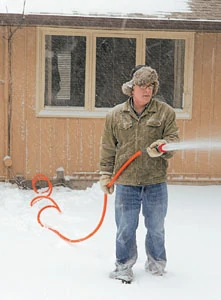 Sometimes it is critical to maintain running water outdoors in cold weather, but that can run the risk of freezing pipes and hoses. The solution is the Heated Hose available from Lee Valley Tools. Used in agriculture to supply water to outbuildings, the tough reinforced PVC hose has a series of heating cables embedded in the hose wall to keep water flowing in temperatures as low as -42 degrees F (-41 C). A built-in thermostat automatically activates the heating cables as soon as the temperature drops below 45 degrees F.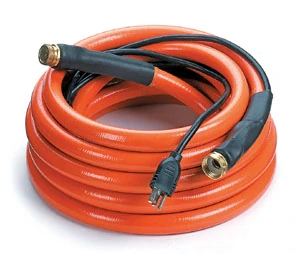 The hose has bend restrictors at the ends to prevent kinking, heavy-duty brass couplings, and a 5-1/2-foot grounded power cord at the faucet-connection end. Available in 25- and 50-foot lengths, The Heated Hose draws 180 and 360 watts respectively. It is CUL/UL approved, and FDA approved for use with potable water.
The Walkstool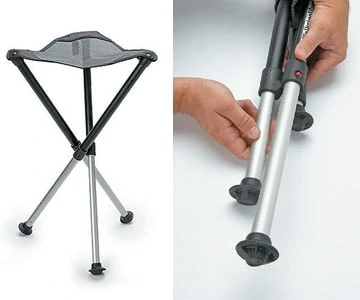 The Walkstool presents a handy new spin on the standard folding stool. Made in Sweden, the stool features unique telescoping legs that allow for two seating positions. With the legs extended, the stool has a regular three-legged stance. With the legs retracted, the base has a single broad foot that allows pivoting while crouched, reducing pressure on one's back and knees. This provides convenient maneuverability for low-to-the-ground work in automotive, plumbing, electrical, masonry, carpentry applications and more. Designed for long-term regular use, the stool has a nylon mesh seat that breathes, aluminum legs, and broad rubber-tipped feet that resist sinking into soft soils. Supplied in a carry bag, each model is capable of supporting more than 400 lbs. Three sizes are available.
Gutter Brush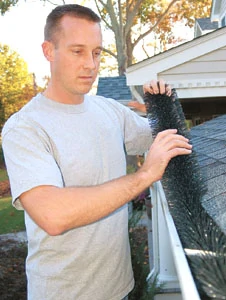 Keep the muck out of your gutters with the Gutter Brush, one of the simplest methods for keeping your eaves, troughs and downspouts clear of debris. Resembling an oversized pipe-cleaner, the brush is made of 4-1/2-inch diameter, UV-stable polypropylene bristles twisted in a double coil of galvanized steel. Slipped into standard 5-inch wide gutters (no tools required), it stays firmly in place to block leaves and debris from accumulating in the troughs and downspouts, but is hidden from ground-level view. While leaves stay on top of the stiff bristles where they dry up and blow away, water drains through easily. Annual clean-up of gutters is easy—remove the brush and shake it out. You can cover the entire length of your gutters with brushes, or place them only in problem areas and over downspouts. Made in the USA, the Gutter Brush is available in a 12-foot kit containing four 36-inch brushes, and a 30-foot kit with nine 36-inch and two 18-inch brushes.
LifeTime Lumber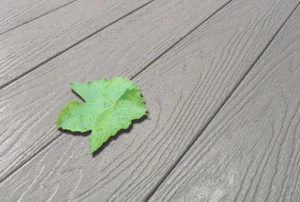 LifeTime Lumber made its debut at the 2010 International Builders' Show as a new low-maintenance, eco-friendly and fire-resistant deck, dock and fence material. LifeTime Lumber is a unique alternative to wood lumber that offers the aesthetic attributes of wood, while solving the problems of maintenance, degradation and weathering. Containing no wood, plastic or PVC, LifeTime Lumber is something completely new for the building industry—thermoset polymers combined with recycled mineral filler. The material is made from a patented mixture of polyurethane and fly ash, a non-hazardous inert material recovered from the electric power generation industry, which achieves a class A fire-rated product as tested by ASTM E-84.
"This new concept in wood replacement products is very easy to use as it is 25 percent lighter than other lumber composite products, and requires no special installation instructions," says Jim Mahler, president of LifeTime Lumber. "LifeTime Lumber 2-by-6-inch boards in a deck application have a joist span rating of 24 inches, so there is less material and time spent in construction." Learn more at www.lifetimelumber.com.
Tiledek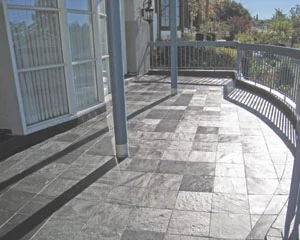 Looking for a tiled deck? Duradek has been waterproofing roofdecks since 1974 with PVC sheet membranes that are meant to be walked on. So it wasn't much of a stretch for the company to redesign its regular Duradek Ultra membrane to come up with an anti-fracture, roofing membrane capable of having tile applied over top—Duradek Ultra Tiledek. Porcelain or stone tile on outdoor decks provides a beautiful surface, but the failure rate is typically high. In response, the Tiledek product is a 60-mil membrane (compared to others at 40 mils) installed only by trained contractors who specialize in roofdeck and balcony waterproofing. It's not a DIY product, but Duradek has 35 years of roofing and waterproofing experience for its installers to draw upon. Tiledek is made of dense PVC, and acts as a crack-isolation membrane that allows some movement in the structure—but no deflection—which prevents the tile from cracking. Learn more at www.duradek.com.
Hitachi Multi-Task Tool & Attachments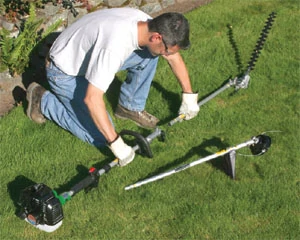 One of the highlights of Hitachi Power Tools' new outdoor power equipment lineup is the new CG22EADSLP multi-task tool. This is a split-shaft grass trimmer that features a 21.1cc commercial grade two-stroke engine and weighs only 11-1/2 pounds fully assembled with the trimmer head. However, this tool easily converts to an edger, extended-reach hedge trimmer, pole saw or mini-cultivator for ultimate flexibility within one tool platform. The multi-task tool features the S-Start Pull Force Reduction system, which results in quick and easy starts, and has a durable cover that protects the fuel tank from wear and tear. It comes with a 4-inch semi-automatic trimmer head. Sold separately are the optional attachments that include the CGPE portable edger attachment with 8-inch blade, the CGHT hedge trimmer attachment that articulates up to 130 degrees to reach above tall hedges, the CGPS pole saw attachment that can cut branches up to 8 inches in diameter, and the CGMC mini-cultivator attachment that delivers a 4-inch digging depth and 6-inch digging width capacity. Learn more at www.hitachipowertools.com.
Homelite Surface Cleaning Pressure Washer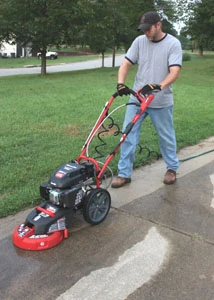 Washing large surfaces with a pressure washer's spray wand is like mowing a lawn with a string trimmer. It might eventually work, but expect a long slog and inconsistent results. Cleaning a driveway with a spray wand takes a lot of time and generally leaves uneven streaking over the surface where the water stream strikes different areas with varying force.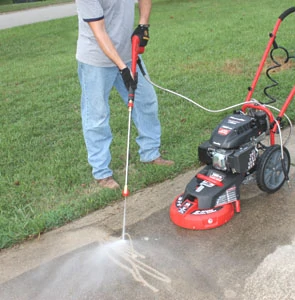 Homelite's new 2,600 PSI Gasoline Pressure Washer Model HL80833 uses a 15-inch surface-cleaning deck, similar to a mower deck, that hovers over large surface areas while two nozzles spin at 1,500 RPM. This spinning action provides even, streak-free cleaning in much less time than it takes to clean using a standard pressure-washer wand. The unit offers three cleaning modes—wheeled surface cleaner; standard spray wand; and surface cleaner attached to the spray wand for elevated surfaces. It features a 170-cc OHV gas engine, on-board storage, four quick-connect nozzles and a 2-year limited warranty. Learn more at www.homelite.com.
Yardistry Modular Outdoor Structures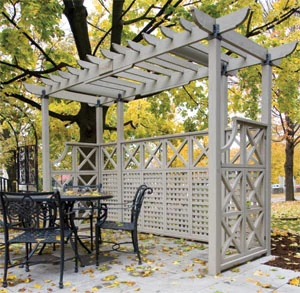 Yardistry is a building components system that allows DIY'ers and professionals to build outdoor structures, screens and fences easily and affordably. This unique modular system allows for the creation of hundreds of designs with only fifteen basic components. Yardistry is a wood-based product made from exterior-grade cedar and finished with a water-based stain. With fifteen SKUs, the designer is provided with ultimate flexibility, style, quality and craftsmanship that is sure to enhance any landscape. Yardistry provides all the required architectural components, including an integrated hardware and connection system, to build a project from the ground up. The click-and-lock technology requires only a standard screwdriver. Learn more at www.yardistrystructures.com.
SunTuf Corrugated Sheets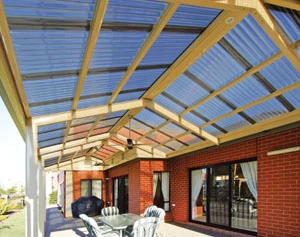 Ideal for greenhouses, skylights, patio coverings, swimming pool enclosures and more, SunTuf corrugated polycarbonate sheets offer high light transmission and virtually unbreakable strength that withstands a wide range of temperatures. Suited for a multitude of DIY projects, SunTuf panels are available in a wide variety of colors and profiles. The panels are lightweight and easy to install, offer up to 90-percent light transmission, long-term resistance to weather and UV exposure. Learn more at www.palramamericas.com