Water is a leading cause of death for decks. It can lead to mold, mildew, rot, and premature deck failure. And although there is no off-the-shelf raincoat for decks, several companies offer waterproofing materials, techniques, and systems to prevent water and moisture from damage to your deck.
The most obvious area that needs waterproofing is the deck surface. That usually means applying water-repelling sealers or stains to wood deck boards. The other option is to replace the wood with long-lasting composite decking. It has an inherently waterproof shell backed by a manufacturer's warranty.
The substructure of the deck also needs waterproofing. Although deck frames are built with moisture-resistant pressure-treated lumber, they are still susceptible to water damage from trapped moisture. This often goes unnoticed until the problem reaches an advanced stage. At that point, deck maintenance might not be an option. The entire deck could need replacement.
Last, there is the under-deck area to consider. If you have an elevated or second-story deck, waterproofing allows you to keep the area dry for storage or as additional outdoor living space, a transformational home improvement. Read on to learn about different waterproofing systems and where they work best.
Things to Consider Before Waterproofing Your Deck
Applying deck coatings and adding under-joist panels are waterproofing methods used with existing decks without a major remodel. Other methods are suitable only when building a new deck or replacing the deck boards. The age of your deck and the size of your budget usually determine which approach to use. For example, deck design and location—cantilevered decks and roof decks can also influence your choice.
Under-Deck Drainage Systems
Under-deck drainage systems are installed either over the deck joists or under them, diverting the water to the edges of the deck or into a gutter, keeping the below-deck area dry. Some also do double duty by creating an under-deck ceiling.
Over-the-joist systems, such as Trex RainEscape, cover the joists from the top with a flexible water barrier, forming troughs in the joist bays. This type of deck drainage system catches the water that passes through the deck and redirects it into a gutter. A downspout releases the water onto your lawn or into a rain garden.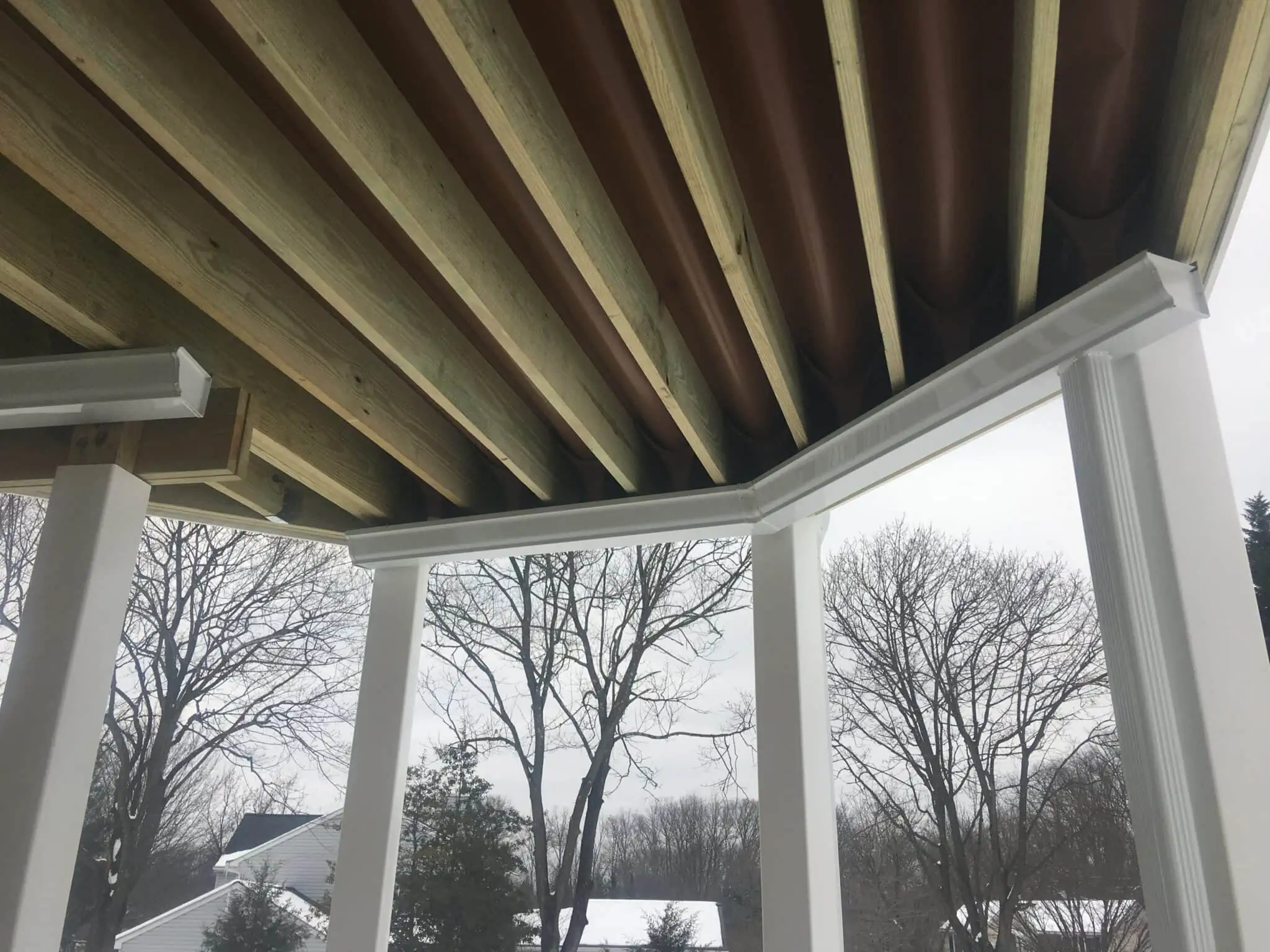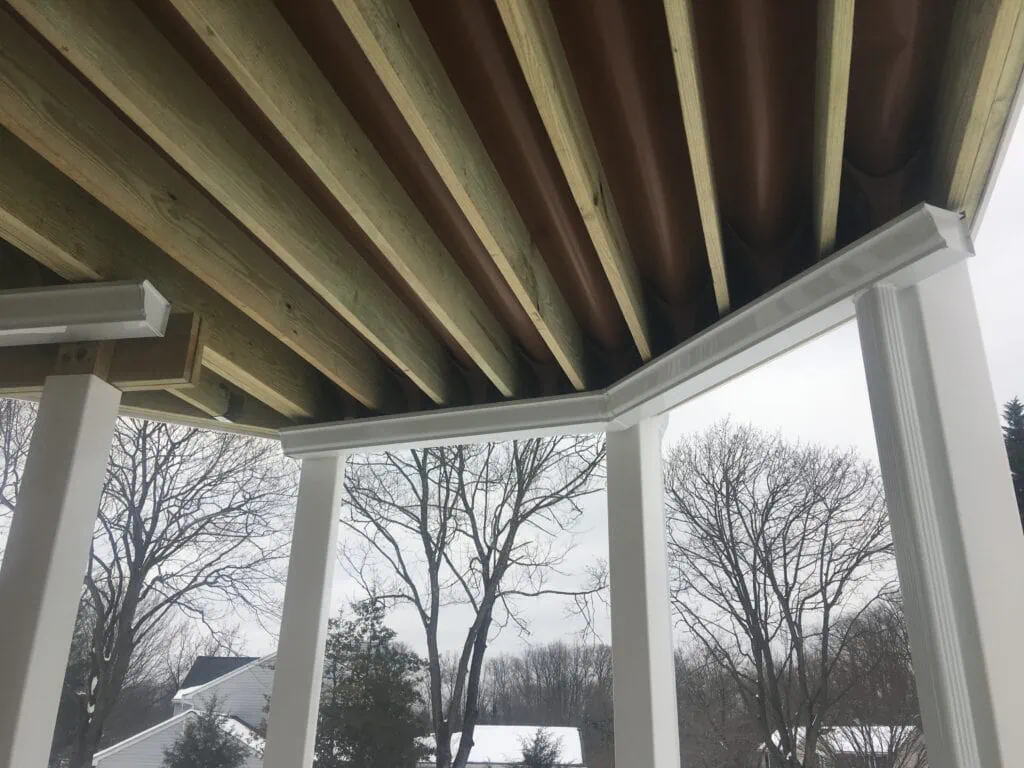 Under-the-joist systems use flexible panels inserted into the joist bays from below or rigid panels fastened to the joists' underside. The panels provide a "roof" over the under-deck area that catches the water and keeps the area dry. The panels release the water at the deck's edge or, like over-the-joist systems, use a gutter and downspout to channel it.
How under-deck drainage systems work
In both types of under-deck drainage systems, an impervious barrier diverts water away before it can reach the underside of the deck. The installation of these systems is the most significant difference between them. Protect the joists and fasteners from water by installing an above-the-joist drainage system such as Trex RainEscape. Under-joist systems offer no water protection to the joists or fasteners.
How to choose an under-deck drainage system
New deck vs. old deck. An over-the-joist drainage system offers greater protection. Install this type of system when building a new deck or replacing the deck boards. If there is enough room overhead, you can retrofit an under-joist drainage system to an existing deck.
Cost. Over-the-joist drainage systems cost more than below-joist versions initially. But if you look beyond the sticker price, an above-the-joist system could save you time and money. That's because they keep the joists, hardware, and fasteners dry. They also make it easier to run electrical cables and install lights, fans, etc., and many deck builders prefer them.
See the manufacturers' websites for installation details and tips about waterproofing a deck. You can also see which manufacturers offer a warranty on their products.
Waterproofing Decking Flanges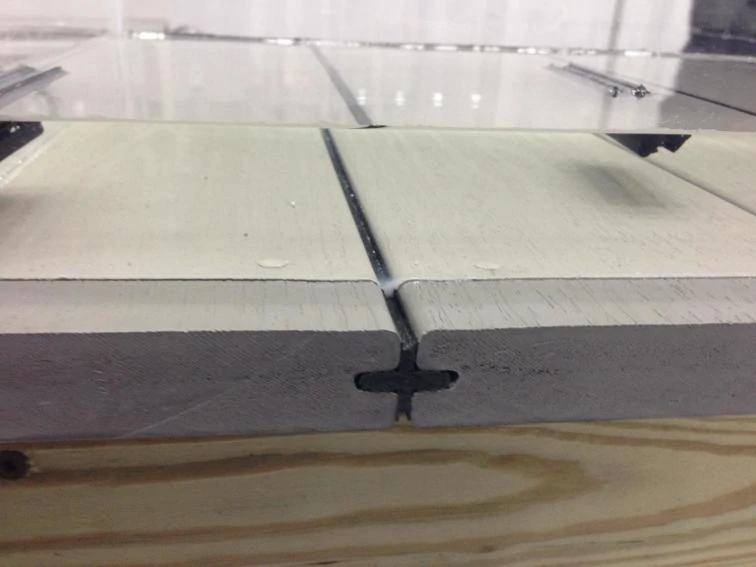 Decking flanges, such as those supplied by DexerDry, are rubbery gaskets compressed between the deck boards to prevent water from passing through. With profiles tailored to fit most major brands of composite deck boards, the flanges eliminate the need for under-deck drainage. That's because the water runs off the deck surface, not through it. Flanges also keep the joist bays dry, simplifying the addition of living space below.
One potential drawback to deck flanges: You cannot use hidden fasteners since they would interfere with the seal between boards. Instead, the boards must be face-screwed. Flanges also require specialized tools and installation techniques that could deter you from a do-it-yourself approach.
Joist Protection
Over-the-joist drainage systems and decking flanges provide the best joist protection because they prevent water contact. You can get similar protection from a waterproofing membrane known as joist tape. Apply over and around the joists, beams, and stringers to waterproof them before installing the deck boards. Look for joist tapes that are self-sealing around fastener penetrations and don't have long cure times, such as butyl tape.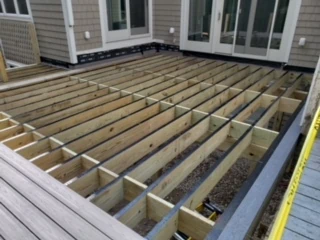 Sealers
Left uncoated, wooden decks quickly show the effects of age and the elements: discoloration, checking, and splitting. Protect the wood by applying a liquid sealer with a paintbrush or roller. Sealers are sometimes called stains but keep in mind that not all stains include an exterior-rated sealer. Check the label to find out. The sealer should also offer UV protection. Sealers must be re-applied about every two or three years.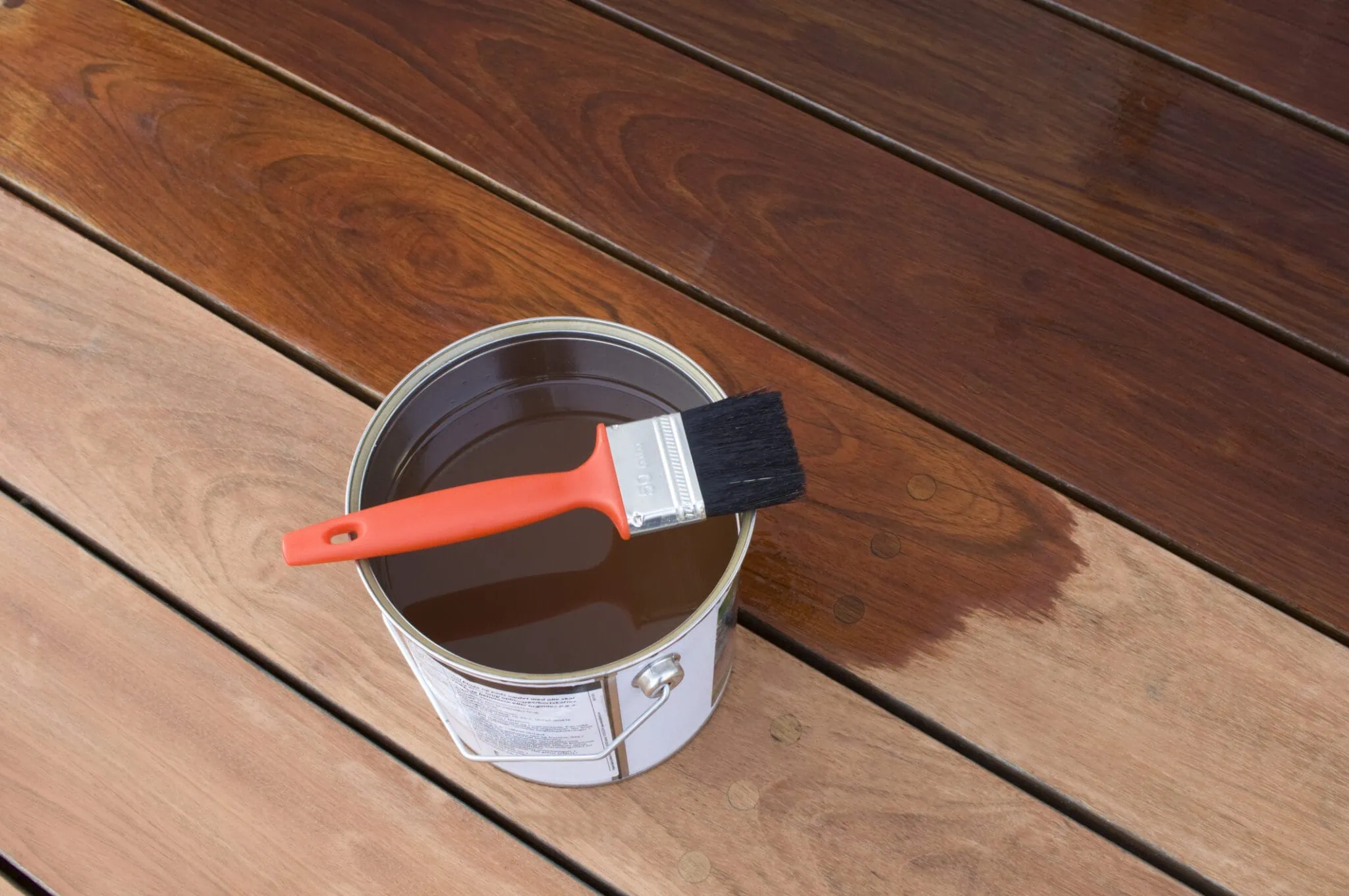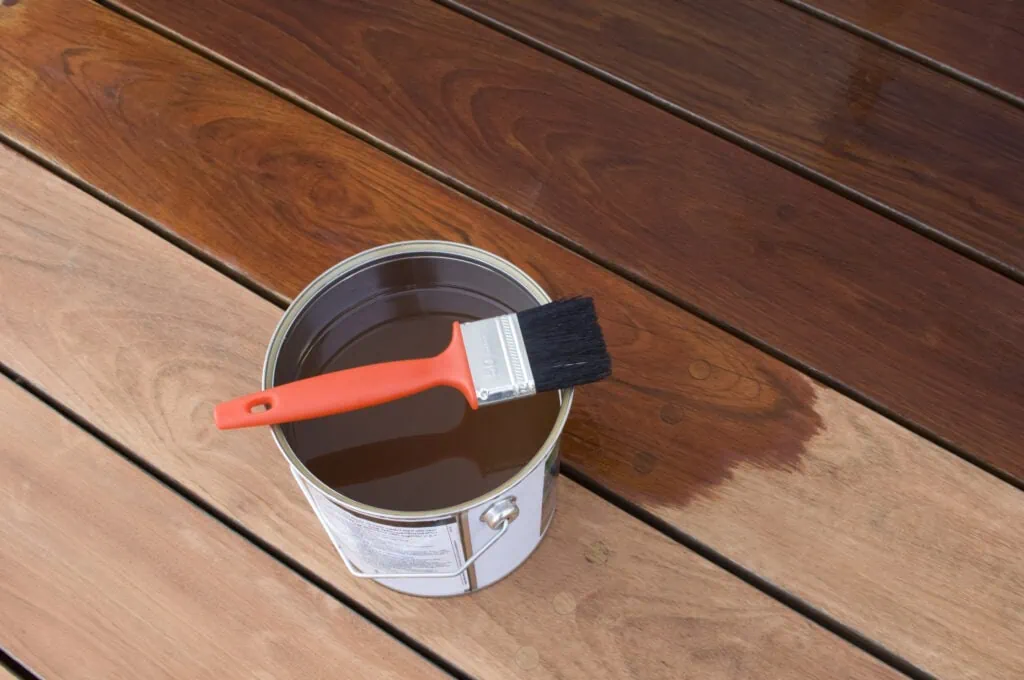 Other Deck Coatings
You can coat a deck with paint, but paint usually lasts a short time, similar to sealers/stains. They're also unsightly as they fail, and what remains can be difficult to remove. Save the paints for covered porches.
Over-Deck Sheet Membranes
These vinyl membranes and composite sheets, such as those supplied by DekRite, are adhered to concrete decks or decks sheathed in plywood. They offer excellent waterproofing but cannot be used over wood or composite deck boards. In addition, the seams must be carefully sealed to prevent leaks, sometimes using proprietary equipment.