Lighting is the finishing touch to a room's design. It is the element that changes the mood of the room and gives life to the space. There are many options for home lighting, and it can be intimidating to think about making the right decisions for each room. The American Lighting Association (ALA) can help with a listing of local ALA-member lighting showrooms with trained experts to help with design inspiration, lessons on the latest technology and selecting the perfect lighting for your space.
Before visiting a lighting showroom, be prepared with basic information about your space. Some of the most important questions the showroom sales staff will ask are questions about size. Take as many measurements as possible. A little preparation will ensure that you select the perfect fixture for your space.
Before leaving home, take the following measures.
Ceiling height—When shopping for a hanging light for a high ceiling, make a note of the room's ceiling height and the length and width of the room. If a fixture is already hanging in the space, give an estimation of its size. Bring pictures of the space, making sure that the picture gives some perspective on the size of the room.
Fixture Size—Keep in mind that the new fixture needs to fit appropriately in the space. A grand chandelier, for example, will not fit in a foyer with an 8- or 9-ft. ceiling height. If you have an 8-ft. ceiling, consider a flush-mounted fixture to achieve the clearance requirements for the room.
Depending on the room or placement of the fixture, the hanging length or height of a fixture is equally as important as the size. As a rule, keep 7 feet of clearance from the floor up to the bottom of the fixture in a space like a foyer, living room or bedroom where people typically walk underneath the fixture. In an open foyer or hallway, hang chandeliers or pendants with the bottom at least 6 inches higher than the door.
Bathrooms are another room where ceiling height measurements are extremely important. Hanging chandeliers and pendants over a bathtub adds a touch of elegance. Measure the height from ceiling to floor and measure the space between the top of the tub and the bottom of the fixture. At least 8 feet of clearance is required. If the bathroom is small and cannot accommodate this rule, consider using a smaller fixture. Or, do not hang the fixture directly over the tub; instead, install it at least 3 feet away from the tub.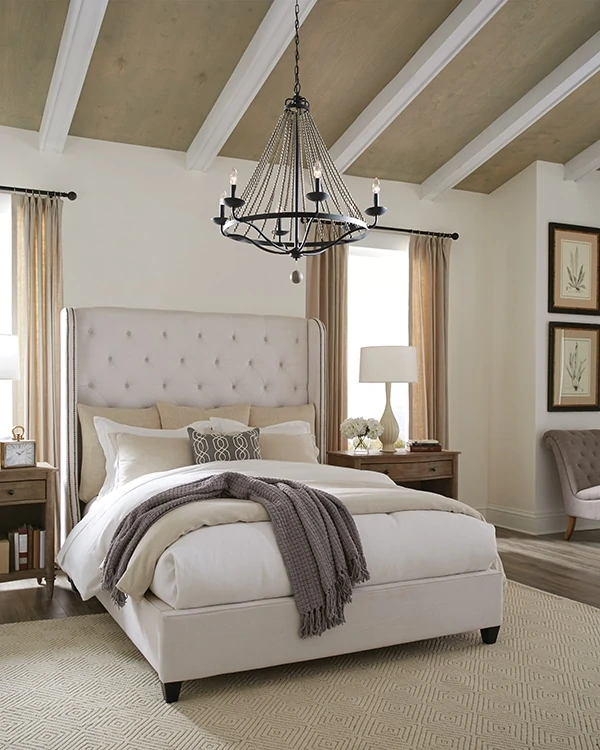 Other measurements to take to the lighting showroom include measurements for fixtures that will hang over a dining room table or kitchen island. Measure the table length and width. The length of an appropriately sized fixture will be at least one foot shorter than the length of the table. Also bring basic information about the size and shape of the table. It is  a good idea to bring a picture of the table in the space as a good reference for the showroom salesperson.
Today's larger kitchen islands can typically accommodate a series of small pendants or a grouping of large pendants. Start by measuring the length and width of the island and take note of the shape (square, rectangle, peninsula, etc.). Measurements are very important, because for smaller pendants equal space needs to be accounted for around each pendant. For larger pendants, hang even numbers (two versus three pendants, for example) and plan for each to be about one third the width of the table or island below.
For both dining tables and islands, measure the height from the floor to where the bottom of the fixture should be. A good rule of thumb is to hang mini or medium-sized pendants 66-72 inches from the floor to the bottom of each fixture.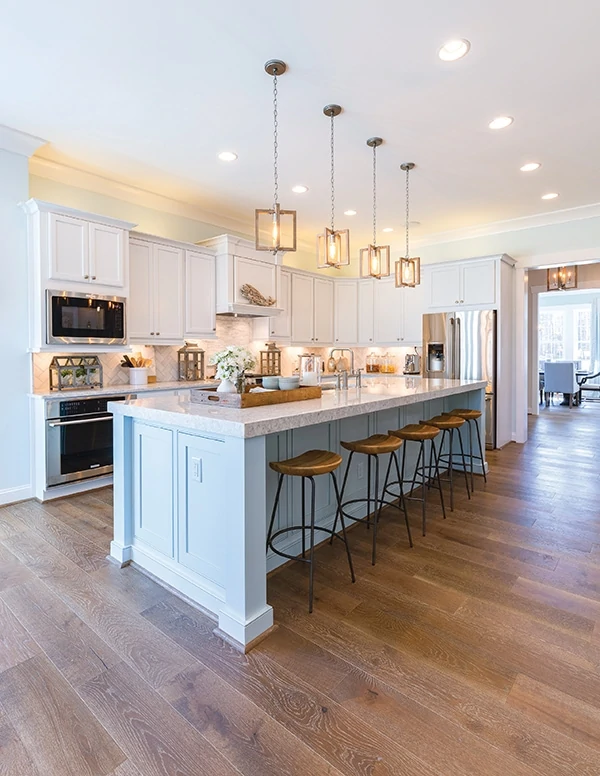 Lighting showrooms are a great source for components and other lighting accessories. When purchasing bulbs, shades or replacement glass for fixtures, there are a few pieces of information the showroom staff needs in order to help most effectively.
Most showrooms carry a wide variety of bulbs. Buying bulbs at a showroom gives benefits well beyond simply replacing a bulb. Showrooms have invested in knowledgeable sales staff who truly care about educating their customers on light sources.
When seeking a new shade for a table, floor lamp, chandelier or sconce, bring the measurements of the lighting fixture as well as the measurement of the current shade. If possible, bring a photo of your fixture and shade too. Or, even better, bring in the shade you want to replace. The same goes for replacement glass, and if you know the manufacturer and part number, provide that information too.
Above all, expect an enjoyable experience at a dedicated lighting showroom. The experts at ALA-member showrooms are the best resource to help with all lighting decisions.
Editor's Note: This article appears courtesy of the American Lighting Association, a trade association representing over 3,500 members in the residential lighting, ceiling fan and controls industries in the United States, Canada and the Caribbean. To learn more, go online to ALALighting.com.
Side Note 1
New Ways to Light Your Bathroom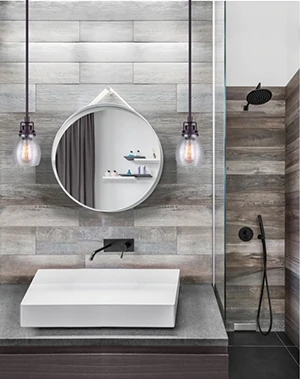 While functionality is still key, stylish and unique bathroom lighting designs are becoming increasingly popular. To meld the two, ALA recommends utilizing creative ways of installing fixtures and layering light.
The bathroom is used for various, task-oriented activities from applying makeup, to shaving, to getting dressed. Therefore, proper lighting is first and foremost when producing a bathroom lighting layout.
To create an illuminated sink area, the days of just a simple bath bar above the mirror are in the past. Today, people are installing fixtures around the mirror in creative ways to add style and function. For example, try installing swing-arm sconces on either side of a bathroom mirror. These versatile fixtures come in a  variety of styles and can be moved around according to your needs. Vertical lights on either side of a bathroom mirror provide the most even illumination, so utilizing wall-mounted sconces or bath bars on the sides of a mirror are also popular trends.
Layers of light are important in every room in the house, and the bathroom is  no exception. Recessed cans in the bathroom serve the important role of providing overall illumination, especially in a large master bath. A stunning statement chandelier can also brighten up the space and add a personal touch to the overall bathroom design. Consider hanging a chandelier over the bathtub for a dramatic and elegant look.
Pendants, a fixture often reserved for the kitchen, can also work in the bathroom. They can take the place of a single, larger chandelier over the bathtub, or can be hung on either side of a mirror, in place of the wall-mounted options mentioned above.
To ensure ultimate functionality, all of your bathroom fixtures should be placed on dimmers. This allows you to easily adjust light levels based on your needs, whether taking a relaxing bath or applying makeup in the morning.
Side Note 2
Create a Cozy Home with Hygge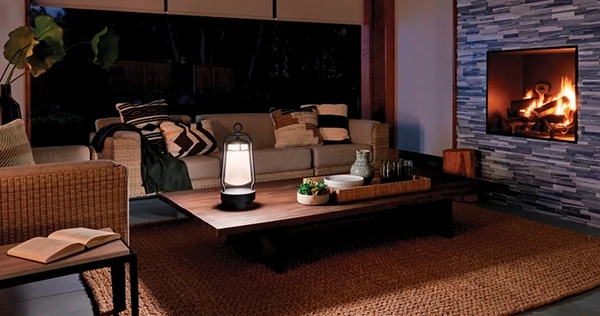 Want to make your home as cozy, calm and relaxing as possible? Try hygge (pronounced: hue-gah), a Danish lifestyle trend that has captured the imagination of lighting and interior designers, as well as homeowners. More than just a décor trend, hygge is a state of mind—one of cozy contentment while appreciating the simple things that bring joy to your life.
According to the American Lighting Association (ALA), lighting is a key element in hygge, which takes a minimalist concept and punctuates it with warmth, texture and glow. One of the most effective ways to create a warm and cozy atmosphere is by the placement and adjustment of lighting in the home.
The gentle glow of candles, which symbolizes the hygge trend, is complemented by soft, mood-provoking electric lighting. With hygge, interiors are lit to create a pleasant ambiance. Light and shadow are equally important elements, as they contribute to a feeling of warmth and naturalness.
"Lighting is a critical element for a hygge atmosphere," says Tim Stumm, creative director for Z-Lite. "Of course, there is the warm glow of candles, but make sure you incorporate the proper lighting design using Kelvin temperatures 2400K to 2700K. These temperatures are best to create intimate, calm and the most soothing lighting possible."
Using several light sources that scatter warm light throughout a space is the best way to create hygge. Table and floor lamps, wall sconces, and pendant lights provide light as well as a soothing and inviting feel, giving plenty of options for different moods and settings.
Transform space with shadow and light by placing lamps in spots chosen to highlight a room's decorative elements. Adding a few softly lit pendant lights brings a serene, diffused glow that creates areas of darkness as well as light, increasing the sense of tranquility.
Something that won't be found in hygge décor is harsh overhead lighting. To quote the Swedish fashion and lifestyle Youtuber Jenny Mustard: "Ceiling lighting is where hygge goes to die."
To add a comfy, hygge-worthy glow to your home, follow these lighting tips:
Limit the use of ceiling lights. If overhead lighting can't be replaced with lamps, install a dimmer on the ceiling light to make the room glow with warm, low light.
Select light bulbs with a low lumen number that are warm white or soft white in color. A bulb's lumen number determines how bright it is. The higher the lumen number, the brighter the bulb. Try for a comfortable brightness that still gives good visibility.
Use LED candles for a pleasant flickering glow. It is always wonderful to walk through rooms lit by the magical radiance of candlelight.
Choose LED light bulbs that can be dimmed to a warm white color temperature to create a soft aura.
Place darker shades on table lamps and floor lamps for a deep, soothing glow.
Bring the outdoors in through lighting. Heavily influenced by nature, hygge style, much like Scandinavian style lighting, nods to natural phenomenon like the colors of sunsets and wood burning in a fire. Organically shaped light fixtures, reminiscent of tree branches, and the use of natural fibers and fabrics epitomize the hygge style trend.
While cozy lighting is essential for dark winter nights, the long, light-filled summer days also harmonize with hygge. Light, in general, is critical to hygge, whatever the season.
In the summer, hygge capitalizes on outdoor living. As the sun sets, light outdoor spaces with twinkling rope lights and table lamps, pendants and chandeliers made specially to withstand outdoor conditions. Inside, use natural decorative elements and highlight them with fairy lights or electric lanterns. Take advantage of natural light flowing through the windows to create dramatic dark and light contrasts.