Carl Schmitzer was unhappy with boring gray patio options presented to him by his condo association. So he took matters into his own hands. Now, after creating a unique stenciled patio, he's the envy of his neighbors.
"Who knew plain old concrete could look so good?" says Schmitzer, a Minneapolis resident. "I was inspired by videos on YouTube.  When I found the SpreadRock® product online I knew I wanted to try this for myself. And I knew I wanted to make it uniquely mine by stenciling over the surface."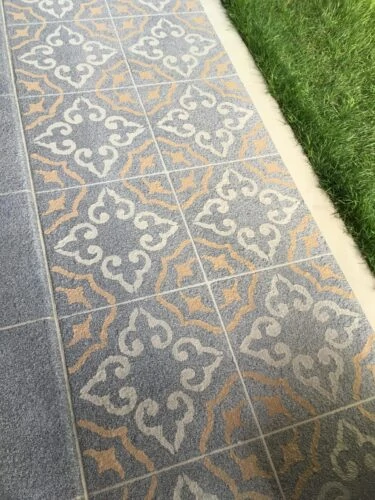 Real Stone Coating
SpreadRock, a Daich Coatings product, provides an elegantly authentic speckled granite coating ideal for porches, steps, walkways and entrances. The product can also be applied to bathroom and basement floors, accent walls and pool decks.
The quick and easy standing squeegee trowel application means people can apply the product from a comfortable standing position. After rolling on a coat of Textured Primer and letting it dry for two hours, a squeegee is then used to apply two thin coats of SpreadRock. Once cured for 24 hours, everything is top-coated with a clear sealer.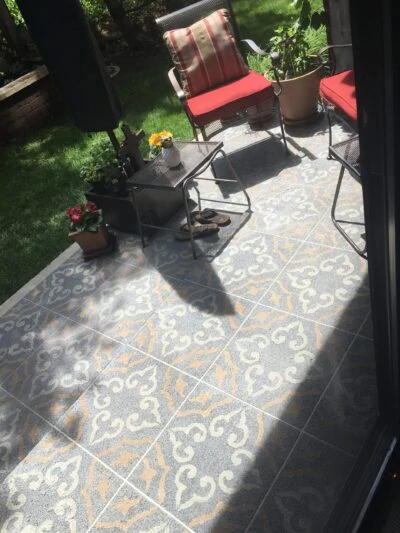 Patience Pays Off
Schmitzer took his time properly cleaning and repairing his old concrete patio. He then added two layers of Raw Gray Textured Primer with interlocking bond technology. Once dry, he taped down the faux grout lines and applied SpreadRock in Anvil Gray. To assure success, he then applied a sealer followed by a masonry primer.
"Once the 'foundation' was finished I worked to personalize the patio by apply the stencils," says Schmitzer. "This requires a good deal of patience. However, if you can paint and do basic tile work, you can do this project."
In addition to having patience, Schmitzer advises others to watch videos to see how the process works. He recommends having two stencils and to clean them off after each use to achieve clear, crisp lines. Plus, you'll need stencil tampers and rough surface tape.  "This is a process that takes awhile," says Schmitzer. "Having a friend to help is a good idea."
DIY Stenciling Success
To create the contrasting stencil work on his SpreadRock, Schmitzer used the left over Textured Primer and stucco masonry paint. Then he added several coats of sealer to protect his completed project.
"I really appreciate how flexible and easy-to-use the Daich Coatings products were for this project," says Schmitzer. "By planning out the work and moving ahead steadily I achieved exactly what I wanted — a unique patio design that's anything but boring!"
SpreadRock is tested to have exceptional decorative and protective benefits when applied to concrete, masonry and other surfaces. The coating can be spread on with an easy trowel application on both horizontal and vertical surfaces. Available in Mocha, Anvil, Ice Grey, Brownstone, Flint Grey, Sandstone and Sante Fe, SpreadRock resists rain, snow, salt, chemicals, mold, mildew, UV light and hot tire pickup, along with excessive heat and bitter cold temperatures.
SpreadRock, along with other Daich Coatings primers and decorative concrete products, is available online at Lowe's, The Home Depot or www.DaichCoatings.com.