By Matt Weber
Add life to your shingles.
Roofing installation is a costly and complicated project, which is why it makes sense for homeowners to stretch their improvement dollars by maintaining their existing asphalt shingles to the best of their abilities. The roof is the primary weather barrier of the home—a place where damage should never go unaddressed. The forces of harsh weather and ultraviolet rays will inevitably wear the roof to the point of requiring replacement, but homeowners can conduct some basic upkeep procedures that will help keep out the rain a little longer.
Shingle Repair
Do-it-yourselfers who aren't afraid of heights can make simple but important repairs to loose shingles and flashing. Asphalt shingles are the most widely used roofing material in residential construction, accounting for roughly 80 percent of the U.S. market. Today's asphalt roofing greatly outperforms the shingles available 30 years ago, but still costs significantly less than higher-priced rivals (including tile, wood, cedar, slate and metal). Typically, very little maintenance is required; but that does mean some.
After a couple of decades, or after severe storms, you'll need to inspect an asphalt roof for signs of deterioration. The most obvious perpetrator is a roof leak, indicated by water stains or wet areas in the attic. In some cases these can be patched, but in the case of a serious leak you may need to re-roof. Remember that when tracking the source of a leak, once the water has penetrated the roof it often will flow down the ceiling or framing before dripping onto the ceiling below. So evidence of a leak on the ceiling can be misleading about where it originates on the exterior of the house. If you have access to the attic, first locate the entry point of the leak from inside the house before trying to address it at the roof level.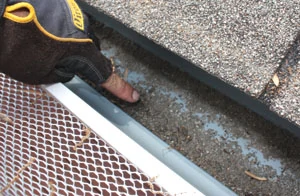 Also, excessive loose mineral granules in the gutter or bare spots on the shingles are evidence that the asphalt is deteriorating. Sunlight and freeze/thaw cycles can weaken the adhesive that holds the granules to the roofing material, which will eventually require replacement or recovering. Shingles also tend to crack or curl from sun exposure, and wind can blow them off the roof.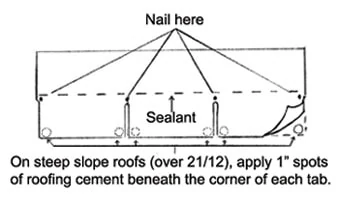 Repair loose or buckled shingles with roofing cement. The idea is to prevent simple loose shingles and dog-eared corners from catching a strong wind and pulling away from the roof and opening a major gap in the building envelope. You can pick up roofing cement/sealant in caulk-type tubes for use in a caulking gun. Make sure the product is labeled for your intended application. Also, roofing cement can be used to patch cracks or minor breakage in the shingles. While asphalt shingles are designed for years of low-maintenance performance, eventually—hopefully 15 to 20 years—it will need to be re-shingled.
If necessary to replace a shingle, tear off the uppermost damaged shingle by grabbing its sides and pulling it loose. Do the same to the other damaged shingles beneath it. Use a pry bar to remove the old roofing nails. Patch any holes with roofing cement. Reinstall new shingles using the manufacturer's standard shingle-replacement procedures, and working toward the upper courses (see diagram for typical nail/sealant application). When you reach the top course, coat the top of the last shingle above the seal line with roofing cement. Insert the last shingle beneath the overlapping shingle. It may help to drive a couple of nails to anchor the installation. Bear in mind that the heads roofing nails should be fastened flush to the roofing material but not penetrate through the shingle.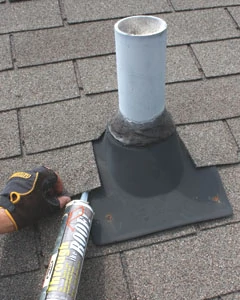 Roof Penetrations
Keep an eye on roofing penetrations such as flashing around pipes and skylights, which are prime candidates for leaks. For loose flashing, refresh the seal with new roofing cement.
Many of these metal roofing fixtures, such as HVAC pipes, vents, etc., are prone to rust. Not only can these be unsightly detractors of your home's curb appeal, but if left unchecked the metal can completely corrode through the material and cause structural problems. A handheld wire brush is a good tool to scrub away rust from roof fixtures. Or, boost your abrasive power by chucking a circular wire brush into an electric drill. Knock off all the reddish brown spots and wipe away the loose dust. Then, apply oil-based metal primer to the fixture. Rust-Oleum, for example, is a quality metal primer that helps protect metal and is available in a wide variety of colors to complement common roofing tones (www.rustoleum.com). Always use drop cloths when painting at the roof level to avoid accidental spills that can be very apparent on the roof surface.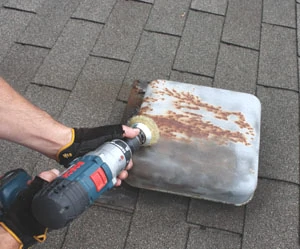 Cleaning and Prevention
One common complaint about aging roofs is the presence of black streaks or stains that may develop over time. The dark streaks are usually algae, and without the right chemicals, they can be difficult to address. Whereas a bleach or chlorine-based solution applied with non-pressure methods will kill black algae and generally rid the stains with the rinse phase, this method alone won't prevent the algae from returning in just a few months.
Another option is to use a sodium hydroxide-based product like Stainhandler from Savetime Corporation (www.stainhandler.com). Stainhandler is a biodegradable product and when properly mixed and applied according to directions it will not harm your plants. The product is sold in a concentrated formula, which the user dilutes and applies with a pump-up type of garden sprayer. EHT recommends avoiding the use of a pressure-washer when working on roof shingles, because too strong a stream can blast holes in the asphalt. The entire surface should be sprayed to avoid streaking. Allow the product to work for fifteen minutes and then rinse off the roof with a garden hose.
To prevent future staining for up to 20 years, homeowners can follow the cleaning procedure by installing zinc strips at the ridge line of the roof. With this system, when rain flows over the zinc, harmless zinc oxide is created. The invisible zinc oxide then coats the roof surface and inhibits the growth of fungus, moss and algae. Zinc strips are available from a variety of manufacturers and can be used on new or existing roofs.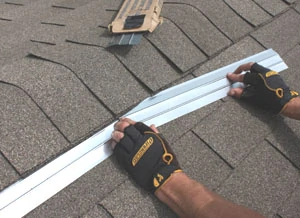 To install zinc strips, start at either end of the roof peak and install a continuous row under the ridgeline. Apply roofing cement along the sealant edge and slide the strip beneath the shingle, leaving the lower half exposed to treat the rainwater. Nails are not required, although there should be a 1/8-inch gap left between the strips to allow for thermal expansion.
From simple repairs to preventive maintenance, these simple procedures for asphalt roofs amount to no more than a weekend's worth of work, but they can pay off greatly in the long run of your roof's performance.
SIDE NOTE
Alternative Medicine
If your asphalt shingles are beyond repair and recovery, it may be time to pull the plug on them and install a new roof. Replacement shingles are always an option, but it's one of many. Here are a few notable products that help round out the world of roofing.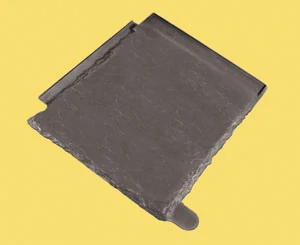 Bellaforté Synthetic Tiles
The snap-fit, self-locating Bellaforté synthetic roofing tiles from DaVinci Roofscapes are designed to meet the highest standards for wind, fire and impact. Noted for their long-term low maintenance aspects and 50-year warranty, Bellaforté tiles have achieved some of the strictest test ratings in the country. Bellaforté slate roofing tiles include an integrated rain gutter, leading edge tab and rain dam, in an authentic 12-inch slate profile. Bellaforté tiles use 20 percent less material than traditional synthetic and natural slate shingles, saving resources and reducing the tile weight, installation time and landfill load due to reduced construction waste. Learn more at www.davinciroofscapes.com.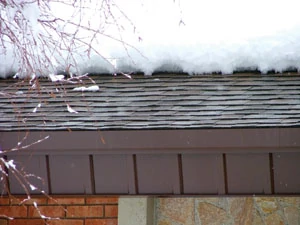 Heatizon Roof Deicing
ZMesh from Heatizon is a durable, low-voltage bronze screen heating element that serves as a long-term solution for winter ice and snow problems on roofs. ZMesh is installed under non-conductive (non-metal) roofing surfaces including asphalt, slate, cedar shake shingles, as well as membrane roofs. It can be nailed and stapled, providing an easy installation for invisible protection that lasts. The heating elements carry a 25-year warranty. For gutter deicing, GutterMelt features a self-regulating cable with a 10-year warranty, and can be installed in gutters, downspouts, along eaves and in valleys. Learn more at www.heatizon.com.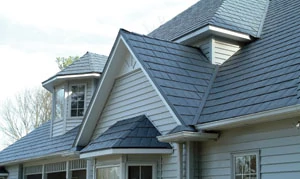 Metal Roofing Wholesalers
Metal Roofing Wholesalers is a low-cost supplier of quality metal roofing products at competitive prices. Products include the most economical and widely used 3-foot wide roofing panels (custom cut to any length per your specifications); metal shakes, Mexican tile, metal slate and many other styles, all with a baked-on enamel coating using the most advanced coating systems on the market today for years of durability. Also available are different styles of standing-seam panels for both residential and commercial use. Metal Roofing Wholesalers sells roofing products nationwide and ships direct to the consumer from one of many manufacturing facilities located throughout the country. Learn more at www.metalroofingwholesalers.com.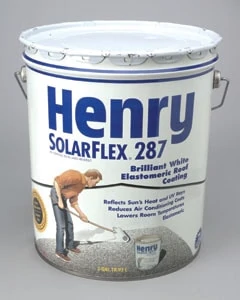 Henry Reflective Roof Coating
For detached garages, workshops, warehouses, sheds and commercial buildings, the right coating for a roof can make a big difference in heat reflection. An uncoated roof can absorb up to 83 percent of the sun's heat and UV rays, while a roof coated with a Henry Cool Roof reflective coating can reflect up to 88 percent of the sun's heat and UV rays. An elastomeric coating such as Henry's Solar-Flex can be applied by brush, roller or spray to reflect the sun's heat and UV rays while reducing the building's air-conditioning costs.