Quebec City, Quebec —Tando's Signature Stain(TM) adds a new color–Graphite–to its innovative cladding line.  Manufactured by Derby Building Products Inc., Graphite expands the stained shake line beyond current wood-like browns to an earthy, deep gray.  Graphite joins Signature Stain's original colors of Fawn, Bark and Acorn, capturing the natural hues and variations of stained wood.
Signature Stain's Graphite offers the beauty and authenticity of stained wood but without the continuous maintenance or upkeep. Tando's Signature Stain is the perfect solution for home exteriors, with a lightweight design for fast, easy one-person installation. Consumer research highlights that the trends towards darker colors for cladding are increasing with gray shades among the top color choices. Graphite was the logical answer to meet customer demand.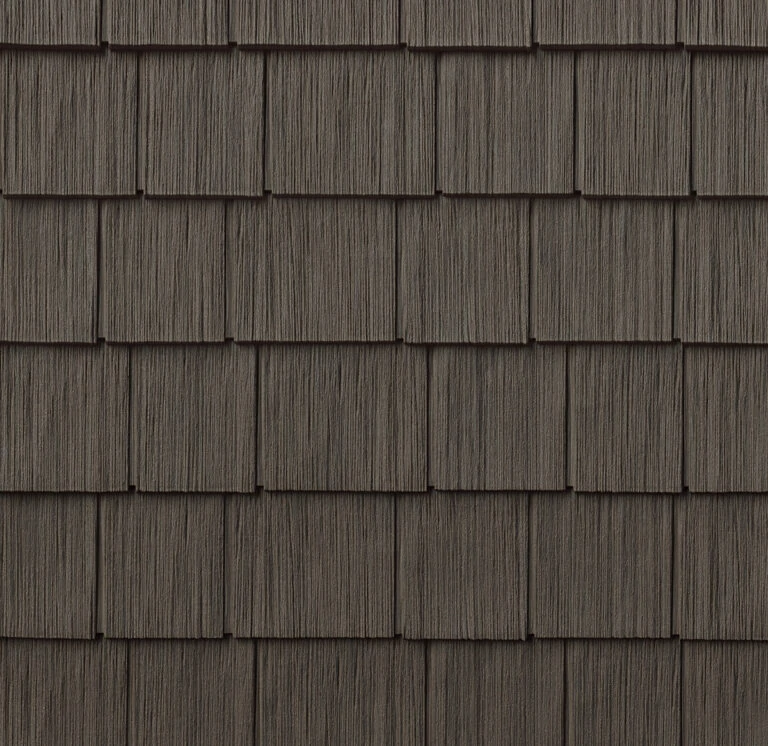 "Our new color, Graphite, answers a need we've heard from both contractors and homeowners for a popular deep, dark gray stain," said Ralph Bruno, CEO, Derby Building Products. "It works well with the mixed material trend as a gable or dormer accent, along with virtually any type of siding or cladding."
Tando Signature Stain offers natural beauty by incorporating a true, semi-transparent wood stain into its patented process, for a strikingly realistic stained wood look. Each of the colors offered in the Signature Stain line looks as authentic and earthy as colors found in nature. Like all Tando products, Signature Stain by Tando products are impervious to moisture, making them perfect for roofline or ground applications. To learn more, visit www.tandobp.com.
About Tando
Derby Building Products is the parent company of the game-changing Tando pro channel brand.  Tando has literally changed the face of building exteriors by replicating the natural beauty and texture of wood shake and stone, with little to no upkeep. Impervious to moisture and resistant to all types of weather, new Beach House Shake created by Tando is indistinguishable from real cedar, while Tando's Signature Stain line offers the rich depth and beauty of stained wood.  Perfect for today's mixed material trend in exteriors, all Tando products complement an array of siding types including fiber cement, engineered vinyl, stucco, and brick. www.tandobp.com.