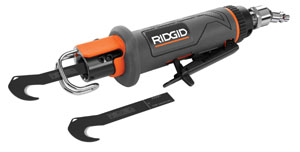 Ridgid Roofing Cutter
Ridgid's new pneumatic roofing tool cuts roofing materials effortlessly. Its 9,600-SPM (strokes per minute) operating speed provides superior cutting in cold weather and seamless cutting of rake edges. It's a lightweight tool at only 1.2 lbs. and has a Hex Grip providing maximum user comfort and less fatigue. The tool-free adjustable exhaust allows you to direct the exhaust where you want it, and the swivel quick-connect air fitting prevents hose tangles. The included blades cut roofing materials up to 6 times faster than a utility knife to save contractors time and money. The package includes the R040SCA Roofing Cutter, wrench, air-tool oil, two blades and an operator's manual. Visit www.ridgid.com.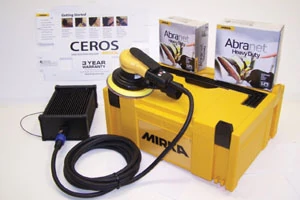 Ceros Sander
The 22-volt DC electric Ceros Sander from MIRKA offers the light tool weight and power of a pneumatic random orbit sander, but without the need of a compressor. Half the weight of traditional electric sanders, but more powerful, the brushless DC motor of the Ceros (powered by an included transformer) is strong, smooth, quiet and maintenance-free. With virtually dust-free operation when hooked to a vacuum, the Ceros has a 400-watt, AC Power supply (90 – 240V) and variable speed from 4,000 – 10,000 RPM. The Ceros Sander weighs only 1.9 lbs. and is designed for use with MIRKA Hook & Loop Abranet mesh discs or any H&L paper discs. Available in 5- and 6-in. versions, the sander includes a rugged plastic carrying case, Abranet disc samples and a 3-year warranty. Visit www.supergrit.com.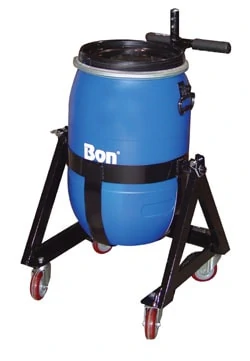 Mixing & Pouring Barrel Transporter
The new Mixing & Pouring Barrel Transporter from Bon Tool Co. features a patent-pending design that allows efficient one-person operation for mixing, transporting and pouring flooring materials. Contractors can lower labor cost, reduce worker stress and increase productivity by mixing the material in the barrel, and transporting the barrel to where you need to pour. Standard 15-gallon barrels fit in the cart, which is equipped with four smooth-rolling swivel casters to help position the pour to the right spot. The stability of the unit provides perfect balance for pouring and placing.The transporter unit is sold complete with the 15-gallon barrel, transport/pour cart, mixing head attachment, drill and mixing paddle. Visit www.bontool.com.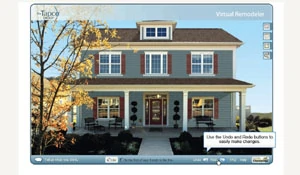 Tapco Virtual Remodeler
The Tapco Group has launched its next-generation Virtual Remodeler visualizing solution that gives site visitors a glimpse at the readily-available home of their dreams. The visualizer allows website visitors to view actual building materials on photos of their own home, from composite slate and shake roofing to siding, shutters and more. With Virtual Remodeler's advanced photographic rendering, users can upload their own home photo or select a home from a visual library to see final outcomes before purchasing products. This enables an enhanced decision-making process and faster product selection. The Virtual Remodeler now also features larger home photographs, unique mouse-over features, and a bolstered rendering engine providing quicker response times and enhanced interactivity.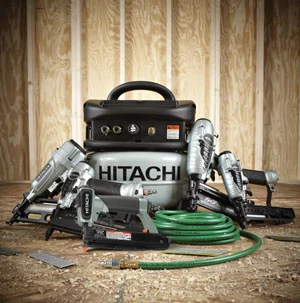 Build Your Own Hitachi Nailer Kit
Hitachi Power Tools launched its new customizable Finish Nailer kit concept, available exclusively at Lowe's. The kit will save consumers between 20 and 40 percent off the popular tools needed to accomplish every project, from installing crown molding to assembling picture frames. Buy the 6-gallon Hitachi pancake compressor (model EC510), then choose one nailer, you get 20 percent off the nailer and compressor. If you buy two nailers, you get 30 percent off the nailers and compressor. If you buy three nailers, you get 40 percent off the nailers and compressors. It's that simple. Choose from a 15-gauge angled finish nailer, 16-guage finish nailer, 18-gauge finish nailer, crown stapler and pin nailer. Visit a Lowe's store or www.hitachipowertools.com.