StormPave Pavers
StormPave permeable pavers are designed to be installed just a bit farther apart than conventional pavers. Instead of being installed atop gravel and sand like conventional pavers, StormPave pavers are installed over layers of aggregates. When it rains, the rainwater seeps in between these pavers and is stored in the spaces between the aggregates, where it is gradually released into the ground—and where it is naturally filtered. Usually, rain that falls on concrete or asphalt picks up pollutants and transfers them to a storm drain which empties into a stream and potentially contaminates the fresh water supply. StormPave pavers are ideal for use in public areas where onsite retention/infiltration is desired or required. Learn more at www.pinehallbrick.com.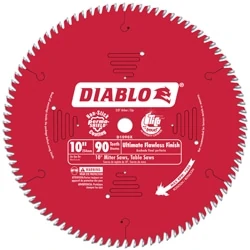 Diablo Ultimate Flawless Finish Blades
For a cut without complaints, check out Diablo's Ultimate Flawless Finish saw blades. Available in 10- and 12-in. versions, the new blades feature Axial Shear Face Grind (ASFG) tooth geometry for precise, splinter-free cuts in trim carpentry and fine molding with no rework required, maintaining the fine accuracy of the saw cut. These new blades effortlessly glide through material while providing a super-smooth finish. The new Ultra Thin Kerf enables portable jobsite saws to perform to the level of workshop stationary saws. The Ultimate Flawless Finish blades are ideal for cutting fine molding, veneered plywood, melamine and more. The EHT staff was impressed, and you will be, too. Visit www.diablotools.com.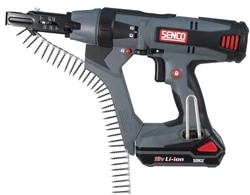 Senco New DuraSpin Auto-Feed Screwdrivers 
If Rambo was a drywall installer, he'd be packing Senco's latest DuraSpin screw-fastening system.
The company's 2-in. collated auto-feed screwdrivers come in traditional corded versions as well as new, compact 18-volt Li-ion battery-powered units that can drive between 500 to 700 screws per charge, depending on the screw length and substrate.
For repetitive fastening, the DuraSpin drivers make sinking screws faster and more efficient, with design enhancements including higher torque motors, application-specific tool speeds (2,500 or 5,000 RPM), a variable speed trigger (with lock and reverse options), and a patent-pending corner-fit feed system for better access and screw placement in tight spaces. A locking depth-of-drive adjustment enables the user to set the precise depth needed for flush drives or countersinking screws. The DuraSpin system is ideal for drywall, sheathing, decking and structural steel fastening. Visit www.senco.com.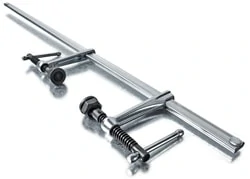 Bessey Double Force Clamps
The all-steel Double Force Clamps from Bessey present a modular clamping concept with a wide range of options for different applications. Both ends of the clamp can be loosened without tools, enabling rapid changeover of the sliding arms for spreading tasks. The interchangeable sliding arms are made from forged tempered steel for a high level of holding power. To suit a variety of applications just replace with other sliding arm variants. The Bessey MorPad on the clamp is designed to reduce friction at the point of contact, which can lower applied clamping force and extend tool life.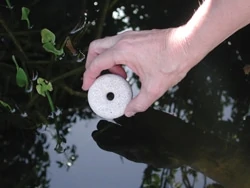 Mosquito Dunks
Homeowners looking for an effective way to control pesky, disease-spreading mosquitoes don't have to resort to harmful chemicals. Mosquito Dunks kill mosquitoes before they're old enough to bite. The active ingredient in Mosquito Dunks is BTI (Bacillus thuringiensis israelensis), a naturally occurring bacterium that's deadly to mosquito larvae but harmless to other living things. Mosquito Dunks, which look like small beige donuts, float on standing water and naturally kill mosquito larvae before they become adults. Each Mosquito Dunk will treat up to 100 square feet of surface water for about 30 days. Learn more at www.summitresponsiblesolutions.com.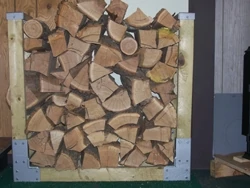 Rhino Pack-n-Stack Firewood Brackets
Chopping wood for the winter? The Rhino Pack-n-Stack Firewood Rack Brackets are easy to assemble and include four brackets and all hardware. Just add any length of 2×4 lumber to construct a sturdy, beautiful firewood rack. Available from Charmaster, the racks are easy to stack, cover and clean. They feature heavy-duty steel construction with brackets that weigh 30 lbs. and come with a 20-year warranty. The Pack-n-Stack Brackets work great with 15- to 30-in. long firewood. Learn more at www.charmaster.com.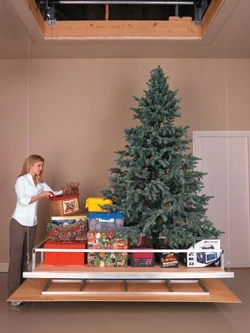 Aladdin Storage Lift
Aladdin Storage Lift LLC manufactures motorized lift systems to raise and lower those tough-to-handle items safely from your attic. Forcing back-breaking and cumbersome items up your attic stairs can be a chore of the past. The Storage Lift design turns a difficult task into a simple and economical solution for all of your storage needs. The only visible indication of the system is the neatly trimmed out box in the ceiling. Installation is simple in both new construction and existing homes. Learn more at aladdinstoragelift.com.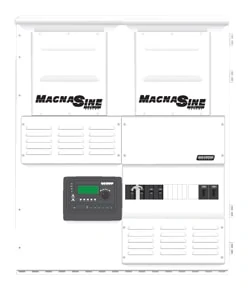 Battery Backup Retrofit for Solar Systems
Most grid-connected solar systems don't include a method for storing the power that the system is producing and will shut down during a utility power outage. When the grid goes out, so does your solar system. By adding batteries, you can store the energy that the solar array is producing and use it during an electrical outage. AC Coupling is the process of tying in an additional battery-based, off-grid inverter/charger. Backwoods Solar has made this easy by designing several kits with Magnum PAE inverters and maintenance-free sealed AGM batteries. Each system is based on the length of time and size of the loads that you want to back-up during an outage. Most of the components come prewired, so with the addition of a critical loads sub-panel, you can start storing energy for use when you really need it—when the lights go out everywhere else.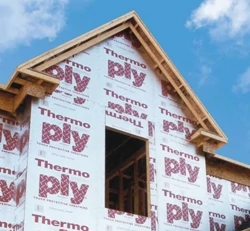 Thermo-Ply Protective Sheathing
Not all sheathing products perform the same. Thermo-ply offers the unique combination of structural strength, dimensional stability, cost efficiency and environmental sustainability. Made from 94-percent recycled materials, Thermo-ply features directionalized fiber and cross-laminated multi-ply construction that provides dimensional stability and the outstanding racking strength to meet stringent building codes. And it's as tough as OSB on the job site, too, resisting punctures, breakage, vandalism and other damage better than foam or fiberboard. Thermo-ply provides an efficient weather barrier, able to resist 50 mph wind-driven rain. It also offers the tightest seal of any sheathing on the market, eliminating the need for housewrap and cutting both material and labor costs.