Engineered wood products have been a mainstay in the wood industry for many years, but their uses have become wider as more and more products have been introduced. Engineered wood is a better use of trees, because it uses less wood to make more wood products. Plywood is the most common form of engineered wood, as is oriented strand board (OSB). Other common products include hardboard, flakeboard, particle board and medium-density fiberboard (MDF). All have their uses. In addition to the raw materials, specific products have also been introduced, including engineered joists and truss materials, as well as siding, and, of course, paneling.
For instance, Weyerhaeuser Trus Joist products include TimberStrand LSL (laminated strand) and Parallam PSL (parallel strand) lumber for framing. These can be used to create straight, flush walls that are critical for tile application, as well as for kitchen and bath walls that demand ease of countertop installation. Also available are SilentFloor floor joists and TimberStrand rim board, headers, beams and columns. These products create headers that don't shrink and floors that are quieter. For more information, visit www.trusjoist.com.
Louisiana-Pacific also has engineered I-joists, rim board and laminated veneer lumber (LVL). These offer straighter, stiffer, stronger and more consistent wood products for many construction uses. Visit www.lpcorp.com.
Universal  Forest Products offers an engineered stair stringer that is pre-notched and adjustable. UFP also offers the Open Joist 2000, an open-web wood floor truss that allows for easy installation of mechanicals. Visit www.ufpi.com.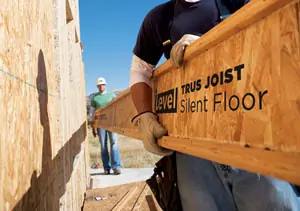 Plywood—Plywood is manufactured from thin "plies" of wood layered at right angles to each other. This creates a very dimensionally stable product. Plywood doesn't shrink, warp or swell like solid woods. And the larger panels allow you to work larger areas without having to glue up or edge-join small pieces. Plywood is commonly used for the larger pieces of cabinets and other built-ins, using solid wood for the facers. Plywood is available as either softwood or hardwood veneer-faced and for interior or exterior use. It is most commonly sold in 4-by-8-foot sheets, but smaller sheets may be available in hardwood veneers for craft-style projects. The most common thicknesses are 1/8, 1/4, 3/8, 1/2 and 3/4 inches. In hardwoods, premium grades will have color-matched faces, so staining and finishing is consistent.
High-Density and Medium-Density Overlay plywood is plywood treated with a resin-impregnated overlay to provide extremely smooth, hard surfaces that need no additional finish and have high resistance to chemicals and abrasives. These products are commonly used for highway signs, countertops, cabinets and so forth.
Hardwood plywood consists of inner plies with an exterior hardwood veneer applied. The method the veneer is cut from the log determines the "pattern" and also the cost of the material. Rotary-cut veneers are cut from the log like peeling an apple. The continuous slices produce a greatly varying grain pattern. This is the most economical method and is commonly used for birch, oak and ash, or other fairly plentiful woods.
Flat-sliced veneers are cut from the log, one slice at a time, like slicing cheese. Plywood covered with flat-sliced veneer looks similar to a series of glued-up boards. This material is somewhat more expensive.
The method in which the slices are applied to the plywood inner plies is called the "match." Random matching is the most economical. Sheets of veneer are randomly chosen, often from different logs and glued in place. This often results in irregular grain patterns. In slip matching, the slices from one log are butted up against each other in the same manner they are cut from the log. Book-matched veneer faces are created by turning every other sheet over, creating a face that looks like an open book. This is often done with highly figured grain patterns and is the most expensive.
Hardwood plywood may have softwood or a fairly inexpensive hardwood such as poplar for the interior plies. Or, the plywood may be combination core utilizing an MDF ply between the inner plies and the veneer face. This provides a smoother subsurface for the veneer face, and there isn't as much of a problem with tearout when sawing. For more information, visit the Hardwood Plywood and Veneer Association at www.hpva.org.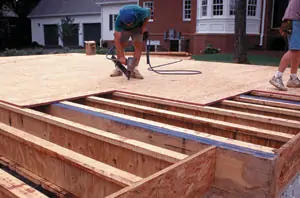 Oriented Strand Board (OSB)—The two most commonly used structural panels for building construction are plywood sheathing and oriented strand board (OSB). Again, it's important to choose the correct material for the specific job. Because of the construction of plywood with the plies bonded perpendicular, and the majority oriented along its length, plywood is stronger than OSB when applied perpendicular to structural members like joists and rafters. This makes plywood sheathing a good choice for floors and roofs.
OSB panels are manufactured from reconstituted, mechanically oriented wood strands bonded with resins under heat and pressure. OSB is more economical than plywood, does not have any voids and will not delaminate. OSB is widely used for roof sheathing, wall sheathing, as underlayment or subflooring, and even as single-layer flooring. OSB, however, is not moisture-resistant and once wet, it swells and stays that way. However, Georgia Pacific's Plytaniuim Sturd-I-Floor products protect subfloors during construction with a water-repellent coating. They also have a smooth, sanded surface that allows you to install floor coverings directly on the subfloor with no additional underlayment. These products also feature APA Quick-Fit tongue-and-groove design to fit panels together.
Louisiana-Pacific Corporation's OSB flooring has a patented notch system that quickly drains away surface water.
Medium-Density Fiberboard (MDF)—One of the most popular newer materials for many purposes these days is MDF. Consisting of pulverized cellulose fibers, mixed with glues and resins and formed into sheets using heat and pressure, MDF is sanded to an exact thickness. It's a great material for veneered furniture panels and tabletops, as well as for painted cabinets. It is relatively inexpensive, extremely stable and available in a variety of standard thicknesses. It is designed only for interior use, is heavier than plywood and when sawn, routed, or otherwise cut, produces a cloud of fine dust. You need a dust mask when working with it. High-Density Fiberboard is also available as a flooring subfloor.
Hardboard—Similar in construction to MDF, hardboard is made of ground wood pulp and resin. Hardboard is available tempered or untempered, smooth on one or both sides. Hardboard is a popular choice for cabinet backing and drawer bottoms. It is also available as a siding material. Hardboard is not moisture-resistant, unless treated.
Flakeboard and particleboard—These two engineered products are similar in appearance, but are not span- or exposure-rated and should only be used for interior, non-structural situations. These products also have grades or ratings, according to span and exposure.
Siding—Siding may be made of natural or engineered wood. Engineered wood siding may be manufactured as conventional veneered plywood, as a composite or as OSB siding. Both panel and lap siding are available. Special surface treatments, such as V-groove (such as APA Texture 1-11), brushed, rough sawn and texture-embossed (MDO) are available.
Louisiana-Pacific offers a wide range of engineered sidings that offer the look of authentic wood siding without many of the maintenance problems. Three products include: LP's Canexel Sidings for northern markets, a pre-finished high-density siding that comes in a variety of profiles and deep rich colors. For traditional markets, LP ABT siding offers one of the widest ranges of lap, panel, soffit and trim products. LP SmartSide siding is another product with a variety of complementing trim, soffit and facia products. These products are quickly installed and some have hidden nail installation for a blemish-free appearance. For more information, visit www.lpcorp.com.
Paneling—Paneling consists of wood products joined in a continuous surface, especially decorative panels for interior wall applications. Panels may also consist of natural woods, or manufactured wood products. The latter may consist of plywood or composite panels.
For more information on engineered wood, APA—the Engineered Wood Association represents most of the nation's wood structural panel manufacturers. A wide range of informative publications and even helpful diagrams are available for free at www.apawood.org.
Wood is one of the world's truly renewable resources. It's also available in a myriad of forms, and it's important to understand the various wood products and their uses for building construction, garden construction, cabinetry, furniture and any woodworking hobby.