Whether you're planning to aerate your lawn, put in a retaining wall, grind a stump, instal a deck or create your own garden pond and waterfall, renting equipment can save you money. Most professional contractors are fully aware that they can save money by renting items that they use less than 70 percent of the time. But many homeowners and do-it-yourselfers still don't realize that they don't need to fill a shopping cart full of home-improvement tools every time they embark on a new project.
For example: You plan to install a retaining wall to break up an awkward incline. You could purchase a shovel for $18 and spend two weekends shoveling dirt. Or, you could rent a skid-steer loader with backhoe, forklift and auger attachments for a day from a local equipment-rental store and have the dirt moved in one afternoon (rental prices always vary depending upon location).
Example 2: You plan to add a new dimension to unused yard space by building a deck structure. The project calls for, among other things, a posthole digger, drill and three saws: a circular, hand and power miter saw. You could easily spend more than $600 on the tools, or you could rent all of them and spend the extra money on lumber.
Example 3: You want to create a garden pond with a waterfall feature. If you need to move a lot of dirt to create the slope, renting a skid-steer loader may again be a good option. On the other hand, if you're building a pond on level ground, it will be important to compact the soil with a hand tamp. You can rent one inexpensively from a local equipment-rental store.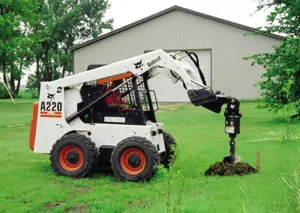 Smart Move for Homeowners
According to a leading North American equipment-rental company, Rental Service Corporation, more and more homeowners are realizing that renting equipment and tools for their home-improvement and landscaping projects can save them money.
"More people are starting to see that it's just like renting a car, skis or a movie," says Jay Carlyn, regional sales manager for RSC. "Why buy a car for a short business trip or a DVD you'll watch once? Why buy skis if you only ski once a year?" The same thing can be said about buying equipment. People are figuring out that they can let someone else shoulder the maintenance and other ownership costs and, when they're done with it, they can simply take the equipment back.
"We've had construction contractors on the rental bandwagon for years. But some homeowners still don't know they can rent the equipment they need to do a variety of things — from removing dead limbs, splitting firewood and cutting rock to drilling holes in concrete, driving a steel fence post or spreading fertilizer. Renting can help you do it inexpensively, efficiently and with the right piece of equipment for the job every time."
Carlyn says renting instead of purchasing equipment has more advantages than short-term usage.
"Most rental stores carry only the very latest tools and equipment, and they keep these items in good shape because they're cleaned and serviced after each rental," he says. "The general rule of thumb is that if you expect to use a piece of equipment day-in and day-out, month after month, throughout the
year — then you should consider buying the equipment. Otherwise, rental is almost always the most cost-effective method. The most obvious advantage of renting equipment is that homeowners only pay for what they use."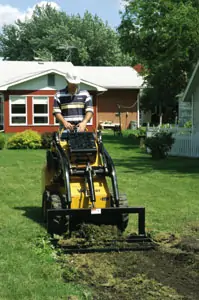 More Bang for Your Buck
Many rental stores don't just rent equipment; they also offer advice and consultation. Here are some tips Carlyn offers for getting the most out of the transaction
• Call your local rental store and describe the project you would like to complete with rented equipment. When store personnel know the details of your project, they can recommend the type and size of equipment you'll need for most lawn and garden, and home-improvement or repair projects. They will also help you to organize the additional supplies you'll need to complete the job effectively and efficiently.
• Before heading to the rental store, organize your work area. This preparation will save you money because the rental store charges for the time the equipment is in your possession.
• When you pick up the equipment, ask the store personnel how to use it safely and correctly if you're inexperienced with the item.
• Make sure you understand the store's rental rates, store hours and return policy.
• Have a good idea of how long you'll need the equipment so you can pick the appropriate rate structure.
• And make sure you understand your responsibility for the equipment.
Equipment at a Glance
Here are some of the items savvy weekend warriors can rent from their local equipment-rental store to save time and money on landscaping projects.
Aerators
Blowers — hand-held,
   backpack and towable.
Brush chippers
Dethatchers (lawn
   combers)
Edgers
Lawn rollers
Log splitter
Garden hose
Hand tamp
Hedge trimmers
Magnetic — towable
Mowers — walk-behind,
   ride-on and towable.
Posthole diggers
Skid-steer loaders —
   with backhoe, forklift
   and auger attachments.
Sod cutters
Sprayers
Spreaders — fertilizer
   and seed.
Stump grinder
Tillers
Vacuums — leaf and litter.
Weed eaters
Wheelbarrows