A Roundup of New Energy- Conscious Home-improvement Products.
A double-dose of good news for your home and the environment comes from new products that reduce utility costs by conserving energy while also lessening their negative impact on Mother Nature. Here's a roundup of select new products to consider for your next improvement project that will save money in the long run while proving kinder and gentler to the earth for the green-minded homeowner.
GE Unveils LED Bulb that Lasts 17 years
The inventor of the first visible light-emitting diode (LED) will introduce a 40-watt replacement GE Energy Smart LED bulb available later this year or early 2011. GE Lighting's new LED bulb is expected to consume just 9 watts, provide a 77-percent energy savings and produce nearly the same light output as a 40-watt incandescent bulb, while lasting more than 25 times as long. GE scientists and engineers designed the bulb to better direct light downward on the intended surface and all around, not just out the top of a lampshade, as most current LED bulbs are prone to do. The new GE LED bulb offers 450 lumens—the Energy Star threshold to be considered a 40-watt incandescent replacement. Currently available LED bulbs produce 350 lumens or less. GE has filed multiple patent applications for the bulb and expects it will be an Energy Star-qualified LED omnidirectional light bulb.
"This is a bulb that can virtually light your kid's bedroom desk lamp from birth through high school graduation," says John Strainic, global product general manager, GE Lighting. "It's an incredible advancement that's emblematic of the imagination and innovation that GE's applying to solve some of the world's biggest challenges." Learn more at www.ge.com.
Broan-NuTone Fans Operate at $1 per Year
Think $1.00 doesn't buy much anymore? Think again. Broan-NuTone offers a complete line of Energy Star-qualified ventilation fans for a healthier home, which operate for as little as $1.00 a year. Whether it's excess odors, indoor pollutants, mold prevention or improving the overall quality of indoor air, this is a great value for a healthier home. The Energy Star lineup of Broan and NuTone ventilation fans includes 35 different models from the Ultra Silent Series, recessed fan/lights, as well as heavy-duty models ideal for light commercial installations and offices. The Ultra Silent Series includes basic bath fans, fan/light/nightlight combinations, humidity sensing fans and humidity sensing/fan/light/nightlight combinations. Energy Star fan-only models use less than 10 kilowatt hours per year.
"All of the Energy Star-qualified fans from Broan and NuTone are certified by the Home Ventilating Institute (HVI). The HVI label is a homeowner's assurance that the certified air flow and sound ratings for a certain ventilation product are the results of testing by an independent laboratory," says Patrick Nielsen, marketing manager, ventilation fans, Broan-NuTone. Learn more at www.Broan.com.
Energy Star-qualified ventilation fans that include light use 70 percent less energy on average than standard models. These fans provide better efficiency and comfort with less noise and use high-performance motors that work better and last longer than motors used in conventional models. They also feature improved blade design for better performance and longer life.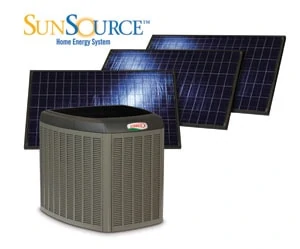 Lennox SunSource Home Energy System
Lennox SunSource Home Energy System uses renewable solar energy to heat and cool a home, and more. Lennox touts the product as "a gateway to the future of innovation in the HVAC industry" and a simple way homeowners can harness the power of renewable energy at home. The SunSource consists of a solar-ready, high-efficiency Lennox air conditioner or heat pump that has been specially enhanced to serve as the platform for this new home energy system. A Lennox solar subpanel provides the connection between utility-interactive solar power system and the HVAC unit. Roof-mounted solar modules harness clean, sustainable energy from the sun and use it to run the home's central heating and cooling system. When the system is not operating, the solar energy is supplied to other devices that consume electricity, such as lighting and appliances. Once the system is fully set up, homeowners can expect to see a reduction in their utility costs. Down the line, if they want to see their bills lowered even more, they can expand on the system by adding additional solar modules—up to a total of 15 roof-mounted modules per outdoor unit. Learn more at www.lennox.com.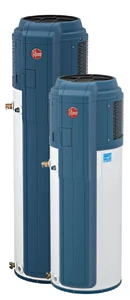 Rheem Heat-Pump Water Heater Twice as Efficient
The new integrated air-source HP-40 Heat Pump Water Heater from Rheem offers an industry-leading Energy Factor (EF) of 2.0, or more than twice the energy efficiency of a standard electric storage water heater. The energy-saving design will help a family reduce its carbon footprint by nearly two tons annually. In addition, the new water heater qualifies for a federal tax credit as well as many state and utility rebates and incentives. Intended for residential applications, both new construction and drop-in replacement of existing water heaters, the unit has a storage capacity of 40 gallons and meets the qualifications for an Energy Star listing. Measuring only 21 inches in diameter, the new Rheem Heat Pump Water Heater offers the same slim, portable profile as the 50-gallon HP-50 model. But thanks to its smaller storage capacity, the HP-40 hybrid is 10 pounds lighter and 10 inches shorter, with an overall height of 65.5 inches. As a result, installation in spaces with restricted access—including attics and basement mechanical rooms—is even easier.
"The HP-40 hybrid, which is the only 40-gallon heat pump water heater available today, was designed with younger couples and empty-nesters in mind," says Rheem senior product manager Tommy Olsen. "Their daily hot-water requirements are much less than those for a family of four or more, but they still want the excellent energy-saving benefits of a cutting-edge hybrid that integrates heat pump technology with conventional electric elements."
Instead of heating stored water directly with a conventional electric element—or with a burner, as in the case of a gas unit—a heat pump water heater transfers available heat from the ambient air, intensifies the heat and transfers the heat into the water, a far more cost- and energy-efficient process. Learn more at www.rheem.com.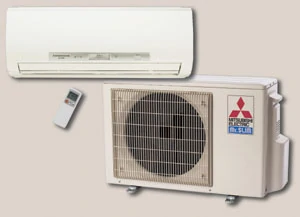 Mistubishi M-series Star Lineup Cooling/Heating Units
Mitsubishi Electric Cooling and Heating Solutions has introduced the split-ductless M-Series Star Lineup, featuring updated indoor and outdoor units designed for maximum energy efficiency. The advanced MSZ-FE lineup includes models that are Energy Star rated and allow homeowners to take advantage of federal tax credits of up to $1,500. The systems offer high heating performance with operation possible down to minus 13 degrees. The Star Lineup also features some of the highest SEER and HSPF ratings Mitsubishi Electric has ever offered, all while saving more than 40 percent on energy usage compared to standard window units. Pictured here, the MSZ-FE systems offer single-zone heat pump models, indoor unit compatibility with MXA-2B20NA multi-zone systems, exceptional efficiencies and heating capacities, rated Btu/h capacities of 9,000 and 12,000, and the i-see Sensor, which automatically detects room temperature differences and adjusts for comfort. Learn more at www.mehvac.com.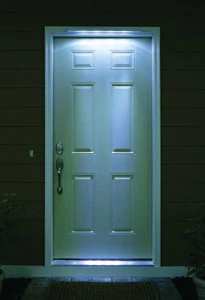 ODL Solar Entry Light
The new ODL Solar Entry Light is an excellent alternative to standard outdoor lighting, as it uses free energy to light entryways throughout the night. The Solar Entry Light contains four super bright LEDs and provides enough light to allow easy entrance into homes after nightfall. The light allows consumers to see the keyhole, the ground and the steps leading to the door. The unit can be installed in minutes and is completely self-contained, requiring no hard wiring. Learn more at www.odl.com.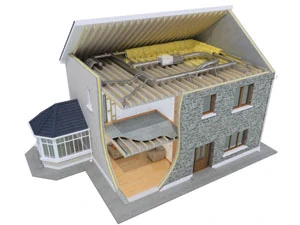 Hi-Velocity High-pressure Heating and Cooling
The Hi-Velocity System from Energy Saving Products Ltd. is an energy-efficient, high-pressure air delivery system that can be designed to provide heating, cooling, filtration, ventilation, humidification and dehumidification. The Hi-Velocity System works on the principle of pressure rather than air velocity. Unlike a conventional furnace, the supply ductwork is all "small diameter" or "mini duct." With the use of a high-pressure area to low-pressure area, the air in the room is continuously mixed, creating even temperatures from floor to ceiling. Because the plenum duct is pressurized, dust buildup within the ductwork is eliminated. With continuous air circulation from the constant fan, airborne dust and other allergens can be easily filtered out of the air. The innovative fan coil and unique cooling technology help create a healthier and more enjoyable indoor living environment. Save money on monthly operating costs by programming the system's Energy Smart Variable Frequency Drive Motor. Learn more at www.hi-velocity.com.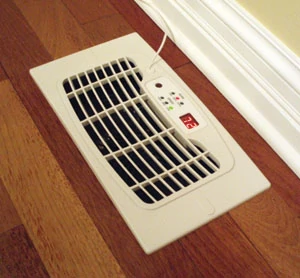 AirFlow Breeze Ultra Vent Booster
Have a "problem" room that never seems to adjust to the right temperature? Now, there is a safe and energy-efficient way to heat or cool down your room without ever touching your thermostat, and it's a simple DIY product that any homeowner can install. AirFlow Technology has developed the AirFlow Breeze Ultra, a universal vent booster fan with a built-in temperature sensor capable of fixing "problem" areas and by quietly raising or lowering the temperature 3 to 5 degrees F., no matter the season. The fan can also assist in moving air up, down, from room to room or level to level. With operating costs less than $5 per year, it's a simple cost- and energy-efficient way to keep the home cozy. Simply slide the AirFlow Breeze Ultra directly into a floor register opening measuring 6-by-10 or 6-by-12 inches and plug into a standard outlet—no further steps are required. For wall and ceiling mounts, simply drill two screw holes and attach the AirFlow Breeze Ultra to the surface using standard screws. The AirFlow Breeze Ultra may be powered either from the front or back with the included 6-foot power cord. Vent fans for 4-inch registers are also available.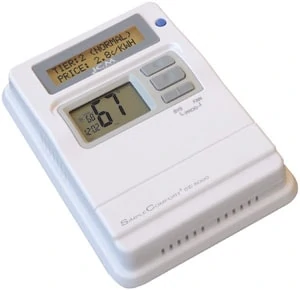 ICM Controls' Simple Comfort SE5000 Thermostat
ICM Controls has launched its new programmable SimpleComfort SE5000 Series Smart Energy Thermostat. The SE5000 features an in-home energy display coupled with a residential thermostat, providing direct HVAC load control by utility companies serving Smart Grid customers. The SimpleComfort SE5000 series is designed around the ZigBee smart energy profile for communication with smart meters, a core technology for monitoring, controlling and automating the delivery and use of energy to improve energy efficiency and reduce environmental impact. The SE5000's in-home energy display allows the user to monitor key energy data in real time. The programmable SE5000 series features 7-day programming, multi-stage heat/cool compatibility with adjustable temperature differential for each stage, automatic changeover and soft-touch control buttons. Learn more at www.icmcontrols.com.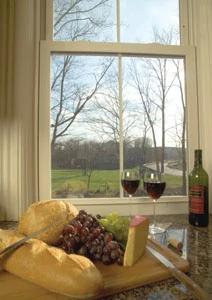 Simonton Windows Meet New ENERGY Guidelines
On January 4th, 2010 the Energy Star program introduced new criteria to improve energy performance levels of windows and doors for all regions of the country. As a partner with the program for the past 11 years, Simonton Windows was prepared for the changes and has introduced Energy Star zone-specific packages for each product the company produces.
"We have made sure that every Simonton product line has an Energy Star-specific glass package that can be easily ordered for each of the four climate zones within the program," says Tony Eschmeyer, senior product manager for Simonton Windows.
Named for each Energy Star climate zone, (Northern, North-Central, South-Central and Southern) Simonton's new Energy Star glass packages provide the optimal balance of thermal efficiency and value. Each package is optimized for the particular product line and geographic zone in which the window or door will be installed.  Selecting the right glass package is as simple as:
1. Specifying the Simonton windows and doors you want.
2. Stating that you want Energy Star-qualified products.
3. Indicating your climate zone.
Learn more at www.simonton.com.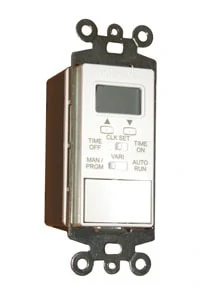 Swylite Digital In-Wall Timer Switches
Swylite Corporation's AC Digital In-Wall Timer Switches replace single pole or 3-way light switches to control ultra-low power CFL and LED bulbs, incandescent or fluorescent lighting, fans or appliances from the wall or wired 15-Amp outlets for energy conservation, safety and security. All Swylite in-wall LCD timers operate like a conventional wall switch with a simple flick of the large, manual override switch which has the look and feel of a real switch. These energy saving devices also feature a built-in automatic 10 minute Count-Down Timer, so there is no need to buy multiple devices for your home. Made in the USA, the complete line of Swylite energy control products provide long-lasting, trouble-free life and are backed by full product warranty.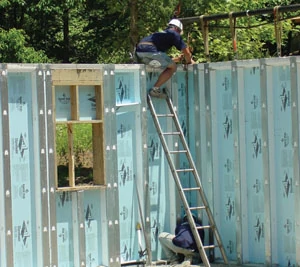 Superior Walls Lock In Energy Savings
For new construction projects, money-conscious homeowners should consider selecting steel-reinforced concrete wall foundations as a way to potentially save up to 50 percent of total heat loss in a home.
"Homeowners should be actively involved in the product decisions that go into their new home construction," says Jim Costello, president of Superior Walls. "Consumers can build value from the bottom up in their new homes by using energy-efficient foundation systems. The steel-reinforced concrete panels created by Superior Walls are matched up in the manufacturing process with DOW Styrofoam boards, which provide excellent rigid foam insulation. The resulting Xi wall panels provide an exceptionally energy-efficient foundation for a home.
"According to the publication 'Native Power—A Handbook on Renewable Energy and Energy Efficiency for Native American Communities,' an uninsulated basement can account for one-third of the total heat loss in a home. This study, funded in part by the Office of Energy Research, U.S. Department of Energy and the Office of Utility Technologies, illustrates the tremendous value homeowners can achieve by shunning unheated basements and crawlspaces in favor of installing energy-efficient foundation panels."
Superior Walls insulated precast concrete wall systems have earned the Green Approved Product designation by the NAHB Research Center. At Superior Walls, Xi wall panels are constructed with a concrete face shell, backed by 2-1/2-inches of DOW extruded polystyrene insulation. In addition, the steel reinforced concrete walls create a permanent barrier against sidewall water penetration, making the home damp-proof. Learn more at www.superiorwalls.com.