When it comes to home improvement, bad projects sometimes happen to good people. In A Fix, the new television series on the TLC network follows a team of professional handymen who rescue homeowners from improvement jobs that have gone shockingly wrong, from gaping holes in the ceiling to misguided kitchen remodels.
In each hour-long episode, the In a Fix team steps in to not only fix the problem, but up the ante. Small fix-it projects become major overhauls, and the camera catches all the action, the lessons learned in home repair, and the loads of fun had by the cast and crew. Extreme How-To caught up with Marc Goldberg, host of In A Fix, to get the inside scoop on the new program as well as some insight on how to better manage DIY home-improvement projects.
Q: Can you give us a little background on the concept of In a Fix, and what can we expect from its first season?
A: The concept of the show is that I, a designer and group of four to six builders pull an intervention on a homeowner who is having a hard time. Usually they are do-it-yourselfers who take on projects that they're not quite able to finish off due to lack of time, motivation or skill. We send their loved ones off for three days of pampering in a spa. Then, we do in three days what they were unable to do in six months, or six years, depending on the project.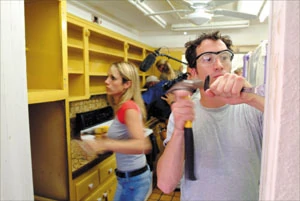 Q: What types of projects does your team tackle for the homeowners?
A: We're not going to rebuild the house from the ground up, but if your living room, kitchen or dining room is messed up, we're going to fix all that up in three days. The participants are regular people leading normal lives, doing normal things, which I think is common of do-it-yourselfers and all people who work on their own houses. But sometimes they bite off more than they can chew. They get themselves into a situation and don't really know how to get out of it. That's where we come in.
Q: What's the typical reaction of the show's participants after you've bailed them out of a botched project?
A: I'd say 99 to 100 percent of the time there is incredible gratitude and an overwhelming sense of relief for the homeowner. I can't tell you how many times I've heard from homeowners that we've saved their marriage, or we've changed their lives completely. The people who stay home to work with us — sometimes it's the men and sometimes it's the women — we make them one of the crew. If we're giving each other a hard time, then we're giving them a hard time. We're not looking to embarrass anybody; we're just looking to get the job done and have a good time doing it.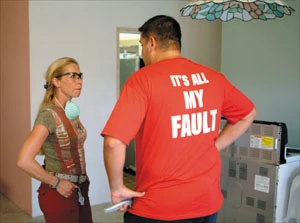 Q: Can you give me a few examples of some of the stories we'll see on the program? What did your team do to salvage these projects?
A: We do some pretty extreme projects. We're used to ripping the walls down and putting them back up everyday. But I think to the average do-it-yourselfer, this is pretty challenging. For instance, down here in Florida we run into a lot of "bug situations." We get walls full of termites and ants, but some of the more extreme episodes aren't always tied to the work itself. For instance, we work in a lot of old houses and believe it or not, sometimes there are pretty intense vibes and spirits in these old houses. We've done séances on the set and seen teleportation from one spot to another. We've even had kung-fu fights break out on the set during an episode that had an Eastern theme. I assumed the role of "Master Marc" and got into a battle where I ended up destroying every member of the crew. You'll see all that in the show. It's not just about putting a wall up. It's also about making good television.
Q: What can the viewers expect to learn by tuning into the program?
A: The viewers will get a grasp of the process for the different projects that go on around the house. If we're building cabinetry, we're going to show you how we do it — the beginning, middle and end. If we're working on electric, we're showing you the same stuff. If we're throwing up sheetrock, you're going to see the framing, you're going to see the sheetrock go up, you're going to see the mudding, the taping, the sanding, and the painting. Whatever it is we're doing, you're going to see the whole thing, yet it's not going to be given to you by some of these people who do some of the typical do-it-yourselfer shows. What we do is pretty entertaining, and I think one of the reasons for this is that we've got real human beings doing the work. We do all the work ourselves, and everyone can hold their own — not only with the tools and the projects, but with their personalities.
Q: What are some of the common mistakes homeowners make when self-managing their projects?
A: I think the number one mistake that homeowners make is underestimating the scope of the projects that they're involved with. I think there's an interesting parallel between the TV business and building, and that is you don't really know what you're getting into until you're into it. That's the number one mistake that I've made as far as doing stuff around the house. And a lot of other people make the same mistake.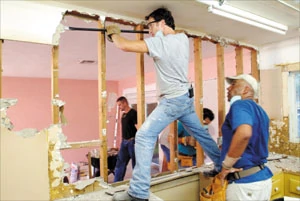 Q: Where should the homeowner draw the line between what projects they can handle, and what they should enlist a contractor to do?
A: I think that all falls to the individual. You have to know yourself and know what your limitations are. I think it was Dirty Harry who said, "A man's got to know his limitations." If you're not a plumber, then don't do your own plumbing unless you're really comfortable with the work. The same goes for electrical work. I think framing and hanging drywall is something you can figure out, but you've got to have the right tools. And that's another thing. You really need the right tools for the job. Buy the tool that fits the job, not just the tool that fits your budget. You want to do these projects to the best of your ability and as quickly as possible, but you can't do that without the right tools.
Q: Can you offer a few more tips to help homeowners better manage their projects?
A: My feeling on home improvement projects is to take a philosophical approach. You have to have a structure to what you're doing. You have to plan it, organize it and execute it. Five minutes of planning can save you two hours of downtime. You've got to set your priority list so you know what to get done, the supplies you'll need and the tools you'll need to complete it. Otherwise, you'll find yourself going back and forth to the hardware store a lot more than you're actually working on your house. I know a lot of people who delay the work this way. But if you get everything you're going to possibly need on the location, on the premises where you're doing the work, you'll save yourself so much time. Spend a day getting all your supplies, and then you're ready to rock. The other thing is you've got to work smart and you've got to work safely, especially when you're around other people. Hopefully when you're working on your house, you've got some buddies to help you out. You've got to know how to work together as a team. I think that's one of the most fun parts of our show. We instinctively hold out a hand and someone's passing us a hammer. That brings me to my next point, which is you've got to put equipment back where you found it. A lot of people have a tendency to use something, and then set it down carelessly. You've got to return everything to wherever it belongs to avoid wasting time searching for misplaced tools. And finally, never forget to measure twice and cut once. And of course, work hard and be kind to your mother.
Q: These days there seems to be a media boom for television programs, magazines and even websites to assist homeowners with do-it-yourself projects. What do you think sparked the recent wave of popularity and where do you see the popularity of this DIY spirit in the next 10 years?
A: A lot of people are genuinely interested in working on their houses. It's become more affordable to do it yourself, in terms of buying equipment and in terms of figuring out how to do stuff. Human beings are able to think and to create. And home improvement is about creating. People have been working on home-improvement projects since they've lived in caves. But now a spotlight has been turned towards it. It's like cooking shows; those shows will be on forever, because people like to cook. Home improvement is the same deal. Do I see the current popularity waning in the future? To some degree, yes. I think with our show, the popularity will hit its pinnacle because the market is completely saturated. I think that our show is going to break the mold on every home-improvement show out there. It's a hybrid of a home-improvement show and a reality show. We have real people doing the work, and we have a good time. And we're working fifteen hours a day. We show up at seven, we leave at midnight, and we show up the next day and do it all over again. We're going to change what people expect from do-it-yourselfer television. It's hard to imagine a homeowner who can't relate to TLC's new series. Sometimes even the most extreme DIY'er needs to be thrown a rope. To learn how to troubleshoot problem projects and to prevent major catastrophes, tune in to In a Fix and get a healthy dose of educational fun. In A Fix airs Mondays through Thursday at 7pm ET/PT.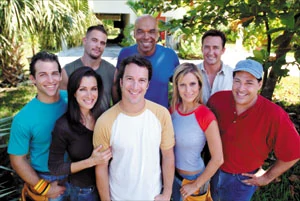 Tips from the Cast of In a Fix
Justin Brown, carpenter, offers a few guidelines for home-improvement jobs:
• Time management is key, so plan carefully.
• Always research your materials. Prices can fluctuate throughout the year.
• Pick the right material for the right application; the easiest solution isn't always the best.
• Don't be afraid to ask questions to the right people; professional craftsmen are great resources for help.
• Never go in over your head.
• Know that you're going to make a mistake. Nobody is perfect.
• Prepare for the unexpected. Houses are usually not built perfectly (i.e. square, level and plumb).
• If you use a contractor, shop around and get different prices from different companies.
Marc "Sparky" Bartolomeo, electrician, shares a few tips on handling your next project:
• Always use the right tools — not just the correct tools but well-kept tools.
• Remember, a sharp knife is less dangerous than a dull one. Don't try to get that extra cut out of a dull blade. Put on a new one. The same goes for drill bits, razor blades and even sand paper.
• And I can't believe I'm admitting to this, but please read the instructions. I know it's not a "guy" thing to do, but you need to do it anyway.
Danny Paul, carpenter, gives some advice on remodeling your home:
• Always think re-sale when taking on a home-improvement project.
• Landscaping always adds lots of value to a home. I mean lots.
• A fresh coat of paint always cleans up the inside or outside of any place.
• Be creative with storage; try to design and build storage bins. Clutter is unattractive. And you don't need to be a master carpenter to build something for storage.
• Don't rush the project (unless it's your roof). Take your time and do it right.
• Most important: Don't stress out! Have fun remodeling. Invite friends over. Men love to challenge each other. A painting party is common. Have your friends help you build a deck. Or put up a wall. Now that's fun.