Garage door backup-battery dead? Here's how to bring it back to life
By Bruce W. Smith
Garage doors with backup batteries are a common site in homes across the country where storms bring frequent power outages.
But the backup battery doesn't live forever, despite the built-in battery charging systems found in many of the better systems. Long periods without power, or frequent periods of using the standby battery pack before power is restored, eventually takes a toll.
Fortunately, there's an easy solution: Replace the batteries inside the backup pack. The fix takes less than 20 minutes and costs less than $30.
The batteries in my Sears Diehard garage door opener backup battery system is the same as those found in thousands of others—a pair of 12V / 5Ah units that are common in home security systems' backup batteries.
I found the replacement batteries at eComElectronics.com for $30/pair with free shipping—or about 1/3 the price of Sears replacement batteries. (The same battery fits a host of other brand's garage door backup systems, including Liftmaster and Chamberlain.)
Replacement requires nothing more than removing the four screws that hold the top of the backup battery pack in place, disconnecting each battery's wire from the circuit board, crimping on spade connectors to the new batteries' leads, and dropping them in place of the old batteries.
Now if the power goes out, push the garage door control and … open sesame.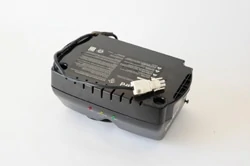 This Sears Diehard garage door opener battery backup lasted for 8 years before the internal batteries died.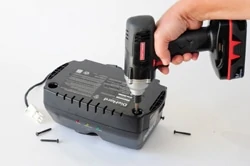 The plastic top is held in place by four self-threading screws that are easily removed.

The backup battery system consists of two 5Ah rechargeable batteries (Sears #41B822) that plug into the smart circuitry. To remove, unplug the connecting wires from the circuit board.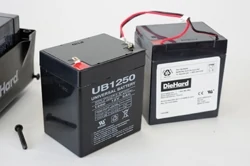 This UB1250 battery (eCom #4228) is the direct replacement for the Sears 41B822. Street price is about $15.

New batteries come with universal 18-ga. spade terminals. So the wires have to be cut from the old batteries and fitted with spade connectors.

Reinstall the new batteries and plug the connector wires back into the control board.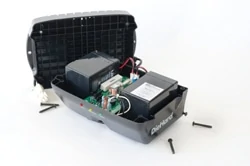 New batteries are in place. You may have to bend the terminal at the "top" of each battery so it clears the edges. (Original battery wires were built into the battery itself.)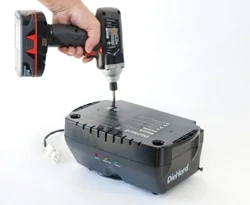 Replace the top. In some instances a little minor trimming on the underside of the top is needed to clear the upper spade terminal on each battery.