The Remodeling Show co-located with DeckExpo bring together thousands of remodeling  and residential construction professionals from all over the country to connect, learn, and  elevate their craft. This year's convention will be held in Louisville, Kentucky, November 6-8. Experience a vibrant expo hall filled with the latest products and services from over 200 building  product manufacturers, an in-depth educational conference program with business and jobsite training, and fun networking events with industry professionals. Here's a preview of what you can expect to see at the show.
Deckorators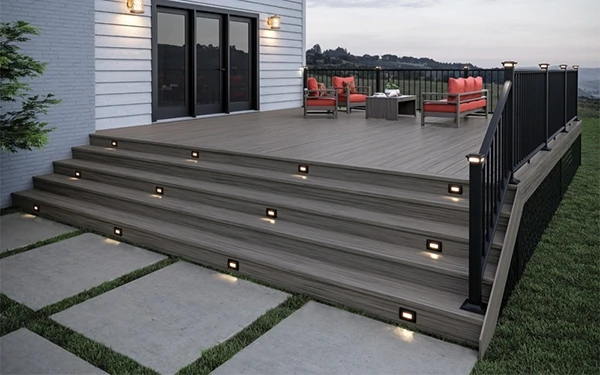 From decorative post caps and lighting to contemporary railing systems and beautiful composite decking, Deckorators offers innovative products and styles you need to bring interior design to your outdoor living space. Deckorators has become a mainstay at DeckExpo, launching innovative new products each year including the SLX Cable Rail, Deckorators by Hinkley Lighting, and the industry-leading Deckorators Voyage composite decking. Voyage decking combines the beautiful appearance of hardwood flooring with the unmatched durability and performance of Eovations technology. It boasts impressive attributes like the industry's best strength-to-weight ratio, virtually no thermal expansion or contraction, and 34 percent or greater surface traction than other leading brands of composite decking (in both wet and dry conditions). Deckorators has built a strong reputation by listening to industry professionals and takes that same approach when planning new products  for 2020. Learn more www.deckorators.com or booth 1019.
Sure Drive USA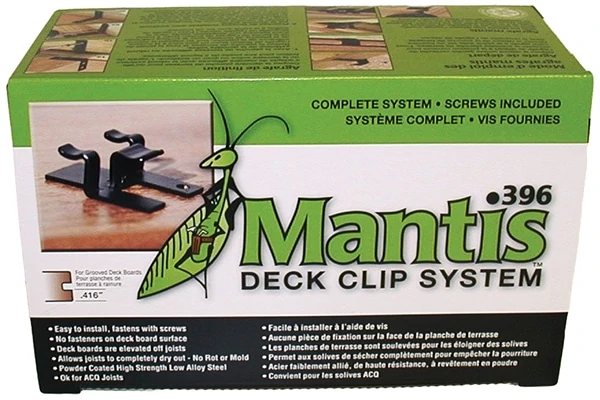 Sure Drive USA manufactures a wide variety of deck fastening solutions. The company's hidden deck fastener line includes The Mantis Clip for easy installation of grooved boards. The RCS pneumatic tool with E-Z Slide attachment is made by Senco to install the Mantis Clips using Ballistic Nail Screws to fasten grooved decking up to 75 percent faster than conventional methods. Mantis clips can also be installed using standard hand-drive screws. The company's Deck Pack contains enough clips and screws to install 250 square feet of decking (also available in a 50 sq.-ft. box). The Mantis Clip is recommended by top decking manufacturers such as MoistureShield, Trex, Latitudes, ChoiceDek, Modernview and more. Made in the USA, the Mantis Clip is available in four profiles to precisely fit specific boards. Unlike other clips on the market, the Mantis is built with a base that promotes airflow to protect the deck structure. Visit www.suredrive.com or stop by booth 357 to see how to receive a free Eliminator installation tool with a purchase of Mantis hidden deck clips.
Schluter-Systems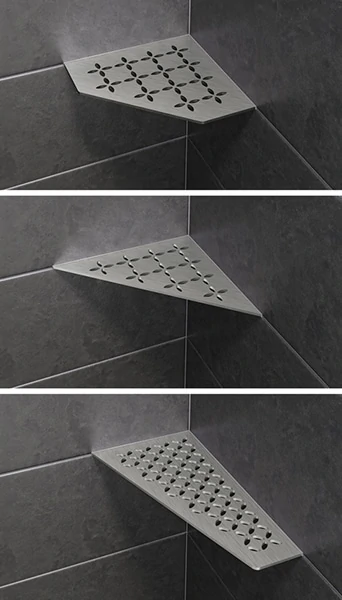 Schluter Systems offers brushed stainless-steel shelves for new tile showers or retrofits. Tiled shelves can be challenging and time-consuming to install, so the Schluter stainless steel shelves provide an alternative solution with fast and easy installation. Adding a new design element to tiled showers, they can be used in any setting and are designed to complement the Schluter Style shower grates. Shelves are available in both Curve and Floral patterns to match Schluter's point and linear drains with the same designs. Made with 5/32-in. thick stainless steel, the sturdy shelves require no special tools for installation. They fit neatly between rows of tile and do not require any materials or fasteners to penetrate the waterproofing membrane on the walls. The end result is a sleek, clean finish and a shelf that will easily hold shower accessories. Five different shapes and sizes are available. Visit www.schluter.com or booth 1025.
Derby Building Products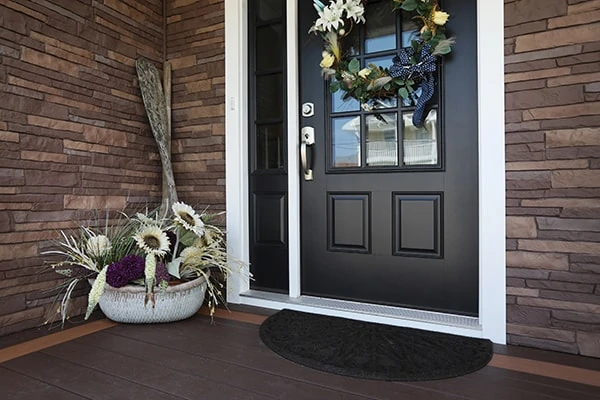 Derby Building Products' TandoStone, the number one brand of composite stone,  features realistic design, proprietary technology, easy installation, moisture resistance, and an expansive color pallet. TandoStone's new TruGrit technology offers a unique matte texture that gives each panel a realistic low-gloss appearance and the rough, gritty feel of real stone. It takes TandoStone to a new level of realism in looks and texture. Impervious to moisture, TandoStone is perfect for ground-level installations in any climate and complements a wide range of siding materials for on-trend mixed material looks. Without the need for special tools or heavy equipment, it's also safer and easier to install as an accent on taller walls. TandoStone is available in two styles: Stacked Stone which features a dry -stack profile without grout lines between the stones and Creek Ledgestone which emulates the rugged look of hand-picked stone with grout. Visit www.tandobp.com or booth 751.
Royal Building Products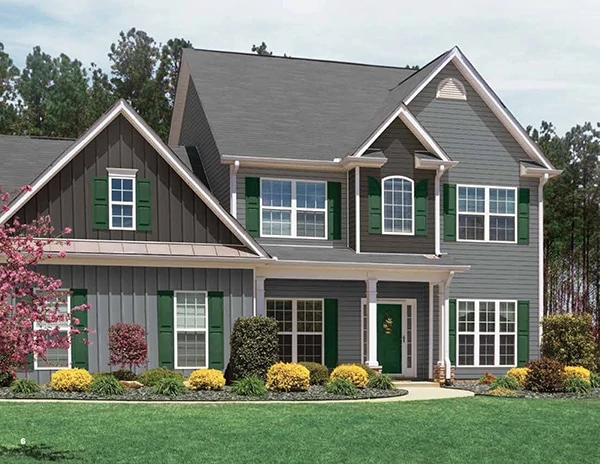 Royal Building Products is a leading manufacturer and distributor of high-quality exterior cladding, trim, moulding and decking that deliver long-lasting, low-maintenance curb appeal through high-performing, sustainable, energy-saving products. A category leader in innovation, Royal is recognized for brand introductions like Celect Cellular Composite Exteriors, Zuri Premium Decking, CraneBoard Solid CoRe Siding, Royal S4S and SurEdge trim and home design tool innovations like Dream Designer, HomePlay and HomePlay Prime. Visit www.royalbuildingproducts.com or booth 405.
Environmental Stoneworks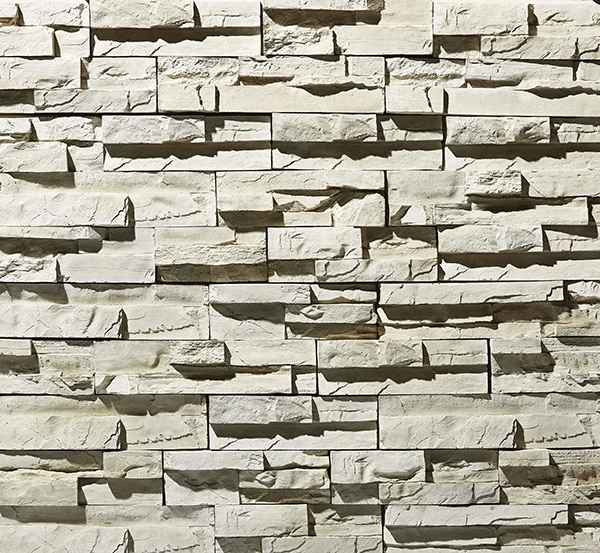 Earlier this year, Environmental Stoneworks, the only manufacturer and installer of stone veneer in the country, completed its largest product launch in company history. Among the introductions are Barn Wood, featuring stunning wood-carved looking profiles molded from antebellum Virginia tobacco barns, combining a rustic feel with contemporary charm. The Ripiano offering gives a fresh new look to ledgestone through the incorporation of smaller, thinner pieces into stair-stepped modular panels designed to hide seams. And Grezzo, a new universal stone with clear cut lines for a contemporary look, allows builders, designers, and architects the opportunity to develop unique patterns with stone veneer. Visit www.estoneworks.com or booth 921.
U2 Fasteners
U2 Fasteners offers eight innovative product lines covering all essential screw types for residential construction. With a strong focus on customer service, U2 Fasteners offers 55 sku's in 316 Marine Grade Stainless Steel Construction, Universal and Fine screws. Grade 316 is the standard molybdenum-bearing grade of stainless steel, and the higher nickel and molybdenum content in this grade gives it better overall corrosion-resistant properties, especially with regard to pitting and crevice corrosion. In addition, Alloy 316 provides excellent ensile, creep and stress-ruption strengths at elevated temperatures. All U2 Fasteners are tested with the wet factor. The company has released its IAPMO (ER 454) evaluation to become one of few fastener companies that are evaluated and comply with the International Building Code and Residential Building Code for corrosion resistance (AC233) and structural strength (AC257). Plus, U2 Fasteners' coating was one of the first, if not the only one, which has passed to the 2015 requirements with ground contact at 0.6pcf ACQ-treated lumber (ER 454). U2 fasteners is also the first fastener company to offer "chromium 6-free" coating, which reduces the risk of end users to develop skin cancer through constant contact with fasteners' with surface coating. Visit www.u2fasteners.com or booth 625.
Wild Hog Railing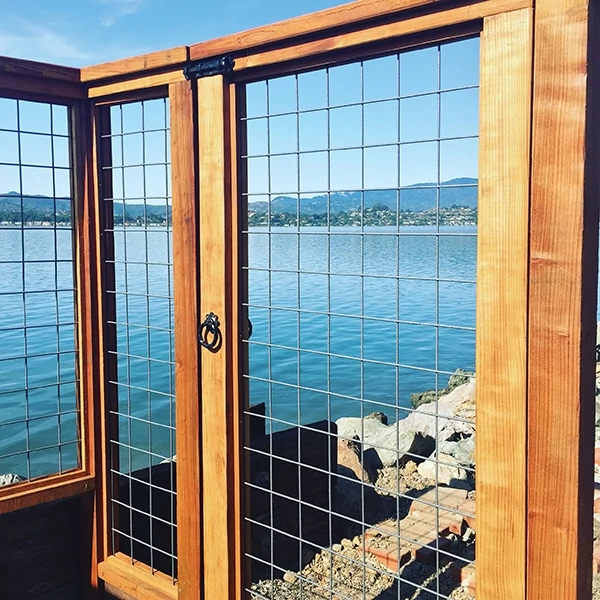 Wild Hog Railing is a new product originating from big and bulky welded hog panels, but these smaller size panels are  perfect for any railing application. With a 6-gauge welded 4-by-4-in. mesh pattern, Wild Hog Railing allows for great visibility while being extremely durable. Wild  Hog Products are 100-percent designed, manufactured, coated and packaged in the USA. Visit  www.WildHogRailing.com or booth 645.
Maze Nails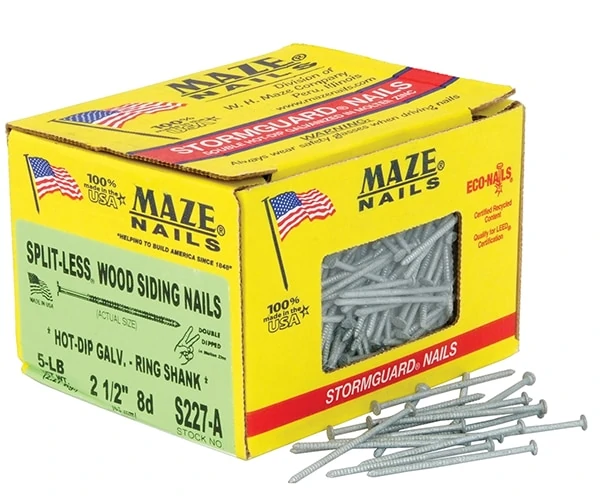 Made in the USA, MazOcte STORMGUARD double hot-dipped galvanized nails meet the ASTM A 153 specification for hot-dip galvanizing and are made from recycled steel. Using Maze nails qualifies for LEED points. Maze is the largest manufacturer of specialty nails for siding, decking, fencing, post frame building, roofing and many other applications. Visit www.mazenails.com or booth 757.
Camo Deck Fasteners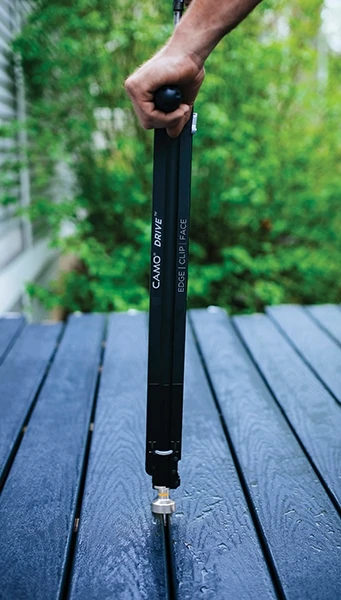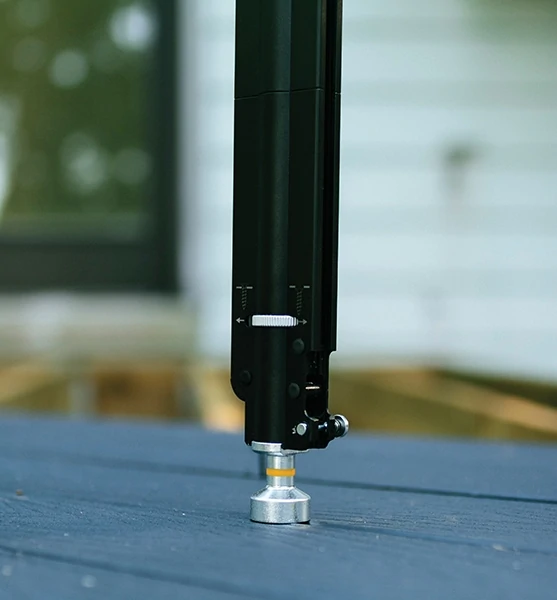 From the deck boards to the substructure, trim and beyond, Camo provides easy and affordable fastening options with the Camo Hidden Deck Fastening System and Camo Exterior Screws (in composite or stainless steel). The new Camo Drive collated stand-up tool won the 2019 Best of IBS Awards' Best Outdoor Living Product at this year's International Builders Show (IBS) in Las Vegas. Engineered with insights from decking pros, the Camo Drive tool was designed for installation speeds up to 5X faster than current methods. This ergonomic deck-board installation tool gets contractors off their  knees in a standing, comfortable position. It easily attaches to the contractor's own drill, compatible with three end attachments that face-fasten, edge-fasten with Camo's proprietary Edge Screws, or installs the new Camo EdgeClips for grooved boards of any decking material. These new clips cut grooved deck-board installation time by more than half when paired with the Never-Miss Guide that's included in every pail. Visit www.camofasteners.com/drive or booth 819.
E-Z Gutter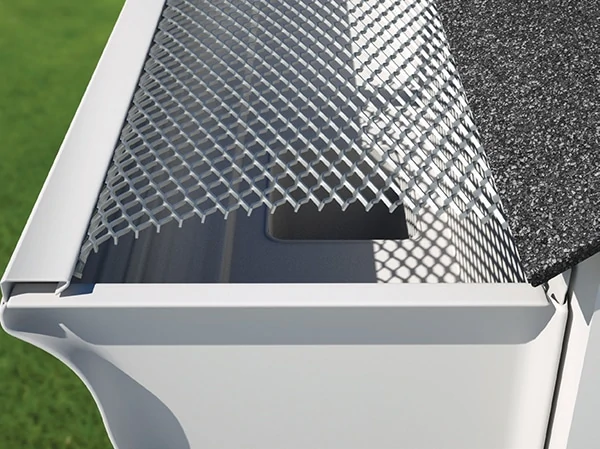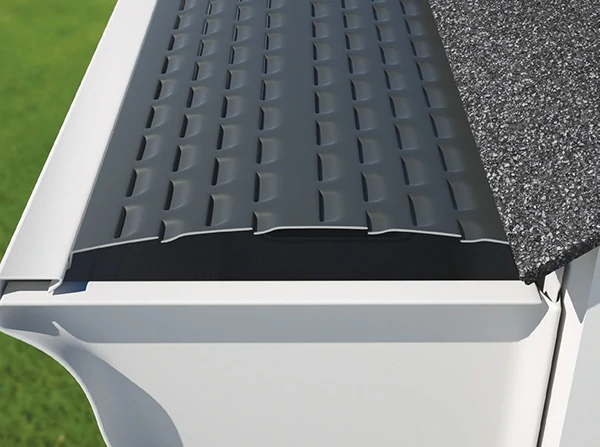 For residential roofs, E-Z Gutter offers hard-working gutter guards to keep the clogs away. The gutter guards are a snap to install without the need to use screws. They're designed to stay put during rough weather but snap out easily for maintenance. The E-Z-Quick product is made of heavy-duty expanded aluminum, so it won't rot or rust. The E-Z-Quick's tight mesh is engineered to keep debris out while letting rainwater rush through. The E-Z-Shield product is heavy-duty aluminum painted black to blend into the roofline and heat fast to melt ice and snow. The E-Z-Shield's reverse louvers allow maximum water penetrations but keeps out debris. Visit www.e-zgutter.com or booth 820.
Abatron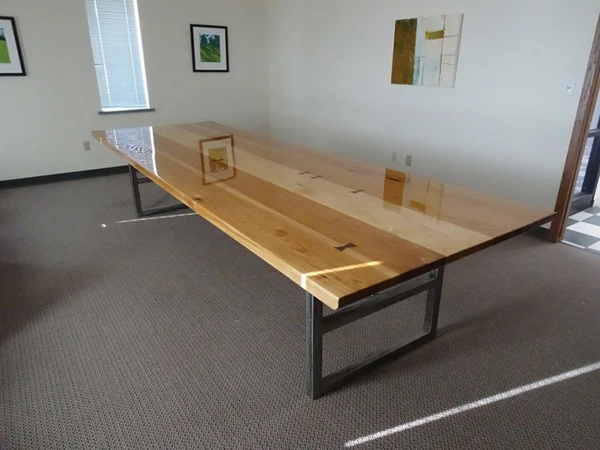 Founded in 1959, Abatron Inc. specializes in the research, formulation and manufacture of epoxy and related compounds, including Aboglass. This high-gloss epoxy coating enhances the natural beauty of wood and gives it a deeper, dimensional appearance with exceptional clarity. It also protects wood from spills, contaminants, and abrasion. Apply up to two inches thick. Use on tables, bar tops, boats, vanities and more. Great for decoupage and encapsulating embedments. Visit www.abatron.com or booth 1022.
DSI Railing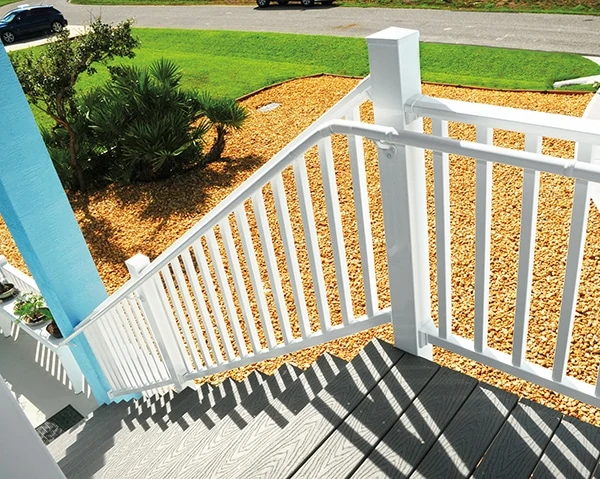 DSI, Inc., a leading supplier of railing products in the U.S., now offers the Westbury ADA (American with Disabilities Act) compliant aluminum handrails through lumberyards and distributors. Featuring the superior durability of aluminum railing, these versatile components and accessories provide a perfect safety solution for ramps, stairways, decks and a variety of other applications. Westbury aluminum ADA handrails are designed for use in residential and commercial projects and are offered in a variety of lengths and accessories that allow for customized handrails. These railing products are compatible with new or existing railing systems. Available in standard or custom colors, Westbury ADA railings are powder-coated to provide low maintenance and long-term durability. The components are lightweight and engineered for easy installation. Visit diggerspecialties.com or booth 841.
Atlantis Rail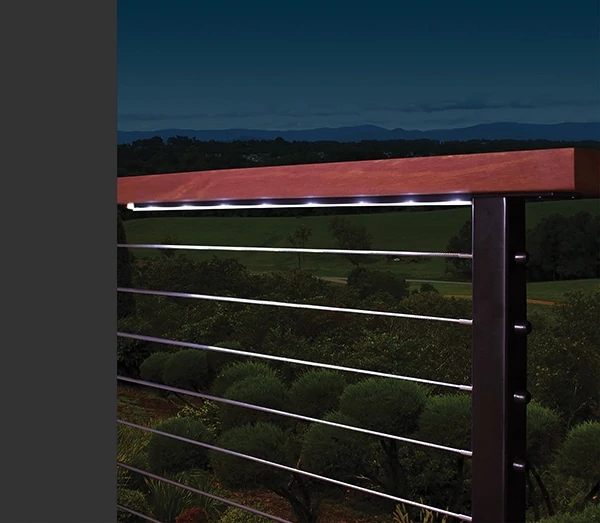 Atlantis Rail has expanded their line of Micro Star LED lights to include an LED light bar. This product fits neatly under a flat handrail and is compatible with Atlantis Rail's railing systems, including the Spectrum and NOVA II cable railing systems. The Micro Star LED Light Bar is a creative lighting alternative with a variety of interior or exterior lighting applications, featuring a flexible LED light strip of natural white LED lights set into a powder-coated aluminum channel with a clear plastic lens. The light bar is available in lengths of 18, 30 and 42 inches, and with channel color options of black, bronze, metallic silver and white. Each kit comes with the lens, LED strip, aluminum channel and fasteners. Male/female screw connectors make installation quick and easy. Visit www.atlantisrail.com or booth 759.