Professional remodelers and experienced deck builders will convene in Baltimore, Maryland, October 10-11 at the 2018 Remodeling Show & Deck Expo. Whether you're updating a home or enhancing the back yard, hundreds of tool and material companies will be on site to exhibit and demonstrate the new products that will shape the industry in years to come. The EHT staff attends every year to get the scoop on everything new and cool, and we've compiled a preview of the good things to come at this year's show.
SIMPSON STRONG-TIE MPBZ MOMENT POST BASE
MPBZ Moment Post Base is the first hardware product code-listed for moment resistance. From Simpson Strong-Tie, the innovative MPBZ provides moment resistance for 4×4 and 6×6 wood columns or posts. The MPB44Z and MPB66Z are also code listed for uplift, download and lateral resistance. Described as a "game changer" for outdoor building, the patent-pending MPBZ is ideal for freestanding outdoor structures, such as pergolas, patios, carports and decks. It features an innovative, overlapping sleeve design, which completely encapsulates the post, keeping it from rotating around its base when lateral loads are applied at the top of the post. Built-in standoff tabs provide the required 1-in. standoff to protect against post rot while eliminating multiple parts and assembly. In addition, the MPBZ has a ZMAX finish to provide corrosion resistance in many environments. Visit strongtie.com/mpbz or booth 2211.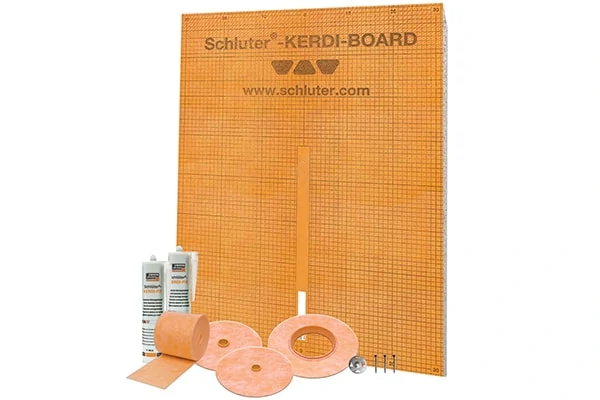 KERDI WATERPROOF TUB AND SHOWER KIT
Tiled shower walls are luxurious, hygienic and easy to maintain. Whether the setting is a tub surround or a standalone shower, the walls must be waterproof before the tiles are installed. Schluter Systems' new Kerdi-Board Kit includes everything needed to build waterproof walls for a standard tub surround or an acrylic shower base, all in an easy-to-carry package. The kit creates a completely waterproof environment and prevents damaging leaks and mold growth due to moisture penetration. It includes 8 pieces of 1/2-in.- thick Kerdi-Board waterproof building panels that can be screwed directly onto wall studs. The panels are 48×38 inches, so they are a very manageable size and can easily be cut with a utility knife to fit any wall space up to 101 sq. ft. The Kerdi-Board panels are lightweight and completely eliminate the need for gypsum or cement board on the shower walls. Once the panels are up only the seams between panels and the screw penetrations need to be waterproofed to complete the walls. This is done using a 5-in. wide strip of Kerdi-Band waterproof membrane that is included. The kit also includes two tubes of Kerdi-Fix sealing and bonding compound to create a waterproof seal around the flange of the tub or shower base. Other components are valve and pipe seals to prevent moisture from entering the wall cavity at any fixtures. Visit www.schluter.com or booth 818.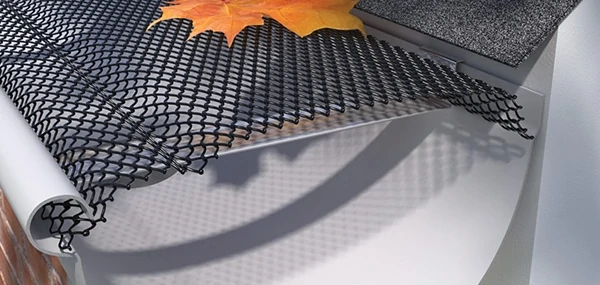 E-Z GUTTER
E-Z Gutter offers a wide variety of easy-to-install gutters screens to eliminate clogs from debris. The steel screen products are made from .028 expanded galvanized steel that is powder-coated with Midwest Enterprises' own proprietary powder for maximum durability. Steel screen gutter guards are available with either medium or small holes, and are ideal for medium to heavy debris loads. Also available are powder-coated aluminum screens, which are excellent for locations where salt spray and other extreme environments cause other products to corrode. Or, skip the screen and go with a cover: The EZ-Gutter aluminum solid, perforated or louvered gutter covers provide the best protection from the elements, and all products are made in the USA. Visit www.e-zgutter.com or booth 1202.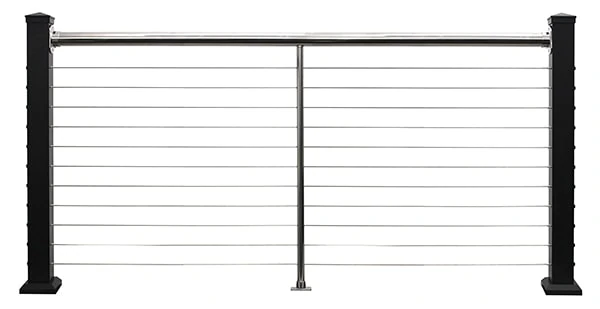 NOVA NAUTILUS RAILING SYSTEM
Atlantis Rail has teamed the Nautilus Railing System up with the company's new NOVA II aluminum post kits to create the NOVA Nautilus System, now more affordable and easy to install. The NOVA Nautilus System utilizes predrilled aluminum posts with a 2-in. stainless steel top and optional bottom rail. It features color options of black, white or bronze to complement any application. The rails are structural-strength stainless steel so it can be configured with a top rail only, or a bottom rail can be added. Cable spacing at 2-3/4 inches allows the posts to be spaced up to 6 ft. apart when using a cable stabilizer in the middle, further reducing the cost and expediting installation. A proprietary side mount fitting with an insulating gasket is used to mount the rails to the post, eliminating concern about potential issues in combining dissimilar metals. Plus, HandiSwage components hide the cable connections inside the post, and the easy-to-use swage tool and cover nuts provide for easy installation and a finished look. Visit www.atlantisrail.com or booth 1723.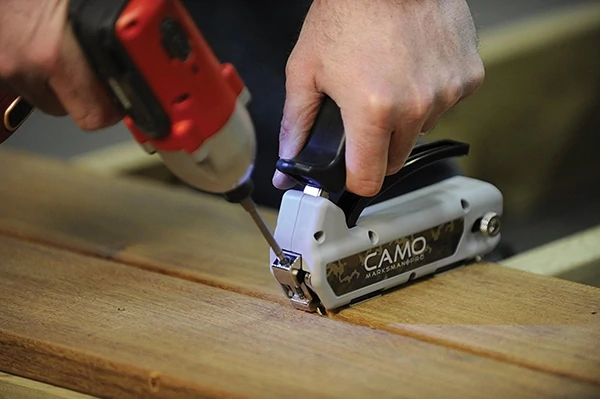 CAMO MARKSMAN PRO
The CAMO Edge Fastening System from National Nail will exhibit at DeckExpo in Baltimore, MD, Oct 10-11, 2018 in booth 2218. The CAMO Marksman Pro is a system of guides, proprietary screws and drill bits that create a fastener-free surface for virtually any type of decking. Simply load the proprietary deck screws into the hand-held guides that position the deck boards and provide automatic gapping. Special driver bits are included with the screws to ensure depth of drive. CAMO offers several guides including the Marksman Pro, Marksman Pro-X1, MarksmanPro-NB, and the no-gap guide Marksman Edge, which range in cost from $20 to $50. They work with any decking material—composite, PVC, and most soft and hard wood species with variations to accommodate nominal 6-inch boards as well as narrow boards. CAMO also features a variety of spacing choices, including a no-gap option for treated wood decks that can also be used with secondary spacers when wider gaps are desired. Visit booth 2218 or www.camofasteners.com.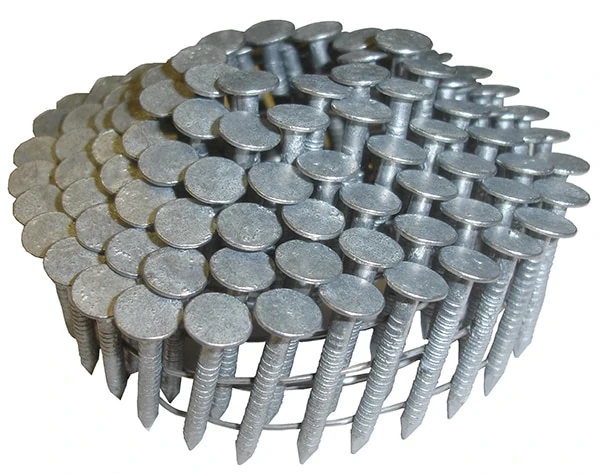 MAZE NAILS
Maze manufactures quality double hot-dipped nails for fiber cement siding, cedar and redwood siding, roofing, cedar shakes and shingles, PVC trim products, decking, fencing and post frame building construction. The Maze Double Hot Dipped Galvanized Ring-shank Roofing Nails are Miami Dade County Approved. All Maze Nails are 100-percent Made in the USA from recycled re-melted steel, making them eco-friendly for sustainable building practices. Visit www.mazenails.com or booth 1321.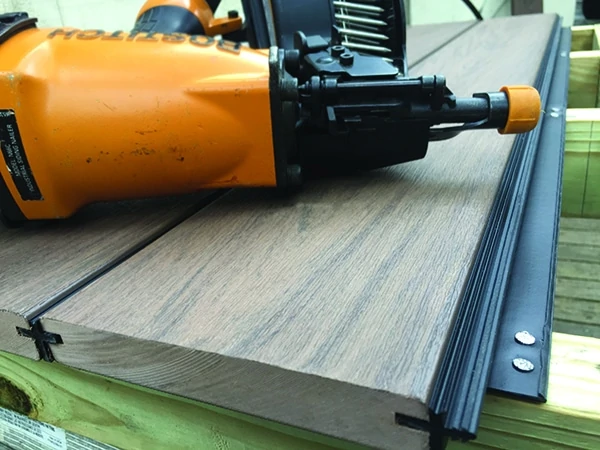 DECKORATORS FASTENDRY
The exclusive Deckorators Fastendry system helps deck builders create dry zones while realizing significant labor and cost savings. Fastendry combines weatherproofing and deck-board fastening capability in one solution—enabling builders to add under-deck living space or storage while saving up to 50 percent on installation time and 25 percent on installation cost versus competitive weatherproofing products. Fastendry fits inside the slotted edges of Deckorators composite decking, forming a water-tight seal that prevents rain, melting snow and debris from passing through the spaces between boards. The polymer insert has a rigid base plate that fastens decking to joists with a nail gun, resulting in a fastener-free look without the use of hidden fasteners. The solution perfectly complements Deckorators Vault, Heritage, Vista, Classic and Frontier slotted-edge deck boards. It is available in black 12-, 16- and 20-foot lengths, and is covered by a 25- year limited warranty on manufacturing defects. Visit www.deckorators.com. com or booth 622.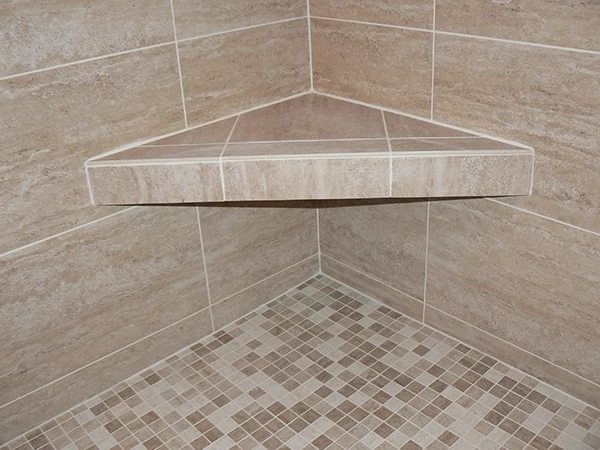 GOOF PROOF SHOWERS
For shower floor drainage, the floor must be properly sloped, and that's what Mark E. Industries' Goof Proof products provide. They have a system of screeding guide sticks that will aid the user in getting the pitch right on all shower floors. No more puddles or kicking water to the drain. Capable of extending up to 6 feet out from the drain in any direction, you can achieve a perfectly sloped floor. The system works with the existing plumbing, regardless of wherever the drain may be located in the floor. Pre-Pitch is for subfloor sloping using membranes to waterproof, and Quick-Pitch is for the thicker mud-bed applications that get tiled. Kirb-Perfect is a cage that wraps the curb, easily filled with mud, which preserves the waterproofing liner integrity in addition to constructing a solid curb for attaching tile or stone. The company also has another curb, Handi-Kirb for solving wheelchair accessibility obstacles. The Goof Proof Shower Seat is a ready-to-tile corner seat with the choice of two sizes in one. It includes all the hardware needed for installation in new construction as well as for retrofitting in existing showers (and is able to support 400 lbs.).
The Goof Proof Corner Shelf is also a ready-to-tile corner shelf that attaches to existing tiled walls and can be tiled before or after installation. It will support 100 lbs. All Mark E. Industries products come with thorough easy-to-follow instructions, and the website has instructional videos. Visit www.markeindustries.com or Booth 1012.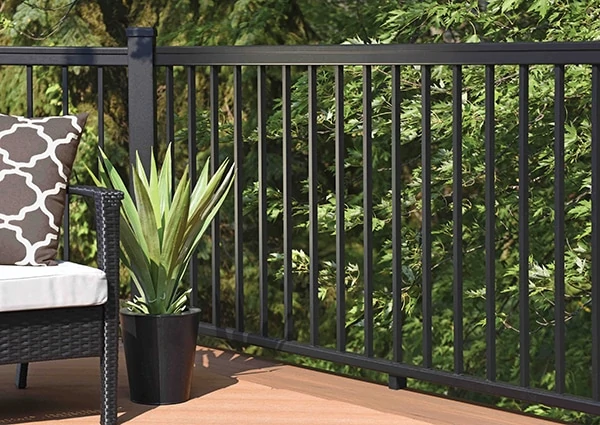 AZEK IMPRESSION RAIL EXPRESS
AZEK Building Products' new Impression Rail Express speeds installation and adds beauty to deck projects. With sleek, contemporary style, the pre-assembled aluminum railing panel system is engineered for quick installation at the job site and lasting safety for the homeowners. With no hammers or special tools required, Impression Rail Express features easy assembly on both level and stair applications. Scientifically engineered to last beautifully, Impression Rail Express achieves the look of wrought iron with a powder-coated finish and subtle texture in three colors: White, Black and Dark Bronze. The durable finish resists weather and corrosion over time and is backed by a 25-year warranty. Impression Rail Express features a patented technology to securely lock each baluster in place for a rattle-free, full-contact connection without a weld for better aesthetics. Like all AZEK Railing Profiles, Impression Rail Express is certified by third party accredited agencies to meet or exceed IRC requirement. Learn more at AZEK.com or visit booth 1421.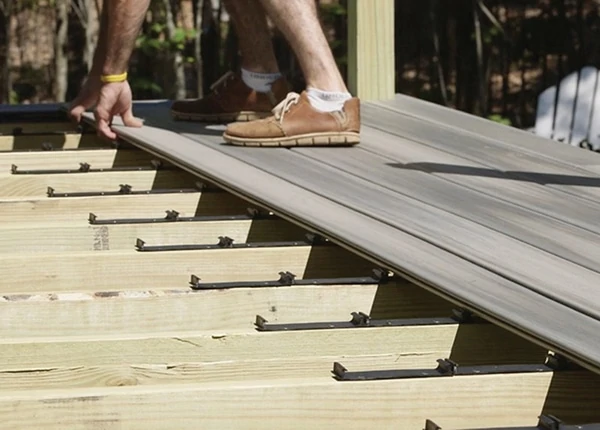 DURALIFE DECKING
A snap-down fastening system for deck boards, the patent-pending Step-Clip system from DuraLife Decking cuts installation time in half. It works by nailing down the Step-Clip strips to the tops of the joists. Then, simply step on the deck boards to snap them into place. The flexible clips integrated into the Step-Clip strips will grab and hold the DuraLife decking along its grooved edges. No special tools are required; the strips install easily with a roofing nail gun or hammer. This means less kneeling or bending, and there's no need for spacing or grabbing for fasteners. If a deck board should be damaged, the Step-Clip systems makes replacing damaged boards much easier than other decking methods. Visit duralifedecking.com or booth 1704.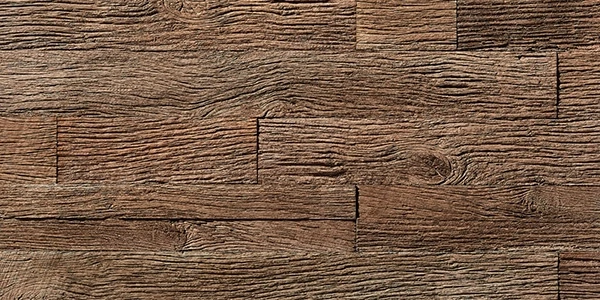 ENVIRONMENTAL STONEWORKS/CLIPSTONE
The new Barn Wood profile by Environmental StoneWorks features wood-carved profiles molded from antebellum tobacco barns in Virginia, combining a rustic feel with contemporary charm for a product rich with historic beauty, quality and ease of installation. Three new Barn Wood colors— named for historic Civil War battles— will make their debut at the Remodeling Show: Beaver Dam, Seven Pines and Baton Rouge.
Grezzo is a new, universal stone that allows builders, designers, and architects the opportunity to develop unique patterns with stone veneer. Wide ranges of panel sizes allow for expanded customization. Three colors make their debut.
The ClipStone brand will be introducing two new colors, Osceola and Teton Grey. Stop by booth 1905 for a live demo and install the product yourself, or visit www.estoneworks.com, www.myclipstone.com.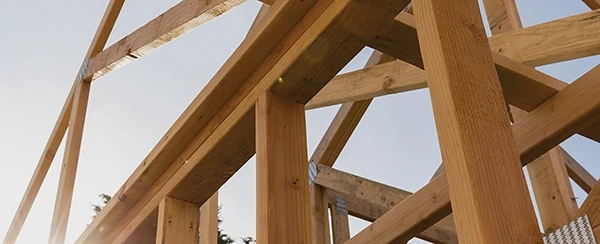 VIANCE TREATED WOOD
Viance will be exhibiting its EcoLife Stabilized Weather- Resistant Wood. This non-metallic wood stabilizing preservative system offers advanced weathering protection with improved dimensional stability to make every outdoor living project look better for longer. Also from Viance comes D-Blaze Fire-Retardant Wood, which has a new Underwriters Laboratories (UL and ULC) certification listing for two-hour bearing wall assemblies utilizing DBlaze treated lumber and plywood. D-Blaze fire-retardant treated wood (FRTW) is highly effective at controlling the spread of flame and smoke, increasing evacuation time and potentially reducing damages and repair costs caused by fire. Visit treatedwood.com or booth 413.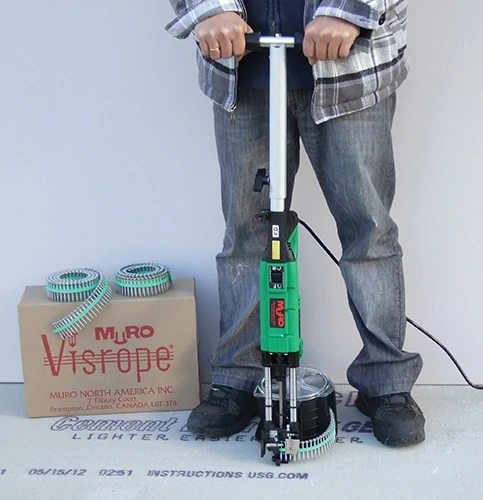 MURO AUTO FEED SCREWDRIVERS
Muro has provided many aha! moments for contractors by saving them time, energy and effort on every job all while completely eliminating those hated sore backs and knees normally associated with driving screws. Join the evolution, work standing up. Whatever your job involves—subfloor, drywall, roofing, decking or dock building—Muro Auto Feed Screwdrivers has a system for you, including fasteners for wood, steel or aluminum, and exotic hardwoods with no pre-drilling required on any job. Muro tools boast 150 screws per coil (highest payload in the industry) and have a telescopic handle that adjusts to your specific working height— key features that no one else offers. Stop by booth 747 for a Free Test Drive or visit muro.com.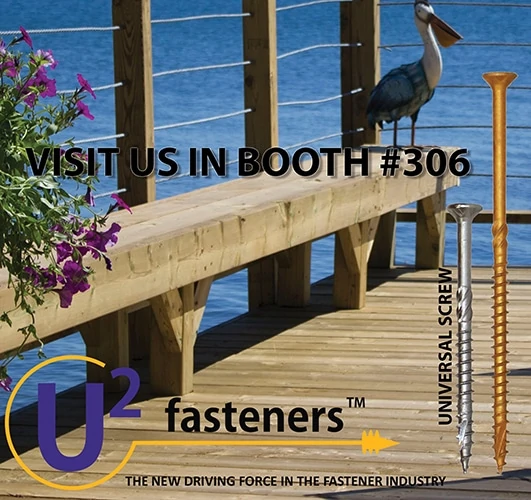 U2 FASTENERS
U2 fasteners offers six product lines for residential construction that engineers and contractors agree on for whatever project you undertake. The company has released its IAPMO (ER 454) evaluation to become one of few fastener companies that comply with the International Building Code and Residential Building Code for corrosion resistance (AC233) and structural strength (AC257). U2 fasteners' coating was one of the first, if not the only one, which has passed to the 2015 requirements, with ground contact at 0.6pcf ACQ treated lumber (ER 454). U2 fasteners is also the first company to offer fasteners with a chrome-6 free coating, reducing the risk for end users developing skin cancer.
Ideal for replacing those old deck screws, the U2 Universal Screw is a countersink fastener that allows the head to sit flush or below the surface of the surrounding materials. Applications include decking, framing, subfloors, fencing, lattice, shelving, railings, stairs, fine woodworking and more. The Universal screw is available in lengths from 1-1/2 up to 12 inches in hardened steel, and in lengths from 1-1/2 to 4 in. made of 316 grade stainless steel. Visit u2fasteners.com or booth 306.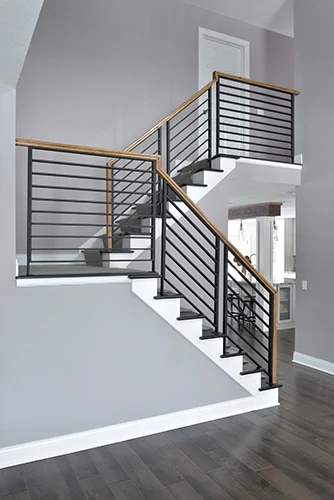 LINEAR COLLECTION'S METAL PANEL SYSTEM BY L.J. SMITH
L.J. Smith plans to showcase four of its newest products at the 2018 Remodeling Show in Baltimore. All of the products were launched in 2018, including the Linear Collection's Metal Panel System. This stairway system boasts a 'welded' look that complements most modern or urban decors. It's the newest look in modern stairway design featuring pre-assembled panels for ease of installation. Available for open tread stairways, kneewall stairways and level run applications. Sevenlevel run panels are available to meet rail heights of three different options with five rake panel widths available. The system also includes fast-install spacer newels, panel posts, square-nose designed treads and handrails. The system comes with Low Sheen Black as a standard finish. Additional powder-coated and Pantone paint colors can be ordered so the rail system complements the home interior. Visit booth 1113 or www.ljsmith.com.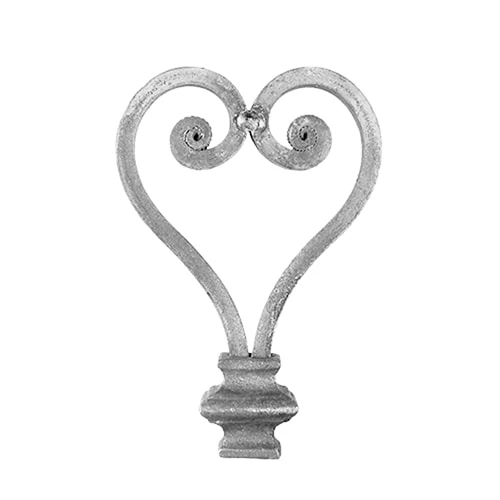 KING ARCHITECTURAL METALS
King Architectural Metals stocks over 9,000 metal products, including pre-made fence panels, hi-def plasma cutting, structural steel, access controls as well as hardware, paint, forgings, aluminum and cast-iron castings, stair and railing parts, and much more. The company offers nationwide delivery in 1-3 days. King Architectural offers everything from ornamental décor to structural components in a wide range of styles and materials. Check out the company's website see the new online Metal Reference Guide, which uses a point-and-click app to showcase the array of metal components available for building and assembly.
Side Note
BUILDING A DECK? FIRST CONTACT 811!

Contact 811 at least a few days before you start any digging project. Your state's one call center will notify affected member utility companies about your digging project, at which point they will send locate technicians to mark public underground utility lines. Whether you are planning to do it yourself or hire a professional, smart digging means contacting 811 before each job. Visit www.call811.com for more information.