By Leah Tuttleman
If you're eager to take on a remodeling project but don't know where to start, the bathroom is the perfect small space to begin experimenting with creativity.
2023 has brought forth a slew of new trends that help make the design process fun and easy. Trends start with color.
Color sets the tone. Color is a shortcut to expression. Color is a visual language which helps us to connect with each other. Color influences everything from furniture, to the clothes we wear, to tile. Because color is so impactful, start there.
Say Goodbye to All White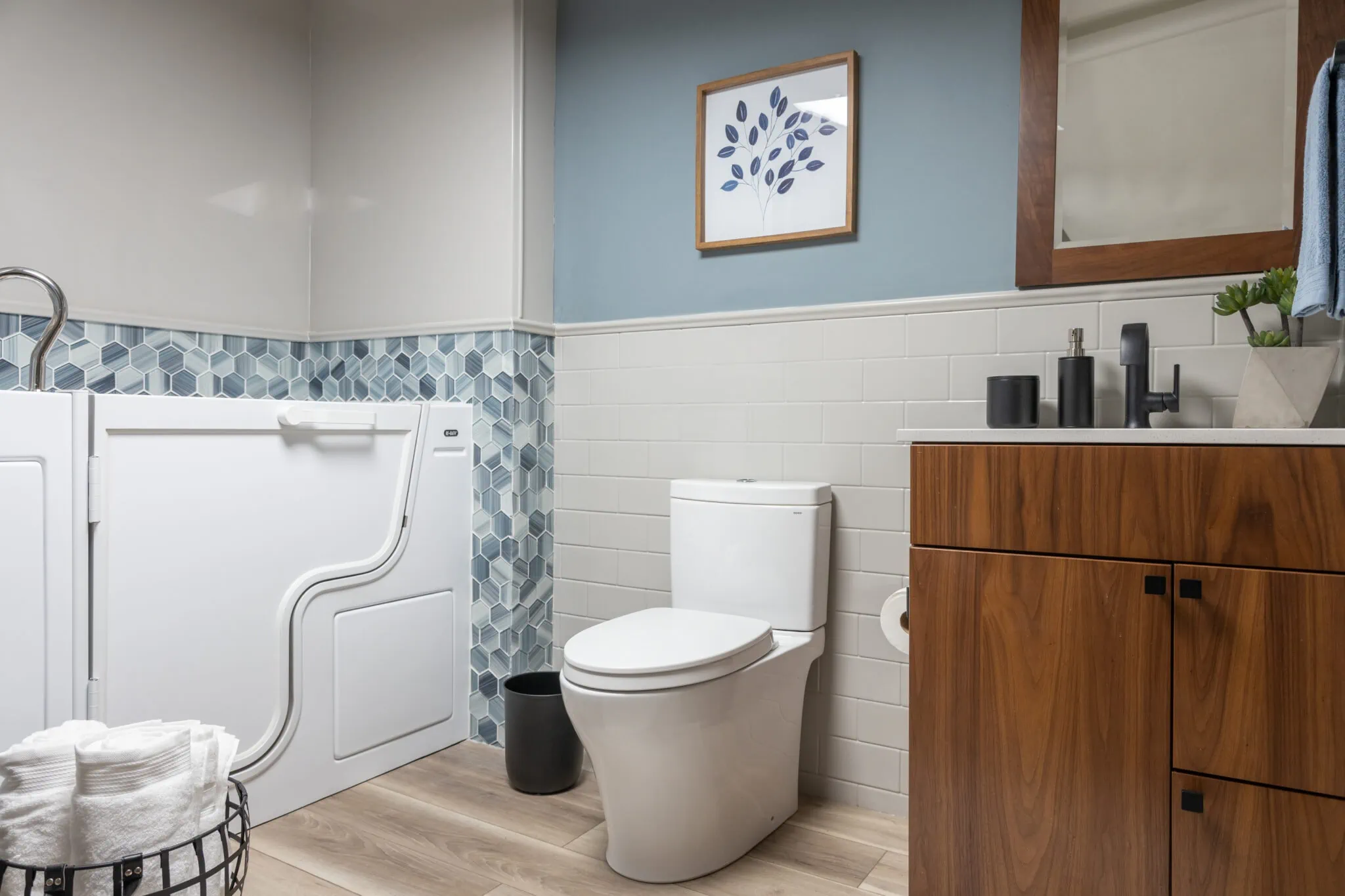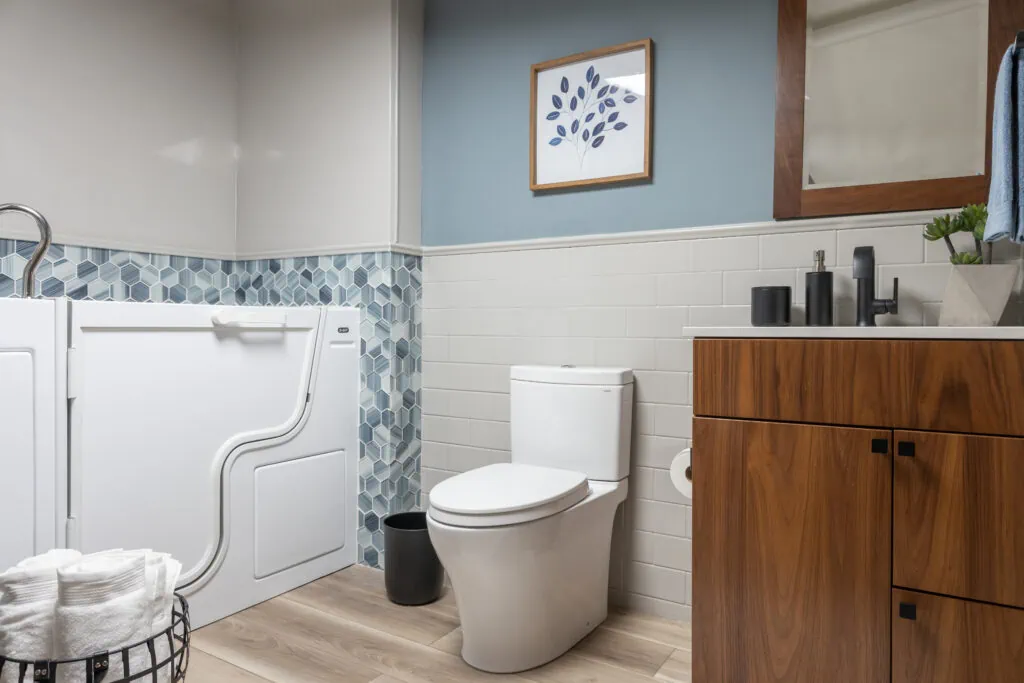 Pantone has announced Viva Magenta 18-1750 as the 2023 'Color of the Year.' Designers are moving away from all white bathrooms and experimenting with bold colors and accent wall color. Painting the walls is among the simplest and least expensive methods to renovate a bathroom. We will see a lot of beiges, whites, and terra cotta, but if you're looking for something more colorful, look to greens, blues, and pink tones as they remain popular choices for 2023. Combine these colors with wood finishes such as blondes and honey tones to complete your new look.
Create a Spa-like Retreat
Your bathroom can be your personal sanctuary or it can be a showplace. We've developed an unyielding need for personal space to rewind, and retreat. The spa-vibe atmosphere is achieved through the bathroom becoming a refuge – and this need for personal space has remained. Many people redoing their bathrooms we'll continue pushing to keep the separation an important requirement heading in 2023.
Focus on the Fixtures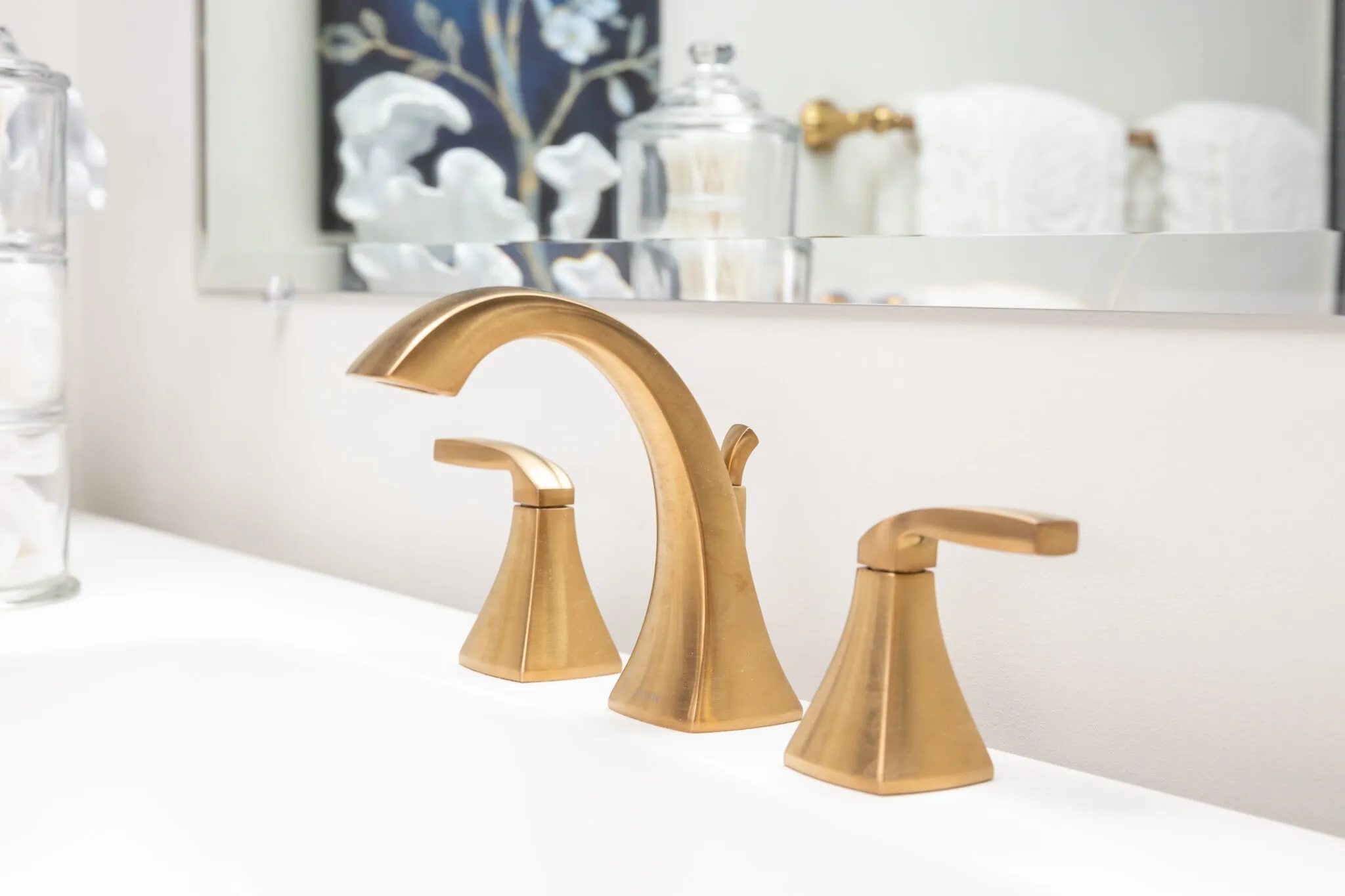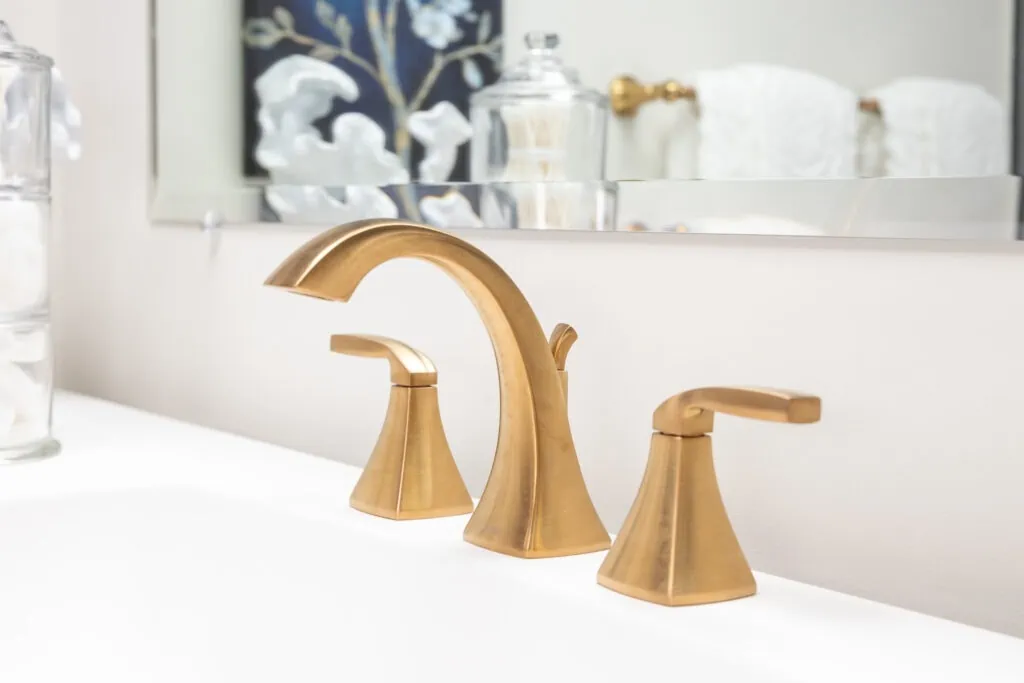 The continuation of warm metallic hardware and fixtures doesn't look like it will be going away in 2023. Warm brass, gold, and bronze accompanied with Matte black have a timeless look to them. They are softer and work with a lot of other materials.
We'll also see a variety of brushed looks, such as brushed brass. You can keep your main surfaces such as cabinetry and flooring to stay neutral and have your hardware and fixtures be the statement of the bathroom.  For example, brass faucets serve the purpose of making your bathroom more opulent. You can choose between polished, brushed, or even antique. Despite their long history, they remain fashionable as a bathroom trend for 2023.
You might also be surprised to see colorful faucets in 2023 – right behind colorful sinks. Say hello to matte colors such as white, pink, moss green, and terra cotta.
Ditch the Shower Curtain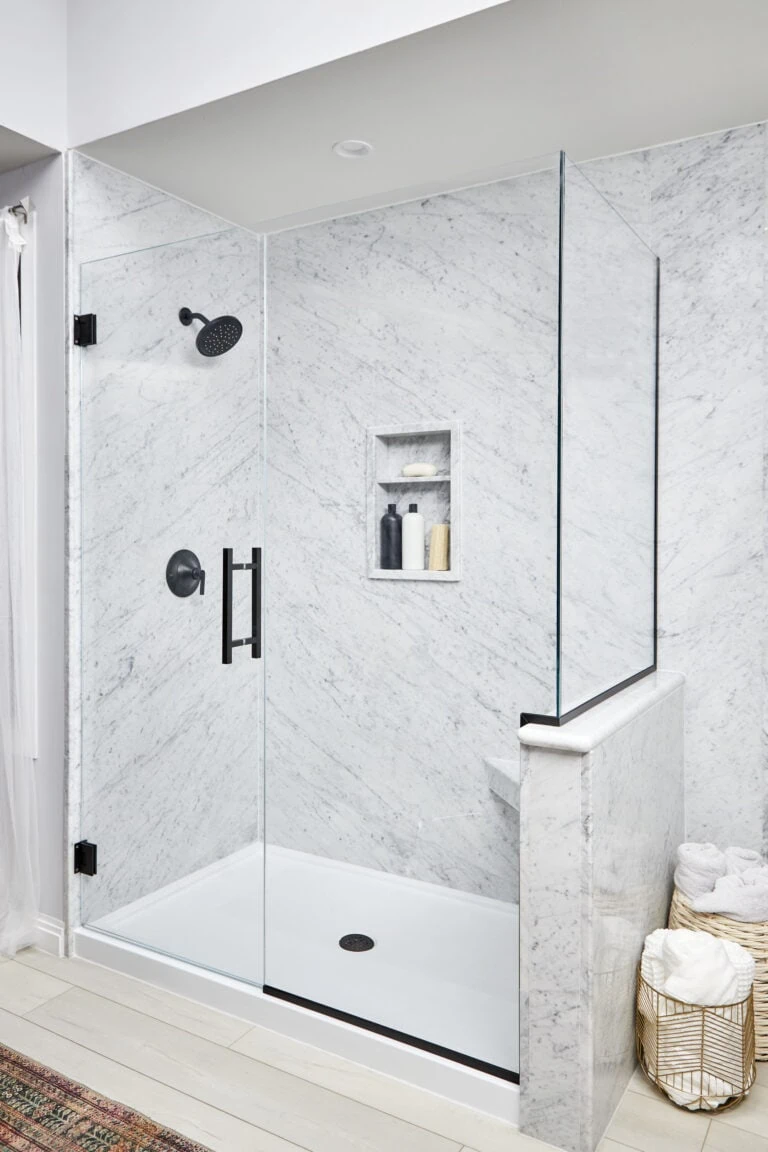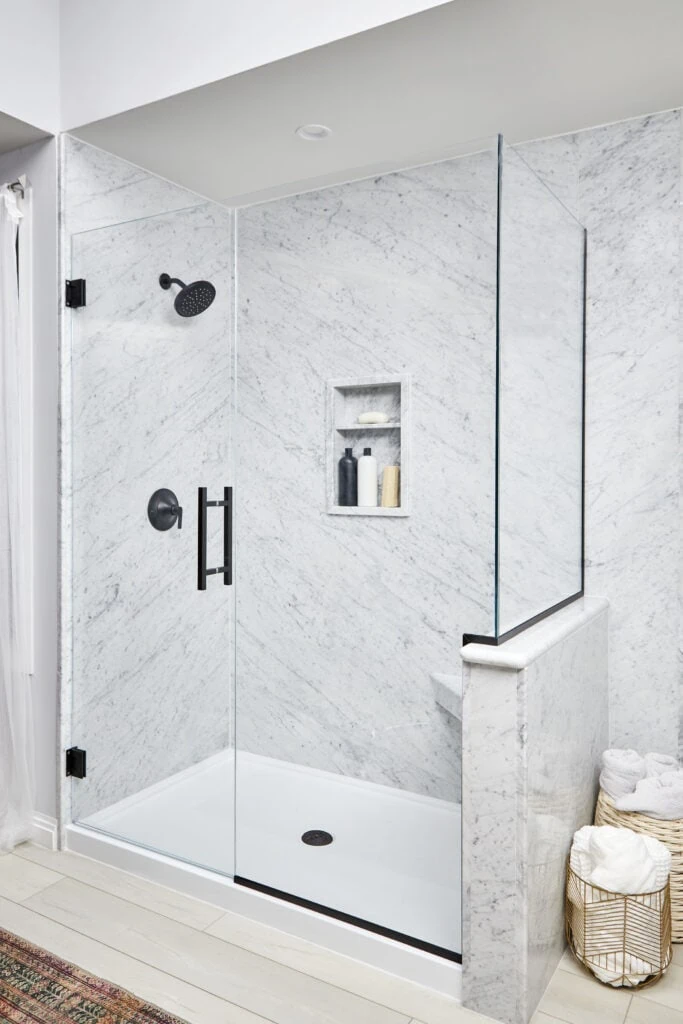 Shower doors and enclosures not only serve a practical purpose, they can greatly impact the overall look of your bathroom.
Seamless glass for showers with a simple panel or two creates the shower stall and gives a sense of spaciousness. Simplicity is the future. Frameless shower doors and glass adds a touch of elegance to any bathroom. Sleek lines, clear and clarified shapes are in clear view with "less is more" when it comes to shower glass.  Traditional metal framed shower doors are being replaced with no frame or metal trim. Gorgeous tile work will not be obscured when the shower glass is clean and clear.
Bring the Outdoors In
Plant life, and artificial greens, stay a forever favorite and gain popularity every year. Expect to see more plants common in the bathroom in 2023. Much like natural materials, this year, plants are also in the spotlight.
One of the easiest and most instant tricks to upgrading your bathroom in 2023 is to include plants. Plants are adaptable and attractive, and offer a series of benefits not to mention, wonderful color. With this, the concept of natural lighting is nothing new. There will be a blending of indoor and outdoor spaces. Being able to soak up the sun after a shower or appreciate a natural breeze, many plants are known to thrive in bathroom conditions with windows, as well as provide a calming transformation to the atmosphere. Some tropical plants, such as ferns, live particularly well in humid air and require minimal natural light.
All About the Lights
Beautiful lighting can contribute to a soothing atmosphere and a sculptural element. Lighting will continue to bring personality to your bathroom. Whether you love contemporary, traditional, or minimalist, investing in lighting to complement your style will have a huge impact on a richer experience in your space.
Lighting doesn't have to be subtle, especially in a bathroom. Lighting is an accent in plain view like a work of art. Warm metal hues such brass, copper, and brushed gold are at the top of the list. Swapping out a fixture or two can work wonders. 2023 designers will be utilizing redefined bathroom aesthetics to set the tone for relaxation. Dimmable lighting provides the control you desire from your fixtures. From pendants to sconces and ornate ceiling light fixtures, bathrooms have become prime spaces for showcasing decorative lighting. Highly anticipated mirrors in different shapes with built-in lighting will leave you feeling like a superstar.
Mirrors Making a Statement
We are moving away from traditional large rectangular mirrors and moving towards oval, oblong, and geometric shaped mirrors for double vanities. Put one above each sink for a hotel-boutique look that inspires creativity with shape. A mirror incorporating two shapes with round on the top and square on the bottom bring an element of interest to the bathroom. If you can go tall, tall mirrors make the ceilings look higher.
Innovate with Technology
Technology is part of our lives and is becoming more and more integrated in every room in the house, and the bathroom is no exception.
From a smart mirror that tells you the news every day with Bluetooth speakers, to voice activated faucets, touchless toilets, and smart showers, technology continues to wow us with fun. The trend is perfect for homeowners looking to incorporate convenience and efficiency into their bathroom design.
About the author: Leah Tuttleman is an Allied member of ASID and a corporate designer for Re-Bath, the exclusive full-service bathroom remodeling brand.