NEWPRO uses Tando® Exterior Products for Transformational Curb Appeal
Woburn, MA-based company, NEWPRO, one of the largest siding remodelers in New England, is a third-generation family-owned remodeling firm founded in 1945. To thrive for more than seven decades, NEWPRO has built their business by providing outstanding customer service, along with offering quality products they want to install – and that their customers can rely on.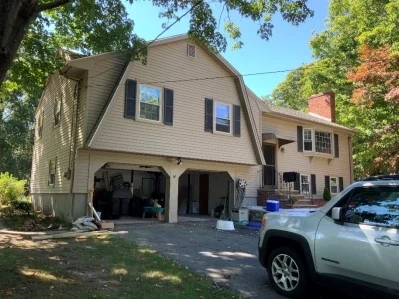 With the current demand for exterior upgrades, the NEWPRO team creates transformative curb appeal solutions with durability and low-maintenance by relying on the Tando brand of exterior composite products – from the styles and colors of TandoStone®, the number one brand of composite stone, to Beach House Shake®, composite shingles for natural appeal, as well as TandoShake's painted wood looks.
Marci Katz, NEWPRO's Chief Marketing Officer, elaborated on the design possibilities when working with the assorted palettes. "Now, the mixed-material look can be achieved without the headaches of dealing with supply and labor issues," she explained. "Tando's engineering and materials offer the look of natural stone or wood but without the upkeep and maintenance. New England charm can be achieved without the angst—it's the best of both worlds."
NEWPRO has also found Tando's Beach House Shake to be in high demand, especially in coastal communities. Katz noted, "There are coastal residents who love the look of cedar shingles and will wrap their entire home in Beach House Shake knowing that it will maintain the beauty—or use it as a gable accent."
TandoStone, available in Stacked Stone or Creek Ledgestone, also features TruGrit™ texture which gives it the look and feel of real stone. As Katz explained, "We see more attraction to the Stacked Stone—which seems to capture the charm of our region with its clean, classic look of a dry stack profile and minimal mortar lines. TandoStone provides so many options, each resulting in a distinct design depending on the pairings. For example, the light gray shades in Glacier Bay Stacked Stone pair perfectly with many textures and colors to create very different outcomes. In fact, all ten of the TandoStone colors can be warmed up or cooled down just by working with the other color combinations on the home."
Katz concluded, "Homeowners love options that go above and beyond what a residential exterior facelift once offered.  The ability to add natural aesthetics without the problems associated with traditional materials is tremendous. Tando's array of mixed materials add dimension and transform the home with increased curb appeal. These designs help create a new home at the same address."
Visit www.beachhouseshake.com, www.tandobp.com and to learn more about NEWPRO, visit www.newpro.com