A Project for the Pros
By Matt Weber
Our mission at Extreme How-To is to cover professional-grade home improvement projects for the do-it-yourselfer—but we have our exceptions. Roof construction, for example, is definitely a job for a professional, and it takes a professional many years of experience on the job to become a knowledgeable roof builder. A smart homeowner won't enlist just any random contractor to alter the structure of their home; they'll research their options and choose a reputable professional with verifiable references. This is one of many reasons why even the most savvy DIY'er should leave a project as complex as roof framing to someone who knows what they're doing.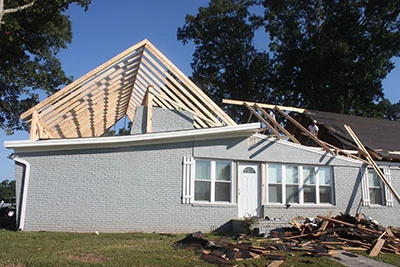 Nevertheless, DIY homeowners are often interested in how a job is done, even if they aren't going to do it themselves. This article looks at the complicated nature of roof remodeling and shows just why this area of the home is best left to the experts.
Engineering & Design
Just like floor joists, roof rafters must be selected according to joist span. The larger rafter size of a 2×10 will have a longer allowable span than a 2×8. Unlike floor joists, however, the rafters are installed at an angle, which also affects allowable span. A low angle (closer to horizontal) places more strain on a rafter than a rafter of a steeper pitch. Also, distances between rafters affect allowable span. Plus, the grade of the lumber affects allowable span; No. 1 grade lumber will have a greater span than No. 2 lumber. All these factors must be calculated when designing a roof to ensure structural integrity and to satisfy local building codes.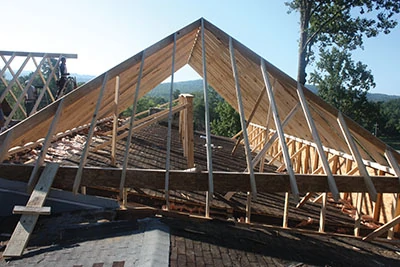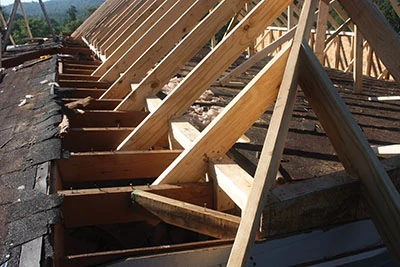 And the variables of design don't stop there … The builder must determine the pitch or slope of the roof, and use that measurement to figure the total rise from the wall's cap plate to the roof ridge. With the total rise they can calculate rafter length and the total number of rafters needed, accounting for any overhang along the eaves.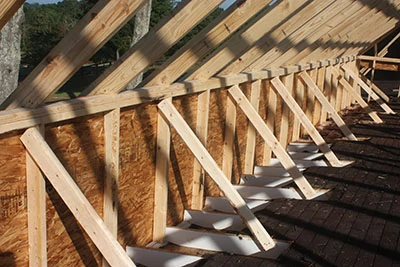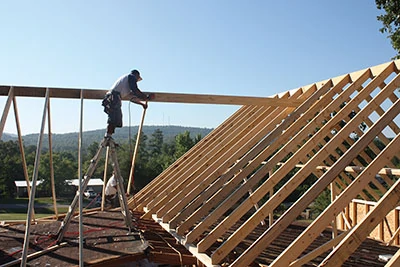 Next, the builder carefully calculates the location of the bird's mouth cut or mounting apparatus (don't forget to subtract the ridge-board thickness!). Then, you can move on to installation of the ridge-boards and rafters, using locally code-approved fastening techniques.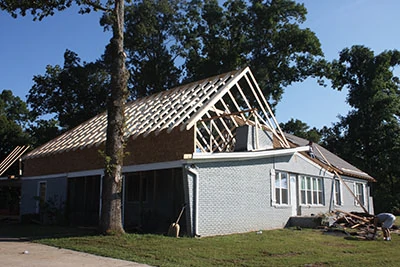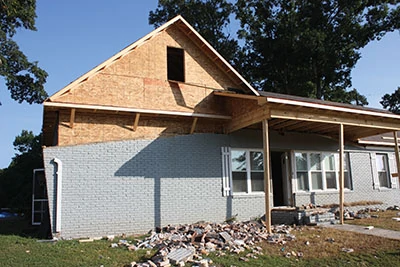 Confused yet? We haven't even scratched the surface on underlayment, flashing and the material used as your finished roofing.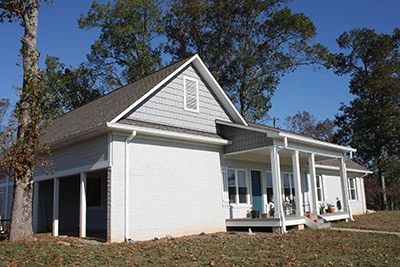 Logistics
Assuming you don't have a crew of skilled roofers at your assistance, the physical challenge of simply moving your construction materials into place will be a huge obstacle to overcome.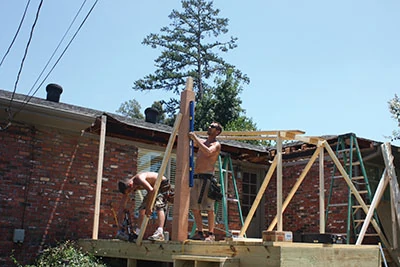 The heavy rafters arrive on a truck and require more than one person to move each of them. In fact, it may be easier to load the long 2x framing boards onto the roof than to load the roof decking—the cumbersome 4×8 sheets that tend to catch wind like boat sails when you try to convey them up a ladder. This task can not only be difficult but dangerous, and it's one of many reasons that pro builders dedicate an entire crew and often and entire day to set up and organize a worksite. Roofing contractors also have specialized equipment that saves them time and effort when moving materials on the job.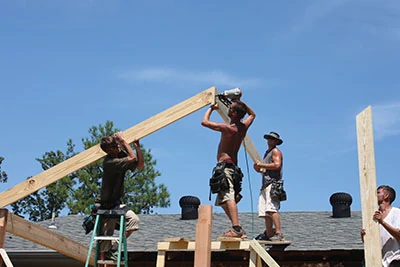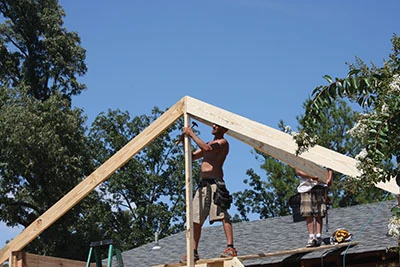 Helping Hands
Similar to the logistical problems of moving materials, the construction of a roof—from positioning and supporting the ridge beam to placing and fastening the rafters—requires more than one person (and often more than two) working in simultaneous cooperation. Not only are multiple people required to lift the weight of the framing members, but the helpers must be familiar with roof-building techniques in order to make the proper connections while the principal builder (or another worker) holds the opposite end of the board. A roofing crew will typically have a routine installation procedure they practice on all their roofs, which streamlines this cooperative process.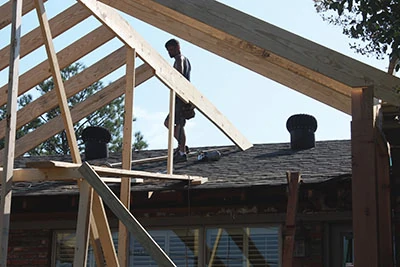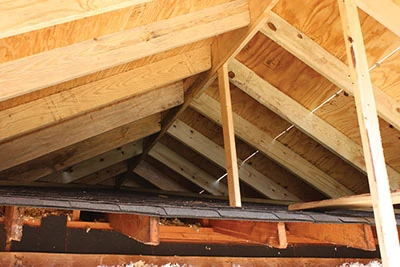 Furthermore, to hold the ridge beam and other roof components in place during construction, roofing crews usually erect temporary framing structures. These temporary structures typically involve 2×4 support posts, diagonal bracing, and cleats at the floor level to secure the bracing. The support structures are nailed or screwed together and, depending on method of construction, may or may not be removed later if the roof is strong enough to stand independently.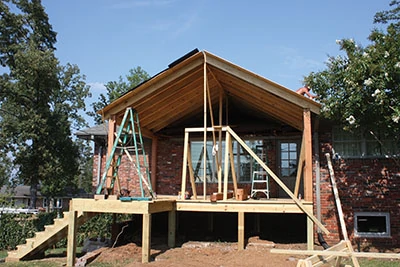 Call a Contractor
For a treehouse or small outbuilding, an "extreme" DIY'er might be able to frame their own roof because the size and quantity of material, height of the structure and scope of the project will be much more workable than the roof of a house. However, since you can't be in multiple places at once, you don't have a crew of workers at your disposal, or years of on-the-job training under your belt, we highly recommend calling a contractor when it's time to reconstruct the top of your home.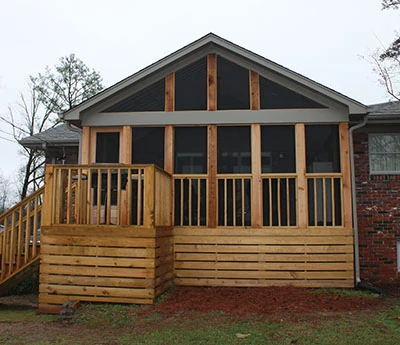 Roof Covering Options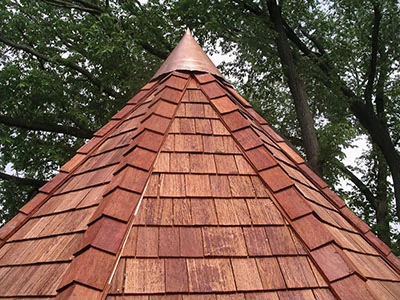 Turada Hardwood Shingles
Turada Hardwood Shingles will add a touch of rustic elegance to your project. They're similar in appearance to cedar shingles, but once you hold a Turada shingle next to a cedar shingle, you'll instantly notice the difference in density. These highly durable shingles are where quality and beauty meet. The Turada Hardwood Shingle is a green building product that requires no chemical treatment. Consequently, the shingles have no adverse effects on the environment in which they are installed. Turada Wallaba Shingles are naturally resistant to insects and decay. They have the highest Fire-Resistance Rating and meet a Class "A, B or C" Fire Rated Roof System per ASTM E108. Visit www.notcedar.com.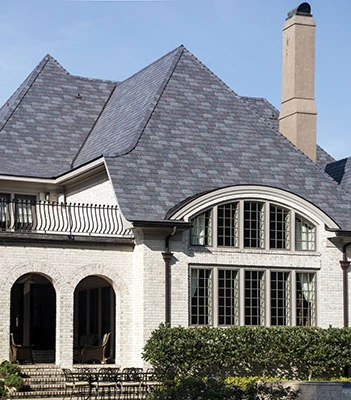 DaVinci Roofscapes
DaVinci Roofscapes manufactures superior polymer roofing system products paired with excellent customer service. Composite slate shingles are carefully engineered to provide the authentic look and durability of natural slate roofs. For those who desire the natural appearance of hand-split shake shingles or machine-sawn shake, Davinci's composite shake shingles are reminiscent of the texture of natural cedar, but with unsurpassed durability and a life cycle savings of up to 50 percent compared to natural cedar roofing.
The company utilizes a proprietary state-of-the-art engineered polymer to deliver durability and beauty for years to come. DaVinci's synthetic roof tiles also come with a Lifetime Limited Material Warranty. Visit www.davinicroofscapes.com.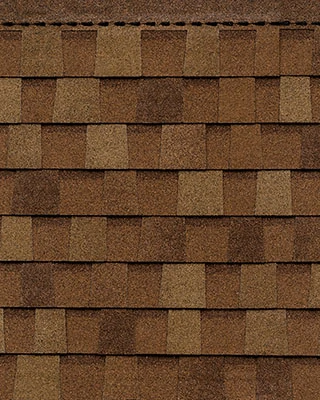 Pinnacle Pristine
With Pinnacle Pristine shingles featuring Scotchgard Protector, you get gorgeous color that stays true, combined with lasting protection from weather's worst. These high-performance, wind-resistant dimensional asphalt shingles are made from tough yet flexible materials that stand up to gusting winds. The power of Scotchgard Protector from 3M helps prevent the ugly black streaks caused by algae, so your roof color stays as beautiful as the day you selected it. Pinnacle Pristine's architectural styling with distinct shadow lines give your roof an eye-catching look that stands out, with 14 high-definition colors to complement any home. The roofing is built to withstand 130 mph winds and comes with a Lifetime Limited Warranty for lasting peace of mind. Visit www.atlasroofing.com.
Side Note
Safety First for Roof Work
Roofing is consistently listed as one of the Top 10 Dangerous Jobs. CNN Money stated that the "fatality rate per 100,000 workers equaled 40.5." This means 2,469 roofers die annually due to complications with the heat, electrocution, falls, chemical exposures and a host of other potential dangers—and these are the professionals. When it comes to the general public, the statistics only get more alarming. The American Journal of Preventive Medicine's published study revealed that, "2.1 million people sought emergency treatment in the United States for ladder-related injuries." Point being, while it may appear simple to lean a ladder up against a roof and climb up, there are many other complications to consider. Roof work is best left to professionals, but anytime you do climb onto your roof, make sure to wear an appropriate fall-restraint harness with the lanyard firmly attached to the roof ridge with multiple wood screws.