New Trends in the Technology
The concept of radiant heat flooring has been around for ages. Instead of relying solely on noisy forced-air systems or a radiator that creates pockets of hot and cold air throughout the room, these energy-efficient radiant systems heat the floors of a home, which then transfers heat evenly throughout the rest of the room. In addition to eliminating the shock of cold floors on bare feet, the other objects in the room (couches, chairs, etc.) are heated via the floors, allowing the average temperature of the room to be lower while maintaining a higher level of comfort for the people in it. These systems save on heating bills, eliminate visible heating components, and operate silently. Also, because air is not forced through the home, radiant systems do not circulate dust and allergens that can cause respiratory problems.
Beyond interior floor heating, radiant systems have outdoor applications as well, such as installed in a sidewalk or drive-way for ice-melting applications to create a safe, slip-free walk-way. Some systems can even be installed at the roof line to prevent ice dams.
There are different methods of installing radiant heat, including water-based hydronic systems and all-electrical systems, and the method you choose will depend heavily on the design of the house and the rooms in which you want to add radiant heat.
Hydronic Systems Made Easy
For new construction and remodeling additions, hydronic systems circulate hot water through a looped system of PEX piping beneath the floor. Hydronic systems can be powered by gas, oil, electricity or solar energy, making them both flexible and economical when used for whole-house applications. They can also go under most types of flooring, including wood, carpet, stone, tile and laminates. Today's systems have simple yet incredibly smart controls that can target and maintain the level of comfort in specific areas of the home.
While hydronic systems are sometimes considered too complicated, manufacturers are simplifying the installation process.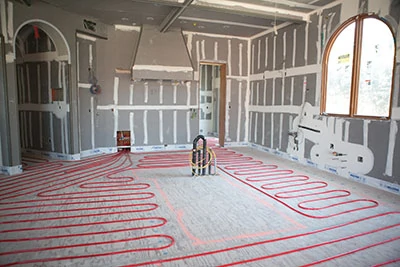 "We are revolutionizing the entire radiant heating process, from beginning to end, making it quicker and easier than ever before," says Michael Willburn, president of Infloor Heating Systems.
Infloor reduces the complexity of the systems while offering services such as original LoopCAD plans, custom-made mechanical boards, and free design consultations. The LoopCAD design plans give installers all the calculations, the loop layout with exact tube spacing, placement and length, the manifold placement, zoning, and routing of supply and return lines, a complete list of materials needed, and more. The company's custom-made, pre-piped, pre-wired mechanical boards come fully assembled with a diagram that identifies each part, and is ready to be mounted to the wall, which drastically reduces the installation time. (www.infloor.com)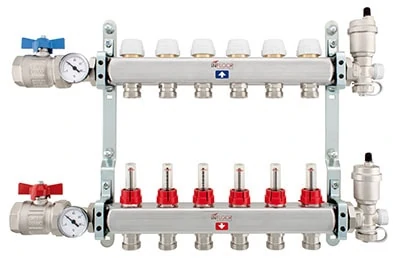 Another supplier of hydronic systems, The Radiant Floor Company, designs and builds hydronic radiant heating systems especially for do-it-yourselfers and small contractors. The company offers three heating designs: Open, Closed, and Heat Exchanger systems. The systems are compatible with any fuel source; solar, propane, natural gas, electric, wood, geothermal, oil heat, electric pump, etc. The Open Systems use one heat source for both floor heating and domestic hot water. The Closed System utilizes a dedicated heat source in which fluid in a closed system is re-circulated in a completely separate system. In the Heat Exchanger system, oneliquid heats the other, by way of an efficient heat exchanger, which separates the potable domestic water from the floor's anti-freeze mixture. (www.radiantcompany.com)
New Electric Radiant Systems
For retrofit applications, electric radiant systems make an attractive alternative because they can be wired into the home's existing electrical system. They work much like an electric blanket beneath the floor, and the low-profile heating elements are very thin, so they do not significantly raise the height of the finished floor (whereas the PEX piping of a hydronic system is often installed in 1-1/2-in. thick concrete).
New from Warmup, the DCM-PRO Floor Heating System uses pre-spaced channels on the DCM-PRO membrane to make it easy to space the heating cable evenly. This ensures consistent, even heating throughout the floor and protects the cable from mechanical damage caused by walking on the system. The membrane can be attached to wood and cement subfloors using any tile adhesive thanks to a patented design with Hydration Vents. The DCM-PRO membrane can then be covered with self-levelling mortars (SLU's) to allow installation of small format tiles and other floor types such as glue-down wood and luxury vinyl tiles to be laid on top of the system.
Warmup's DCM-PRO system is controlled by the 41E thermostat, billed as "the smartest line voltage thermostat on the market." It can program itself using your smartphone location and the occasional override. Its WiFi capability also allows users to vary the heat settings by zone, based on recommendations from the thermostat. (warmup.com)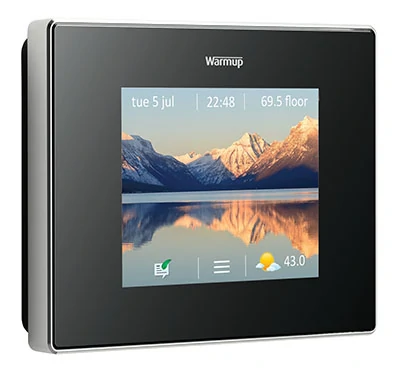 For ceramic and stone floors, DITRA-HEAT provides fast installation in a thin profile that serves double-duty as an uncoupling layer. Whereas many floor warming systems do not address concerns about potential cracks in tiles and grout, DITRA-HEAT is the first electric floor warming system to directly incorporate essential uncoupling technology into a floor warming system to provide heated floors that are not susceptible to cracking.
The frequent fluctuations in temperature caused by the floor warming can lead to more expansion and contraction of materials, which stresses the tile and increases the need for uncoupling. Traditional installation methods require the installation of two separate systems—a floor warming system and an uncoupling system. DITRA-HEAT does both jobs; the heating cables are easily snapped into place on top of the uncoupling mat with no clips or fasteners.  The installer has complete flexibility on where the cables are placed so every installation is customized to suit the exact requirements of the owner.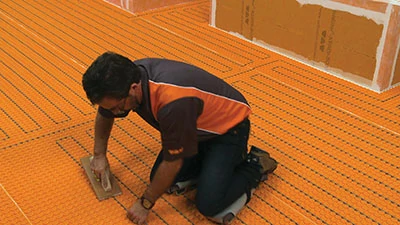 Because they are held securely within the DITRA-HEAT mat, there is no need to use self-leveling compounds to encapsulate the heating cables. Instead of waiting for a leveling compound to set, tile installation can begin immediately, resulting in a much faster installation. The matting is available in rolls and sheets, and heating cables are available for 120V and 240V circuits. A digital touchscreen thermostat controls the floor temperature and features a built-in Ground Fault Circuit Interrupter (GFCI) and digital display with backlit screen. (WarmYourFloor.com/DitraHeat)
A Popular Option
Heat rises, and a source of heat at your feet is a smart way to stay warm and cozy. As the entire floor is heated, it becomes a large radiating surface that generates heat outward to all areas of the room. The new radiant heating products covered here are among many available options for your home, and they conserve energy, too. When compared to forced-air heating, these radiant floors can reduce potentially a home's energy usage by 25 to 30 percent. So, do a little research, and see if this home heating upgrade is right for you.
Side Note
Bona Premium Spray Mop for Hardwood Floors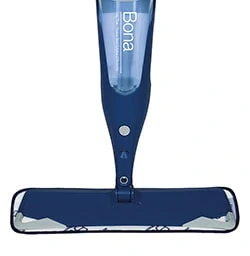 With the next generation Bona Hardwood Floor Mop, bigger is better with the largest base plate in the industry. The 16-3/4-in. mop head with rubberized corners makes for a fast, easy cleaning experience. The new Premium Spray Mop combines the Bona Hardwood Floor Cleaning solution and Bona Microfiber Cleaning Pad in one easy device to provide the most effective clean. The cleaning pad features a unique design with dual zone action. The dark blue outer fibers break up grime while the inner light blue fibers trap and absorb dirt with 2.5X more absorbency than Bona's previous microfiber pad. The "snap and click" baseplate-to-pole connection makes assembly and cleaning quick and easy, and the retractable handle hook allows for easy storage. Learn more at us.bona.com/products.