Fraser, Michigan, USA, November 11, 2013 – Zip-Up Ceiling® is an easy, aesthetically pleasing way for finishing an open ceiling in a basement, bathroom or kitchen while maintaining access to wiring, piping or A/C overhead.
Made from flexible interlocking PVC components which fit together with only a few tools, Zip-Up Ceiling is an economical, low-maintenance alternative to drywall or suspended acoustic ceilings. Water-proof and mold resistant, it performs very well in spaces where there is high humidity. Because it utilizes only 2″ of headroom, it can be installed against an existing ceiling without the time and hassle required to remove an unsightly or damaged ceiling.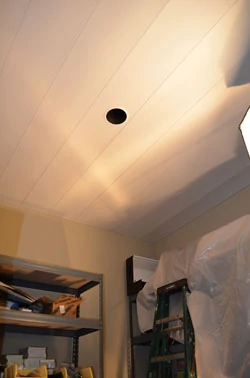 Zip-Up Ceiling meets Class A Fire Rating and delivers a clean, grid-free flat, non-corrugated washable mold- and mildew- resistant surface. The system features just three primary components: wall trim, main rail, and panels. The main rails and panels are available in white and beige in smooth and serrated finishes. The finished ceiling is paintable with latex paint. The panels, which won't kink like aluminum might during installation, unzip from the rails for easy removal for cleaning or access. The one-foot wide panels are available in 12 and 16 foot lengths.
For more information: www.zipupceiling.com or 888-449-4787
###