Of course not! It's simply the wrong tool for the job! Just like a round nozzle is the wrong tool when what you need is a flat bead of sealant!
You're a pro. You've got work to do. When it comes to roof maintenance , one step is always better than two! You don't need to be slowed down by messy, sticky tooling that eats up your time and your bottom-line! Applying roof sealant from a round nozzle, then tooling it – there's got to be a better way! Now, there is! The COBRA™ Lap Joint Nozzle was made with pro's like you in mind!
The COBRA™ nozzle provides the perfect wide bead straight from the tube. Easily and quickly cover all kinds of lap joints, like roof flashing and window fins, or sandwich joints like thresholds. Tooling caulk is good for one thing – making you cuss more! We get it. COBRA™ give you a 'perfect bead' with no tooling. Here's how:
The COBRA's™ arched profile
Delivers a bead thicker in the middle and thinner on the edge.
Places the mass of material where you need it, exactly over the lap joint itself.
Gives you 15% – 50% material savings compared to round beads on lap joints.
Coverage: 20 lineal feet/cartridge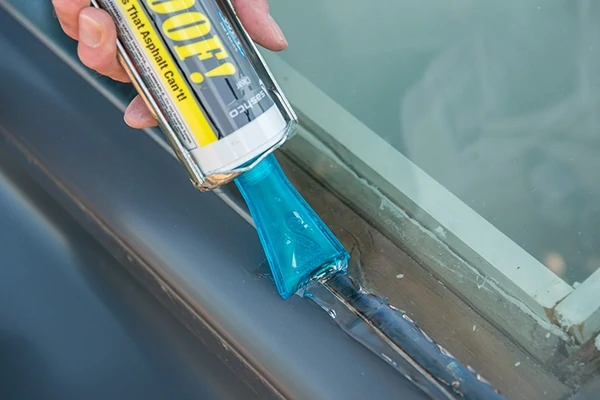 Sounds good, right? But does it really work? Our R&D team spent hundreds of hours (and ridiculous amounts of coffee) making certain it does. It's the game changer you always needed but never had – until now. Okay, okay, don't take our word for it. Contractors just like you agree!
"I like how it makes a nice even bead that is wide enough to cover better. Much less tooling/spreading it around."
"Something innovative and long due."
"For . . . filling the large gap – it was almost magical in allowing for a very nice application of sealant without any fuss."
"It placed a heavy tape-like metered bead over the areas. I loved it. The shingles were adhered and a great looking bead on the flashing."
The feelings you'll have toward the COBRA™ nozzle alone will be enough to make your wife jealous, but it gets even better!
The COBRA™ nozzle isn't designed for any old roof maintenance sealant. The COBRA™ nozzle is specifically designed to be used with Through the Roof!® clear roof sealant. Through the Roof!® seals leaks asphalt can't! Tenacious adhesion, long-lasting performance, usability even on wet surfaces (yes, you can apply it in the rain!), and a crystal-clear formula (sayonara ugly black patches) make Through the Roof!® your new best friend.

The 6-pack of Through the Roof!® clear sealant is conveniently packaged with the COBRA™ nozzle – it's a match made in heaven (if only all relationships we're this easy!). In fact, not to get sappy, but this dynamic duo may just have you singing from the rooftops – literally!
Change your roofing game today! Visit http://www.sashco.com/hi/pdfs/TRF_with_Cobra_Brochure.pdf, to learn more!