Start sawing logs into valuable lumber for fences, buildings, and woodworking projects with your own personal sawmill.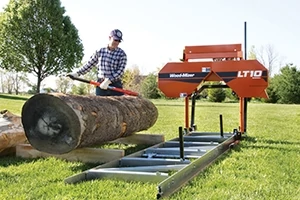 Start sawing logs into valuable lumber with the Wood-Mizer LT10 personal sawmill. Woodworkers, farmers, DIYers, and homesteaders find the LT10 sawmill saves them thousands of dollars on lumber for fences, buildings and woodworking projects. Sawing their own lumber also allows them to create custom sized lumber and slabs from species not available from the big box lumber yard.
The simple and sturdy LT10 bandmill makes sawing easy with the ability to produce lumber up to 160 board feet per hour from 24" diameter by 11' long logs. In order to saw longer logs, an unlimited number of 7' bed extensions can be added to extend the sawmill bed to any required cutting length. Wood-Mizer thin-kerf bandsaw blades require minimal energy, so the standard 10HP gas engine provides the necessary power to cut all wood types from hardwoods to softwoods.
Offering a 30-day money back guarantee and a 2-year sawmill warranty, the LT10 sawmill is also backed by the same legendary service, quality and safety features shared by the industry- leading line of Wood-Mizer portable sawmills. Call 800.553.0182 or visit www.woodmizer.com/lt10 to start sawing your own lumber today!
Social Media Links
Facebook – www.facebook.com/woodmizerusa
YouTube – www.youtube.com/woodmizersawmills
Twitter – www.twitter.com/wood_mizer
Instagram – www.instagram.com/woodmizersawmills
Pinterest – www.pinterest.com/woodmizer
LinkedIN – https://www.linkedin.com/company/wood-mizer-products  

Contact Information
www.woodmizer.com/lt10
800.553.0182
[email protected]