By Les Burch, President, Sashco Sealants
Asphalt has been around about as long as houses have had roofs and that's a long time!  So, it's no wonder that we're still in the habit of grabbing a cartridge of asphalt roof caulk or roof cement when there's a leak to fix. Yet after all these millennia, is there a better way and how much better is it?
Through The Roof!® is a clear co-polymer rubber sealant. Since its launch 15 years ago, we've received customer feedback about how it has fixed leaks that asphalt didn't. Or how asphalt only lasted a year before another trip to the roof was necessary.  Those anecdotal stories are great to hear but, we wondered, if Through the Roof!® performs better and lasts longer, how much longer is longer?
So Andy, one of our chemists, organized a controlled test to find out. He chose 2 popular top-grade asphalt products and compared them to Through the Roof!® using a standard ASTM test. The test calls for drawing out samples on 3" x 6" aluminum panels, letting them cure 21 days, and then bending them around a ½" steel bar (mandrel test) to see if they crack or remain intact. You can see those panels below.
21 days Room Temperature Cure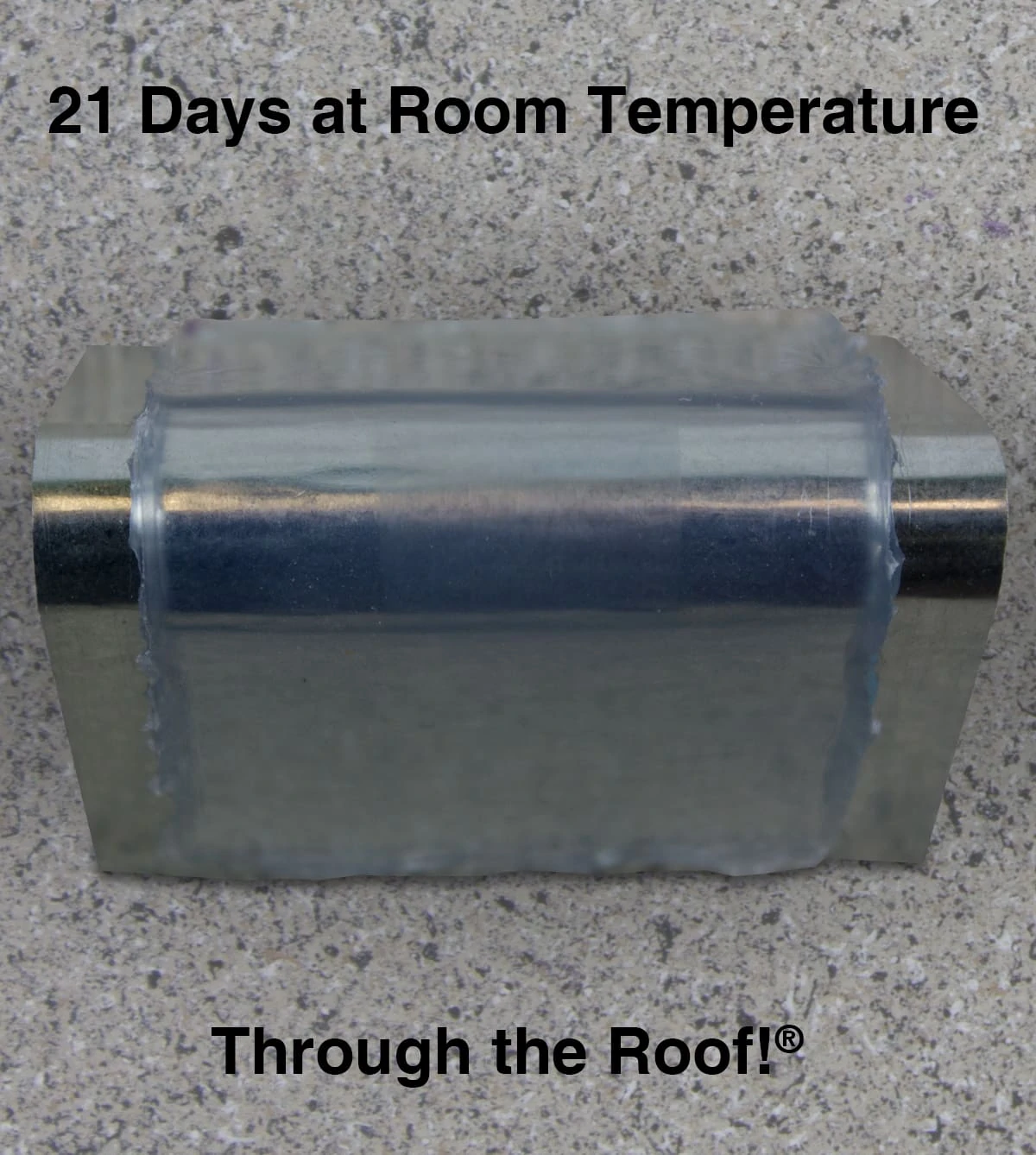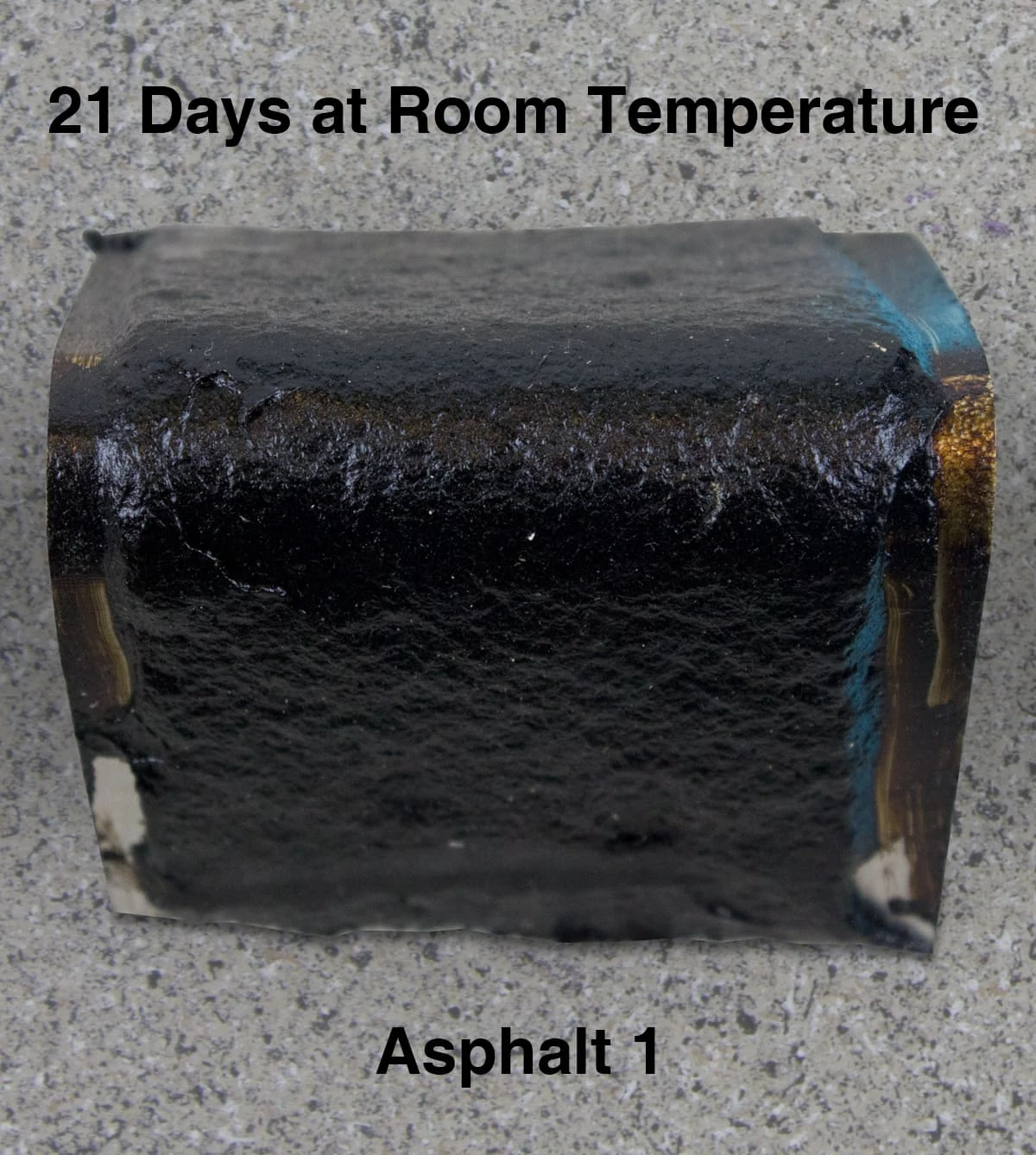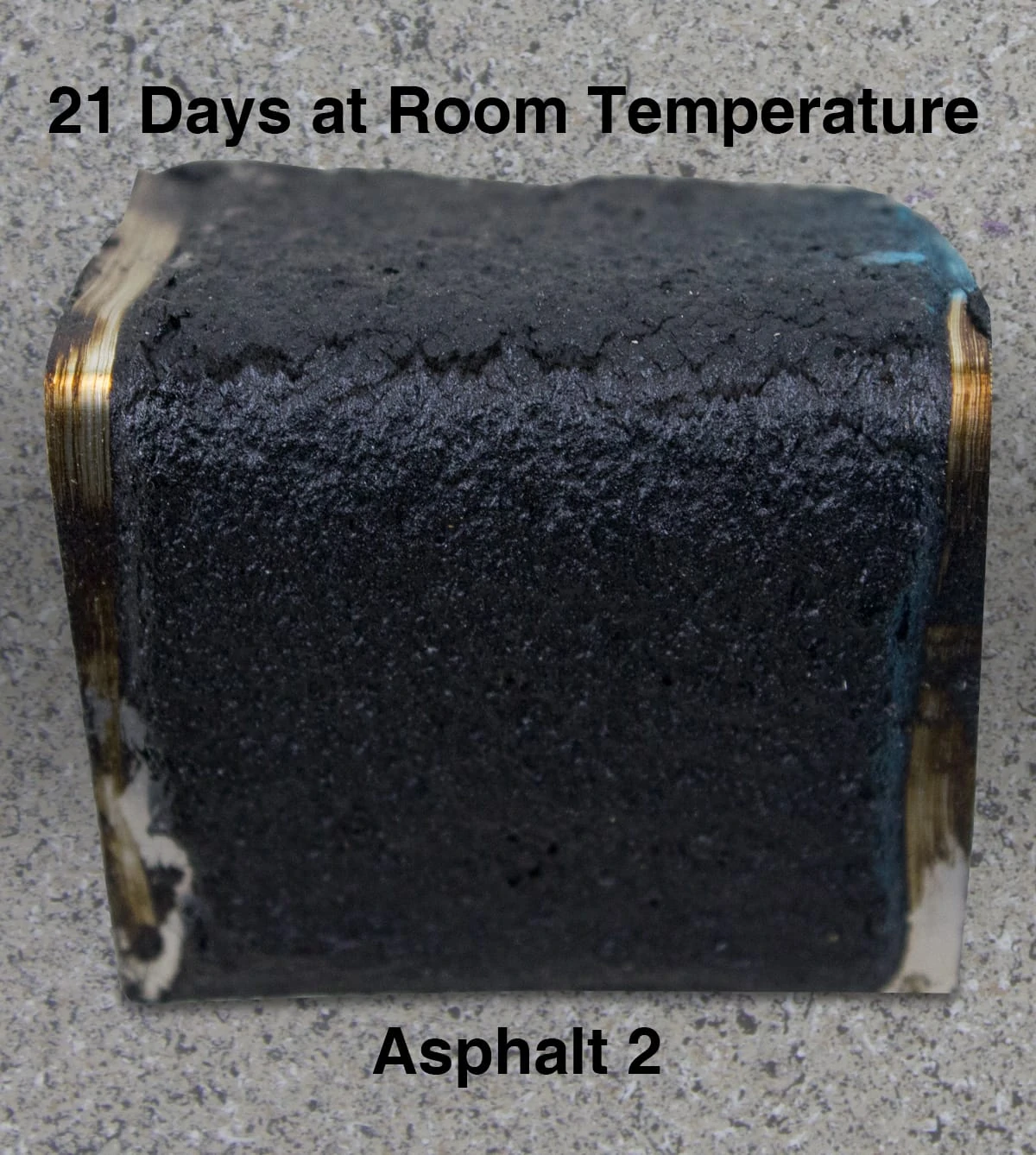 You can detect some crazing on the Asphalt No. 2 but Through the Roof!® and Asphalt No. 1 remained unbroken.
Now that's inside a laboratory and not out on your roof.  Andy had made several sets of panels so they could take a beating in a UV machine to replicate the sun's rays on a rooftop. Panels were taken out at certain hour increments and then bent over the mandrel to check performance.
Here's another set after 100 hours of UV exposure.
100 Hours UV Exposure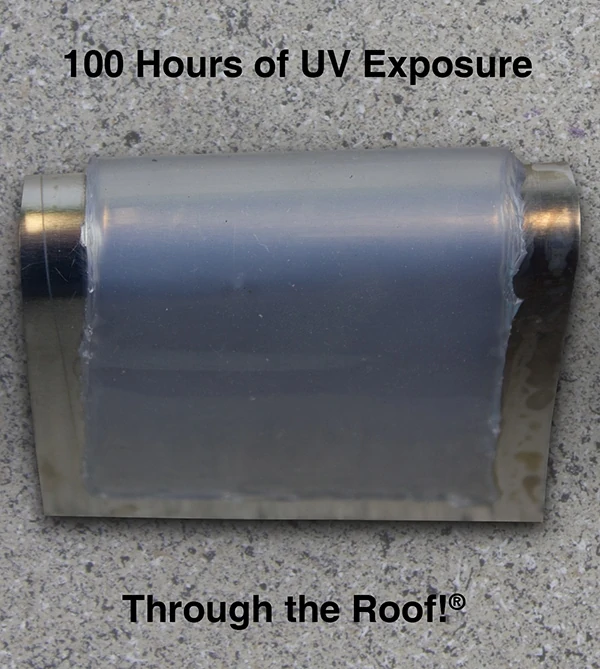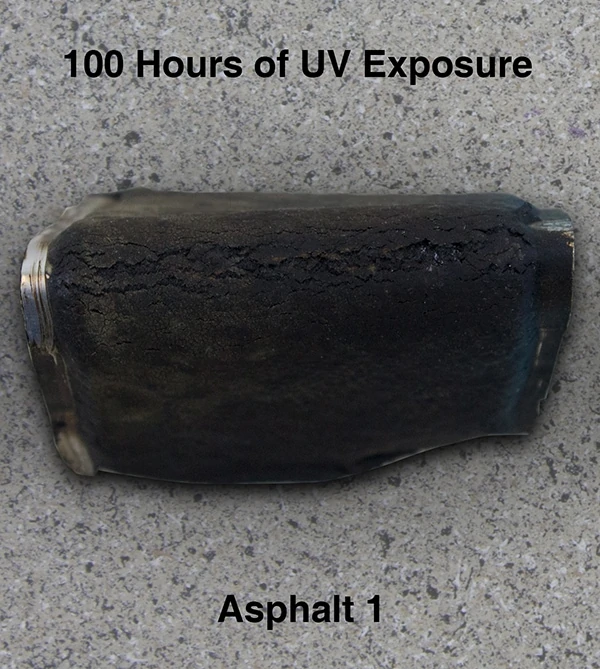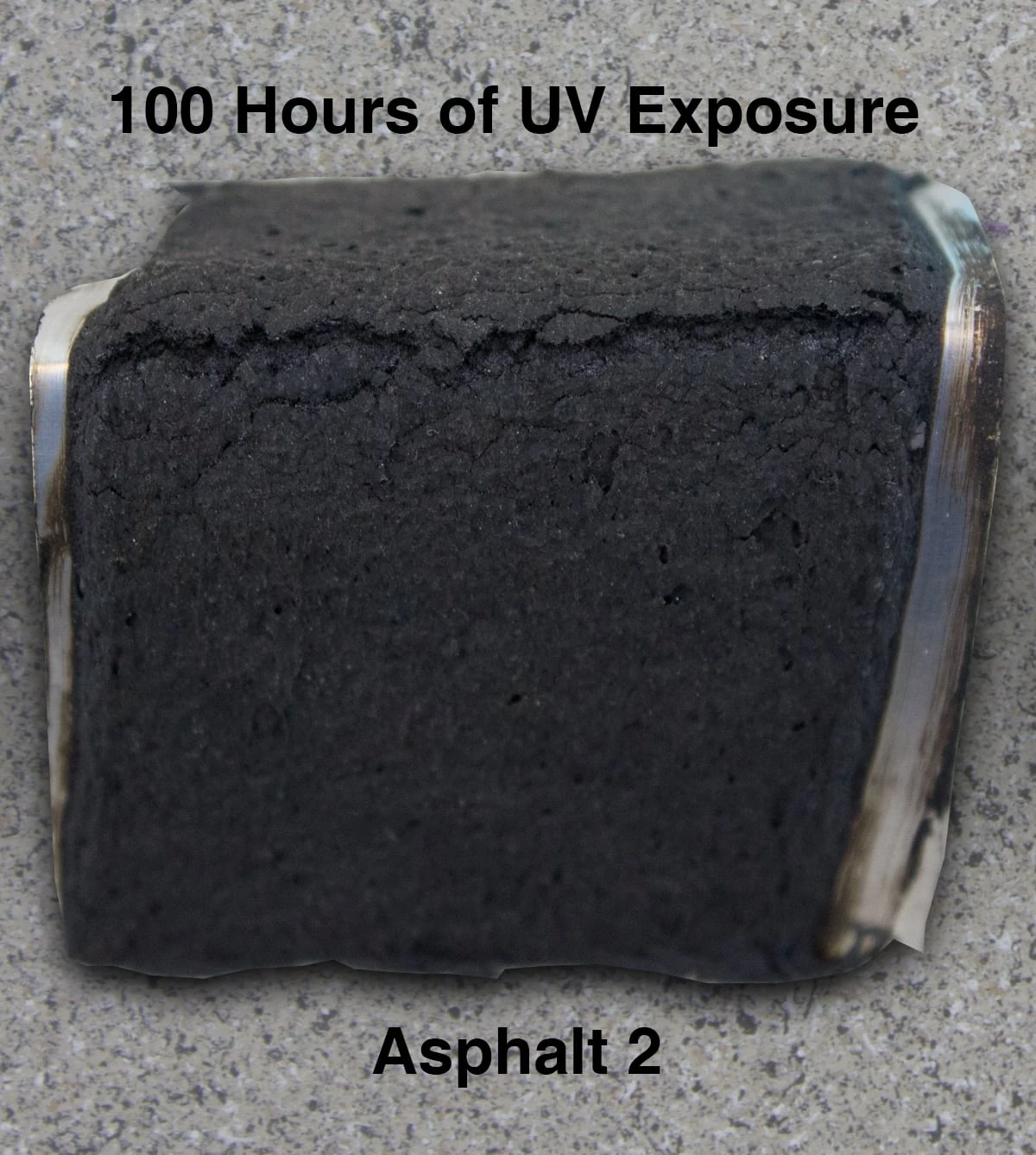 Both Asphalt #1 and #2 have failed the crack test at this point. Since Through the Roof!® held up, Andy kept other panels going all the way up to 2000 hours.
2000 Hours UV Exposure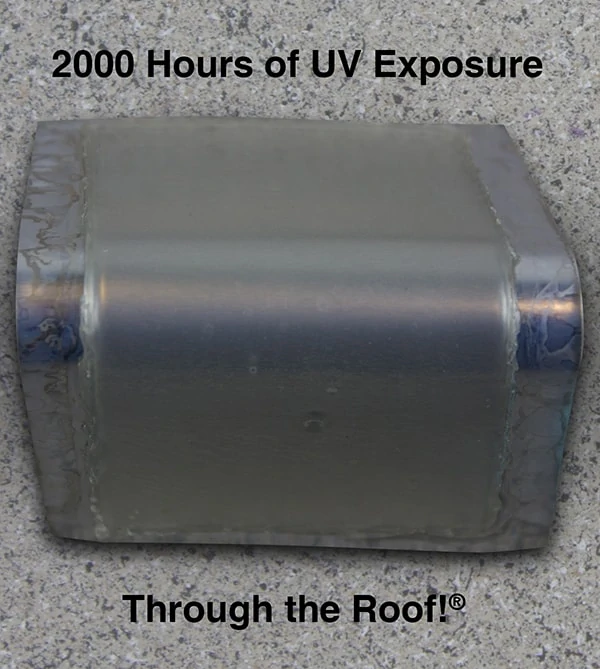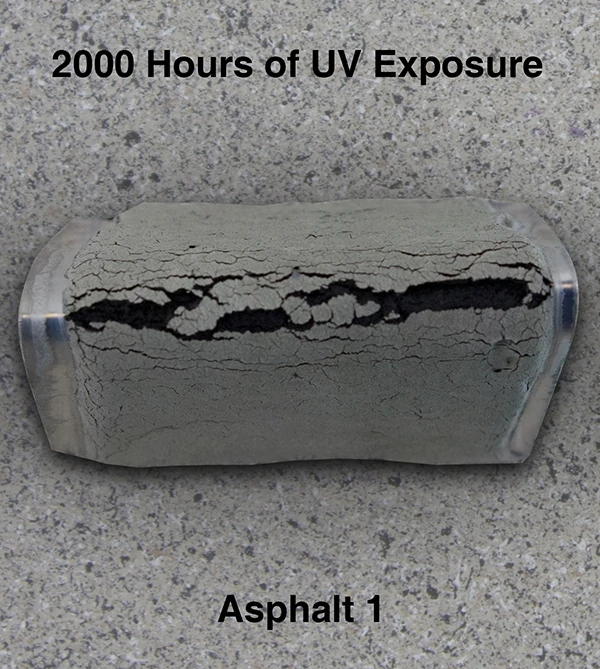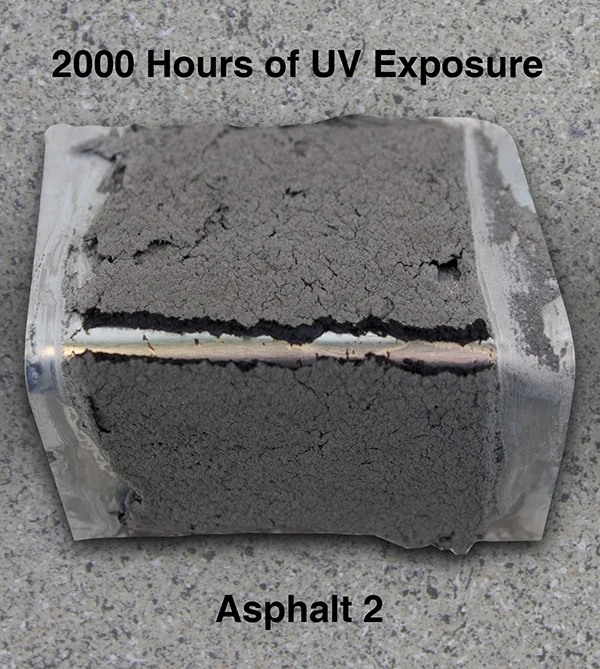 Wow, after 2000 hours the Asphalts are practically destroyed while Through the Roof!® is still holding its seal. Keep in mind that this test is far more intense than 2000 hours in the sun.
This test confirmed why we were getting such positive feedback.  The Asphalts failed at 100 hours and Through the Roof!® was still performing at 2000 hours.  Now we could confidently claim that Through the Roof!® lasts at least 20 times longer than asphalt. Even at 2000 hours Through the Roof!® did not fail.
That should be enough to break anyone's 'asphalt habit'.  After several thousand years of history, technology has found a better way!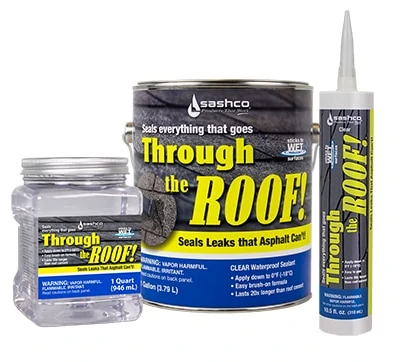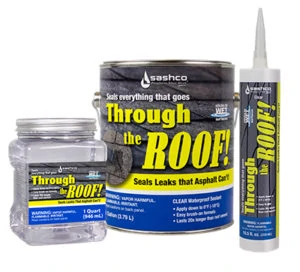 To learn more about Through The Roof visit: https://www.sashco.com/products/through-the-roof/
Founded in 1936, Sashco Sealants has been a leader in high-performance sealants, caulks, and exterior wood stains for conventional home construction and log/wood homes. Les Burch has been joined by his two sons in the business and together they represent the 2nd and 3rd family generations to operate the company.  www.sashco.com