U2 Fasteners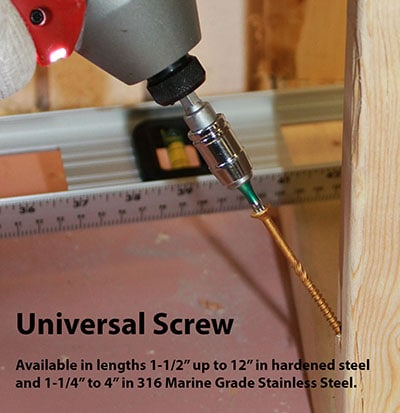 The next generation of construction screws that are replacing lag screws
U2 fasteners new code-compliant Construction structural screws are designed for joining multi-ply LVL, LSL and PSL. The 3 new sizes are 3/8 x 3″3/8, 3/8 x 5″ and 3/8 x 6″3/4. The U2 Construction Screw is the next generation of construction screws that are replacing lag screws. Structural & ACQ treated lumber code compliant in IAPMO report ER-454.The Dome Head enhances the structural capability. The U2 Construction Screw has the essential features: the Tapper Point which consists of the Cork Screw Start and Blade Cutting Thread for easy piercing and alleviating strain on the material. The Tight Star Recess system is designed to grasp the U-Bit tightly and can be installed with one hand. Underneath the screw head of the U2 CS the Talon Grip holds the screw tight to prevent loosening and uses its nibs to dig into the material when countersunk. Below the smooth shank is the Reamer Thread, which enlarges the hole in the material to create a larger passage when drawing materials together and reduces tension on the screw head.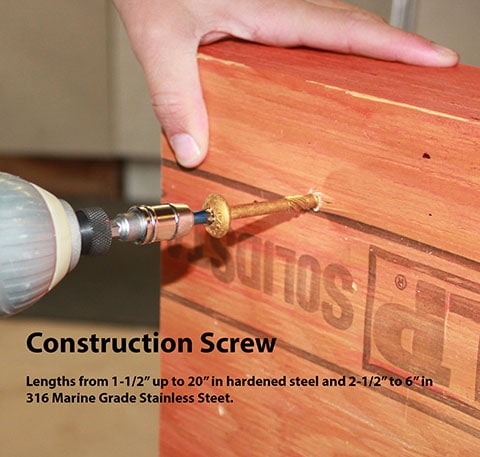 The U2 Construction Screw is available in lengths from 1"1/2 to 20" made of hardened steel, and in lengths from 2-1/2" to 6" made of 316 Marine Grade Stainless Steel.
Ideal for replacing those old deck screws
The Universal Screw™ is a countersink fastener that allows the head to sit flush or below the surface of the surrounding materials. This allows other objects stable rest upon it. The countersunk portion offers a good centering possibility. Ideal applications are decking, framing, sub-floors, fencing, lattice, shelving, railings, stairs, fine wood working, and more.
Structural and GROUND CONTACT ACQ treated lumber compliant!
Available in lengths from 1-1/2" up to 12" in hardened steel, and in lengths from 1-1/4" to 4" made of 316 Marine Grade Stainless Steel.
Other types of fasteners offered are finishing screws (FINE and RE-FINE), cabinet screws (CAP) and the TopStar screw that replaces shimming when hanging doors.
U2 fasteners™ is the GAME CHANGER in the fasteners industry. With a strong focus on our customers, we aim to create, promote and distribute a new generation of innovative, code-compliant, premium fasteners that will be used by professional builders, simply because they are the best.   With six product lines that engineers and contractors agree on for whatever project you undertake.
For more information, please call 855-895-7096, or email [email protected]
---