RYOBI Outdoor Products continues to drive innovation in the portable generator market. Their new 7000 Watt Electronic Fuel Injection Generator features auto choke with hassle free push button start and an electronic fuel injection system that saves fuel and reduces carbon monoxide emissions by up to 90%.
Techtronic Industries Power Equipment (TTI) drives innovation in the generator industry with the release of their latest portable generator. With its 6-gallon fuel tank, the RYOBI 7,000-Watt EFI Generator can run up to 9 hours at 50% load, while optimizing performance in varying altitudes and temperatures. It also boasts auto-choke, which bypasses the choking and priming process with push-button electric start for easy operation.
But it's not only the impressive features and affordable price tag that makes this RYOBI generator stand out in the market. The RY907000FI is among the first portable generators to include Electronic Fuel Injection (EFI) technology.
An electronic fuel injection management system delivers two standout advantages over conventional generators with carbureted engines. The first being that it reduces dangerous and deadly carbon monoxide emissions by up to 90%. The second advantage is that it runs with greater fuel efficiency – delivering up to 25% in fuel savings.
EFI technology has been used extensively in the automotive industry. When TTI set out to make use of this emission-reducing, fuel-saving technology, the portable generator industry was virtually untapped.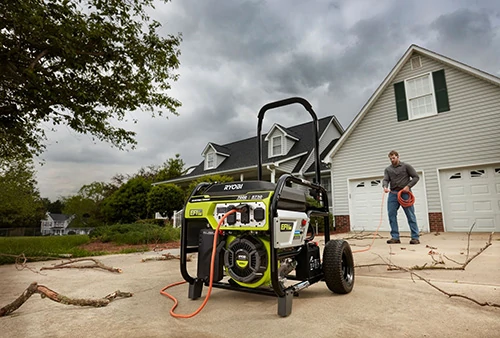 It seems that few industries need it more, considering carbon monoxide poisoning is a leading cause of portable generator related injuries and deaths throughout the United States. Thankfully, this new engine technology being applied to portable generators has the potential to save lives and prevent countless injuries.
Prioritizing generator safety is a goal that's coming to fruition for TTI's product development team. The next phase will be coming soon with the release of the RYOBI RY907022FI model. This 2018 version will have the same exact specifications, features and benefits of its predecessor, plus an onboard Carbon Monoxide sensor that will automatically shutoff the generator when dangerous levels of CO are detected. With reduced emissions and shutoff technology, this generator will be the first low-CO portable generator on the market to qualify and receive a UL certification.
With the integration of EFI technology, and the requirements for UL certification in this category, the future looks bright for portable generators and the customers who count on them. The RYOBI EFI portable generator line is available for purchase exclusively online at homedepot.com.