Slab – The Serious Fix for Concrete Cracks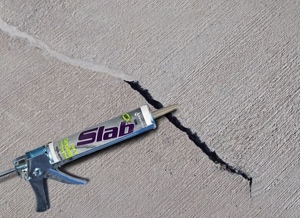 12 years in the making – we needed a concrete repair sealant that has superior adhesion, amazing durability, the power to withstand the harsh elements in Colorado – standing up to snow shovels, hail, and concrete expanding and contracting. We developed Slab – the winning combination – to stick, stretch and stay. We know what you're thinking, "Concrete repair products dry out and crack – again, and need to be replaced. Why bother?" You're right, they're not what they're cracked up to be. You need an elastic repair that moves when the crack moves; you need it to stick and not pull away or crack down the middle; you need it textured like concrete to blend in; and you need easy water clean-up and a low VOC formula that's easy on the environment. You need Slab.
Please visit us at www.sashco.com.
---