ShopBot Desktop: The Precise & Powerful, Small-Space CNC Mill
Professional-performance CNC comes in a small package with the affordable ShopBot Desktop. Cut, carve, and mill with the same tool that's being used in thousands of professional shops around the world. In addition to woodworking capabilities, the Desktop delivers engraving level precision, and the power and rigidity to machine parts from wood, plastic, aluminum, and other materials.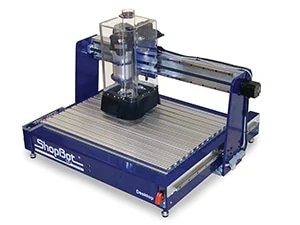 Founded in 1996, ShopBot Tools focuses on making digital fabrication technology affordable and accessible. Each tool is designed, built, and supported at our Durham, NC, headquarters. The ShopBot experience is about much more than "just" the tool: Tool owners are supported with an active user's forum (TalkShopBot.com), free technical support, online and in-person training resources, scores of ready-to-make project files, and the business networking and collaboration site, 100kGarages.com.