The science behind most products is usually a total snoozefest, not with Cleanz. Fact is, Cleanz is the coolest caulk you never knew you always needed!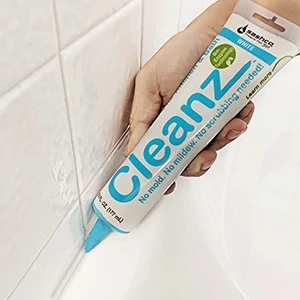 Mold. Few words send homeowners into a frenzy faster than the word, mold. The second your customer sees moldy, peeling caulk, it creates a huge callback headache for you.
In fairness, mold is a problem. An unsightly nuisance at best, a potential health hazard if left unchecked, mold needs to be stopped in its tracks. Many products claim to stop mold, so why are you still having to deal with it? That's the question we asked ourselves. We wanted to know; how can we give contractors a caulk that will actually prevent mold from forming? When we studied mold at the molecular level, we learned that it feeds on body oils, shower products, even bacon grease that we leave behind in the shower, bath, and sinks. That gave us an idea. If we can eliminate the oils, we can stop mold from growing in the first place! Enter the coolest technology caulk has ever experienced – bioenzymes. It's a fancy word for a simple, yet powerful, untapped technology that may just change the way you think about caulk!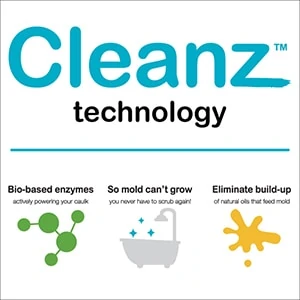 We discovered the power of using active enzymes in caulk. The same enzymes that breakdown oils in your stomach, fight mold in our living spaces. When you remove the food source that feeds mold, it literally CANNOT grow. Why hassle with removing mold when you can prevent it? Unlike mildewcides and repellants that wear out over time, our enzymes are permanently active for long-lasting results.
Mold related callbacks just got Cleanzd!
Ok, so that is cool technical information, but you're a pro. Let's talk pro benefits! These should do the talking!
No mold! Active enzymes stop mold before it has a chance to grow.
Ultra-elastic! Moves with your house and won't ever crack.
Great adhesion! Won't pull away from bathtubs (or any other surface) and maintains a watertight seal.
Won't wear or tear! Resilient surface withstands scrubbing and chemical cleaners.
Easy to use! Smooth application, quick water cleanup and no offensive smells.
Low VOC! Cleanz meets strictest VOC requirements. Environmentally friendly.