Professional Grade.  Designer Appearance.  Delivered as Promised: for 25 years, Moduline Cabinets have delivered exactly that.  Our 100% American-made cabinets are crafted from premium aluminum for quality that is trusted by shop professionals, race teams and enthusiasts.
Our experts will work with you to realize your envisioned perfect storage system.  Backed by our Lifetime Warranty, you can trust that while we've been around for 25 years, your cabinets will be around for a lifetime.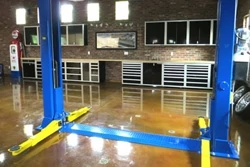 Do you know what it's like to be in a garage, shop, service vehicle or trailer and not be able to find what you need, when you need it? We do and that's why Moduline Aluminum Storage Cabinets were developed. At Moduline we firmly believe in "a place for everything and everything in its place".
Moduline Cabinets are premium modular aluminum storage and tool cabinets designed and manufactured in the United States. Originally designed for professional race teams, Moduline was created to get people organized and efficient. Moduline Cabinets are functional, high quality cabinets with a sleek, modern design that will compliment most any decor.  They are engineered to be lightweight, yet able to stand up to the high demands at the shop as well as on the road and at the track.  The end result is a cabinet system that is beautifully engineered for aesthetics, functionality and durable.
Used by professional and personal shops, industry and homeowners all over the world, Moduline cabinets are the perfect garage cabinet solution. Adding these high quality garage cabinets also will increase the value of your home or shop. They include full ball bearing slides on the drawers, stainless steel, aluminum or Butcher Block work tops and each cabinet has its own clear sealed and anodized frame allowing each piece to be able to stand alone making them truly modular. With almost endless configurations, Moduline cabinets are designed to adapt as your needs change.
Visit www.modulinecabinets.com or call 888-343-4463 for a free design consultation from one of our cabinet experts.