Brush Flex and Mini Roller Flex
Paint the high and hard to reach areas of any painting project faster, safer and a whole lot easier.
Imagine how easy life would be if all painting was conveniently at eye level. The only thing that makes painting, be it DIY or professional, difficult, time consuming and dangerous are the high and hard to reach areas that require setting up, then getting up, a ladder or scaffold.  Stairwells, cathedral ceilings, the entire exterior roof-line of  a house, sloping ground and any immovable obstacle where you need to set up a ladder presents formidable difficulty in accessing work to be painted. The new Brush Flex and Mini Roller Flex are the sole products that competently and affordably provide a solution to these problems.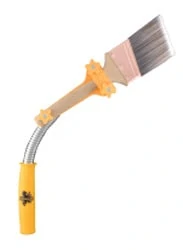 UNIQUE ASPECTS OF BOTH TOOLS:
Brush Flex and Mini Roller Flex are fully patented. No other painting extension arm bends instantly, holding to working forces at any, precise angle.
The soft grip ends of the arms feature strong nylon extension pole threads which are "stepped-in" to tighten firmly on any standard extension pole, broom or mop handle.
WHY YOU'LL WANT A BRUSH FLEX:
The Brush Flex's design positions the painters brush back over the bendable handle for perfect balance and control.
Five embedded zinc coated nuts in the brush clamp allow the painter even more choices of positioning, and with any size or type of brush they want to use. These embedded nuts, combined with the large daisy wheel headed bolts provide fast and easy brush insertion/changes using just one hand.
The combined features of the Brush Flex (Instant adjustment, infinite precision angles, use any high quality brush, great balance, comfort grip) allow you to easily, accurately and fluidly paint high and hard to reach areas on and off an extension pole.
WHY YOU MUST HAVE THE MINI ROLLER FLEX:
The uniqueness of the Mini Roller Flex is absolute; no other tool exists to compete with the Mini Roller Flex. While it performs high and hard to reach painting identically to the Brush Flex in roller fashion, it's most powerful benefit is not immediately apparent. Instantly bend to a hook position and roll horizontally any surfaces above eye level (i.e. ; gutters, rafters, rafter tails, beams, trim, soffits, pipes, etc..) so much faster you'll be amazed. And here's the kicker- you will do this without a ladder.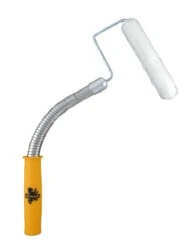 The concept is simple but the results are astounding. Except for the Mini Roller Flex all roller frames sold and in use today have but one angle; straight. To paint the many angles of the surfaces on a painting project the user must first get their body to the paint surface then conform their body to the angles of painting. Let the Mini Roller Flex do this for you. It not only adjusts to infinite, compound angles, but bends instantly allowing for fast, fluid and precise application of paint while standing safely on the ground.
With the current painting tool selection dominated by barely differing, flimsy plastic paint applicators, these ruggedly built tools are the only, nearly indestructible, distinctively new concept tools available today.  And they look the part! Their construction is primarily of steel (much of it stainless), aluminum and high impact ABS plastic. Brush Flex and Mini Roller Flex will boost your productivity with some "British Steel" of solid quality, professionalism and cutting edge dynamics. Just Bend and Go!
Available at ACE Hardware and online at Amazon.com.