LaGesse Products introduces the LaSquare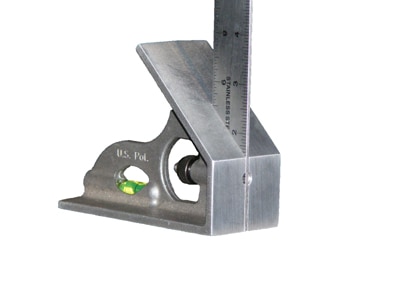 "Wider is Better" with LaGesse Products new combination square.
The LaSquare from LaGesse Products is a combination square on an extra-wide 2″ aluminum base that can be used on odd-shaped materials including crown molding, wooden posts, rounded objects and more. The LaSquare can give true line accuracy on multiple contact points. It has a built-in level, a fully hardened and tempered stainless steel blade and a satin chrome finish with precisely etched graduation marks in 1/8″, 1/16″, 1/32″ and 1/64″ increments, which are black filled for readability. The LaSquare combination square head and miter head is 5″ long x 2″ wide x 4″ high, with a 90˚ square face and a 45˚ miter face. The base model comes with a standard 12″ long blade (1″ wide and 3/32″ thick), while other blade options include 12″, 18″ or 24″ precision ground machinist blades (width and thicknesses are the same). LaGesse Products' LaSquare is a patented design made entirely in the U.S. Pricing starts at $32.95 and goes up to $92.95, depending on blade options.
The LaSquare is ONLY available online at lagesseproducts.com
Please "Like" us on Facebook and "Follow" us on Twitter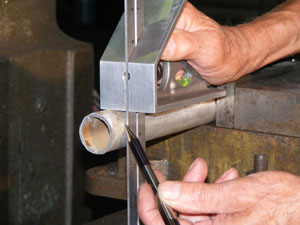 "The LaSquare is a very nicely made tool that brings a substantial stability to layout and marking. The materials and craftsmanship are first rate throughout both of which promise a very long useful life."
Tom H. "New Metal Worker.com"
"I have worked with the LaSquare for over 9 months now and never had a single flaw with it. The durability is extremely amazing unlike many of the other squares on the market. What was taking valuable time to lay out hand rail pipe has now been cut in half because I don't have to try and fight the small base of a normal square on trying to keep it square on the pipe."
Garret H. – Metal Fabricator
"Great job… the workers needed this and it's made by Americans IN America, which to me is the BEST part! I wished I had invented it!"
Jimmy R., Jacksonville, FL
"Well, the LaSquare works as advertised. It really showed it's stuff when we marked out the cuts on 2″ PVC during a plumbing project."
Doug M., Tool-Snob.com
---