What deck is complete without a beautiful railing enclosing the deck area? Most all wood railings, however, often close out the view from the deck, making beautiful yards and scenery disappear.
The DeckWise® WiseRailTM Cable Railing System is an elegant finishing touch creating an upscale modern railing that will never obstruct your view. WiseRailTM systems are sold in pre-packaged kits ranging from 5 ft. in length to 50 ft. Each of 4 series of kits will install multiple cable runs according to your deck's needs; from straight runs to stairs and pitches.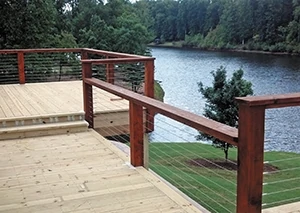 Railing kits are made from 316 grade stainless steel and contain pre-cut 1/8" cable, and attachment fittings with either hidden or external terminals. Rail kits are swage systems and do not require any type of field swaging tools.
The corrosion resistant 316 grade stainless steel cables are tough enough to withstand outdoor conditions yet are sleek and slender to allow beautiful, unobstructed views from your deck. DeckWise® also offers a range of cable railing tools and accessories to help professional deck builders and DIY homeowners complete their deck building project.
For more information visit www.deckwise.com.