Bosch Power Tools introduced tradesmen to this new rotary hammer at the recent World of Concrete tradeshow in Las Vegas. The PROFACTOR 18V SDS-max® 1-5/8-inch Rotary Hammer (GBH18V-40C) was an instant fan favorite. Engineered to break concrete, the new rotary hammer offers superior performance for tough concrete work. Powered by the CORE18V 8 Ah or 12 Ah batteries, this hammer outperforms its corded counterpart, the Bosch 11264EVS. The new GBH18V-40C improves on its predecessor with a portable cordless design that brings hard-hitting power to the jobsite. With features like KickBack Control and an Anti-Vibration System, the hammer also offers workers confidence and improved comfort when working in concrete.
Tradesmen at the show have already responded enthusiastically to the new rotary hammer, testing its capabilities on real-world demo applications in the Bosch booth. Tradeshow attendee, Construction Program Manager, Marcus Hobbs, noted "I own many Bosch corded hammers. Seeing it in cordless is awesome. It's always been hard for me to trust a cordless hammer that can handle my day-to-day. I can tell this is the real deal."
"There's no better place to debut this new rotary hammer into our lineup than at World of Concrete. With 6.7ft.-lbs of impact energy, this tool makes the hard work of chiseling and drilling easier, all in a cordless 18V solution." said Mike Tsiolis, Lead Product Manager for Bosch Power Tools. "By connecting to the free Bosch Toolbox App, the rotary hammer can provide real-time feedback on the tool's battery charge and temperature, while allowing each user to customize the rotary hammer's features using the app. The tool's heavy duty cordless power and digital enhancements make the PROFACTOR™18V 1-5/8-inch Rotary Hammer the new "go-to" hammer for concrete applications."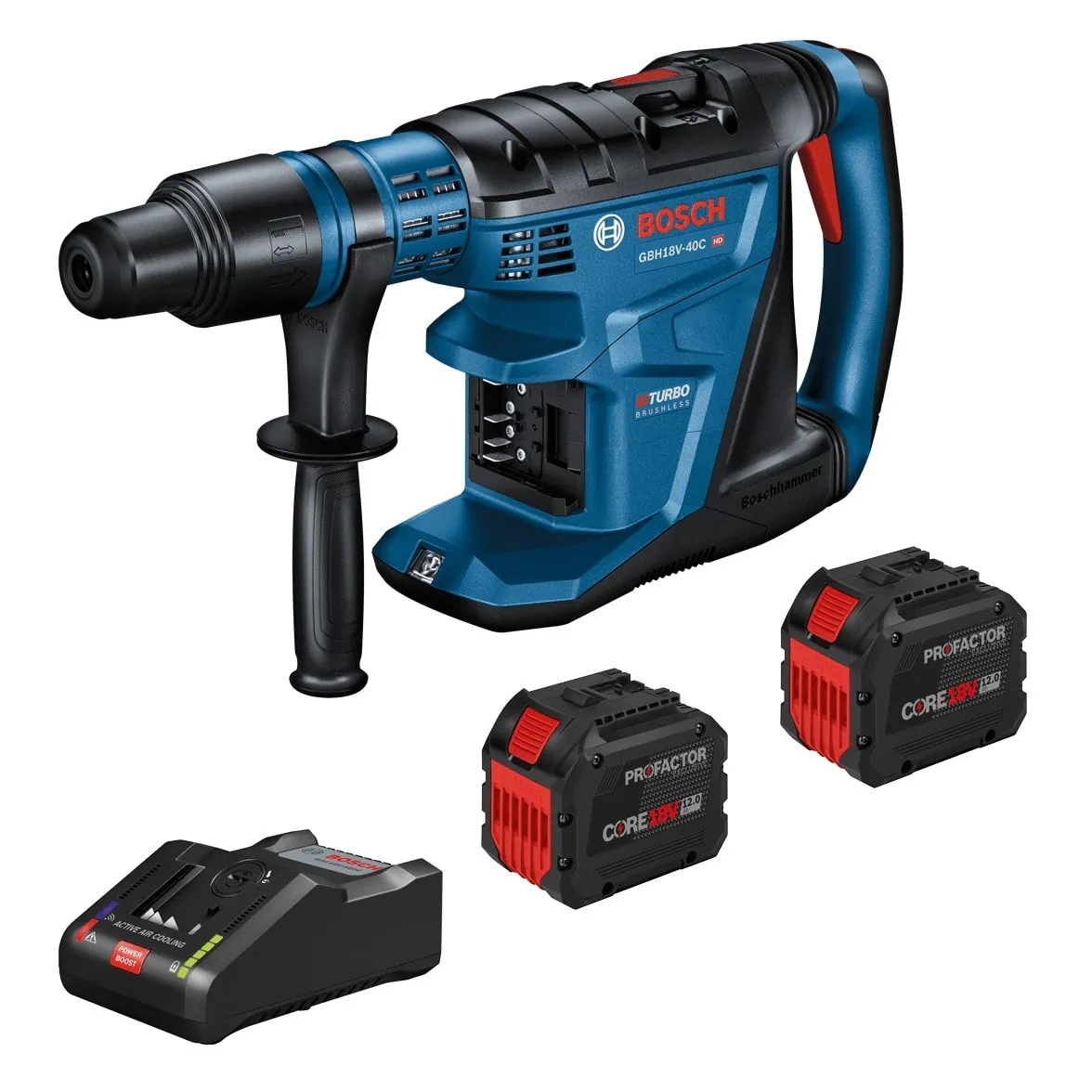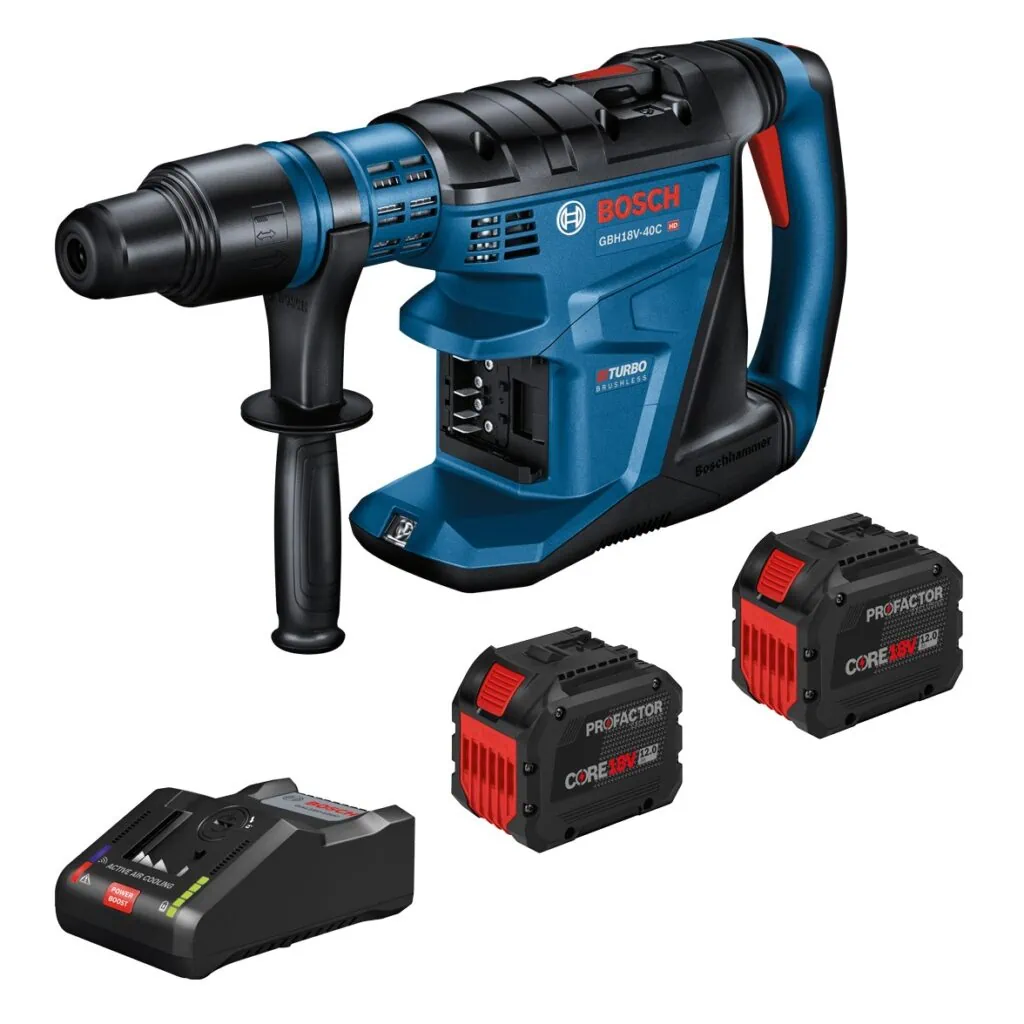 Tool Features and Benefits
Corded Power, Cordless Design: Delivers corded hammer performance with 6.7 Ft.-Lbs. of impact energy (EPTA) powered by a single 18V CORE18V 8 Ah or 12Ah battery making concrete work easier.
KickBack Control: Reduces the risk of sudden tool reactions in binding conditions.
Soft Start and Controlled RPM: Adjusts the tool rpm and bpm for more controlled drilling and chiseling applications when working with softer materials like brick and tile.
Anti-Vibration System: Helps to reduce tool vibration due to the longer air cushion built into the hammer tube and dampeners added in the handle.
Lock-On/Lock-Off Button: Keeps the tool running when locked on (hammer mode only) and helps prevent accidental activation of the tool trigger when locked off.
Specifications
The PROFACTOR™ 18V Connected-Ready SDS-max® 1-5/8-inch Rotary Hammer's (GBH18V-40C) specifications include: 
Voltage Rating:18V
Hammer Size: 1-5/8-inch SDS-max®
Impact Energy: 6.7 ft.-lbs. (EPTA)
RPM/BPM: 0-500/0-2,900
Length: 18.1-inch
Weight (Bare Tool /w/ Battery): 15.4 lbs./18.4 lbs.
Battery Recommendation: GBA18V80 or GBA18V120
The bare GBH18V-40C tool and a kitted set are available for purchase. The GBH18V-40CK27 kit includes the rotary hammer, two GBA18V120 CORE18V 12 Ah PROFACTOR™ Exclusive Batteries, a GAL18V-160C 18V 16 Amp Turbo Charger, an auxiliary handle, and a carrying case.
For more information, call toll-free 877-BOSCH-99 (877-267-2499) or visit www.boschtools.com or connect with Bosch Power Tools on Facebook and Instagram.