The Problem Solving Caulk – unsurpassed in performance for Windows, Doors, Siding & Molding!
Big Stretch® – Won't Crack..It Just Stretches.  Simply put, Big Stretch® is the BEST caulking on the market. Others have tried to copy the epic performance of Big Stretch® and they just can't do it.  Stop caulking every year!  Don't worry about cracked caulking or ugly caulking.  Big Stretch is here to save the day.
Homes move. Window frames pull away from the siding or doors shift against the brick. They move when the temperature changes, the rain falls, the wind blows or the earth quakes. Most caulks can't take it – they dry hard and crack. That's why you need Big Stretch® high performance water-based sealant.  Its powerful adhesion and extreme elasticity will stick, twist, bend, compress, and stretch – more than 500% of original size! – to handle most any movement your home can dish out, all without cracking.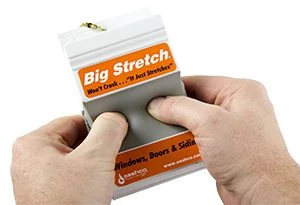 It's not just the stretch you need, it's the whole performance package.  Sticking to a wide variety of substrates such as wood and metal, plastic and brick, PVC and vinyl.  Crown molding and baseboard trim – this is the only caulking you should use for those applications.  Big Stretch® is so incredible, it can span a gap up to 2" wide.
Surfaces must be completely dry and should be kept free of water for at least 24-48 hours post-application.  If using on exterior applications, be sure the weather is 40° F and rising, and keep the freshly applied sealant from freezing during the first 48 hours.  It takes about 4 hours, depending on humidity and temperature, to skin over.

Big Stretch® is paintable; it comes in 12 colors and clear.  It has a unique stop-flow plunger that prevents the caulking from flowing when you stop pressing the trigger on the caulking gun.  Big Stretch® cleans-up easily with water and is easy on the environment.
Repairs in just 5 easy steps:
Ensure the surface is clean, dry, free of oil, dirt, dust and debris. Remove old silicone caulk completely (it's recommended to use a silicone caulk remover.)
For cracks deeper than ½", use FillerRope™ or a bond breaker, to avoid filling the entire crack full of caulking.
Cut the tip of the caulking nozzle, at an angle, to the desired bead size.
Put the caulking tube into a caulking gun, and gun Big Stretch® into the crack. For larger cracks, layer the caulking into the crack.
Press the caulking against the sides of the crack with a beading tool, putty knife, or your finger.
Big Stretch® is permanent, for long-lasting repairs.   Caulk with Confidence and know that your job will look great, year after year.  Big Stretch® – won't crack…it just stretches.