Prep, layout, installation and finishing tips for tongue and groove floors.
Installing tongue-and-groove floors—engineered, pre-finished or bare wood—is among the most popular DIY projects, and for good reason. You don't need a truck load of tools to do a good job installing them and once you get the hang of it, you can work like a pro. And, whether you're a seasoned home improver remodeling every inch of your house or doing a weekend upfit on a single room, the prep, installation and finishing techniques are largely the same.

On a large project, the first thing to know about installing tongue-and-groove flooring is that installing the boards should be the last thing you do. I like to install them after all the windows and doors have been set, and the room has been trimmed and painted. That way no painter can spill a 5-gallon bucket of latex paint between the joints (the thought of that just makes me shiver), and it isn't caked with mud from drywallers, plumbers and electricians spilling and trundling all over the place, which makes the sanding job tougher later. Finally, putting the floors in last means installing the material in a known and comparatively consistent level of heat and humidity. So later on, when the house eventually does reach its equilibrium point (i.e. doors and windows aren't open 10 hours a day and the interior space is appropriately conditioned), the floor you install won't cup or gap.
On a weekend-type project, the chaos you have to deal with is different, but still important, and usually has to do with the fact that everything in the room must be removed and stored out of the way. Just preparing for a weekend project is a weekend project in its own right.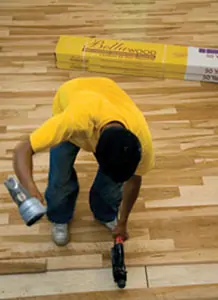 Preparation
Empty the Space — Bottom line: The room you're about to work on must be empty—floor to ceiling—if you're installing unfinished wood floors. The floor must be empty no matter what material you're installing. Of course, the floor space must be void of stuff for obvious reasons. However, shelves, pictures, knick-knacks, etc., should go too, because of the dust from cutting and sanding the new floor.
You also need to plan access to the room and to the other areas of your house. Once the floor is down, have a plan in place so that you and your family have a place to be while the various finish layers dry. Many people avoid this, me included on several projects, by purchasing engineered or pre-finished floors. The last thing you have to empty out is the dust and dirt from the sub-floor. Suck it up with a shop vacuum.
Underlayment — Installing wood floors directly to the sub-floor without a barrier in between is an invitation for squeaks. A great bond break is red rosin paper, which comes in rolls 100 feet long and 3 feet wide. Roll it out over the entire sub-floor. Overlap layers about 4 inches and secure with blue painter's tape.
You can also use asphalt impregnated (tar) paper. Asphalt paper is suitable where moisture beneath the floor might be an issue, for example if you're installing wood floors on the first floor of a house above its humid or wet basement or directly over a concrete slab. Use a hammer tacker or staple gun to secure the material to the sub-floor.
Back Priming — In locations where the floor might be exposed to moisture from its finished side, like a kitchen or bath, treat the backs of each board by brushing or rolling on one coat of urethane. This seals the material and enables it to dry uniformly which helps keep joints from opening up. Be careful to chase drips so they don't interfere with installation later when they dry and harden.
Trim Prep — If your flooring project will be installed after you re-trim the space, make sure to hold up your baseboard and door jamb legs the thickness of your floor, usually 3/4 inch. The best gauge you can use is a block from the floor you're about to install. If you're installing the floor in an existing space and don't plan to remove the base trim, be aware the base will look smaller and probably silly with the new floor butting into it. Consider replacing it before installing the new floor. And, no matter what decision you make for base trim, you'll have to install shoe molding to transition between the floor surface and the vertical face of the base trim.
Tools
Nailing — In the old days, carpenters used small hard-cut nails to hand-nail their floors. They'd drive the nails through the tongue of each board into the joist below. Today, we use flooring nailers that drive either cleats or staples. These nailers can either be manual or pneumatic (manuals drive cleats only; pneumatics drive staples or cleats), and both can be rented for the day or weekend at a very reasonable price. Check with your flooring supplier which fastener is best for your floor.
It's also helpful to have a finish nailer. Since you can't get the larger flooring nailer much closer than 6-inches to the wall—and swing the mallet to drive the fastener—you'll have to face-nail the first and last couple of courses of wood, depending on what width material you use. Popping finish nails into the face of the starting and end-wall boards makes quick work of nailing. Finish nailers are also ideal for fastening the shoe molding. If you hand-nail the face boards, pre-drill them first for hardwoods and at the ends of softwood planks.
Cutting — Clean, accurate and quick cuts are vital for installing floors fast and right, and a good miter saw is the right tool for the job. For many flooring jobs, I bring a 10-inch chop box right into the room and make my cuts there both for the floor and the shoe molding that covers the edges.
Chances are you'll have to rip the last piece to fit, and a table saw is ideal. Although, you can use a circular saw too, since the rough edge of the last piece will be covered with shoe molding.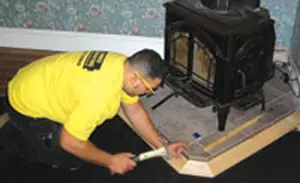 Side Note 1
On the Threshold
On most flooring installs, transitioning between rooms and flooring types can be a real brainteaser. The key is creating good thresholds. For many engineered flooring types the manufacturer makes threshold material, but I've found making my own is the only dependable way to make the jump. Each floor is different, but before you leave the home center, make sure you have a couple of pieces of 1-by-6 of the same wood species as your floor. Once your floor is down, you can lay out and create a custom-made threshold to jump or sink to that existing tile or laminate floor surface. A little skill with a table saw will help you tune-in the piece. I also bevel leading edges whenever possible because feet like smooth transitions. Whenever beveling, make sure to leave enough on the leading edge—at least 1/4 inch—so the material lays flat. This takes time, and you'll find yourself saying "the devil is in the details," but it is worth the effort. Remember, you'll be walking on this floor for a long time, so you want it to be primo.
Layout
Layout is where it's at. It always is, whether you're talking about your life or a carpentry project. Here are some tips for flooring layout that'll get you a floor you can be proud of.
Step 1. Floor planks should be installed perpendicular to the joists, so determine the joist direction before beginning installation.
Step 2. Measure the distance from the baseboard (or drywall) of the far wall from which you plan to start laying the boards—on each end of the room. If the distances are the same, the room is square and you can butt your first board against the drywall and go to town. If this is the case, put some 1/4-inch stock against the drywall to create a gap between the drywall and the floor. It gives the floor system room to expand.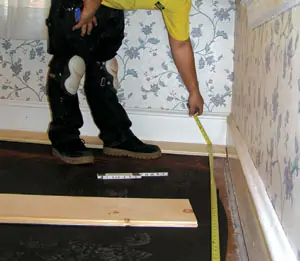 If the measurements in each corner are not the same, you must create a straight line from which to start, a control point. I do this by measuring from the far wall to where the front—or tongue—should be, relative to the starter wall. Use a long, straight piece of flooring material as a gauge to show where the front should lay. Adjust its position along the starter wall until the measurements are the same in each corner of the room. Remember, because you might be able to tuck the starter board under base molding or shoe molding, this is the place to make adjustments. Just don't create a gap larger than the trim can cover by at least 1/4 inch. The key is to create a line parallel (within a 1/8 to 1/4 inch is fine) to the end wall. Once you have it, snap lines.
Why go to all this effort for the first board? So that when you get to the last board, you won't have to finagle some silly looking pie-shaped board in to fit against the end wall. This is measuring time well spent. Time spent measuring—and thinking—is almost always time well spent.
Step 3. Face-nail the first boards in place on the chalk line, then have at it for the rest of the field. Make sure, as you go, that no joints line up between courses. I like to keep them at least 6 inches apart.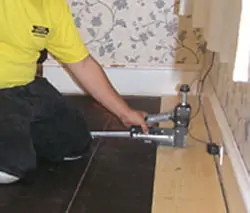 Side Note 2

Lumber Liquidators Floor Prep and Installation Tips
Lumber Liquidators, one of the nation's largest flooring suppliers, offers some proven tips. Abraham Diaz, Lumber Liquidators' regional manager for the State of Florida, chimes in on what works and why:
Preparation
Dealing with Moisture From Below: If you're installing a wood floor directly over a concrete slab or humid basement space, managing that moisture is vital. For slabs, Diaz recommends using a moisture meter to get a moisture reading, which might mean calling in a pro to coat the slab properly if the moisture reading is very high. However, in many applications, you can install 15-pound asphalt paper and 6-mil plastic over the entire floor, then cover that with 3/4-inch plywood subfloor. This means you cannot use glue (see below.)

Dealing with Moisture From Above: "You can't open a magazine these days and not see a wood floor in a kitchen or bath," says Liquidators' Diaz, but you have to expect those floors to perform differently than if installed in a living room. This is because water will likely get under the boards over time and possibly cause cupping. The best defense is to manage your own expectations of floor performance, use mats in the really wet areas and clean up spills quickly.
Installation
Nailing: Diaz recommends using a pneumatic flooring nailer for installation. The pneumatic tool provides consistent power to countersink fasteners, enough momentum to draw boards together, and the speed to get the job done quicker than with manual flooring nailers. Manual flooring nailers will work, but are tougher and slower to use.

Fastener Type: You can nail down a floor using either cleat nails or staples. Diaz thinks staples have better holding power.

Top Nailing: Top nailing is an option with wide plank hardwood or pine floors. Top nailing with hard-cut iron nails—in addition to using the flooring stapler—can give you that formal farmhouse kind of look. Or, you can use screws and plugs as an alternative. Diaz also suggests gluing and top-nailing on wide plank floors as a belt-and-suspenders approach to making the floor last. The peace of mind it'll provide is worth the little extra time and money it'll cost.
Finishing
While you can use polyurethane (oil-based) or water-based finishes for raw wood, there's no doubt in Diaz's mind which he goes to. For water-based finishes, he says, dry times are cut from 24-72 hours to 1-2 hours. They don't cause the floor to amber, leaving it looking as natural as possible.
He suggests a semi-gloss or satin finish rather than a high gloss, because the higher the gloss, the quicker traffic marks start to show up (or scratches, if you have a dog). He suggests Traffic by Bona-Kemi as a good finish product, and says raw wood must be sealed first, and then finished with three coats of finish.
Sanding & Finishing
You have to sand unfinished floors to smooth everything out. Saying this is a dusty job is like calling a tornado a gentle zephyr. You can rent sanding equipment and do the work yourself, but this is a project that is worth paying someone else to do, if that's in your budget. First, their sanders are more powerful. Pros hardwire their machines to a 220 line in your breaker box. The machines you rent generally run on 110 from a standard wall socket, and it shows when it comes to removing heavy stock quickly. And, the last thing I'm afraid of is hard work, but sanding floors is bone-crushing labor, especially for really chopped-up spaces and stairs. The pros know the tricks to make it go smoothly and they'll be able to finish it lickety-split.
Whichever way you go, however, (and the way I go is to a reliable source like Lumber Liquidators, where I source the floor and the pros to finish it), you should manage the dust. Job 1: Seal openings and doorways with plastic drop cloths and tape. Job 2: If you do a lot of home renovation, this is an eminently handy tool—get an air cleaner. They're terrific dust eaters. If you don't do this, at least stick a box fan in an open window with a furnace filter over it and create a current of air that'll suck some of the dust outside.
The last step is to be proud of the work you've done. There is nothing like a new floor, because once it's in, that usually means you're done building and ready for enjoying. As my daughter loves to tell me: That's the point.
Side Note 3

To Finish or Not To Finish…
. . . that is the question. The answer lies in both aesthetics and practicality. Unfinished material is cheaper to purchase but costs money, time and effort to sand and apply urethane. However, once that effort is exerted, the floor is one flat, even and durable plane.
But, pre-finished floors, whether engineered material or solid hardwood, have some serious benefits that are worth considering. First, the installed cost of solid, pre-finished hardwood rivals the installed cost of bare hardwood. What you gain is this: no time, effort or expense spent finishing and a flooring surface that you can refinish later, plus a bulletproof, factory-applied finish that'll stand up to nearly anything. The trade-off is a bevel between each floor board. To me, it's a nice detail that gives the floor texture, but others may have a different opinion.
For engineered stock (OSB, plywood, or another material with a solid wood veneer) you get a flush surface, but usually cannot re-sand the floor. The finishes are nearly bulletproof, but the floor thicknesses are thin and often require innovative thinking at transition points to other rooms.
Editor's Note: Mark Clement is the author of The Carpenter's Notebook and Kid's Carpenter's Workbook, Fun Family Projects! Find out more at www.TheCarpentersNotebook.com.