If you want a pro-quality paint job, you should work like the pros do. And professional painters know the importance of preparing a jobsite to avoid messes. Whereas a DIY'er might throw down a flimsy plastic sheet to protect the floor, a professional paint crew will make use of wall-to-wall floor coverings and masking products that take job protection to the next level.
MASKING
Rather than simply draping a sheet over something to protect it, the best practice is to seal the edges to prevent dust, debris or paint from getting where you don't want it. Trimaco's Easy Mask Tape & Drape Pre-taped Masking Film can protect areas where you want to catch drips and overspray. Tape is pre-applied along one edge of a high-density masking film, and a special coating helps it cling to the protected surface– even in windy conditions or with spray applicators.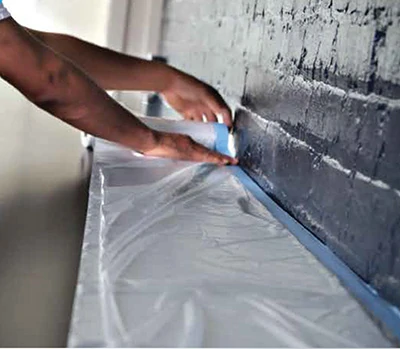 DROP CLOTHS
Traditional canvas drop cloths are available in multiple ounce weights and sizes, from lightweight 6-oz. drops to heavy-duty 12-oz. drops. All Trimaco drop cloths are full piece, with no remnants or scraps, to protect surfaces during painting, staining, wallpapering and more. They're washable and reusable, and the weight of the canvas helps to keep them in place better than lightweight plastic drop cloths. DIY'ers can even use canvas drop cloths for slip covers and window coverings.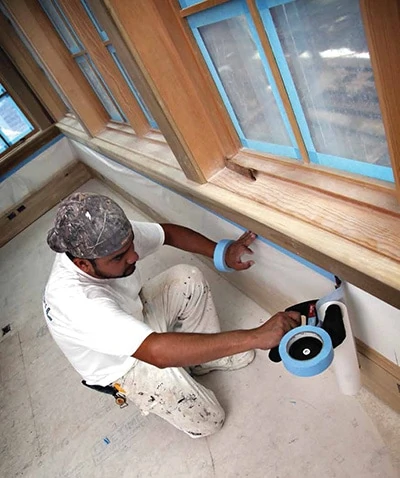 Trimaco also has the Stay Put canvas drop cloth, which is 300-percent more slip resistant than 8-oz. canvas, so it stays beneath your feet. The drop consists of two layers—absorbent canvas and a durable non-slip backing. Use the canvas side up to keep tracking to a minimum.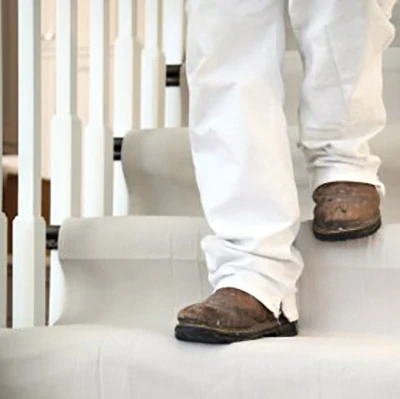 The company also sells vinyl, butyl, polypropylene and plastic drop cloths for a variety of jobs.
A Quick Drop folding mat is easy to handle and maneuver for smaller, targeted jobs. Pleated for easy folding memory, simply drop it, kick into place and start painting. Made of coated fabric, Quick Drop is absorbent and leak-resistant to paints, stains, solvents and more.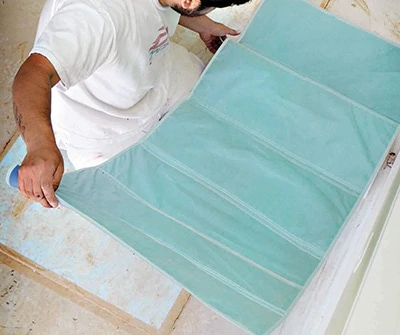 Perfect for touchups and punch lists, this durable drop cloth fits in hard-to-reach spaces and works great on countertops, carpet, hardwoods, vinyl and tile floors. Use time and time again, simply folding in between jobs for easy storage.
DUST CONTAINMENT
Home remodeling generates a lot of dust, and you want to keep it as contained as possible. Trimaco's collection of dust-containment products will protect against all kinds of dust, including airborne dust, combustible dust, silica dust and more.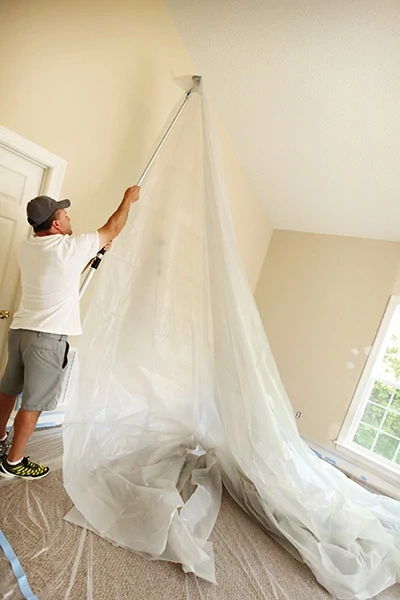 The E-Z Up Dust Containment Pole works with plastic sheeting to create a floor-to-ceiling dust barrier on the jobsite. The steel pole adjusts to a maximum height of 12 feet. Simply clip the sheet onto the quick clip and adjust the pole to ceiling height with the twist-lock technology. The unique bottom spring ensures a snug fit.
You can also create an instant doorway in and out of the work space. The Trimaco EZ Up Peel + Stick Zipper creates an instant door on tarps, plastic coverings and shrink wraps. It provides instant resealable access within plastic sheeting, tarps and poly or vinyl fabrics. Plus, the zipper is double sided for easy operation from either side.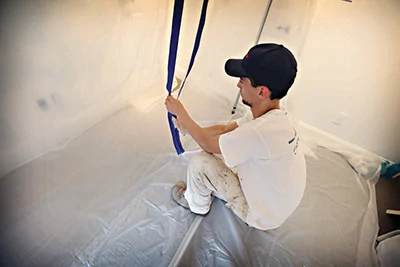 DIY Tip: To mitigate the dust that does make it into the air inside your home, arrange a box fan in an open window to create a draft that helps expel airborne dust out of the living space.
To learn more about these paintprep products and explore a wide variety of professional equipment, visit trimaco.com.