After many years of service, the Hayward pool pump at dad's has succumbed to old age and arthritic bearings.  I returned from Chicago and when I checked on Mom's pool, the green had returned and a large snapping turtle had taken up residence.  Memories from the childhood television show The Beverly Hillbillies and the concrete pond were all I could think about.
The first signs of pending failure were the numerous overheating issues, tripping the overheat circuit and the pump cycling off and on.  Next came the difficulties starting the pump, the capacitor and relays would work but the pump would make several attempts to start before it would remain on. The article lead photo of  the pump shot with a Fluke Thermographic unit. Here is another shot of a typical electrical motor, notice the prevalence of red on the pool pump motor versus the red on the industrial motor. The pool motor is a solid red indicating very hot operation.
So I made some phone calls and found a replacement motor/pump similar to what was installed many years ago.  So after I leave the office I will be picking up the pump and the appropriate PVC pipe and fittings and headed over to mom's to replace the swimming pool pump.  I don't know about you, but I look at the warranty and how long the previous parts lasted to see how old I will be before this project has to be redone.  If I get more than five years I will be satisfied, more than 10 I will be happy and if the new pool pump last longer than the unit I am replacing, I will probably be found in a nursing home.
Swimming pool pump replacement should not be a difficult job, but I will try and make some pictures that illustrate the process and post them. We have found less swimming pool articles online than we expected, so we will add some articles and posts related to pools since we have been told there are millions of pools in the U.S. And if you are interested in snapping turtle relocation let me know, I have one for you.
For more posts on swimming pools check out our pool opening series, adding flocculate, opening a swimming pool step-by-step,
Additional Image of Swimming Pool Pump taken with a Fluke TI-32 Thermal Camera at moment of failure with explanations of image color coding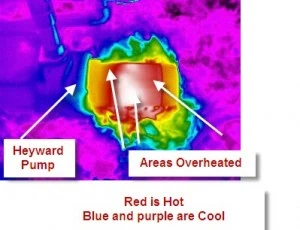 You can see in the image the PVC piping to the left, and notice how it shows as cold due to the water temperature being somewhat cooler than the air temperature and more than a hundred degrees cooler than the motor housing where the image is white.