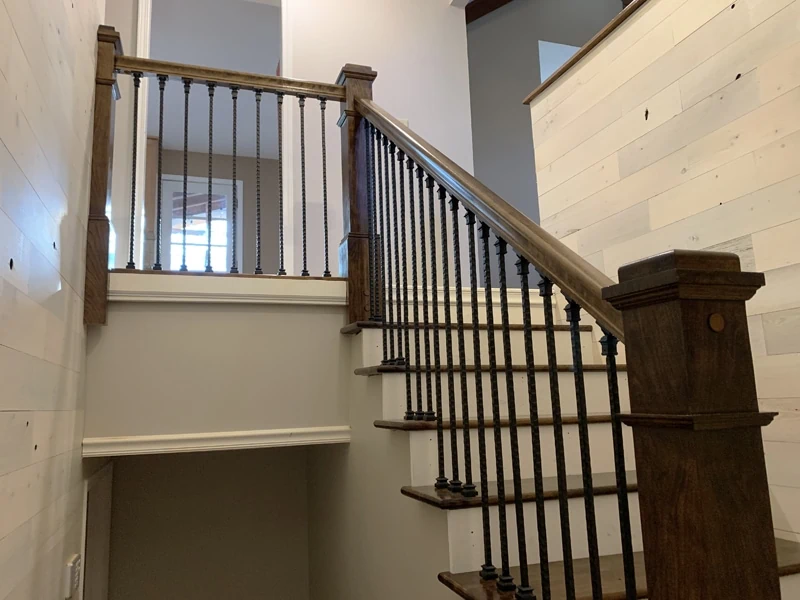 Installing a stair guardrail can be a challenging undertaking. The project is more complicated than tread or riser removal, because you're dealing with precise angles rather than square cuts. The rail system must be securely supported by newels that are solidly fastened to the framing of the floor or wall. The rail must also adhere to strict code guidelines mean to ensure people's safety.
If you plan to tackle this project as a DIY'er, I can't recommend strongly enough the need to carefully plan every aspect of the project before you order supplies. The stair rail shown in this project appears courtesy of L.J. Smith Stair Systems, which provides detailed step-by-step instructions for installing the the components. The company also provides a handy checklist to make sure you include all the necessary supplies and fasteners.
Check with your stair parts supplier for any special tools or accessories that will make the project go smoother. For example, to make installation of the stair balusters easier, we used L.J. Smith's IronPro system. The IronPro system eliminates the need to to drill angled holes into a rail to mount the balusters. Instead, the system allows you to screw on adjustable, pivoting collars that house the tops and bottoms of iron balusters. This system reduces the likelihood or error and installs much quicker than typical installation methods—highly recommended for a DIY'er.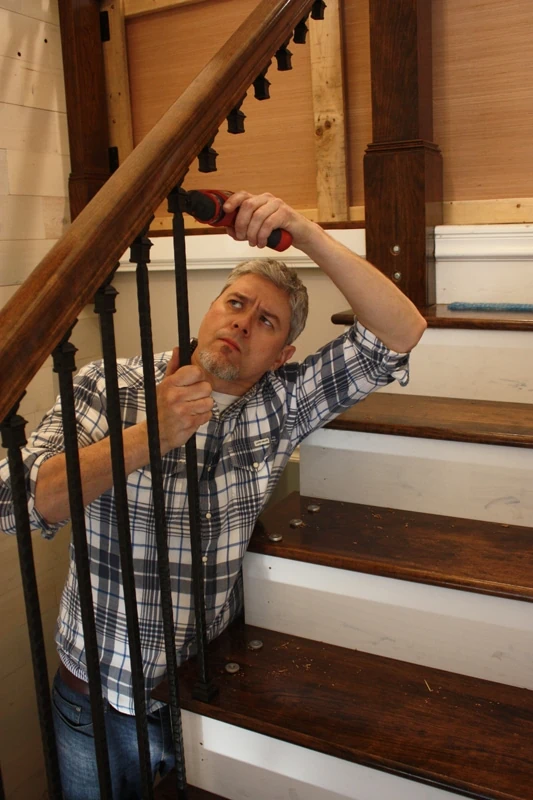 When planning your handrail, give a call to your local municipality to check the building codes in your area, which are very specific for stair construction. In my area, for example, the minimum height for a stair rail is 34 inches and the maximum height is 38 inches (measure from the tread nose plumb up to the top of the rail). The balusters must be spaced no more than 4 inches apart.
When planning for the stair rail, we found it helpful to make a diagram of the proposed rail design, complete with specific measurements, to make sure all the parts would assemble correctly on site.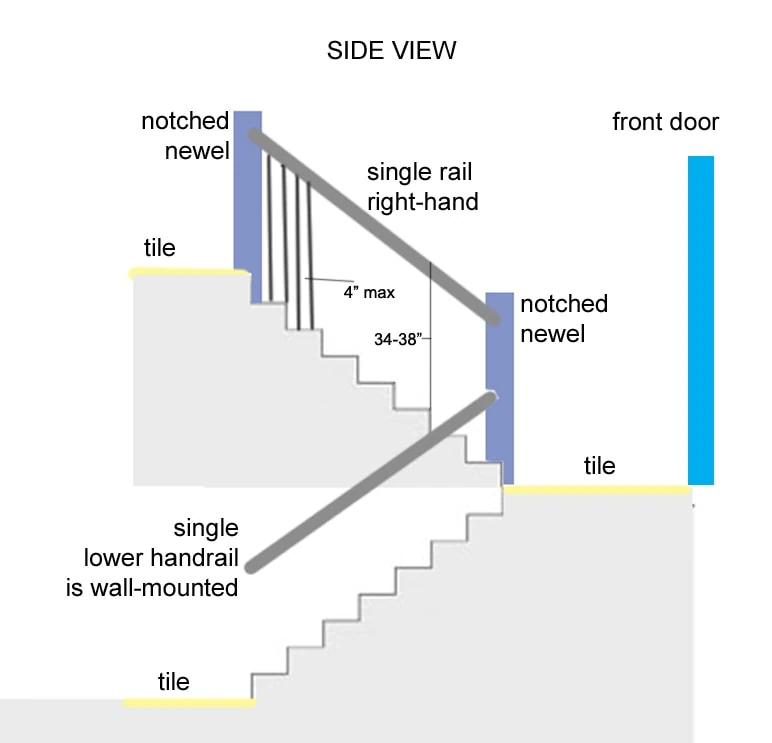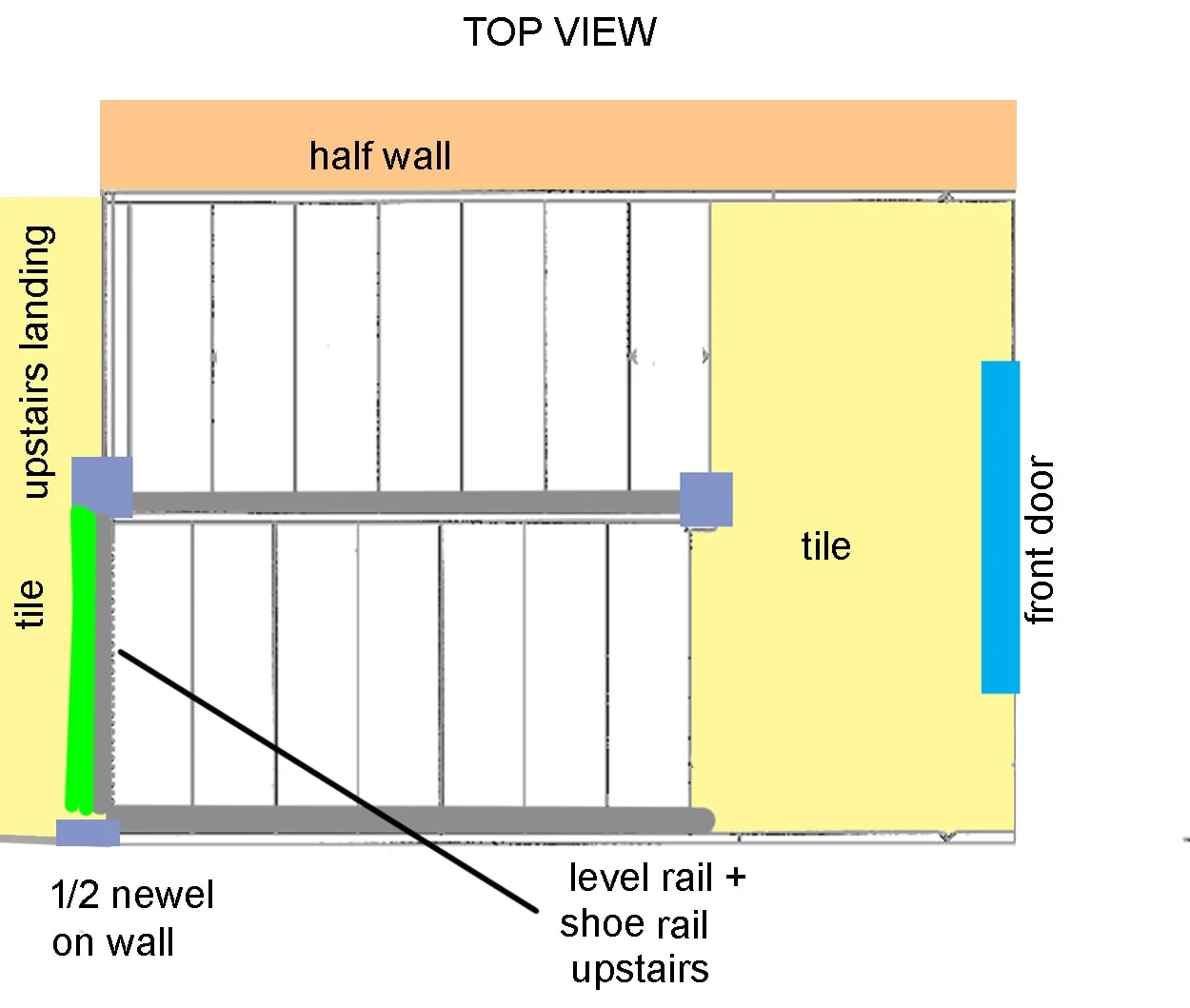 And, of course, style is major concern. Whereas our project used iron balusters, there is also the option of wood balusters that vary in shape, style and species. Newels vary in design from simple box designs to larger ornamental pieces with decorative trim. Handrails also vary in size and shape, and you want all the associated stair components to fit against each other in an attractive and proportional manner.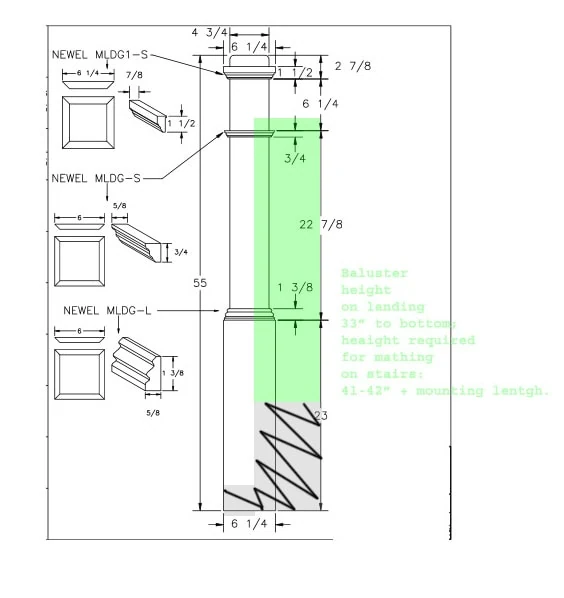 Stair rail construction is a complicated endeavor, so the best way to plan it is slowly and carefully, with attention to every site-specific detail that might affect its installation.
Stay tuned here for more updates on our stair-rail project.
-M. Weber