A good hammer will always be the first choice for driving a nail, but when it comes to firing a lot of nails for large projects, a nail gun can really speed up the process. A powered nailer can drive thousands of nails per day, accurately and consistently, sparing your arm a lot of wear and tear from all the hammer blows. But there's no such thing as a one-size-fits-all nail gun. You have to match the tool to the job, so here's a rundown on the various designs, from framing guns to staplers, and what they're used for.
Power Supply
Most nail guns are pneumatic tools that require air-compressor power. Because air nailers have no built-in motor, they're typically very reliable and durable tools and less expensive than cordless models. Plus, compressed air offers plenty of short-burst power to drive nails deep into wood. Just imagine the force required for normal hammer blows to drive a 3-inch nail into wood. That same force is released instantaneously by a framing nailer to drive that spike in a single shot. Naturally, more air means more power, so compressor capacity needs to be matched to the nail gun in question. But whether you're using small compressors for trim nailers or larger compressors for framing work, pneumatic tools offer muscle and reliability, which makes them the first choice of pros.

That's not to say there isn't something to love about a cordless nailer. Take Black and Decker's 12-volt Firestorm finish nailer. This battery-powered tool is lightweight, simple to use and conveniently requires no cord or compressor. I've used one extensively over the past year to install trim work around my house, and I love it. Although, electricity alone doesn't provide the short-burst force to drive framing nails, for a finish nailer like this, it works great. The 12-volt Firestorm drives up to 400 nails on a single charge and accepts a full range of 18-gauge nails.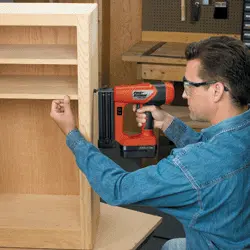 For framing applications without the hassle of hose and compressor, check into a cordless framing nailer—but be prepared to drop some serious money. Built for professional use, cordless framers save time and energy by eliminating the hassles of compressor and hose. These nail guns are powered by a combination of batteries and gas fuel rods. When the hose of the gun is pressed to the work surface, flammable gas fuel is released into the combustion chamber and a fan mixes it with air. When the trigger is pulled, a sparkplug ignites the gas mixture, creating combustion that drives the nail. Cordless framers are made by Hitachi and Paslode.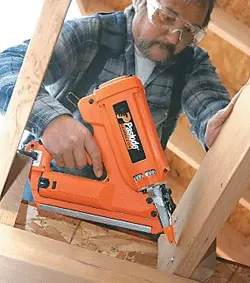 Stick vs. Coil
Stick nailers and coil nailers are the two basic models on the market today.
Stick-style nail guns are the most widely used variety, available in models ranging from small pin guns to large framers. Stick nailers require collated nails that come in rigid strips, much like ammunition magazines, which are held together with plastic, wire or paper. The strips slide into the magazine, which then feeds the nails one by one through the nose of the gun.
Coil nailers use long, flexible strips of nails joined with wires. Like a belt of ammo on a tommy gun, the strips come in rolls that are loaded into the round magazine of the gun. Used for rapid-fire professional applications like roofing and hanging building paper, as many as 300 nails can be loaded at a time.

Applications
Framing Nailers represent the heavy-duty end of the spectrum, designed for fast high-powered work fastening large pieces of material. Ideal for house framing, deck building and roof construction, framers bring time-saving productivity to large construction projects. Choose from clipped-head or round-head nails that typically range from 2 to 3-1/2 inches.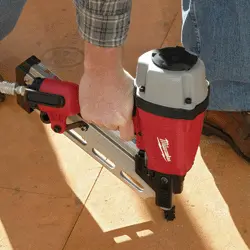 Roofing Nailers are coil-type guns designed specifically to apply roofing shingles and are typically used by the pros. But for DIY'ers who are tackling a roofing project, the right nail gun can definitely save some time.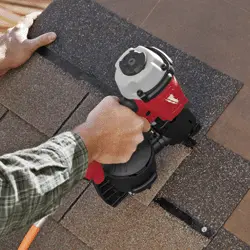 Cap Nailers are also used for professional applications, such as fastening felt-paper barriers and installing foam-board insulation. Although staplers and hammer-tackers are often used to secure felt and house wrap to dry-in new homes, this leaves thousands of staples that leave holes through which moisture can penetrate. A cap nailer is a coil-type gun that drives nails with plastic caps, which seal out moisture and have better holding power.
Finish Nailers are lighter than framers and shoot smaller gauge nails. Designed for furniture, cabinets, trim and molding, an 18-gauge finish nailer is a good mid-size model for all sorts of interior applications. Fastener size typically ranges from 3/4 to 2-1/2 inches.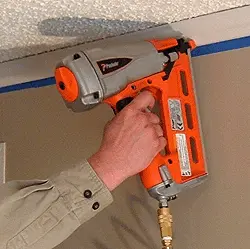 Brad Nailers are a step down in size from finish nailers and are designed for precision work, such as trim carpentry, furniture building and all sorts of woodworking applications. I recently tested the new Maxus 18-gauge brad nailer—a solid choice for the homeowner or pro. The Maxus drives up to 2-inch brads, has a quick jam-release mechanism, adjustable depth control, a non-marring tip and an oil-free tool design.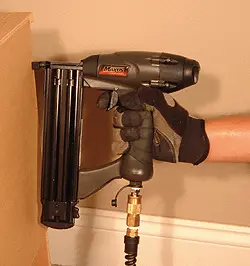 Although most brad nailers are air-powered, the Arrow Fastener Company sells an electric model, the 14-amp ET200 Nail Master, which has the power to drive brads up to 1-1/4 inch.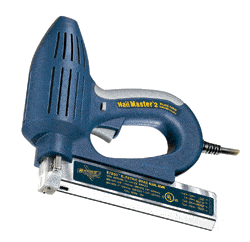 Pin Nailers are even smaller, for attaching small moldings when an 18-gauge brad nail is too large and splits the wood. Some professionals us pin nailers in lieu of clamping or taping for certain carpentry applications.
Staple Guns and Hammer-Tackers round out the light-duty end of the spectrum, although they have a ton of uses. The T50 heavy-duty staple gun from Arrow is the top seller worldwide. The T50 is a simple but sturdy manual stapler that requires no battery or air power. Staplers are often used to fasten felt and other house wraps. Need to screen in a back porch? Use a staple gun. Need to secure cable along a wall stud? Use a stapler with U-shaped fasteners to hold the wire. Similar to staplers, hammer-tackers drive staples in house-wrap applications, but instead of using a squeeze trigger they operate with a hammer-like action for rapid work.
Recently, Ryobi introduced the P301 battery-powered, 18-volt stapler. The easy-to-pull trigger and overmolded handle make this a comfortable tool for all sorts of furniture and woodworking jobs, and a depth-adjustment knob allows you to regulate staple depth for a variety of applications. The P301 stapler is easy to load, features tool-free jam removal and a low-staple viewing window.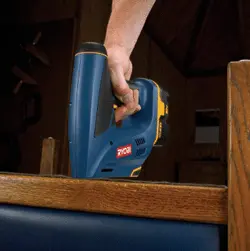 Features
Varying nail gun designs mean you can choose a baseline model or fork over more dough for some extra features. Here are a few to consider.
Adjustable Depth controls how deeply the nail is driven into the work. Some can be adjusted by hand, while others require tools. Some simply adjust at the compressor, by raising or lowering the outlet air pressure.
Jam Clearing is a nice feature because nails can sometimes get caught in the firing mechanism. The faster you can clear the jam, the faster you can return to work.
Easy-load Magazines save time and headaches. You don't want to struggle with a re-load every time you run out of nails, so test your gun before buying.
Nail-Firing Types also differ, particularly with larger guns. For example, many guns require a single trigger pull to fire one nail. However, another type allows the user to "bump fire" the nails. To do so, hold down the trigger and then bounce the nose of the gun on the work surface, driving one nail with each "bump." These rapid-fire nailers are typically used for high-production work on professional jobs.
Professional-Grade nailers come with a steeper price tag than some of the more consumer-targeted models, and that boils down to the amount of torture the tools can endure. While consumer-grade nailers can serve most homeowner needs for many years to come, professional tradesmen really push their tools to the limit. Professional-duty tools from manufacturers like Maxus, Paslode, Milwaukee Electric, Senco, Hitachi and DeWalt are designed to withstand heavy-duty everyday use, nail after nail after nail. Most homeowners don't need such a tank of nail gun, but the pros do, and that's what they're paying for.
So, consider these different models and features when buying your next nailer. Be sure to match the gun to the job, and the gun's pressure requirements to your compressor. And maintain your nailer according to its service manual. Pneumatic nailers typically require air-tool oil and occasional cleaning. Follow the maintenance guidelines, and a quality nail gun can keep popping your fasteners for years to come.
SIDE NOTE
3-Nailer Combo Kit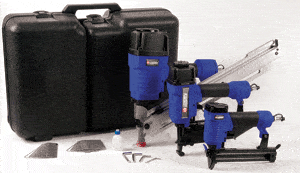 This Ultimate Nailing Kit from Campbell Hausfeld is a great buy for the DIY'er. From chair rail and crown molding to framing and deck building, these three air nailers are suited for a wide variety of home projects. The kit comes with a framing nailer, finish nailer, brad nailer, storage case, finish and
brad nails and quick connectors. The framing and finish nailers offer an adjustable exhaust, which lets you easily change the direction of the air exhaust away from your project. The quick-clear nose on the finish and brad nailers helps you quickly remove nail jams and reduce downtime. Each nailer features a non-marring tip so the gun will not dent the work surface. The kit retails for approximately $208—an excellent value for the home improvement enthusiast. For more information, visit www.chpower.com.