By Rob Robillard
Wood windowsills take a beating from Mother Nature. Although sloped by design, a windowsill is still basically a horizontal shelf where water and snow can accumulate. Once water finds its way behind trim or beneath paint and caulk, the rot process begins. Ongoing exposure to this moisture will cause the windowsill to decay and worsen over time. When caught early, often a small epoxy repair is all that is needed. But when discovered late or left unchecked, the rot will penetrate deeper into the windowsill and even the wall framing, requiring much more extensive and more expensive repair later.
Repair or Replace
The age-old debate of window replacement or window repair is a tough one to answer, but I'll explain how I try to guide my client's decision process.
I look at the repair versus the replacement question as a business approach. What makes the most sense; based on time, budget longevity, and of course hidden costs.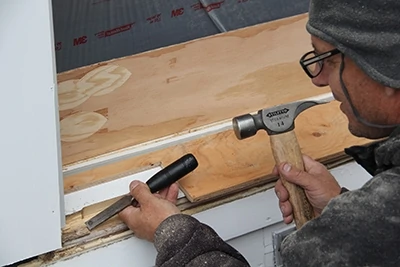 When dealing with old historic windows, often times repairing is the only option. Many times these windows are protected by a city or town's historic district commission specifying that the window details remain unchanged. Often times, replacement requires having a custom and costly window fabricated to match the style, look and dimensions of the existing old windows.
Other circumstances where repairing may be an option is on higher-end homes with large expensive units, bay windows or multiple mulled windows. Many times these windows will have high-end trim, wainscoting or faux wall finishes that would add a multitude of extra costs if the window is replaced.
I often opt for window replacement when the cost of the window, any interior work relating to the replacement and my replacement labor are equal to or less than the time I'd spend performing a quality repair. I often see this as a realistic option on more modern homes when dealing with stand-alone window units and simple interior finishes and trim.
Replaceable Sill Nosing
Sometimes a windowsill has rot on the outer nosing only. Many newer windows actually have removable nosing that can easily be duplicated and replaced with Western Red Cedar, Mahogany or PVC. Others are designed as one piece and need to be cut away and patched.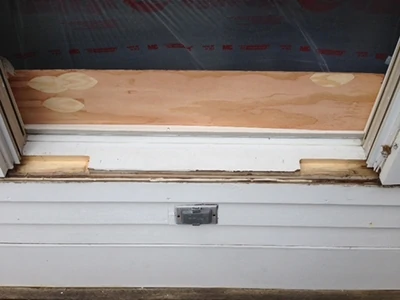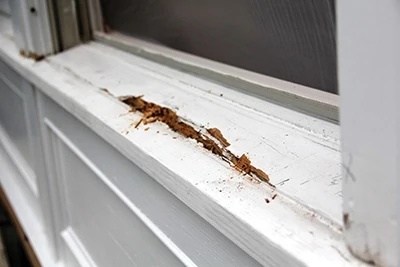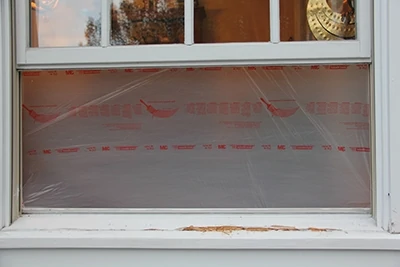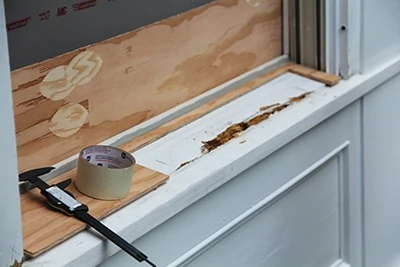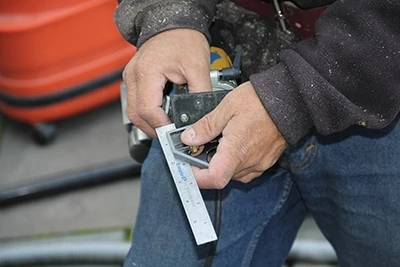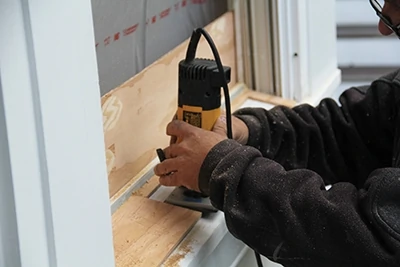 Installing a Dutchman Patch
Dutchman patches are known primarily in carpentry, furniture-making and masonry. A Dutchman is a piece of wood or stone that is used to repair a larger piece, shaped so that it fills a void. In our case we cut the void and patched it with new wood—a Dutchman patch.
If windowsill rot is confined to just a small area, a simple patch and fill is all that is needed. For larger sections of damage, most or all the windowsill may need to be removed and replaced.
When performing a Dutchman repair we like to use Western red cedar or Mahogany for the patch. Both wood species have inherent insect- and rot-resistant qualities.
Use a Router to Cut Out Rot
We use a compact router and guide to cut our Dutchman patch because using anything else does not provide a straight enough line for a tight glue joint.
A router kicks up a lot of saw-dust, so sealing off the window is a must.
Dust Prevention
Prior to cutting out the rot you will need to take precautions to keep sawdust from entering the house. We use a product called Tape & Drape, a pre-taped masking film that unfolds to cover and protect various surfaces while painting.
We then use painter's tape to completely seal off the sides of the plastic, on the inside of the window, and then raise the lower sash to provide access to cut the sill with a router. This process ensures a dust-free house interior.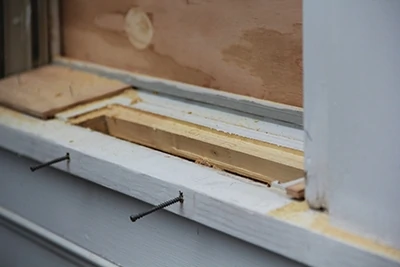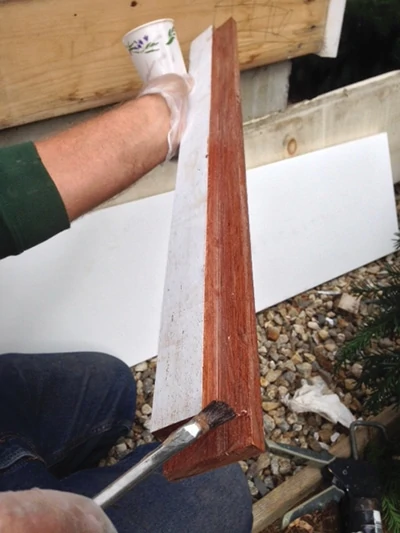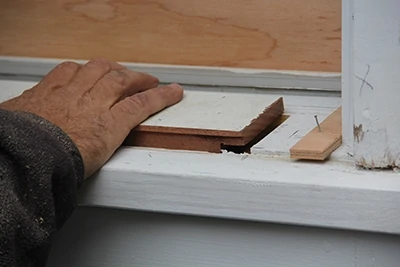 Straight Edge to Guide the Router
In order for any tool to cut straight you need to use a guide. We use quarter-inch plywood as our router guide, making the guide with a table saw and miter saw.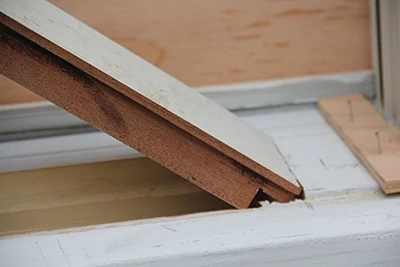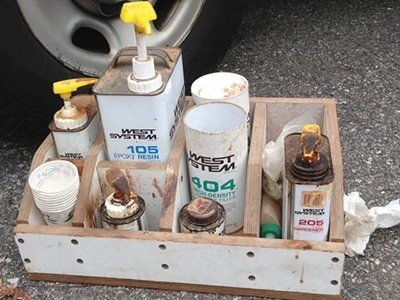 Once we determine where the rot ends and solid wood begins, we use that measurement plus the width of our router base to determine what size router guide we need. Small
4-penny finish nails hold the guide in place, and these holes are later filled with epoxy.
Cutting the Dutchman Hole
We set our "straight cut" router bit to cut approximately 3/8 inch deep all the way around. We then added small 1-inch strips to all template sides of the router guide and used the router to make a "stepped back cut," cutting completely through the window sill. This takes several passes, each time deepening the router cut.
We use this "stepped method" to increase our gluing surface and to provide a shelf for the Dutchman patch to index into and rest on.
Smaller Rot Sections
When presented with smaller rot circumstances, not as deep, we only rout deep enough to eliminate the rot and cut into solid wood.
Prepare for the Patch
Once the routing is completed we vacuum the entire area and inspect the framing sub-sill for damage. If rotting, we may end up removing the window after all. If not, the repair continues.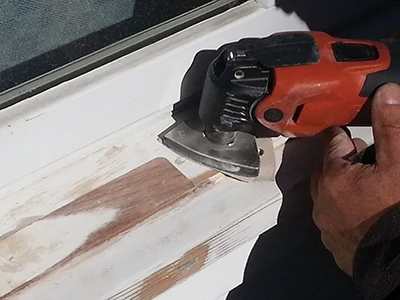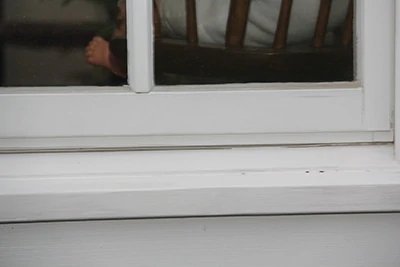 We use a chisel to square off the corners of the hole after routing. The Dutchman patch is cut on a table and miter saw to ensure square corners.
Cutting the Dutchman Patch
We then take measurements and notes to make our solid Dutchman patch on the table saw. The router rode along the sill, sloped 12 to 15 degrees, so we try to match the angle on our patch.
We duplicate this slope with the intent of getting all the sides of the new patch to touch all the sides of the hole in the sill. This takes time to get right and ensure that we have a tight "dry fit" patch. Cut the patch into shape with intersecting rip cuts to create the stepped key effect.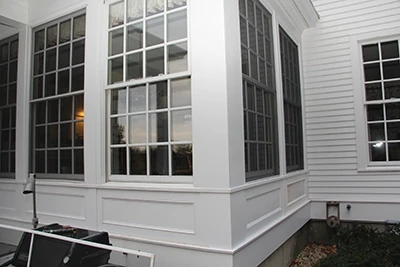 Gluing the Patch
Once we have a solid dry fit with tight joints we mix up our epoxy.
We use West System epoxy, a versatile two-part, marine-grade epoxy that bonds and coats fiberglass, wood, metal, fabrics and other composite materials to provide superior strength and moisture resistance.
The epoxy was designed for boatbuilding and repair and works great on windowsills, columns and other areas where gluing, filling and shaping are needed.
We use the epoxy in two ways, as glue and as filler. First we brush on the epoxy to all wood surfaces and then tap in the piece. It swells a bit, and a gentle hammer-tap against a wood block is needed to get the Dutchman in place.
Once in position, clamp it or use a few well-placed finish nails hold it until the epoxy dries—usually 8 to 24 hours.
Fill Any Voids
Once the patch is installed, we mix up a batch of epoxy with structural filler to fill and overlap the seams of the patch and any nail holes created during the repair.
Sand Patch
We wait 24 hours before sanding the patch and applying a quality oil primer to the entire windowsill. The painter will follow us with additional primer and two-coats of paint.
Editor's note: Rob Robillard is a professional remodeling contractor and blogger at www.aconcordcarpenter.com.