Shop smart when choosing new appliances for a kitchen remodel.
Remodeling a kitchen can be a huge undertaking, but when it's done right, it's a project that can pay off with years of satisfaction. Doing the job yourself affords the ability to put your personal stamp on the project and can save you big bucks compared to hiring a contractor. According to a recent Angie's List member poll, 29 percent of respondents say remodeling will top their list of investments for 2007, with 76 percent of those members saying they plan to remodel their kitchen or bathroom 2007. These homeowners will soon find that the lion's share of their remodeling budget will be invested in the crucial kitchen items that are used on a daily basis—a sink, dishwasher, refrigerator, etc. These items can carry some big price tags, so do your homework to get the most bang for your buck.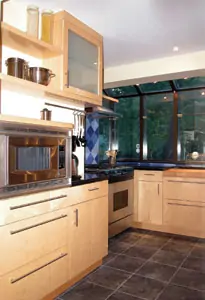 Dishwasher
Here's one modern amenity that can really save you a lot of time spent hunkered over a sink full of dirty dishes. When perusing the aisles, look for a dishwasher with low energy consumption. Features such as a delay timer and an "economy" cycle help save water, energy and money. Check the EnergyGuide stickers to know more about the power and water consumption of the dishwasher model.
You should also consider the size of the unit. Dishwashers come in a wide assortment of sizes and dimensions. You want one large enough to tackle a normal dish load for your household, but keep in mind the size and dimensions of any existing cabinets. A large dishwasher may require you to reconstruct the cabinets to accommodate its size, and these days cabinets are more expensive than dishwashers.
Also, check the noise ratings of the washer. You may find a decent functioning dishwasher for a low price, but the money saved may not be worth the headache of having to tolerate a noisy contraption in the kitchen.
And of course, prices and designs vary greatly. The most common colors are white and black, although several other options are now available. A stainless steel finish is popular, and some dishwashers can be fitted with a customized front panel to blend with the design of the kitchen cabinets.
Refrigerator
The big thing to consider when buying a refrigerator is capacity. Two people usually require 8 to 10 cubic feet. The rule of thumb is to add another cubic foot for every additional person in the household. You obviously don't want a refrigerator without adequate capacity; however a refrigerator that is too big to stay filled just wastes energy and raises your electrical bill.
Size and design are also important. Measure the refrigerator's width and depth, including the doors, and make sure your kitchen has enough space to harbor it. If space is limited, you might choose a design where the freezer and refrigerator compartment are side by side. The narrow doors occupy much less space when open. Other options include bottom-mount models, where the refrigerator compartment is on top with the freezer below, and top-mount models with the refrigerator below.
Other nice features include adjustable shelving, "spill-proof" shelves to catch leaks and in-door refreshment centers. Automatic ice makers are certainly more convenient than freezing your own cubes in plastic trays. And through-the-door ice and water dispensers make it handy to grab a quick, frosty glass of H2O while also stopping cold air loss by reducing the number of times the doors are opened and closed. Some new designs have automatic defrost to prevent frost build-up in both the freezer and refrigerator—pay a little extra for this feature and you can say farewell to freezer burn.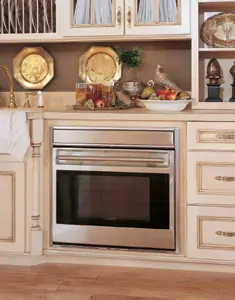 Oven
Choosing an oven can be overwhelming when the appliance stores are wall to wall with 50 or more units from assorted manufacturers. There is a lot to consider; choose from gas or electric, programmable, self-cleaning, in-wall, freestanding, etc. You may opt for a traditional oven, which is still quite popular for conventional cooking. But there is also new technology to consider.
Today, many buyers are going for multi-functional ovens, which offer a combination of four elements (top, bottom, back and in-oven grill) and a fan, which pushes an even heat around the entire cavity for efficient, versatile cooking. With conventional ovens of the past, you had to place a cake on the middle rack to cook it. With multi-functional ovens, placement of the food isn't critical. This means you can stack the racks. Place meat on the top shelf, a pie in the middle and bread on the bottom rack. This fan-assisted method of cooking provides cooks with more options, such as browning or thawing.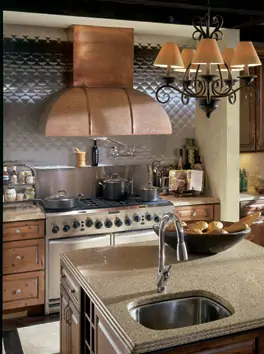 Ranges and Cooktops
Ranges can be freestanding or built-in, and what you select should depend on your kitchen and the features you want. Popular accessories include a range hood, backsplash, rotisserie, simmering burner and more. Decide if you want a gas or an electric model, and consider how you will accommodate the venting needs.
Cooktops, also know as stoves, that are fully independent from ovens offer more features and flexibility. High-end gas cooktops feature low BTU output settings that are ideal for cooking light sauces, providing maximum control for the gourmet chef. Look for burners with both an inner and an outer flame for consistent heating. Again, consider gas or electric. Electric cooktops may be less expensive, but will not have the same precision as gas models. Cooktops range in size from 30 to 38 inches wide, but may be as wide as 48 inches if a griddle is included. Also, consider the materials, such as porcelain-enamel, ceramic-glass or sealed tops that prevent spills from going under the range. And pay close attention to the maintenance features. Lift-up tops with removable grates make the range easy to clean.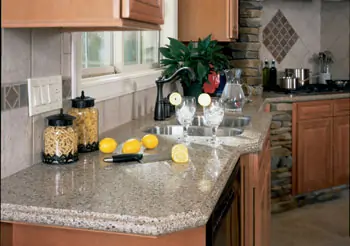 Countertops
Get ready for more shopping. There is a huge array of materials for countertops, all with different uses and benefits. Consider its function and its price; your selection can cost anywhere from a couple hundred dollars to a couple thousand. You might also consider mixing and matching materials, currently a popular trend.
Three of the hottest materials are granite, engineered stone and solid surface synthetic. Granite is beautiful. It's also durable, burn-proof, nonporous and stain-resistant, if sealed properly (annually). It's also very pricey—in the ballpark of $60 per square foot. And solid granite countertops are usually custom fabricated by professionals, so there's also the high cost of installation.
Engineered stone is made primarily from quartz and looks almost exactly like real granite. It is durable, low-maintenance and never has to be re-sealed. However, because it is so much like real stone, it costs almost as much and has to be fabricated in the same way.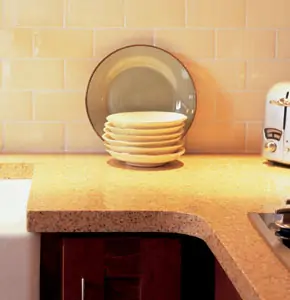 Solid-surface synthetics are low maintenance, easy to clean, durable and renewable. It also comes in many creative patterns and textures. While it doesn't offer the "natural" look of its stone contemporaries, solid-surface materials are extremely popalar and less expensive.
As far as do-it-yourself installation, concrete countertops are gaining steam in residential kitchens. In a nutshell, these countertops are built with concrete forms, poured as a slab and troweled smooth. You can add color to the concrete for a unique look, and seal the surface to prevent stains and other damage or contaminants.
Ceramic tile countertops are still popular as well. The design possibilities of tile are endless. Tile is also economical, relatively straightforward to install and can achieve a truly classic look. The drawback is that tile grout can accumulate dirt and grime—although grout sealers have improved in recent years.
Lastly there is plastic laminate sheeting, which is installed over a plywood top. Available in practically any color and pattern you can think of, the design possibilities are through the roof, the material is relatively inexpensive, and the average DIY'er can install the sheeting. Plastic laminate is low-maintenance and economical, but it is not quite as durable as other materials and may eventually get burned or chip.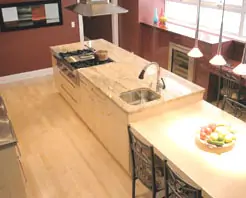 Flooring
Flooring is another area where products have improved in terms of appearance and performance. When selecting a material, consider the amount of foot traffic in your kitchen and the maintenance requirements of the flooring.
Vinyl and linoleum are great for a retro look. They are affordably priced, require minimal maintenance and have are more comfortable to stand on for long periods than some of the harder materials. However, linoelum can be tricky to install and must be waxed. Vinyl is not as long-lasting as linoleum, and patterns that simulate other materials can often look too fake.
Limetsone, slate and ceramic tile are very durable and can be used a classical rustic look or unique, colorful designs. However, these materails can be difficult to stand on for long perios, and stone must be properly sealed and resealed. Grout lines can also be difficult to clean.
Real hardwoods can make a handsome floor, and many prefinished products are perfect for DIY installation. However, they must be sealed and require a good deal of maintenance. Many homeonwers shy away from installing hardwoods in kitchens because of the fear of water damage, which can cause hardwoods to warp and swell.
Tongue-and-groove laminate flooring may look like real wood … or not, depending on the product; some looks fake. Laminates can also cost nearly as much as hardwoods and warp if exposed to water. But they are easy to install for the DIY'er and are easier to stand on than stone or ceramic tile.
One often overlooked option is concrete. It's as durable as stone, can be colored and buffed to a shine, and even textured, scored or stamped. However, you'll need a large space to install it and the job can be a real mess. The foor must also be sealed because concrete is porous.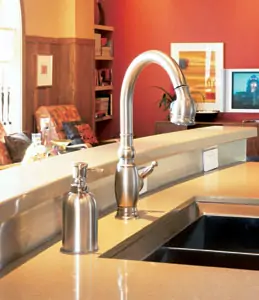 Taps
Water taps can make a dramatic statement or blend passively with the room décor, and there are hundreds of styles to choose, from classic to contemporary. For a unified look, choose a style and finish for the faucet that matches your kitchen cabinet hardware.
When replacing a faucet, make sure the new one uses the same number of holes in the sink as the one you removed. One-piece faucets that have integrated handles and spout need one hole for the spout and a separate hole for a sprayer. Traditional faucets, with hot and cold taps, require three holes for the taps and spout and a fourth for a sprayer.
Most kitchen faucets have either a single handle that rotates directionally to adjust water temperature or two handles for mixing the hot and cold. Traditional faucets can feature the classic X-shaped water tap, a handle with a cylindrical base, or an easy-to-use lever design. And you've probably noticed that kitchen faucets typically sit higher than bathroom faucets. If you wash a lot of large pots, a faucet with a tall, curved neck makes it easier to move those large dishes in and out of the sink.
These days, some people prefer to filter their drinking water. A cost-efficient option is the three-way or tri-flow taps that eliminate the need for a purification system or a fridge full of bottled water. Some newer models offer dual-flow hot and cold filtered water.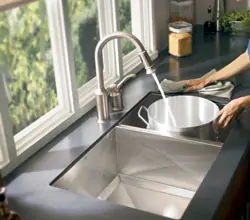 And the Kitchen Sink
A kitchen sink has to be both practical and attractive. The sink is usually the focal point of the countertop and the most abused appliance in the room. We want it sparkling clean, while using it to swallow down grease, noodles, soup, tomato sauce and dirty dishwater. We expect a lot from a sink.
Once again, size is a factor when choosing. How much space do you have? The most common sink is 22 by 33 inches (outside dimensions) with a double-bowl or one-and-a-half bowl configuration, allowing one basin for preparation, the other for cleanup. The two-basin models are great for accessing a garbage disposal when one basin is occupied, or moving washed pots and pans from one sink to another for rinsing. And if you have enough space, a bigger sink is generally more user-friendly than a smaller one.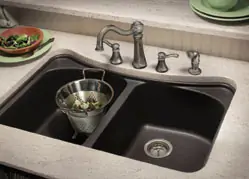 Sink materials include the popular stainless steel, which is both hygenic and durable enough to withstand abrasions. Fireclay and ceramic are also traditionally popular for their solidity and wide array of colors.
When remodeling the busiest room in the home, many homeowners take a full-scale approach and update each and every appliance, including the kitchen sink. This article is really just the tip of the iceberg when outfitting the kitchen, so do plenty of research and be sure to "comparison" shop. And if you're designing a new kitchen from the floor up, then try some online tools to help you "virtually" create your kitchen. These programs use web-based interactive software that allows you to visually lay out various features and appliances of your kitchen plan in different colors and configurations. The tools are free to use and can be a big help when planning your project. You'll find online kitchen design tools at the National Kitchen & Bath Association (www.nkba.org), the Moen home page (www.moen.com) or the Wellborn Cabinets website (www.wellborn.com).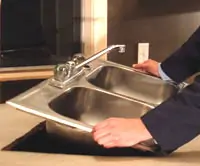 Kitchen Sinks—4 Ways to Mount

One note for DIY'ers: There are four basic ways to mount a sink.

The most commonly sold sink—and easiest to install—is the Self-rimming sink. The sink's bowl drops into a hole in the countertop and rests on the perimeter rim. Some require special mounting clips and bolts to secure the sink to the underside of the counter. Self-rimming sinks work with any countertop material. The only drawback is the raised rim that can collect water and debris around the sink. Stainless steel sinks have the lowest self-rimming profile.

Undermounted sinks are placed under the counter material—a popular style that adds to the sleek, contemporary look of granite and solid-surface countertops. And with no raised rim you can wipe water and debris directly into the sink with no obstruction. However, installation can be difficult, and this method is not recommended for laminate countertops.

The third type, Flush-mounted sinks, are popular with tile counters. This method positions the sink level with, or slightly below, the surrounding countetop. Some flush-mount sinks come with squared-off perimeter edges, and some can be trimmed square with a table saw. Other models have a metal rim that can be used with a variety of countertop materials. Flush-mounts make counter cleanup easy, but the chore of setting tile could be considered a drawback.

Integral sinks are molded as one piece with the counter, usually made of solid-surface synthetic such as Corian, Avonite or Swanstone. With solid-surface sinks, a special adhesive bonds the sink to the countertop for a contemporary look with easy cleanup. Stainless steel versions are also available. However, installation of integral sinks is complicated. Because most installations require professionals, this combination can be quite expensive.